BOJ Surprise
Bank of Japan came out last night and announced no change in its current monetary policy. This was substantially more bearish than what market participants expected and JPY responded.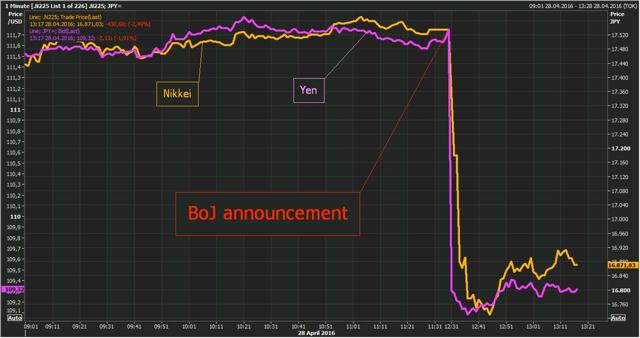 Click to enlarge
Simultaneously, the US dollar is seeing weakness once again.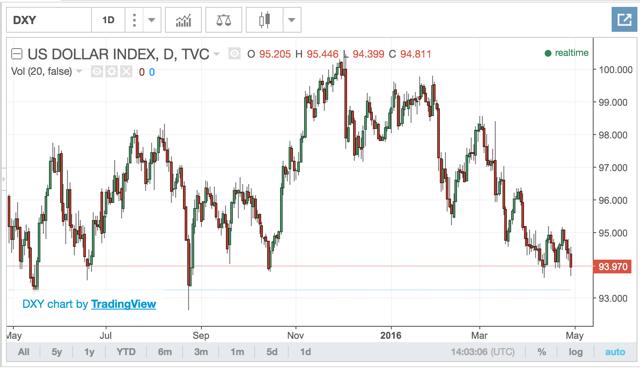 Click to enlarge
USD bull run has gone on for almost 2 years now, and it's looking like the end is near. DXY is at support and the longer it stays here, the higher the probability of a break. FOMC minutes came out yesterday and it points further to a delayed rate hike. Market participants currently expect 2 rate hikes this year, while at HFI, we expect none. Our view is based on the softening US economic growth numbers and broad weakness in emerging markets.
If DXY continues to weaken like we expect, oil (NYSEARCA:USO) could receive a big boost and hit our price target of $60 by year end.
Our Favorite Long Oil Stock
We wrote a write-up exclusive to premium subscribers on February 22, 2016, entitled, "Gear Energy (OTC:GENGF) - My Favorite Levered Long Oil Bet." Our thesis was quite simple: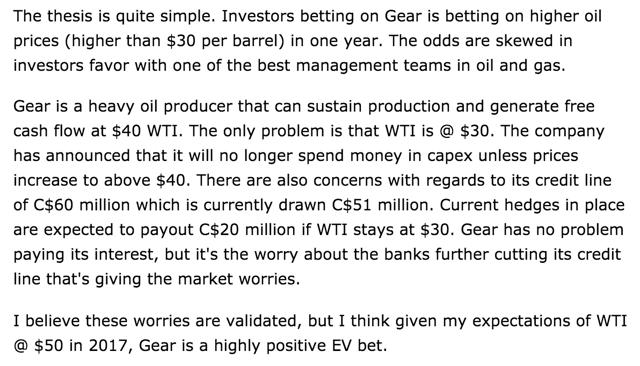 Click to enlarge
How have we done since then?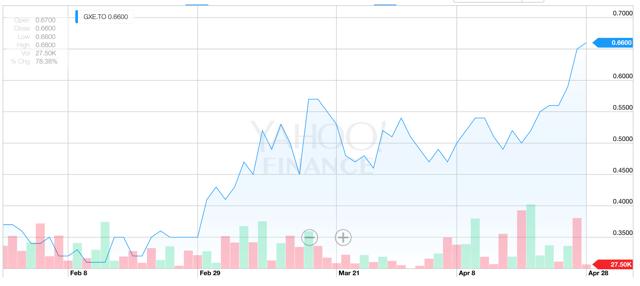 Click to enlarge
For those interested in the write-up, please message us, so we can share it with you.
We own GXE.TO, which is traded on the Canadian exchange.
HFI Portfolio Update
Since our launch of the "HFI portfolio," we have beaten the SPY by 13%.

Click to enlarge
Note: Our current positions are disclosed in this instablog.
We will post a delayed update of the portfolio on a bi-weekly basis for non-subscribers, and all premium subscribers receive real-time trade updates along with weekly portfolio updates.
Disclosure: I am/we are long GXE.TO.
I wrote this article myself, and it expresses my own opinions. I am not receiving compensation for it (other than from Seeking Alpha). I have no business relationship with any company whose stock is mentioned in this article.