With results and guidance across the board coming in below de-risked expectations, Apple (NASDAQ:AAPL) left the impression that the three-year long party, during which the stock nearly doubled, was over.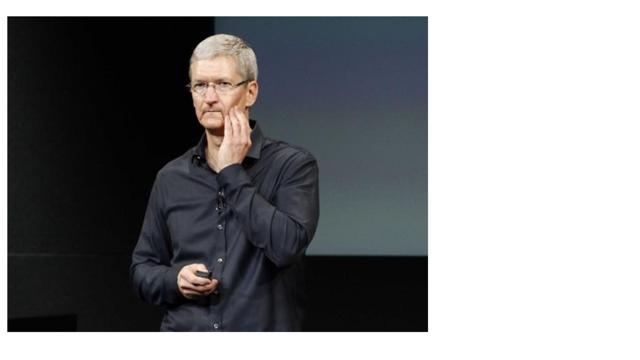 Source: Business Insider
In this article, I step back to try and make sense of what had happened with earnings. As it turns out, I was both right and wrong about Apple.
Wrong because I stated, earlier this month, that Apple, "hiding so well in plain sight, […] was a no-brainer." The statement was based on the fact that the iPhone company, faced with growth opportunities in China in the short term and India in the long term, and yet still modestly priced, looked like a highly-attractive investment. A weak F2Q16 print and lower guidance for the upcoming quarter came in as a reminder that 2016 will probably not be a walk in the park for Apple.
But I was right because I also stated, in January, that China held "the key to Apple's success" this year. Let's take a closer look at what I meant by this statement, and see how the F2Q16 results seem to prove me right.
If China had picked up its pace, we would be celebrating another consensus-beating quarter.
China, a market responsible for more than half of Apple's total segment op income growth in FY15, decided to pause and catch its breath in F2Q16. While Apple's total revenues declined 13% YOY, China saw its top line dip an astonishing 26% in the quarter. A relatively more resilient op margin meant that, luckily, not all the downside in China made its way to the op profit line. Still, the country's YOY op profit drop was nearly 8% worse than the rest of the company's 20.7% decrease.

Source: DM Martins Research, using data from SEC filings
CEO Tim Cook explained, during the earnings call, that "the vast majority of the weakness in the Greater China region sits in Hong Kong. And [management's] perspective on that is it's a combination of the Hong Kong dollar being pegged to the U.S. dollar, and therefore it carries the burden of the strength of the U.S. dollar. And that has driven tourism, international shopping, and trading down significantly compared to what it was in the year ago" He concluded by saying that "the way that [management] really looks at the health or underlying demand is [to] look at sell-through. And if you look at it there, [Mainland China] was down [only] 5%."
My interpretation of Tim Cook's take on China is that, had it not been for a strong dollar and the subsequent dip in tourism activity in Hong Kong (i.e., external factors), the country could have generated much better results in the quarter. To be fair and a bit cynical, Tim's explanation seemed overly simplistic to me.
But let's play a bit with the possibilities. What if Tim is right and, absent macro headwinds, China had been able to deliver revenues that were no more than 5% lower than F2Q15's?

Source: DM Martins Research, using data from SEC filings
As the table above suggests (see "Vs. Guide" column), under this hypothetical scenario, total company revenues and op income would have still lagged those achieved in 2015. But notice that sales would have exceeded the mid-point of the guidance by $2.6 billion (5.0%), and op income would have beaten the guidance mid-range by $1.2 billion (8.3%).
Had China not "misbehaved," maybe today we would be talking about a strong quarter delivery that beat guidance and consensus across the board.
What could be going wrong in China?
There are some who believe Apple's iPhones are too expensive for the average middle-class Chinese consumer to be able to afford. Marketing professor John Zhang of the Penn Wharton China Center says that "only super rich, really high-paid professionals buy iPhones in China -- you're not talking about lots and lots of people."
There is evidence supporting the idea that smartphones priced at the more affordable $200-$250 range might be the ones benefiting the most from the ascending Chinese middle class. IDC research manager Melissa Chau points out that "Lenovo (OTCPK:LNVGY) benefited with ASPs below US$150 in 2013, and Xiaomi (Private:XI) picked up the mantle with ASPs below US$200 in 2014 and 2015. Now Huawei, OPPO, and Vivo, which play mainly in the sub-US$250 range, are positioned for a strong 2016."
Despite the relative success of Apple's competitors, I still believe iPhone has lots of room to thrive in the Chinese market. McKinsey & Company, in its report "Mapping China's Middle Class," affirms that "within the burgeoning middle class, the upper middle class is poised to become the principal engine of consumer spending over the next decade. [...] The evolution of the middle class means that sophisticated and seasoned shoppers - those able and willing to pay a premium for quality and to consider discretionary goods and not just basic necessities-will soon emerge as the dominant force." By 2022, McKinsey estimates that the upper middle class will account for 54 percent of urban households, compared to 14% in 2012.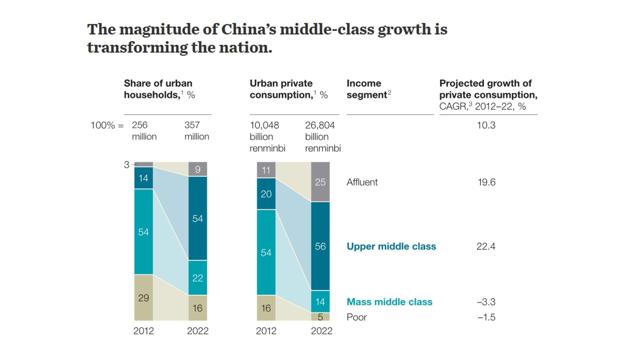 Source: McKinsey & Company
In my view, the more likely culprit for the sudden drop in China sales has to do with the timing of AAPL's changes in its product portfolio. F2Q16 was a quarter caught in-between the refresh of AAPL's lower-end smartphone. The new iPhone SE was made available for pre-order in China late in March, and a report from BGR indicated that demand seemed stronger than expected. But the late launch date meant that SE sales would not have been able to make a dent on AAPL's F2Q16 top line. And initial orders may not have given enough of a taste of what could be in store for F3Q16.
Looking beyond the current quarter
I continue to believe that, provided that Apple can execute well in its most promising market - or at least significantly better - it will be able to beat lowered Street expectations for the year. CFO Luca Maestri seemed optimistic when he said that "[the] business in these two regions [Japan and China] is faring better than the numbers might suggest. [This quarter, there were] significant channel inventory reductions and currency weakness" that may explain a temporary dip in China sales.
It is true that my optimism regarding China's demand this year has certainly dwindled. But looking at the bigger picture, I still see the sharp rise in the Chinese urban and upper-middle class over the next five to seven years as a huge, long-lasting opportunity for the company. The question in my mind is whether the recent deterioration observed in the country is cyclical and symptomatic of short-lived macro headwinds, bad timing of the most recent iPhone refresh, or if the softness might be in fact more structural and end up impacting results beyond 2016.
Disclosure: I am/we are long AAPL.
I wrote this article myself, and it expresses my own opinions. I am not receiving compensation for it (other than from Seeking Alpha). I have no business relationship with any company whose stock is mentioned in this article.