Since I started covering Evolution Mining (OTCPK:CAHPF) here on Seeking Alpha, the company's share price has been on fire. It almost doubled in USD-terms on the back of an improved production (and production cost) rate, as well as a game-changing acquisition of new assets. Is this share price increase justified? And is there more potential to be unlocked? Let's find out.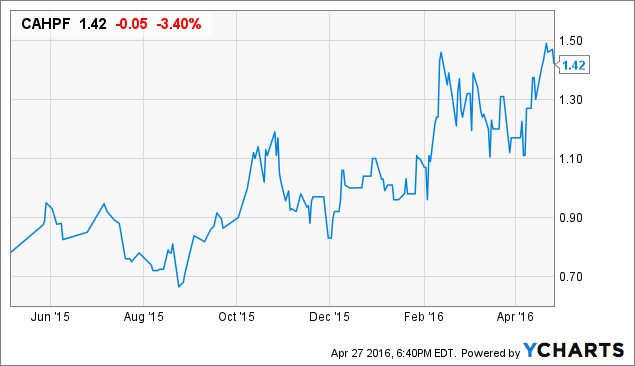 Evolution is an Australian company, and you should consider trading shares through the facilities of the Australian Stock Exchange where it's listed with EVN as its ticker symbol. The average daily volume is almost 12 million shares (!), which compares quite favorably with its U.S. listing.
Printing Cash Like Never Before
Australian companies typically have a financial year that runs from July 1 until June 30, and Evolution Mining is no exception. The company did produce approximately 378,000 ounces of gold in the first half of its financial year, which puts it right on track to meet the full-year production guidance of 770,000 to 820,000 ounces of gold. As Evolution also already released its production results for the third quarter of its financial year, wherein it produced almost 209,000 ounces, the YTD production rate is now almost 590,000 ounces. So it's now very likely the company will meet its full-year guidance.

Click to enlarge
Source: company presentation
Even more interesting is the fact the gold was produced at an all-in sustaining cost of just around A$1000/oz ($750). As the current spot price is almost A$1600/oz ($1200), this does result in a very healthy margin. That's also necessary, as Evolution Mining has added quite a bit of debt to its balance sheet related to the acquisitions in calendar year 2015.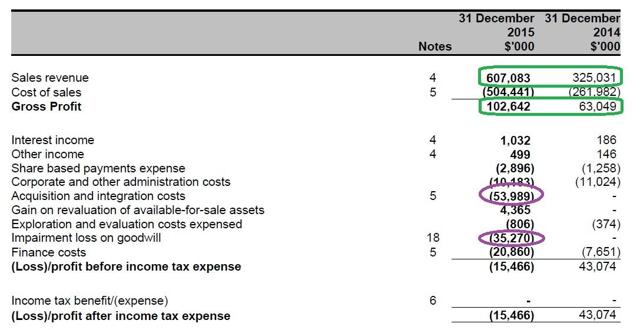 Click to enlarge
Source: financial statements
The acquisitions definitely started to pay off as Evolution's revenue almost doubled to A$607M ($455M), while the gross profit increased to A$103M ($77M). The bottom line was showing a net loss of approximately A$26M ($19M), but this included a substantial impact of an impairment charge and the one-time acquisition costs (for a combined A$89M impact).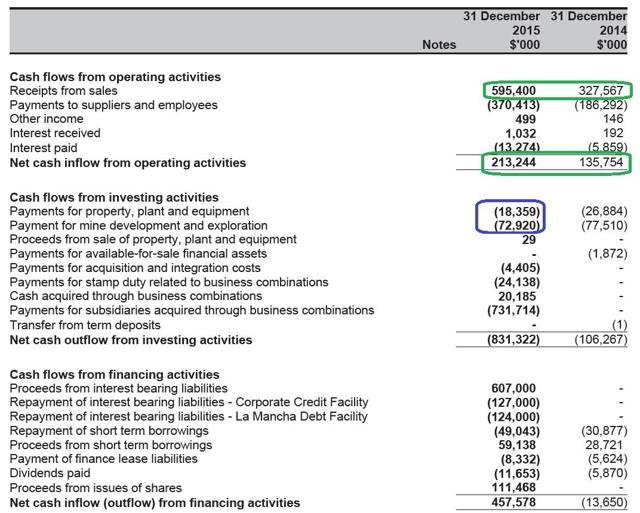 Click to enlarge
Source: financial statements
So even though Evolution Mining posted a net loss in the first half of FY 2016, this doesn't mean the company isn't performing well. Readers who have been following me should know by now that the income statement usually hides a lot of underlying and determining factors that can make or break a case for a mining company. That isn't any different for Evolution Mining, and the company generated a substantial amount of operating cash flow as the final number came in at A$213M ($160M). After deducting the A$90M ($68M) in capital expenditures, Evolution's net loss of A$26M suddenly evaporated and evolved into a positive free cash flow of approximately A$125M ($94M). That's pretty nice for a company with a total market cap of US$2.1B (as the annualized free cash flow yield will probably be higher than 10% this year).
Evolution Shows Why Hedging Part of Your Gold Production Isn't Necessarily a Bad Thing
Just like any other gold mining company, Evolution Mining is "betting" (or "hoping") the price of gold moves up. But it has just spent hundreds of millions on acquiring new assets to increase and enhance its production profile. That's great, and any company should take advantage of any opportunities that might pop up.
However, whereas Evolution Mining had a net cash position of US$135M as of at the end of its previous financial year, this was now converted into a total net debt position of approximately US$350M. That's not shocking, but it does increase the balance sheet risk as the cash buffer is now completely gone.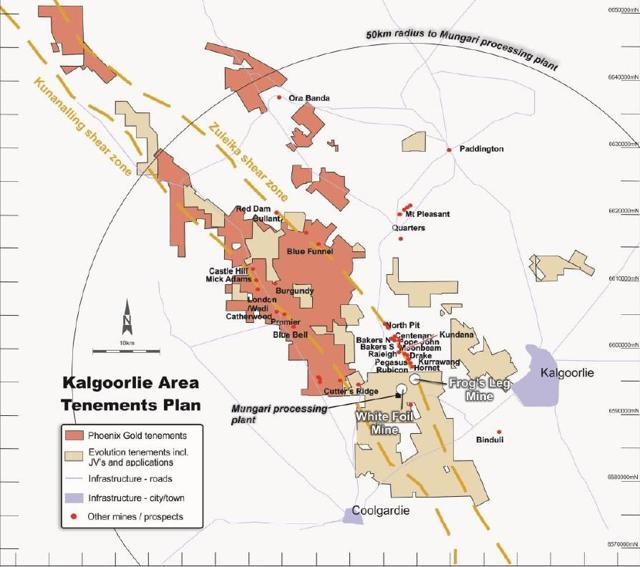 Click to enlarge
Source: company presentation
A different situation requires a different approach, and Evolution's first mandate should be to protect its financial situation to make sure it doesn't run into any problems. It has entered into additional hedges to protect its cash flows. Back in February it took advantage of the strong gold price and weak Australian dollar, hedging an additional 150,000 ounces of gold at an average price of A$1764/oz.
And this shows the strength of a good hedge book. As the gold price in AUD is now just A$1600 (due to the stronger Australian Dollar), the additional hedge already has a market value of in excess of US$15M. Of course, a lot can happen between now and by the time the first 50,000 ounces will have to be delivered. But the total hedge book is protecting Evolution's ability to repay all the debt on its balance sheet.

Click to enlarge
Source: press release
Indeed, the total hedge book stood at in excess of 830,000 ounces at a combined average price of A$1619/oz. Considering the company expects to achieve an AISC of A$1000-1100/oz, the pre-tax cash flow value of the hedged gold is approximately A$500M ($380M). This should be sufficient to cover the debt, making Evolution Mining a relatively "safe" investment in the gold space.
The main negative about a hedge program is that most people think you're giving away a lot of the upside. That is true -- if you hedge gold at a lower price than the market price, you would have been better off as an unhedged producer. However, the layer of safety associated with the hedge book provides a lot of comfort, and Evolution Mining has spread its hedged position out over the next few years.
In FY 2017, for instance, the company has hedged almost 250,000 ounces of gold, which is just one-third of the total anticipated production. So while it's correct that one-third will have a ceiling on its revenue (as the sales price per ounce is pretty much fixed), two-thirds of the annual production remains unhedged and provides additional upside potential down the road. I believe this could best be described as "finding a middle ground."
Investment Thesis
Evolution Mining is still firing on all cylinders and it doesn't look like this will end anytime soon. The total amount of free cash flow this year should be pretty substantial, and this will definitely help the company reduce its net debt. In fact, if the price of gold remains at current levels, it's not unlikely Evolution could be debt-free by the end of the next calendar year. That would be a great accomplishment.
The stronger Australian dollar isn't really helpful for Evolution Mining, but the operating margin remains very robust (at in excess of US$400/oz). That said, it would be nice to see some sort of pullback in the company's share price to make the risk/reward ratio more appealing.
Disclosure: I/we have no positions in any stocks mentioned, and no plans to initiate any positions within the next 72 hours.
I wrote this article myself, and it expresses my own opinions. I am not receiving compensation for it (other than from Seeking Alpha). I have no business relationship with any company whose stock is mentioned in this article.
Editor's Note: This article discusses one or more securities that do not trade on a major U.S. exchange. Please be aware of the risks associated with these stocks.