On April 26th, Constellation Software (OTCPK:CNSWF) released its annual President's Letter. The letter, which always discusses a wide variety of topics, took a bit of a new road with CEO Mark Leonard diving further into a broader discussion of HPCs.
HPC's are "high performance conglomerates" that have generated superior returns for multiple decades (see the shareholder letter for a full list of HPCs). Constellation uses these comparables as (one of many) guideposts for allocating capital, running the business and building shareholder value.
The HPC discussed in this year's letter was banking and credit union software provider Jack Henry (NASDAQ:JKHY), which I've previously discussed briefly here and here.
Here is my summary of Mr. Leonard's comments regarding Jack Henry:
Jack Henry shares outperformed S&P 500 index by 11%, 9%, and 10% per annum over the last 30, 20 and 10 years, respectively.
EBITA Return (EBITDA/Average Total Capital) was 24% over the past decade. This was higher than all other HPC's because, as per Mr. Leonard, they had some of the strongest organic growth and redeployed less FCF toward acquisitions.
Constellation, in contrast, has had the lowest organic growth and deployed more than 90% of FCF on acquisitions (vs. one-third for Jack Henry).
Jack Henry has done well in a declining market (i.e. the number banking customers has been declining). Mr. Leonard attributes this to (1) acquiring competitors and (2) significant technology change, which led to a constant need for financial institutions to invest in new features (e.g. internet and mobile banking).
Jack Henry has, in Mr. Leonard's view, paid higher prices for add-on products that had the potential to sell well into their existing installed base. While the initial acquisition price may have looked high, once they were successfully rolled out to existing customers, the return metrics improved.
Even if you are not (yet) interested in Constellation Software, the letter is 100% worth a read.
You Know Jack, Right?
Jack Henry has a number of enviable attributes:
Fragmented end-market (thousands of banking and credit union customers across the United States).
Software is mission critical to operations (and a minimal part of operating costs).
It is a huge business risk to switch providers.
Regulation makes life difficult for new entrants.
Small and medium-sized financial institutions could spend to build the latest technologies but they likely wouldn't have the best solutions. As a result, they are more likely to purchase a product from Jack Henry, which allows a bank or credit union to focus on doing what they do best (running the business).
Jack Henry has a high percentage of recurring revenue, which improves economic resiliency as well predictability for investors.
This environment provides companies with a good head-start toward generating good shareholder returns but they don't guarantee success. For example, high switching costs can make it really difficult to grow organically. In that respect, management must run the business well (i.e. successfully sell products into the existing installed base or execute any new customer acquisitions flawlessly) and spend shareholder profits wisely on new initiatives or acquisitions.
At Jack Henry, the result has been some of the best margins in the industry and exceptional ROIC (vs. Fiserv (NASDAQ:FISV) and Fidelity Information (NYSE:FIS)):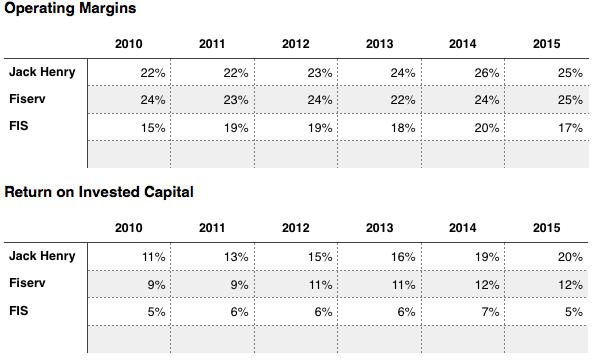 *Fiscal not calendar; source Morningstar
Jack Henry continues its impressive track record of building shareholder value. Over the past 10 years:
Earnings have nearly tripled from $0.96 to $2.59
Dividends have increased nearly 5x from $0.20 to $0.94 (along with an active share repurchase program)
Perhaps more important is that results have been predictable (no declines in earnings) and management hasn't burdened shareholders with excessive financial risk (balance sheet is always in good shape).
Today, the balance sheet still remains in a healthy position and is ready for future acquisitions or returning further capital to shareholders. The Credit Union segment is performing well and management is optimistic that financial institutions will continue to increase technology spend, especially on those items that improve customer experience. The stock, which recently was cited as one of the best over the past 30 years, also continues to do well.
To finish up, I want to recount one of Mr. Leonard's last points, which discusses one famous investing conundrum: "great companies are not always great stocks." With Jack Henry at 27x forward earnings, it is something I (as a shareholder) think about a lot:
There's one last lesson from JKHY that I'd like to share. It relates to you as shareholders. There was a 10-year period during which JKHY's shares both underperformed the S&P 500 (2000 until 2010) and didn't make any money for shareholders. The underperformance vs the S&P 500 was minor ... approximately 1%. JKHY's revenues per share and ANI per share had compound average annual growth rates of 14% and 21%, respectively during that decade. Why did stock results and operating results diverge so widely for such a long period? It had to do with shareholder expectations and market exuberance. The general mania which gripped the market in 2000, and the more specific enthusiasm for JKHY's stock which then traded at well over 60 times ANI, left shareholders incredibly vulnerable. When the market "corrected" the JKHY stock had no margin of safety.

When really good companies start trading at 5 and 6 times revenues, it's time to start worrying. I hope our shareholders are never in that position.
Disclosure: I am/we are long CNSWF, JKHY.
I wrote this article myself, and it expresses my own opinions. I am not receiving compensation for it (other than from Seeking Alpha). I have no business relationship with any company whose stock is mentioned in this article.
Editor's Note: This article discusses one or more securities that do not trade on a major U.S. exchange. Please be aware of the risks associated with these stocks.