Apple Turns To India For Growth
On April 26, 2016, Apple (NASDAQ: AAPL) announced a revenue and profit decline for the first time in 13 years. CEO Tim Cook partly blamed the results on weakness in China and signaled that India would be Apple's new emerging market growth driver. Cook said:
India is where China was seven to ten years ago.
Cook made this comment because India was the one bright spot in Apple's earnings with sales growing 56% Y/Y in India. Cook's comment suggests Apple is banking on the next decade of rapid Indian growth to unlock another billion person market for Apple products. As we highlighted in our previous article, India: China's Emerging Market Doppelganger, we assess market forecasts projecting India to be the new emerging market growth driver (in place of China) to be misguided.
India is suffering from similar problems to those that are causing economic "headwinds" for China. The "headwinds" in both China and India are largely due to unsustainable debt driven GDP growth accompanied by the lack of political will to enact market reforms such as: 1) writing down bad loans from bank balance sheets, and 2) transitioning to a consumer driven economy where higher wages, especially in the service sector, drive growth.
Merry-Go-Round Forecasting
Despite the 56% Y/Y sales growth in India, we assess Apple will soon run into China-like headwinds in India. In addition to India's dubious growth trajectory, we also question Apple's ability to accurately forecast opportunity in India based on Cook's overly optimistic assessment of the Chinese market in October 2015. We note he made the below comments after the significant August 2015 Chinese market correction occurred.
Frankly, if I were to shut off my Web and shut off the TV and just look at how many customers are coming into our stores … and looking at sales trends, I wouldn't know there were any economic issues at all in China.
Apple's most recent earnings call revealed that Apple sales for the quarter in China are down 26% Y/Y. Yet, Cook still asserted that the Chinese market was "not as weak as been talked about." Total sales in the "Rest of Asia-Pacific" segment (of which India is a part), were also down 25% Y/Y, which suggests that growth is also slowing in broader Asia. This is a potent mix for Apple's emerging market driven growth strategy and necessitates Apple to revise its thinking on emerging market growth prospects.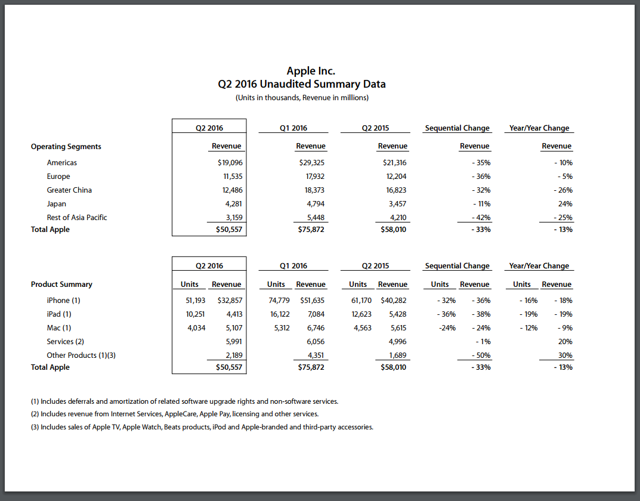 Click to enlarge
Apple's India Growth Is On Sale
On the surface, Apple's Q2 2016 Indian sales growth was impressive. Apple grew sales by 56% Y/Y. However, Apple's Indian growth model to date may be flawed for several reasons and we assess it will be difficult to maintain strong sales momentum in India due to the macro conditions outlined above and the micro factors addressed below.
First, much of Apple's India recent growth was driven by lower profit margin phones (including certified pre-owned phones) and reliance on heavy discounting to gain market share in a market where 70% of smartphones are sold for less than USD $150. India's per capita income was USD $1,631 in 2015, which helps explain in part why discounting is driving Apple's discounting in the Indian cellphone market.
To gain market share in India, Apple offered discounts up to USD $500 on the iPhone 6 and 6s to make up for lagging 2015 demand for the iPhone 6 (iPhone 6 sales were estimated to be 15-20% lower than iPhone 5 sales).
Additionally, Apple introduced (for the first time) a buyback scheme to enable Indian buyers to defray costs of a new iPhone. This scheme led to the creation of Apple's certified pre-owned iPhone business in India. While we laud Apple's initiative to meet the unique demands of the Indian cellphone market, we note discounting and reselling of iPhones to be inconsistent with Apple's premium profit margin and high-end brand image.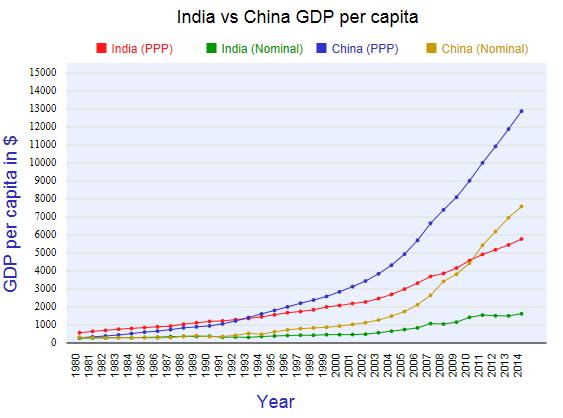 Source: Statistictimes.com
Our Take: Apple's Indian Confidence is Misplaced
Due to macro-economic similarities between India and China, we assess that Apple will soon start experiencing market headwinds in India similar to the headwinds they are currently experiencing in China. Should such a scenario unfold this will negate India as an important growth driver for Apple and could weigh on future revenue and profit growth, as the Chinese market performance did this quarter.
Further, we assess this outcome may be a blind spot for Apple as CEO Tim Cook's October 2015 mis-forecast of Chinese market conditions is very similar to the circumstance surrounding his most recent forecast of the aggressive growth prospects in the Indian market.
We do not fault Apple for highlighting the strongest data point in what was otherwise a weak quarter. However, we encourage investors to exercise skepticism when digesting Apple's emerging market growth forecasts, especially as they relate to India. The underlying market conditions in India do not provide a strong base of support for Apple's exuberance.
Disclosure: I/we have no positions in any stocks mentioned, and no plans to initiate any positions within the next 72 hours.
I wrote this article myself, and it expresses my own opinions. I am not receiving compensation for it (other than from Seeking Alpha). I have no business relationship with any company whose stock is mentioned in this article.
Additional disclosure: This article is for informational purposes only.