Natural gas (NYSEARCA:UNG) storage saw an implied inflow of +73 bcf last week.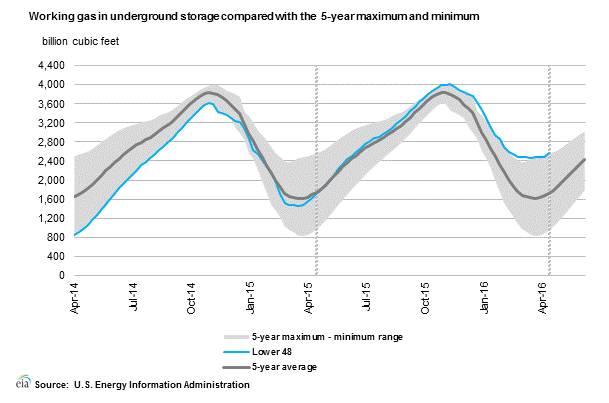 Working gas in storage is at a record 2,557 bcf. Stocks were 870 Bcf higher than last year at this time and 832 Bcf above the five-year average of 1,725 Bcf.
Analysis
Last week's inventory build was expected as this time of the year is when storage is expected to build, thanks to a transition in the weather from winter to spring. Gas storage seasonally builds into October-November in preparation for winter. If summer is expected to be hotter than normal, then gas storage will build lower than expected, and could be right in line with the five-year average. A colder-than-expected winter could then potentially draw down inventory much faster than people expect, resulting in higher natural gas prices.
Let's Look at Supply First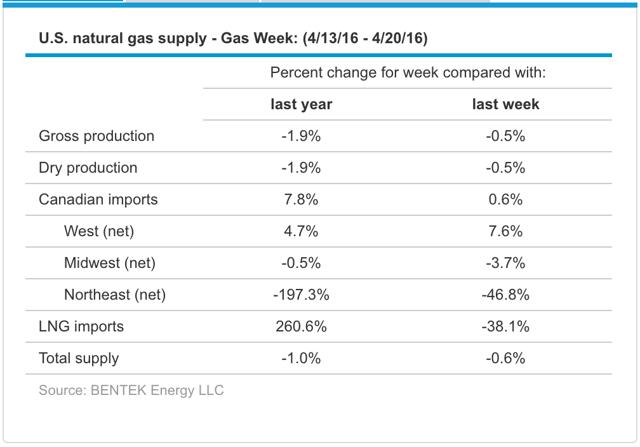 Click to enlarge
Total supply dropped 1% relative to last year and 0.6% week over week. At current rig counts, it's hard to imagine what would happen to the natural gas supply once all the drilled but uncompleted (DUCs) wells are used.
Click to enlarge
Despite a record low number of rigs, dry gas production has been held up due to increased efficiency and DUCs. We estimate that the decline in production this year will be quite substantial. We estimate the current decrease in supply of 5 bcf/d to 8 bcf/d. Just from the supply decrease alone, the natural gas market should go into balance assuming "normal weather" conditions.
Now Let's Look at Demand
Exports to Mexico remain on pace, as shown below: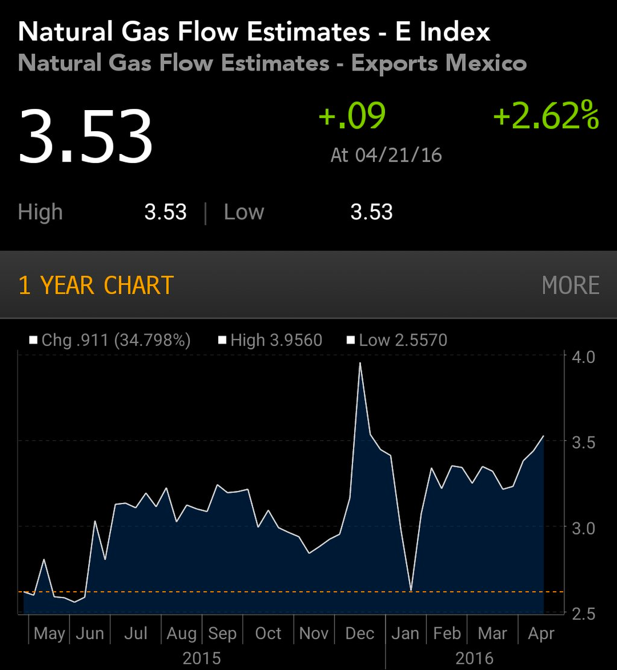 As summer heating demand increases, exports to Mexico will increase over 4 bcf/d. LNG demand remains on track to hit 1.2 bcf/d. Lastly, the summer weather forecast is expected to be much warmer than normal.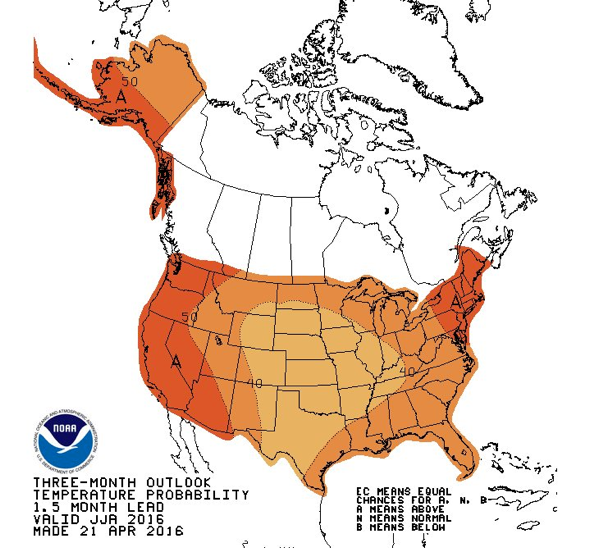 These short-term demand tailwinds will result in lower-than-normal injection during the build season.
Concluding Thoughts
Working gas in storage continues to keep a lid on natural gas prices. We think near-term prices are accurate to reflect the storage figures, but the long end of the curve does not reflect a reasonable price for sustained production. Our expectation is for 2017 STRIP to average $3.50/mcf.
For investors interested in how we are playing the natural gas rebound, please consider signing up for HFI's premium subscription service.
Disclosure: I/we have no positions in any stocks mentioned, and no plans to initiate any positions within the next 72 hours.
I wrote this article myself, and it expresses my own opinions. I am not receiving compensation for it (other than from Seeking Alpha). I have no business relationship with any company whose stock is mentioned in this article.