On March 29th, Adamis Pharmaceuticals (NASDAQ:ADMP) announced an agreement to acquire US Compounding Inc (USC), a privately held compounding pharmacy based in Arkansas. As a long term follower and holder of the stock, I always thought Adamis would be the company acquired in such a transaction, not the company acquiring, so this news took me by surprise and drew some initial concern. My concerns were quickly alleviated after reading the statement made by CEO Dr. Dennis Carlo in the press release:
"USC will be a compelling addition for Adamis. We believe the combination of revenues of $20 million or greater in each of the last two years, a large sales and marketing team and robust manufacturing capabilities, will be both synergistic with and accretive to Adamis' overall value. We expect the new division will generate at least $5 million in operating income over the first 12 months and achieve an annualized run rate of $50 million per year within 24 months after closing."
Boom! Just like that, Adamis becomes a company with significant revenues, operating income, a sizeable sales force, and drug manufacturing capabilities. The term "game-changer" gets often overused, but in this case it is perfectly appropriate to describe this acquisition. It appears investors wholeheartedly agree as the stock has advanced to new multi-year highs and volume has exploded since the acquisition closed on April 12th. Helping matters was Maxim Group's BUY reiteration and price target increase to $17 a share. Share price was $5.69 the day before the acquisition was announced, advancing to a high of $8.75 in the week after the deal closed, and has been basing near $8. Market cap is now over $100M which may spur more attention from funds and institutions that cannot buy below that level. Daily volume since the deal closed has more than tripled from the previous three month daily average. The increase in volume indicates larger funds and institutions have finally taken notice of this small company that a few smart people, like Sio Capital's Michael Castor, have been invested in for years.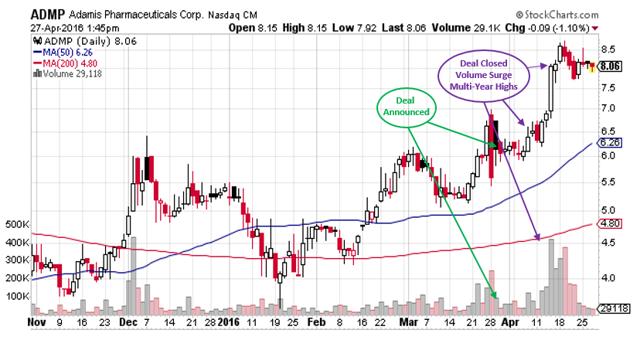 Click to enlarge
What's the Deal?
According to Adamis investor relations, the USC acquisition is immediately accretive, reducing the need to raise capital going forward. Should Adamis meet or exceed their growth targets for USC, they could reach profitability as a company in the next two years on this business alone. While this acquisition may have caught some investors off guard, myself included, the synergistic rewards make perfect sense for Adamis, providing an immediate source of revenue, potential manufacturing and distribution for future products as well as a dramatic increase in sales force.
So, what did it cost Adamis for this wonderful deal? Turns out, not much. Adamis paid ~$9M in stock and assumed ~$5M in debt for a business expected to deliver $5M in operating income within its first 12 months in a hot growth sector. Sio Capital's Michael Castor, a long time shareholder and the largest holder of the stock, had this to say about the deal in his latest monthly letter to investors:
"Adamis' CEO Dennis Carlo is a smart and savvy deal maker. Dr. Carlo acquired a high-quality compounding pharmacy, paying less than 5x EBITDA. Financially, we anticipate cash flows from this acquisition will help fund Adamis' future operations. Strategically, this acquisition brings a small sales force that is fully funded by the compounding pharmacy business. When Adamis' version of Epi-Pen launches, Adamis will now have a sales force to market it."
"Compounding" Growth
The Compounding Pharmacy business is currently a hot growth area due to the increasing need for customized and "not readily available" medications. According to IBISWorld, the sector includes more than four thousand businesses generating over $8B in revenues that are expected to increase 3.6% annually over the next five years. A main driver of this growth is the boom in the elderly population and meeting the demands of their required prescriptions, including compounded medications.
Compounding pharmacies offer products and services that help doctors and hospitals meet the critical medication needs of their patients. Many customers have allergies or other conditions that prevent them from using traditional products manufactured by large pharmaceutical companies. In these cases, compounding pharmacies can use alternate ingredients to manufacture a product safe and effective for them to use. They can also modify the application or alter the delivery method when required. For example, they might reproduce drugs in liquid form for patients who have a hard time swallowing a pill. In cases of shortages or when certain drugs are no longer being produced, compounding pharmacies can create small production quantities that would be too cost prohibitive for larger manufacturers. Dose alteration is another growing area being met by compounding. For example, small children who may require lower doses of certain medications. Even the medication needs of animals are being met by specialized manufacturing provided by compounding pharmacies.
Additional growth is being driven by an increase in outsourcing by hospitals and other healthcare providers to compounding pharmacies. This is due to the increasing costs of meeting new government regulations and stricter FDA requirements passed as part of the Drug Quality and Security Act (DQSA) of 2013. The law provides Federal regulatory oversight of the compounding pharmacy industry. DQSA requires compounders to register and be regulated by the FDA in order for them to be considered an outsourcing facility capable of supplying prescriptions in bulk to hospitals and healthcare providers. Since the passage of DQSA, the FDA, along with other industry regulators and associations, have openly urged hospitals and other healthcare providers to purchase only from FDA registered outsourcing facilities. USC is one such FDA registered facility and allowed to sell in all 50 states by meeting stringent FDA requirements.
With promising growth prospects in compounding, it's easy to see why M&A activity has picked up in this high margin, high profile sector as larger companies show their willingness to pay a high price to get in on the action. In November 2015, one of the largest deals occurred when AmerisourceBergen completed their $2.6B acquisition of PharMedium, paying more than 22x EBITDA and more than 6x sales. In comparison, Adamis paid less than 5x EBITDA and less than 1x sales for USC.
Adamis has been traditionally conservative when it comes to growth projections, so I was surprised to see them project USC revenue growth from $20M+ to an annualized run rate of $50M+ within 24 months. They expect to get there by improving pricing and cost efficiencies for the products that sell best, and by expanding the geographies in which they sell. Right now most of USC's sales come from just a few states, despite being accredited to sell in all 50. If Adamis can realize the revenues being projected, earnings from USC alone could be enough to make the entire company profitable even before any of their inhaler products make it to market.
More Acquisitions Ahead?
CEO Dennis Carlo has proven to be a smart deal maker. He pulled it off with 3M while acquiring their flagship APC-5000 DPI inhaler, and he's proved it again with the USC acquisition. It would not surprise me to see Adamis make additional acquisitions, especially in the compounding space, should the opportunity present itself again. Further consolidation would be the natural extension of this initial acquisition, signaling their intention to drive revenues in clever and synergistic ways. With every other product Adamis intends to bring to market, and the list is full, there are necessary trials, FDA hurdles to overcome such as shown with the Epinephrine Injector and all at great cost. By contrast, the acquisition process for additional compounding pharmacies requires none of that and allows the company to improve cash-flow quickly should the right deal come along.
What if Adamis was to acquire another two or three similarly sized compounding pharmacies and reach their target of roughly $50M in revenues with each one? This would provide them with a business contributing $150-200M in revenues, a significantly larger sales force, and a network for future products. Their need to raise for capital to fund inhaler product development and trials would be greatly diminished, if not eliminated. Such a strong sales force and manufacturing capabilities could lessen their need for partnerships and would certainly give them more leverage when negotiating possible deals. Spinning off or selling a division of compounding pharmacies is another possibility, and it has proven to be a hot M&A market as previously discussed.
Conclusion
Adamis investors have been patiently waiting on the FDA for approval of their first major product, an Epinephrine Pre-Filled Syringe (PFS), with the decision now expected in less than 6 weeks, given the June 4, 2016 PDUFA. To say the acquisition of USC came out of left field would be an understatement. Being accretive immediately with a steady revenue stream the company expects to double within the next two years, and the addition of an immediate sales force, this deal is a real game-changer. Add in the prospects of the numerous inhaler products they intend to bring to market over the next several years, and investors have plenty to look forward to and be excited about, both short and long term.
P.S. Look for a forthcoming article within the next few weeks that highlights Adamis' EPI PFS product. It will also address recent developments in this $1.2B annual market currently dominated by Mylan's Epi-Pen.
Disclosure: I am/we are long ADMP.
I wrote this article myself, and it expresses my own opinions. I am not receiving compensation for it. I have no business relationship with any company whose stock is mentioned in this article.