Today I want to talk to investors in Annaly Capital Management (NYSE:NLY) about the risks to dividends for an mREIT. These threats come in three forms. For investors that want my opinion on the risk relative to the common dividend being precisely $.30 per share, check out the dividend sustainability analysis.
The discussion in this article will be focused on the long-term risks to the way Annaly and other mortgage REITs make money. This discussion of risks pertains to the period of the next few years rather than the short-term sustainability.
The Three Risks
Risk one is a decrease in asset yields leading to weaker interest income performance over the next few years, as higher amortization expenses and weak yields on reinvestment drag down portfolio performance. I believe this is the largest risk at the moment and it is one investors are refusing to recognize because it takes time for the weak asset yields to settle in as prepayments are reinvested.
Risk two is an increase in the cost of funds with higher costs on repurchase agreements leading to weak spreads. This is the risk that investors appear to be watching. They see the decrease in rates along the middle part of the yield curve and decide everything is clear. Ironically, this is also a risk that most mREITs hedged very heavily against and therefore it was, in my opinion, less dangerous than risk one.
Risk three is the drag on net interest income reaching common shareholders as a function of management spending it on other things (including themselves). I believe this is a real risk for the sector and a substantial factor in the weak performance of some mREITs. However, I don't believe that this is a material risk for Annaly.
The one challenge that I would like to highlight in regards to risk three is the loss of advisory income. In previous periods Annaly was receiving advisory fees to manage the portfolio for Chimera Investment Corporation (NYSE:CIM). The advisory fees received by CIM were not huge, but they were still a nice source of additional revenue for Annaly and they effectively reduced part of the operating expenses if investors were willing to simply net the two categories.
Demonstrating the Risks
In my last article, I presented a chart I use to assess a mortgage REIT. The chart is reproduced below. Investors wanting a full explanation of the categories can check out the last article. I'll assume investors have already covered that piece and dive right in.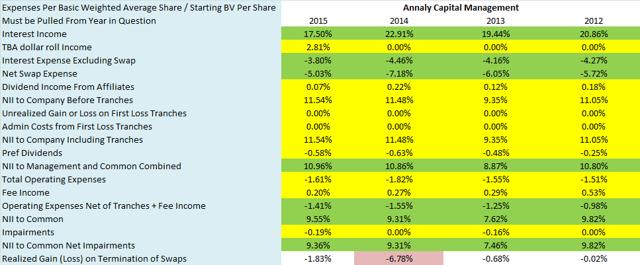 Click to enlarge
Notice the category called "fee income" which was declining each year for the last 4 years. That is a category that is dying out since Chimera internalized management. As a result, I would expect the total operating expenses for Annaly to increase and run over 1.6% in the foreseeable future. This would be very similar to the total operating expenses in 2015 of 1.61% if investors don't net out the .20% in advisory fee income.
As a result, I expect this to be a drag of about .2% to .3% in the return on equity.
Relative to the rest of the sector 1.6% isn't too bad. It is materially lower than what most small mREITs will report. However, it will still be a higher expense than it was in past periods which will make it harder for Annaly to outperform peers on a risk adjusted basis than it was in prior periods.
How Much Fee Income Was It?
The fee income per basic weighted average share outstanding ran from about $.03 in 2015 and 2014 to $.05 in 2013 and $.08 in 2012. This isn't a huge cost at only a few pennies per share, but investing can be a game of inches. Relative to prices running around $10 to $11, how much do a few pennies matter? Investors in ETFs and mutual funds will be used to watching expense ratios carefully. $.03 per year on an investment of $10 is akin to an ETF investor paying an extra .3% in expense ratios. If you're holding NLY and ETFs, I think you can appreciate the importance of the marginal difference.
Views on Risk
The challenge to Annaly primarily comes from risk one. The enduring cost of weaker yields on new assets is a factor that could hamstring most of the sector for the next few years and compel investors to remain highly averse to taking on additional risk.
The second risk is one mREITs counteracted through heavy hedging. Despite the mREITs having hedged this risk, investors are acting as if a reduction in this risk warrants paying a higher price for mREITs that are stuck with the hedging costs from locking in rates previously. The market's ability to focus on risk two, which was hedged, while ignoring risk one, is an exceptional example of the market willfully ignoring risk and trading emotion rather than fundamentals.
The third risk represents a constant challenge for some mREITs, but it is a much smaller issue for Annaly. Despite it being a smaller issue, it still provides a headwind that is roughly akin to paying a higher expense ratio on an ETF.
Theoretically, if the market becomes so euphoric about a lower cost repo agreement, it could lead to mREITs trading above book value despite the challenges to their ability to earn net interest income. In this case, the relative challenges for smaller mREITs would decrease since they could rapidly issue new equity at a premium to book value and gain better economies of scale on their cost structure. This would be unlikely to allow them to reach better economies of scale than Annaly, but they could gain some immediate book value from the accretive impact of issuing above book value.
Conclusion
My view on NLY and most mREITs trading at a discount of around 10% or less to book value is bearish on the basis of a flat yield curve with weak long-term rates. A flat yield curve with higher rates across the curve could still benefit from declining short-term rates, but the flat yield curve with low rates simply produces a terrible investment scenario for the typical agency mREIT.
I would be neutral at share prices around $9.50 to $9.65. I would be bullish at prices around $9.10. If shares of NLY sell off to that point, there will probably be some smaller mREITs selling off to absurd levels and providing excellent investment opportunities. The idea that a mortgage REIT should trade within 5% to 10% of book value is strongly contradicted by four mREITs agreeing to buyouts ranging from 80% to 89% of trailing book value.
For the buy and hold investor, I believe it is prudent to remain patient and wait for better prices.
You Still Want an Option?
Since investors will often ask what I might like if I'm not big on Annaly at the current share prices, I did find one mREIT that was trading at a more reasonable price. This isn't an overwhelming endorsement because I believe the sector as a whole is overvalued, but I do expect this smaller mREIT to have stronger performance than NLY and to outperform the sector due to its larger discount.
Based on ending share prices from April 27th I found American Capital Mortgage Investment (NASDAQ:MTGE) to be the most attractively priced of the medium to larger players. MTGE's discount to their Q1 book value was running 22% at the time this piece was prepared. MTGE's dividend yield is similar but there is less pressure on the dividend because it represents a smaller percentage yield on book value even though it is a similar yield on share price. At the time of my writing, shares of MTGE were $14.90 and shares of NLY were $10.35. The yield on MTGE is about 10.7% while the yield on NLY is about 11.6%.
Disclosure: I/we have no positions in any stocks mentioned, but may initiate a long position in ANY OF THE PREFERRED SHARES over the next 72 hours.
I wrote this article myself, and it expresses my own opinions. I am not receiving compensation for it (other than from Seeking Alpha). I have no business relationship with any company whose stock is mentioned in this article.
Additional disclosure: Information in this article represents the opinion of the analyst. All statements are represented as opinions, rather than facts, and should not be construed as advice to buy or sell a security. This article is prepared solely for publication on Seeking Alpha and any reproduction of it on other sites is unauthorized. Ratings of "outperform" and "underperform" reflect the analyst's estimation of a divergence between the market value for a security and the price that would be appropriate given the potential for risks and returns relative to other securities. The analyst does not know your particular objectives for returns or constraints upon investing. All investors are encouraged to do their own research before making any investment decision. Information is regularly obtained from Yahoo Finance, Google Finance, and SEC Database. If Yahoo, Google, or the SEC database contained faulty or old information it could be incorporated into my analysis.