Introduction
Airports usually are a great addition to any infrastructure-related subdivision of a portfolio as they usually generate a stable and reliable income stream. The demand for air travel will very likely continue to increase, and whilst investing in an airline company could expose you to a "race to the bottom" on the pricing level, airports usually benefit from any increase in traffic as the landing rights are usually the same whether you're a low-cost airline or a "normal" one (except, of course, if the LCC would use a dedicated low-cost terminal as well, as several airports provide a discounted price for that). In this article, I wanted to find out how Fraport (OTC:FPRUF) (OTCPK:FPRUY) is doing.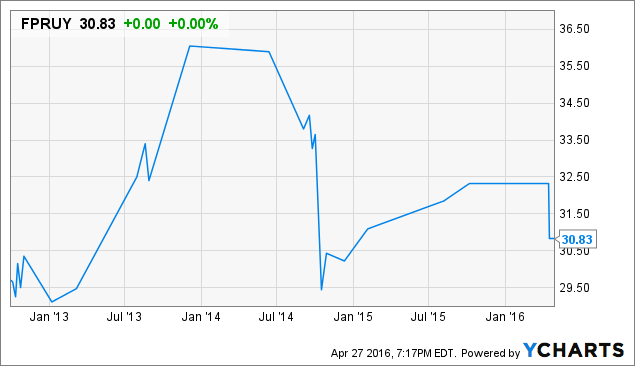 FPRUY data by YCharts
As Fraport is a German company, I'd strongly recommend you to trade in the company's shares through the facilities of the German stock exchange(s). The most liquid listing is on the Xetra, where 230,000 shares are being traded on a daily basis. The ticker symbol is FRA (which also is the airport symbol).
As expected, 2015 was pretty good…
Fraport is the holding company operating Frankfurt Airport, a major German airport; one of the bigger gateways into Europe and one of Lufthansa's (OTCQX:DLAKY) (OTCQX:DLAKF) hubs. Fraport claims it's the Europe's best airport operator, so I was very curious to find out if the company's financial results are also above par, and whether or not it would make sense for me to invest in the airport holding company (which also owns (stakes in) other, smaller airports all around the world).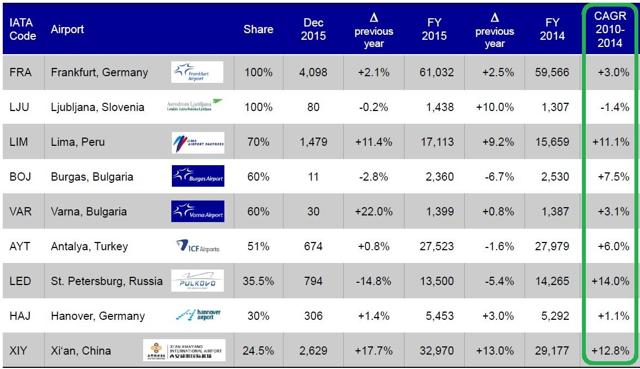 Click to enlarge
Source: Company presentation
A lot of Europeans do have to connect in Frankfurt, as it's one of the larger connection points with the world. From the Frankfurt airport, one can fly to almost 300 destinations in 98 countries with almost 100 different airline companies, so there's definitely no lack of supply of seating. Frankfurt Airport is the fourth largest airport in Europe (in terms of passengers passing through the facilities), before Amsterdam and just a little bit behind Istanbul and Charles de Gaulle Airport in Paris, France.
That's indeed a very enviable position and the increased traffic at Fraport's airports (Frankfurt airport +2.5%%, Lima airport + 9%, Xi'an airport +13% on a YoY basis) resulted in the holding company being able to increase the revenue by 9% to 2.6B EUR, allowing the EBITDA to jump by 7% as well (to 849M EUR ($955M)). The operating expenses also increased (mainly due to materials and personnel whilst the depreciation rate increased by just $25M), so the growth in Fraport's operating income remained limited to a single-digit percentage (up 7.9% to 521M EUR ($585M)). The net income was boosted by a lower interest bill, resulting in a net income of 297M EUR ($338M) or 3 EUR ($3.37) per share.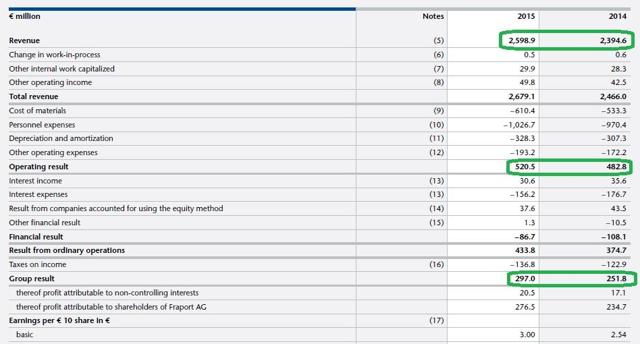 Click to enlarge
Source: Annual report
Yes, this means the company is trading at a P/E ratio of almost 18, which is quite high, but don't forget its dominant position usually means the cash flows that are being generated should be pretty stable and safe. Indeed, the company's operating cash flow (after paying the taxes and interest expenses) was 652M EUR, and after deducting the attributable capital expenditures from the equation, Fraport generated a positive free cash flow of 361M EUR ($410M).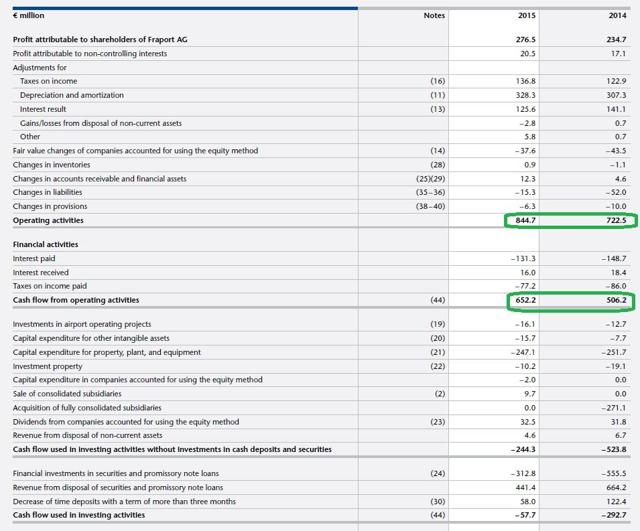 Click to enlarge
Source: Annual report
Yes, that's indeed higher than the net income, and the explanation is quite simple. And 361M EUR isn't a bad result, as for instance last year Fraport's free cash flow was less than 250M EUR ($285M), so the increase of its operating cash flow whilst keeping the capital expenditures under control has definitely had a positive impact on Fraport's free cash flow, which increased in excess of 50%, allowing the company to reduce its net debt by a few hundred million dollars.
… But the airport continues to expand, and this will benefit the future revenue and cash flow
So, 2015 was a pretty decent year for Fraport, but the question now obviously is how the company expects to deal with the future. There's no question the airports in the growth markets (mainly Peru and China) will continue to experience an increasing demand for air travel, but what about the Frankfurt airport, Fraport's cash cow?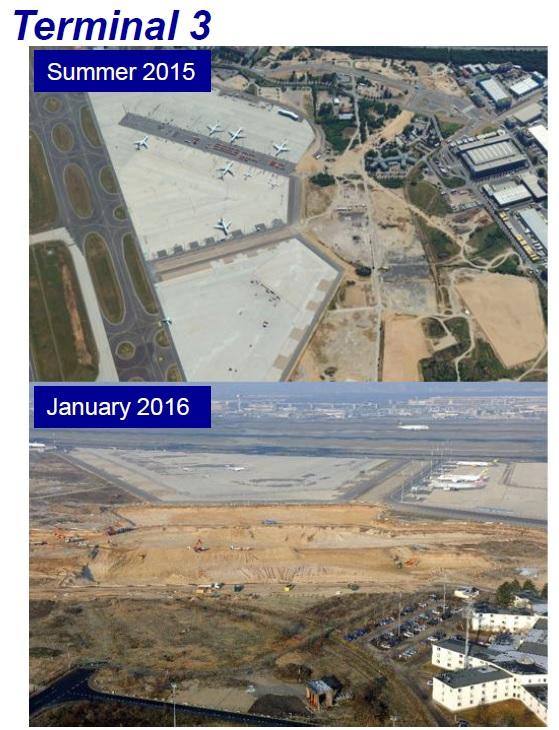 Source: Company presentation
It's interesting (and useful) to realize that even though the capex level remained quite limited in the past few years, Fraport is planning to spend quite a bit of cash on expanding its Frankfurt airport facilities. Frankfurt now has two (large) terminals, but Fraport is currently constructing a third terminal which would increase the total capacity by 14 million passengers per year (which could technically allow Frankfurt to process more passengers than London Heathrow, Europe's current number one).
Fraport wants to open this new terminal in 2022 and will have to spend $2.8-3.4B on constructing it. The majority of this capex will only be spent in the years 2018-2021, but the total capex commitment will start to increase in the next few years. Fraport allocated $45M for the expansion plan in 2015; this will increase to $68M in 2016 and $125M in 2017. That's definitely higher compared to 2015 and it will reduce the company's ability to spend cash on a dividend, and yes, it will reduce the free cash flow, but keep in mind building a new terminal to increase the capacity most definitely is a growth capex rather than a sustaining capex.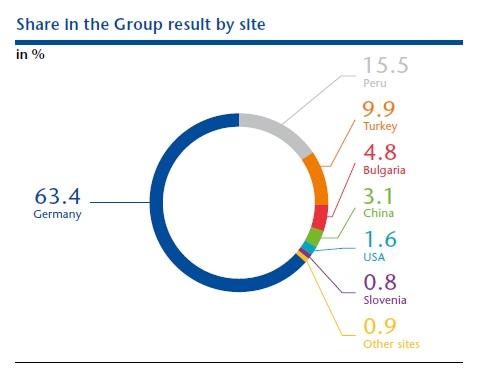 Source: Annual report
So whilst there will be some short-term pain in the next 4-6 years, which could push the net debt to a higher level, this move will very likely pay off in the future as the additional capacity has the potential to increase the throughput of the Frankfurt airport by 20%, adding hundreds of millions of dollars to the top line (which should trickle down to the bottom line as well). The acquisition of the Greek airports will also cost some cash, but it does look like Fraport knows what it's doing, and I'm fully confident the $1.35B acquisition will be accretive.
Investment thesis
Based on last year's free cash flow result (which actually included the growth capex for Terminal 3), Fraport is not expensive at all, as the cash flow yield is approximately 7.5%. That's great, but I don't think shareholders should expect a dividend increase any time soon. In fact, I'd actually appreciate it more if Fraport would not increase the dividend, as it will be spending quite a bit of cash on the acquisition of the Greek airports as well as the expansion at the Frankfurt airport.
I do realize the balance sheet will remain a bit stretched until all investments will be completed and the net debt/EBITDA ratio will very likely remain elevated between 3 and 4. That's quite high compared to the ND/EBITDA ratios I usually like to see before making an investment, but this is an infrastructure-related company in growth mode, and with a free cash flow yield in excess of 7% (and even 8% on a sustaining basis), I'm definitely willing to take that risk. It's also not unlikely Fraport might draw interest from certain private equity partners as its performance is quite good.
Disclosure: I/we have no positions in any stocks mentioned, but may initiate a long position in FPRUF over the next 72 hours.
I wrote this article myself, and it expresses my own opinions. I am not receiving compensation for it (other than from Seeking Alpha). I have no business relationship with any company whose stock is mentioned in this article.
Editor's Note: This article discusses one or more securities that do not trade on a major U.S. exchange. Please be aware of the risks associated with these stocks.