Tesla (NASDAQ:TSLA) Model 3 represents an important moment for the automotive industry, redefining product and consumer demand expectations of a premium mass-market electric vehicle. The car has already received unprecedented 400,000 pre-orders, and is so far well succeeding in fulfilling Tesla's main mission - to accelerate sustainable transport.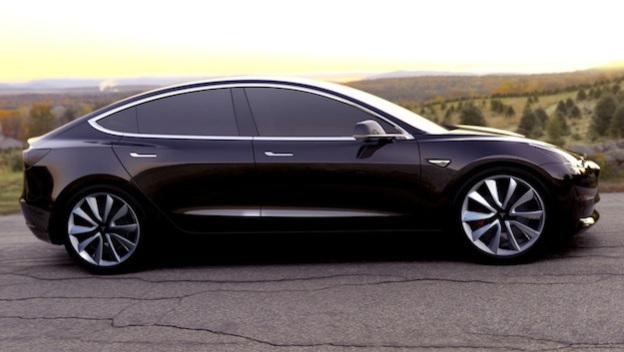 Does the early success of the Model 3 mean that the Californian company is now so far ahead of competition that it could capture the whole BEV market? Would this close the window of opportunity for Apple (NASDAQ:AAPL) and its Project Titan electric car, as this Seeking Alpha article by Short/Long Trader suggests? Or do TSLA investors still need to worry about Apple's arrival in the industry?
Early innings
The Model 3's goal is to remove barriers to increased adoption of electric vehicles. The car's more affordable price point (starting at $35,000), solid driving range (215 miles), as well as Tesla's trademark design, performance, and safety have certainly done the job. If we assume 200,000 US pre-orders (as per Tesla's past sales distribution), that number alone represents all electric car sales in the US over the past two years.
The Model 3 is set to dominate the BEV market, however, it is important to get a perspective. The share of electric vehicles in US car sales in 2015 was less than 1%. Even if Tesla was already meeting its 2020 goal of manufacturing 500,000 vehicles per year, the market share of electric cars in the US would still be less than 2%. Electric vehicles represent a small niche market, and much opportunity exists for its expansion and Apple's entry without Apple's EV being locked out of the market by the Model 3.
Manufacturing
Tesla might have received hundreds of thousands of pre-orders, but now it has to convert them into sales. The late 2017 launch for Model 3 does not seem to give the company too much breathing room before Apple's rumored launch in 2019. Given Tesla's much-discussed problems with planning and execution (Elon Musk could not resist to laugh a bit when announcing the Model 3's launch date), it is more realistic to expect first deliveries during 2018 with volume picking up later in the year.
That would give Tesla just 1 year of full production time before Apple's BEV is introduced. Apple has a good opportunity to take advantage of any potential setbacks in Model 3's manufacturing and poach a good number of Tesla's pre-orders. Furthermore, Apple's deep pockets and decades of experience working with contract manufacturers on producing mass-market products at a massive scale will make it that much more feasible for the company to quickly ramp up production and catch up with Tesla.
Disruptive design
The Model 3 is a highly attractive car. However, it is still an evolution of the traditional car as we have known it for decades.
I see Apple's excellence in design as one of the company's most important competitive advantages over Tesla. And by design, I don't only mean how things look, but also how they work. I completely agree with Neil Cybart's article where he explores the traditional car's design and the significant ways in which it could change. What if car design started from the inside and viewed the vehicle as a room on wheels? I believe much different results would be achieved.
Today's cars follow the same old paradigm of a box filled up with stationary front-facing seats. But what if a different seat configuration is needed for a different travel scenario and experience (depending on the number of passengers, amount of luggage, time of day, activity, car's stationary/moving state)? Notice how first-class airplane cabin design significantly increases the value of travel, allowing you to also relax, work, and sleep. Could this be achieved within the constraints of a car? With a clever, imaginative, and flexible design, yes.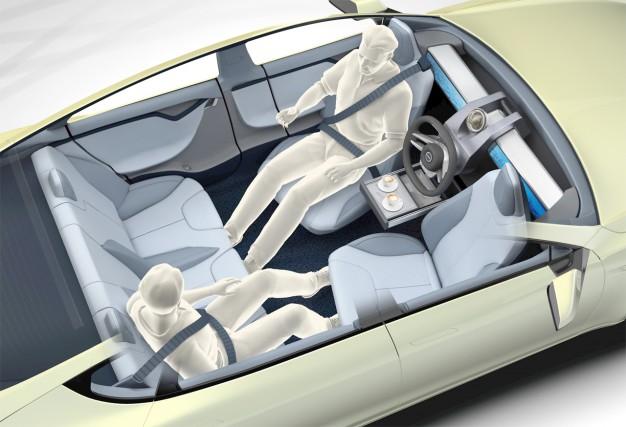 Even before autonomous driving, resting or working in a stationary car could be a much better experience. (Source: Rinspeed)
In this light, notice how Tesla currently applies its design thinking. The Model X uses electric motors for folding rear-view mirrors, and opening and closing front and Falcon Wing doors. But this does not improve the travel experience in a meaningful way. Note that where it matters, the 2nd-row seats in the Model X cannot be even manually folded flat.
Much more value could be extracted from a car if it could be easily configured for different travel scenarios, with just a tap on the dashboard touchscreen or smartphone. Given how Apple thinks about design and its role in improving the user experience, the company has a great opportunity to reinvent the car.
Driving range
The Model 3 has a solid driving range of 215 miles, however that still falls short of mass-market needs. According to research by NREL, majority of consumers would consider buying an electric car if it can travel 275-300 miles on a single charge. Such a sentiment is shared by Tesla CEO Elon Musk, who sees the sweet spot in the 250-350 mile range. The dynamics of growing EV sales and advancements in battery technology mean that such a driving range will be available in an EV priced for the mass-market much sooner than previously thought. Consider that in 2012, the price of a lithium-ion battery pack (cells, cooling, and casing) was $500 per kWh, and McKinsey estimated it would fall to $160 by 2025. Yet, here we are a decade earlier and the current battery pack cost is already below $190/kWh.

Lithium-ion cell costs are further estimated to decrease by 30% by 2022. (SOURCE: GM)
Mass-market electric vehicles with a 275-plus-mile driving range should be at this rate only several years away and will significantly broaden the number of prospective EV buyers. In this light, Apple's 2019 electric car debut seems well timed to tap into increased demand, and follows the company's established market-entry pattern of waiting for key technologies to mature.
Autonomous driving
If there is an area where Apple is at a disadvantage, it is Tesla's unique position in autonomous driving. Its Autopilot self-driving feature is already installed in tens of thousands of Tesla vehicles, giving the company an unprecedented scope in gathering a million miles' worth of driving data every day. Compare that to Google (NASDAQ:GOOG) (NASDAQ:GOOGL), who this past March had just 54 self-driving cars on public streets. Apple is not yet testing any autonomous vehicles, however it is clearly stepping up its efforts with a fleet of Apple Maps vans, which are currently roaming the roads of Europe and the US, and which are equipped with LIDAR sensors used for creating extremely detailed navigation maps for self-driving cars.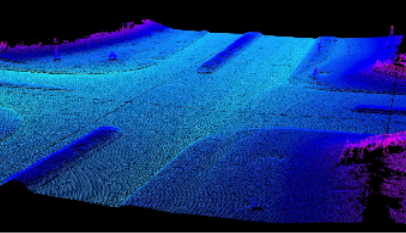 A navigation map for autonomous vehicles (Source: Google)
Tesla has a remarkable head-start for building a fully autonomous car, and if rumors are true, the Model 3 will be that car. To catch up with Tesla in autonomous driving, Apple will need to ramp-up its car production quickly, and get as many vehicles on the roads as possible to gather crucial driving data.
Investor Takeaway
The Model 3 is set to dominate the BEV market, however, that is still a rather small market in the early development stage. Much opportunity exists for its expansion and Apple's entry. Apple's arrival in the industry alone will increase consumer awareness of the BEV category, while potential disruptive design and more mature technology would help Apple's car to get consumer traction and expand the market.
TSLA investors need to currently worry more about the company's manufacturing capacity and capability, as any setbacks in the Model 3 production will hurt Tesla's ability to convert pre-orders into sales, achieve economies of scale, turn profit, and ultimately successfully compete with Apple. Tesla is a great brand and car designer. If it learns to be a great business and car manufacturer (or better starts using experienced manufacturing contractors), and reacts quickly to any possible industry disruption by Apple, it can emerge from the clash of the titans without a paint scratch.
However, given TSLA's rich valuation, I prefer AAPL as a long-term auto investment. At the moment, you can get Apple's Project Titan division completely free while Wall Street is too busy figuring out when the iPhone starts growing again.
Author's Note: If you have enjoyed reading my article and found its content valuable, please take 5 seconds to follow me by clicking the Follow button next to my name at the top of the page.
Disclosure: I/we have no positions in any stocks mentioned, and no plans to initiate any positions within the next 72 hours.
I wrote this article myself, and it expresses my own opinions. I am not receiving compensation for it (other than from Seeking Alpha). I have no business relationship with any company whose stock is mentioned in this article.
Additional disclosure: This is no recommendation to buy or sell securities as that carries with it very high risks. The information contained in this article is for informational purposes only and subject to change at any time. Do your own due diligence and consult with a licensed professional before making any investment decision.