Recently I've starting looking at shares of different retailers to see if I can find evident value on the long side, or an evident risk / reward on the short side. After going through a number of them, The Gap (NYSE:GPS) seems like not only the best of the bunch, but compared to a number of its competitors, the waiting room is much more attractive. In this article, I will touch on some basic multiples, dividend yield and sustainability, the growth of the company, its competitors, and a few other elements which I believe are important to take under consideration.
Looking at the most simple of ratios, the price to earnings ratio (P/E), we see GPS has traded in a yearly range of approximately 7.5 times to approximately 20 times earnings since fiscal 2007. The fiscal year end for GPS is January 30th of each year. Additionally, the high and low share prices in the table below follow GPS's fiscal year, not the calendar year. According to the estimates of Value line, the estimated earnings per share for 2016 are to be $2.55. According to my own estimates, the number is closer to $2.35. My estimate is based on the total earnings and number of stores opened in each year. I have then projected those numbers into 2016 with the same profit margin as in 2015 and assumed no more share buybacks between now and the end of the year. My estimate is conservative in my opinion. Using an average EPS of $2.45, the current P/E on GPS stock is 9.7 times. This is relatively inexpensive according to past years.
Share Price

Price / Earnings

EPS

High

Low

High

Low

Year 2015

30.49

22.03

13.20

9.54

2.31

Year 2014

43.90

21.57

15.51

7.62

2.83

Year 2013

46.84

35.46

17.09

12.94

2.74

Year 2012

46.56

31.19

19.98

13.39

2.33

Year 2011

37.85

19.09

24.26

12.24

1.56

Year 2010

23.73

15.08

12.62

8.02

1.88

Year 2009

26.34

16.62

16.67

10.52

1.58

Year 2008

23.36

9.56

17.43

7.13

1.34

Year 2007

21.89

9.41

20.08

8.63

1.09
Next, let's look at the dividend yield and payout ratios.
Annual Dividend

Share Price

Yield as a %

EPS

Payout Ratio %

High

Low

High

Low

Year 2015

30.49

22.03

0.92

3.02

4.18

2.31

39.83

Year 2014

43.90

21.57

0.86

1.96

3.99

2.83

30.39

Year 2013

46.84

35.46

0.63

1.35

1.78

2.74

22.99

Year 2012

46.56

31.19

0.49

1.05

1.57

2.33

21.03

Year 2011

37.85

19.09

0.45

1.19

2.36

1.56

28.85

Year 2010

23.73

15.08

0.40

1.69

2.65

1.88

21.28

Year 2009

26.34

16.62

0.34

1.29

2.05

1.58

21.52

Year 2008

23.36

9.56

0.34

1.46

3.56

1.34

25.37

Year 2007

21.89

9.41

0.32

1.46

3.40

1.09

29.36
As we can see from the table above, the current annual dividend is sustainable as the payout ratio is approximately 40% of EPS and is expected to come down in 2016 as the EPS are projected to be $2.35 to $2.55 as explained earlier. Since 2010, the payout as a percentage of CFO has been under 20% except in 2015, when it peaked at 23%. At a current yield of approximately 3.85%, I feel pretty good sitting around the GPS waiting room.
Looking at GPS vs. its competitors, all of which have a year end of January 30th, the 2015 EPS and payout numbers were as follows:
| | | | |
| --- | --- | --- | --- |
| | EPS | DIV | Payout % |
| The Gap | $2.31 | $0.92 | 40% |
| Guess (NYSE:GES) | $0.96 | $0.90 | 94% |
| American Eagle (NYSE:AEO) | $1.10 | $0.50 | 45% |
| Abercrombie (NYSE:ANF) | $0.68 | $0.80 | 118% |
| Urban Outfitters(NASDAQ:URBN) | $1.78 | $0.00 | n/a |
For comparison purposes, the trailing P/E on GPS is 10.7, GES 19.1, AEO 14.0, ANF 55.8, URBN 17.4. It is clear The Gap is trading at a lower multiple with a lower payout ratio. Additionally, the estimates for The Gap are an increase in Net Income in 2016, and an additional 50 stores are planned to opened overseas. Things are looking up for GPS shareholders.
In comparing The Gap to its peers, it is important to realize the established nature of GPS, whereas a number of their competitors has a long ways to grow in order to be at the same scale as GPS. Revenue of GPS has averaged approximately $16 Billion in the last 3 years, whereas in 2015, the revenue of GES was $2.2 Billion and the revenue of AEO, ANF, URBN were respectively $3.5 B, $3.5 B, $3.45B. These 4 competitors all have a lot more room to grow than GPS. Although this may be the reason for the higher valuations, we need to look further.
In a period of growth, I expect the total number of stores to increase significantly and revenue to increase (in total) as a result. Since fiscal 2013, total revenue of GES have declined every year. Sales in AEO have been sideways, sales in ANF have declined from $4.5 B in fiscal 2013 to $3.5 B for fiscal 2015, and lastly, URBN (which does not pay a dividend) have seen sales increase every year since 2013 from $2.8 B to $3.45B.
So I understand the higher valuation at URBN, but not the others. It seems the industry as a whole is having challenges and although the argument can be made that GPS has a lot further to fall, it can also be said that it has achieved a level which goes beyond "fashionable", but is a regular stop for many of its clients - this translates to staying power. As a value investor, I like the scenario I see before me.
Although sales per share have increased consistently at GPS, the total revenue number has declined in 2015, just like their margins as they've had to liquidate to get the inventory out the door. Things did slow down a little in 2015. Although a slowdown is not typically what I like to see, there are 50 new stores slated to open (mostly overseas) in 2016, a very reasonable dividend payout ratio and a history of share buybacks which have been executed by GPS. Below you will find the shares outstanding (in millions) for The Gap since 2007.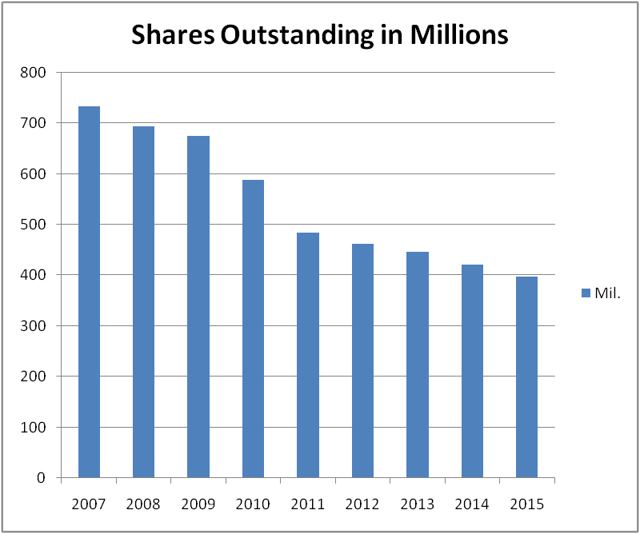 Click to enlarge
As we can see, the share buyback has started to stabilize and the total number of shares outstanding has fallen from 734 Million in 2007 to approximately 397 Million today. For every share retired, there are annual savings of 92 cents for GPS in addition to reducing the denominator in the EPS calculation. Given the expected increase in the numerator and decrease in the denominator expected in 2016, this is an investment I am very happy to have made in the past week.
Reason For Buying
As a value investor, I look to buy a stock at the low end of the multiple, in this case P/E and then sell near the high end of the multiple. According to the current numbers, I've bought at 9.7 times earnings, I expect to sell at just 13 times earnings. This equates to an upside of almost 35% with a pretty good dividend (that's the attractive waiting room). The time line on this investment is one year and will account for no more than 5% - 10% of my entire portfolio.
Disclosure: I am/we are long GPS.
I wrote this article myself, and it expresses my own opinions. I am not receiving compensation for it (other than from Seeking Alpha). I have no business relationship with any company whose stock is mentioned in this article.