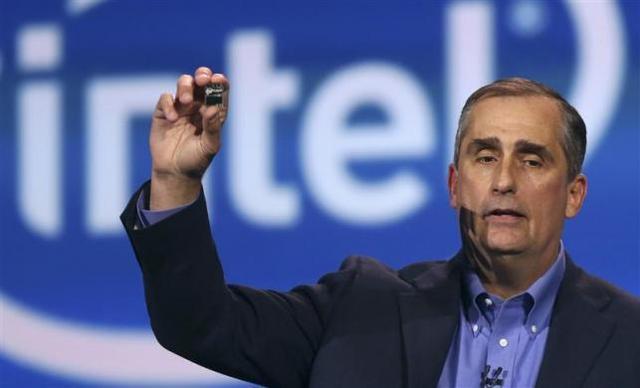 Click to enlarge
Intel CEO Brian Krzanich. Source: ibtimes.com
Intel (NASDAQ:INTC) reported quarterly earnings last week and the results were worst than expected. I knew PC headwinds would weigh, yet did not expect weak to declining revenue growth in its three main segments.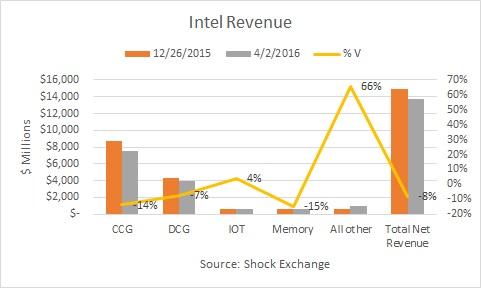 Revenue from the Client Computing Group ("CCG") was off 14% Q/Q, which followed a 3% uptick last quarter. This group includes sales of chips for PCs and mobile devices. According to Gartner PC shipments fell 9.6% for the first quarter of 2016. However, I believe the culprit this quarter was Intel's money-losing mobile segment. It was already a loss leader. After Apple's (NASDAQ:AAPL) iPhone sales fell 16% Y/Y, it appears that Intel's big idea - to take share from Qualcomm (NASDAQ:QCOM) in mobile devices - fell hard in Q1.
Other than disappointing performances from the Data Center Group ("DCG") and IoT group, the biggest disappointment was Intel's profit margins. Margins fell from 64% last quarter to 59% this quarter. This is unacceptable. Declining revenue and falling margins are not what we have come to expect from the former bellwether. Miraculously, the company's bombastic decision to revamp its strategy and lay off tens of thousands of people overshadowed the margin erosion.
Intel - We Don't Believe You ... You Need More People
Intel announced a transformation from a PC company to one that "powers the cloud and billions of smart, connected computer devices." It also announced 12,000 layoffs, voluntary and involuntary. The plan is to invest in the growth businesses of the future -- the cloud, data center, Internet of Things, memory and Altera's programmable semiconductors. I wasn't convinced. Here's why:
Broken Promises In Mobile
Intel has broken some its promises in the past, so why should we believe the company now? Early last year Intel was the largest supplier of tablet system-on-chips, with 19% market share. Its mobile division had also experienced an operating loss of $1.1 billion. I surmised the company was buying market share. Management vowed to wring $800 million in costs out of the business. However, the company consolidated its mobile division into its PC group to create CCG. It also masked the performance of the mobile operations, making it difficult to track whether management had met or exceeded its target. Last quarter management made little mention of mobile. from now on when it comes to Intel I'm a "show me" individual. I will believe it when I see it.
The Data Center Is No Picnic
Micron (NASDAQ:MU) has been de-emphasizing PCs in order to invest more in a mobile strategy. However, a declining global economy has punished consumers who are spending less on mobile devices. This Micron problem has also beset Intel. Now Intel is de-emphasizing the PC market to focus on the cloud and connected computer devices. This is no cake walk in my opinion. First of all, Altera's programmable logic semiconductors are expected to help expand the DCG and IoT segments. However, I never bought this narrative to begin with. I always believed that in Altera, Intel was buying itself a lifeline and a chance to force the market to dismiss its slowing top line growth. Sans Altera, revenue would have been off by 11% instead of 8% this quarter.
Secondly, Intel's prospects in the data center are no picnic. As more organizations pursue digital business they should drive a structural shift from legacy IT services to the cloud. However, when cloud providers like IBM (NYSE:IBM), Alphabet (GOOG, GOOGL) or Amazon (NASDAQ:AMZN) find it difficult to differentiate their services, they may have to compete on price. To maintain margins that means potentially squeezing vendors like Intel.
The company currently enjoys market share of over 90% in chips for data centers. Market chatter suggests Alphabet could endorse data center chips from Qualcomm. Intel generated nearly $4 billion in revenue last quarter from DCG. What happens to that revenue if or when its market share gets chiseled away by Qualcomm? Qualcomm has both the capital and the ambition of hitting back at Intel in the data center; now all it needs is a proven product. I predict that scenario will not end well for DCG or Intel's new transformation. Avoid the stock.
Disclosure: I/we have no positions in any stocks mentioned, and no plans to initiate any positions within the next 72 hours.
I wrote this article myself, and it expresses my own opinions. I am not receiving compensation for it. I have no business relationship with any company whose stock is mentioned in this article.