First Solar (NASDAQ:FSLR) is that rarity of solar power businesses, a profitable company not mired in crushing debt. On Wednesday, First Solar reported substantial y/y revenue and net income growth for 2016 Q1, yet the stock sold off more than 5% the following day. The reason is simple. Investors have little assurance of growth. But the company should still be attractive to values investors wishing to promote solar energy expansion. At least they can be assured that the business will still be around five years hence.
Widmar Photo Source: SolarServer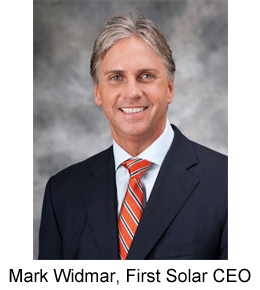 Business Models
Given the recent implosion of SunEdison, financial viability should be of paramount importance to values investors. It's one thing to suffer a paper loss on a share price decline, it's quite another to watch an investment go up in a puff of smoke.
In my article on SolarCity (NASDAQ:SCTY), I pointed out that even for values investors, SolarCity is so financially shaky as to be unattractive. SolarCity's business model of owning (or controlling) residential solar panels and then leasing their use back to consumers may be inherently flawed. Certainly, it can be argued that it isn't the best deal for consumers.
First Solar has stayed away from the residential market, focusing instead on large commercial generation projects and the manufacturing of its proprietary Cadmium Telluride (CdTe) solar panels. For a long time, CdTe was not as efficient at converting sunlight into electricity as conventional silicon solar panels, but CdTe could offer lower total cost of ownership for large power facilities that First Solar built.
Many of these facilities First Solar has subsequently sold off, such as the sale of the 15% interest in its Stateline facility this quarter to Southern Co. With the cash from Southern, revenue grew 80% y/y to $848.48 million, and First Solar was able to post net income of $170.5 million compared to the previous year's loss of $66.7 million.
With First Solar's focus on large scale commercial projects, it has been able to be profitable for the past three years. Since 2013, revenue has grown modestly at a CAGR of about 3%. Net income has grown at a faster CAGR of 15.6%.
First Solar's guidance for 2016 was updated for the Q1 earnings report. It consisted of more tepid revenue growth of 9% y/y, but a steep drop of 35% y/y in operating income to $335 million at the midpoint of the guidance range.
In its Analyst Meeting charts, First Solar makes a persuasive case that it's in much better shape than the rest of the industry: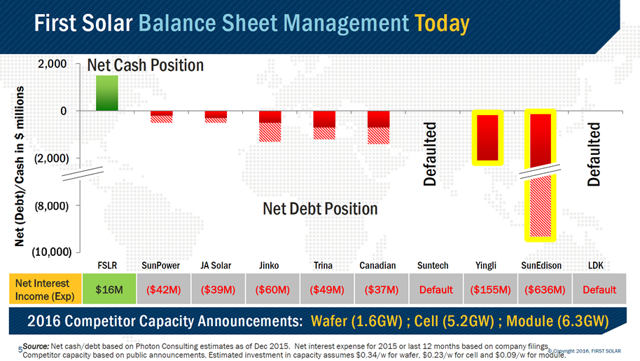 Click to enlarge
And, of course, we can now cross SunEdison off the list. First Solar's balance sheet does speak well for its prudent management, but it doesn't say that this is a growth stock. As management has acknowledged, it has yet to achieve a book/bill ratio greater than 1.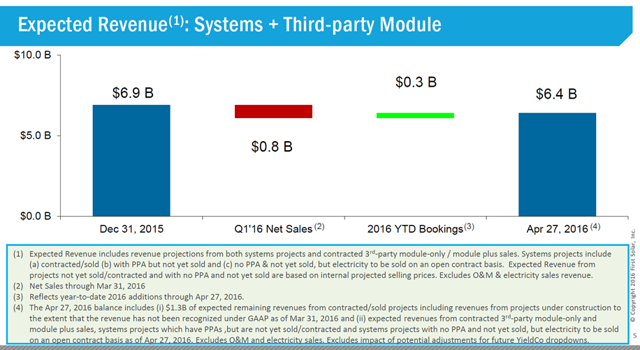 Click to enlarge
First Solar estimated as of the Analyst Meeting that it needed about 3 GW of bookings for 2016, as shown in the chart below: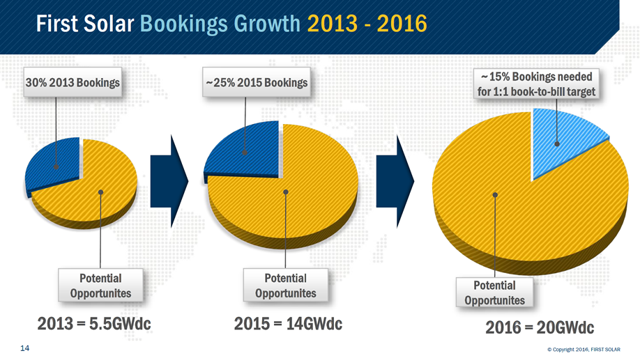 Click to enlarge
As of Q1, First Solar fell short of the needed quarterly average of 0.75 GW, achieving 0.6 GW for the quarter.
Technical Milestone
In the technology section of the Analyst Meeting presentations, First Solar could point to a very important technical milestone for its CdTe solar cells. This was the achievement of higher efficiency in a research cell than for multi-crystalline silicon cells, as shown in the graphic below: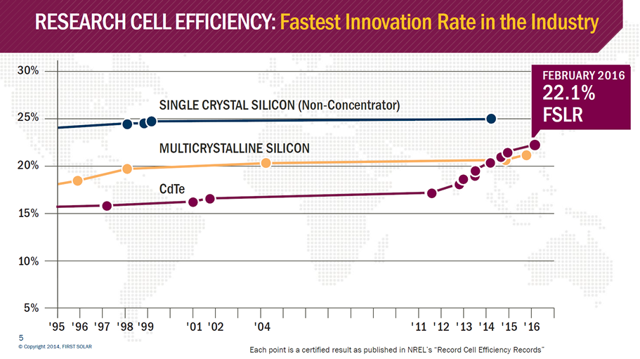 Click to enlarge
On the basis of energy efficiency and production costs, First Solar claimed as of the Analyst Meeting that it had achieved comparable cost/W to multi-crystalline silicon and could offer a total energy output advantage of 23% more energy for a large scale generation site for an 11% cost premium.
Seems like a pretty attractive deal for power companies, assuming that producers of silicon cells cooperate by not lowering their prices accordingly. Since many producers are located in China and take advantage of low labor costs, this is debatable.
I'm persuaded that the CdTe technology has legs. First Solar makes the point that its production process is simpler, faster, and less labor intensive than multi-crystalline silicon cells: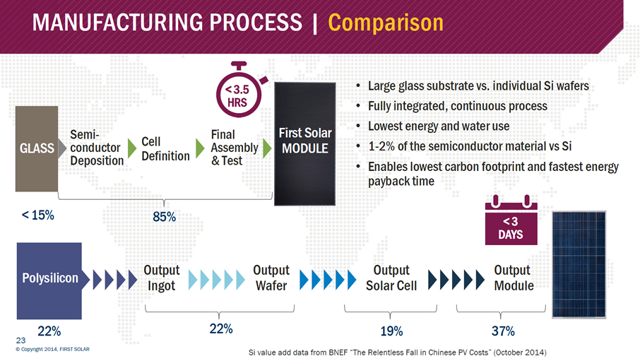 Click to enlarge
While it's been speculated that other solar cell technologies could supplant current silicon and CdTe technologies, I don't see anything that could reach sufficient maturity for wide scale deployment within the next five years.
Most importantly, it appears that CdTe is starting to pull ahead of multi-crystalline silicon in efficiency, and will stay ahead.
Investor Takeaway
On the basis of pure financial considerations alone, it's very difficult to make the case that First Solar has growth potential that will translate into a reasonable return on the shares. Based on its sound financials, I would have to rate the stock a hold. However, as a values-based investment intended to promote solar energy, it's probably the best thing out there. For values investors, First Solar is a clear buy.
Disclosure: I/we have no positions in any stocks mentioned, and no plans to initiate any positions within the next 72 hours.
I wrote this article myself, and it expresses my own opinions. I am not receiving compensation for it (other than from Seeking Alpha). I have no business relationship with any company whose stock is mentioned in this article.