Despite acquiring incredible acreage for production over the past five years, it's relatively easy to argue that Pioneer Natural Resources (NYSE:PXD) has created little to no long-term value for shareholders when all appropriate costs are included (irrespective of the share price increases over the years). Shale producers have burned through cash at an astonishing rate over years, fueled mainly on the back of burgeoning debt loads. All in all, the large shale frackers have spent $80 billion more in capex versus revenue.
Pioneer is no exception, yet share prices continue to trade at ever-increasing multiples. A perfect example is how the company continues to spend on capex while proved reserves have decreased since 2006. It seems a little fishy to me, and, at the very least, a reason to investigate further. If the company isn't able to generate returns at $100 per barrel of oil, I can't imagine the ramifications with oil below $65 per barrel.
What's happening today
The recent drop in oil and gas has not kept Pioneer from continuing to grow production. The company produced 222 thousand barrels of oil equivalent per day (MBOEPD), an increase of 3% versus the same quarter a year prior. This generated a loss of $1.65 per share or $267 million in the quarter. Shares have bounced nicely off the lows in early 2016, but shares are still down 10% over the past 12-months.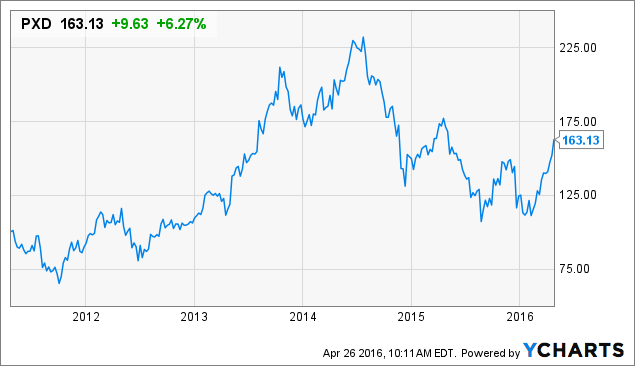 PXD data by YCharts
Many believe that Pioneer has an incredibly bright future ahead of itself. For instance, Wally Weitz had this to say about the company when he established a position in early 2014, "Pioneer's main area of investment - the horizontal redevelopment of the Northern Midland Basin - generates some of the highest cash margins per barrel in North America. In many ways, Pioneer is the oil version of gas producer Range Resources (NYSE:RRC), another Fund holding. It boasts a tremendous amount of visible, low-risk reserves with multiple shale layers available to exploit underneath the same acreage. Its financial flexibility and the Permian's more mature infrastructure base are additional advantages. We believe Pioneer's NAV is roughly $250/share."
Of course, these returns and NAV figures are predicated on the price of oil and gas which have plummeted to levels many believed would never occur.
As Pioneer shareholders look to 2016 for a positive shift in fortune, it's an appropriate time to break down short-to-intermediate term issues facing the company. Let's look at two items the company's executives must grapple with in 2016. While these aren't the only problems at hand, they can be considered core issues in Pioneer's current business. If management can resolve or navigate through the following, it will create a decent foundation for restoring the recent uncertainty surrounding the stock.
For now, a wait-and-see to the O&G producers may be best. Here are two reasons why.
Capital-intensive business in commodity industry
Not only is Pioneer an incredibly capital-intensive business, but it's also a commodity business. This combination makes it very difficult during times of extreme volatility, just like what we encounter with oil and gas prices in the last couple of years.
Because of the significant capex, it makes it tough for the company to generate any free cash flow. The constant maintenance and drilling of sites put a real strain on cash flow, which has resulted in a drop in revenue of 9.10% over the last year. The company expects capex to be $2 billion in 2016. With operating cash flow expected to be $1.4 billion, we are already starting to see the effects of this low commodity environment on a capital-intensive business.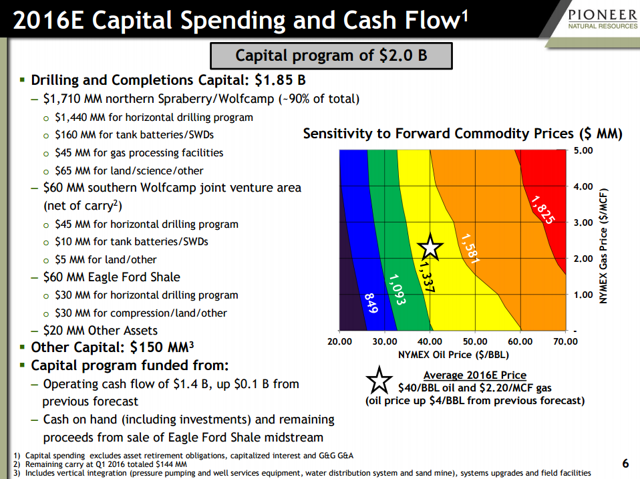 Click to enlarge
The company plans to fund the gap between capex and operating cash with cash on hand ($1.39 billion) and remaining proceeds from the sale of Eagle Ford Shale midstream. Something will ultimately have to give. Either the company has to drop capex, offer shares now to generate additional cash or hope for increases in commodity prices. The recent drop in commodity prices has really put a strain on invested capital, which has helped to decrease the overall value creation of the company. We don't see signs of this dissipating soon.
The company is heavily dependent on natural gas prices
Despite the recent exportation of natural gas in the U.S. to international markets, oil is still a global commodity. It's no secret that the U.S. has a glut of natural gas and oil in the U.S., which should put a cap on prices over the short-to-intermediate term (maybe longer). Drillers continue to pump their most profitable and productive wells to pay down debt. This has many producers heading into a spring with heavy supply.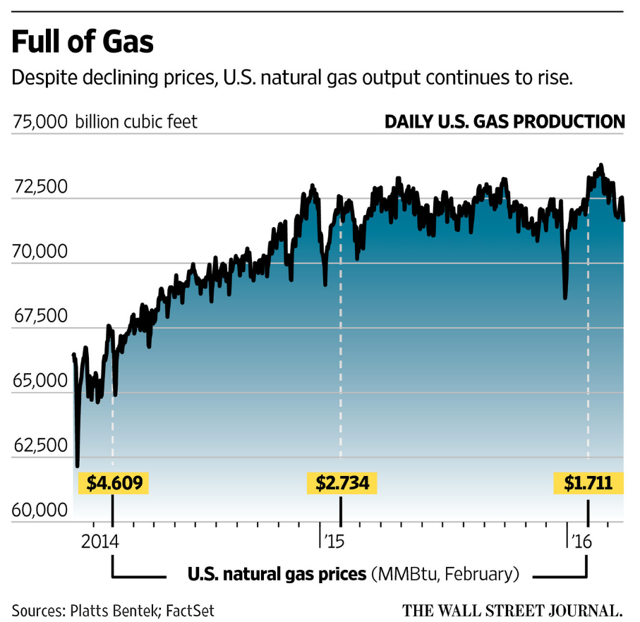 Click to enlarge
Pioneer is exposed because around 1/3 of its production is tied to natural gas. Oil and liquids represent the remainder of production. The company does have hedging in place for 85% of its forecasted oil production and 75% of its natural gas production. This will provide some leeway, but what happens if prices continue to drop or stay capped in 2016 and beyond. The company is not making money in this environment.
Of course, Pioneer would benefit dramatically from an increase in natural gas prices in the years ahead. Who knows, maybe natural gas exports will be the catalyst that swings the pendulum sooner than people think.
Look before you leap
On the surface, growth in production may give investors the idea that shareholder value is being created, however, a deeper dive could suggest that the company is just trying to get its head above water and pay its debt obligations. The management is not to blame here; they're one of the best in the industry. It's the nature of any commodity-based business that's capital-intensive: you are held captive by the price of the commodity. The good times can be fantastic while the bad times can put you out of business, if you're not a low-cost provider or unable to rein in spending.
Despite acquiring incredible acreage for production over the past five years, I would argue that Pioneer has created little to no long-term value for shareholders when all appropriate costs are included (despite the share price increase over the years). At the very least, I'd be cautious assuming value or rhetoric that the company advertises. There could be more to the story than the company would like to admit.
Earlier this year, the company issued 12 million new shares at $117 to fund production increases. Certainly not a bad move to raise cash in this environment, but to use them for production increases in an environment of depressed oil and gas prices leaves me scratching my head a little. It doesn't take away from the concerns we mentioned above and whether they will be alleviated anytime soon. EV/EBITDA of 23 for an unprofitable company? When, if ever, will the company generate owner earnings or free cash flow? I think I'll pass.
Source of Figures and Stats Above: Q1 2016 Report, Full of Gas (WSJ), Einhorn Presentation
Disclosure: I/we have no positions in any stocks mentioned, and no plans to initiate any positions within the next 72 hours.
I wrote this article myself, and it expresses my own opinions. I am not receiving compensation for it (other than from Seeking Alpha). I have no business relationship with any company whose stock is mentioned in this article.