Everyone has heard about Starbucks' (NASDAQ:SBUX) expansion efforts in China. At least, every investor should have by now. The company is opening an enormous amount of stores there and doesn't have plans to stop any time soon.
But do we know the impact? Do we really know what role China will play in Starbucks' future? It's impossible to forecast exact numbers, but it's clear CEO Howard Schultz and his management team have found a way to crack China, and it starts with culture.
Starbucks' partners in China are proud to lace up the green apron every morning. It's not just a "job" there. While some parents may be skeptical at first, once they show up to the annual employee meetings (which they're also invited to), their minds are changed for the better, as they see their child's potential with the company.
A still image from a performance by Chinese employees at the Shareholders' Meeting in Seattle.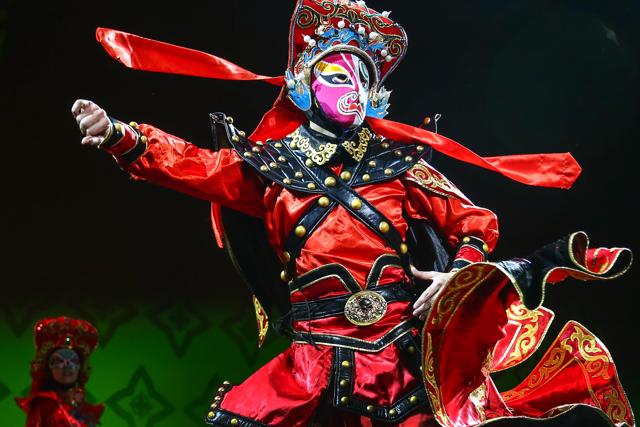 Click to enlarge
(full performance can be seen at the start of the video, linked below)
I wish I could put the video in this article. But since I can't, do yourself a favor and watch the Annual Meeting of Shareholders replay. If you don't want to watch the whole thing, but want to see how Starbucks impacts its partners' lives, jump to 13:10.
The beginning of that meeting focuses on China and for good reason. The company already has 2,000 locations in 100 cities. Right now, it's opening about 10 stores per week, roughly 500 a year, continuing through fiscal 2020.
The company generated 18% revenue growth in China, outpacing the 14% revenue growth in the China/Asia Pacific segment last quarter. Management also said it plans to grow its CAP division to more than 10,000 locations by the end of fiscal 2019, up significantly from its 5,900 locations now.
Sorry for all the numbers. But when combined with Schultz's comments that China could actually dethrone the U.S. as the company's largest market someday, it's so significant it can't be stressed enough. Other comments include:
"The middle class currently is about 300 million people. Those are key customers for Starbucks and that middle class is going to grow over the next 10 years to 600 million Chinese people, who we believe are going to be Starbucks customers. So, we're playing the long game in China, we're building one of the most respected and iconic companies and consumer brands in the country."
For comparison purposes, the Americas segment currently has 15,000 locations. Last quarter, this segment kicked out $3.45 billion in revenues and $812 million in operating income. In fiscal 2015, it cranked out operating income of $3.22 billion on $13.3 billion of revenue.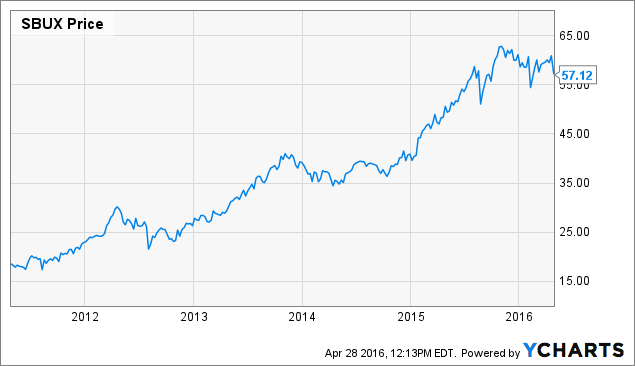 If Schultz believes China can one day overtake the U.S. as its largest business, investors need to think long term about numbers like this. If the Americas segment is kicking out $3.2 billion in annual profit, it's sensible to think CAP could do it too. Can both segments grow to have operating income of $4.5 billion in the future? I think so.
Assuming the Americas can grow its operating income by 10% (conservative vs. the past few years) for the next two years, we'll have $3.97 billion in 2017. Then 5% per year afterwards, comes out to $4.59 billion by year-end 2020. CAP won't have $4.6 billion by that time, but longer term, when the aggressive expansion slows, it could get there.
And that's what investors are really paying for. The comp-store sales growth of 6% - even though it seems like investors are booing those results right now - are attractive, and show the business has momentum. But we're not paying for that, we're really paying a premium for Starbucks' future growth.
If investors open up their mind and actually listen to what management is saying, they'll hear something like, "Our Americas business has industry-leading comps and is churning out billions in sales and profits every year, each growing double digits. We think China - which is poised to double the size of its middle class - will eventually overtake this highly profitable segment, by being even bigger and better. As a result, we're building as many stores as we possibly can."
I truly cannot think of another company I would rather own at the moment. Schultz & Co. has found a way to not only return capital to shareholders and make a conscious effort to grow earnings by 15% to 20% per year, but also reinvest enough capital into the business to support its very aggressive expansion efforts.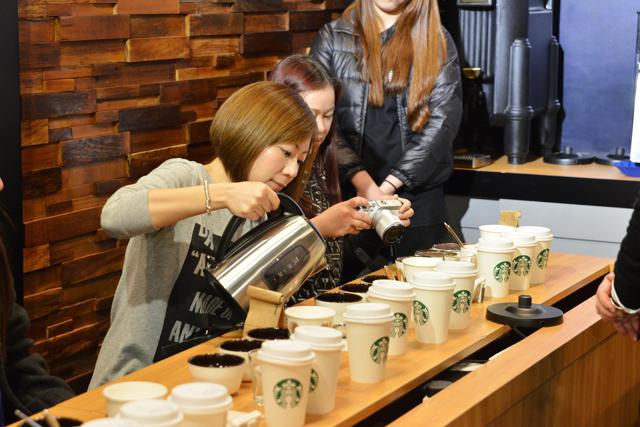 Click to enlarge
China hasn't been an overnight success, either. The company has actually been operating there for a number of years - and spent many of those years doing so unprofitably.
It looks like that hard work and patience will pay off. It will for investors too, so long as they are able to look past the noise, stop worrying about penny-per-share misses or beats each quarter and focus on the long-term story that management is telling.
If investors can do that, they'll be thrilled with their investment five, ten and twenty years down the road. They'll also be pleased about the dividends they'll be receiving by then.
Disclosure: I am/we are long SBUX.
I wrote this article myself, and it expresses my own opinions. I am not receiving compensation for it (other than from Seeking Alpha). I have no business relationship with any company whose stock is mentioned in this article.