American Capital Mortgage (NASDAQ:MTGE) reported net spread plus dollar roll income of $.44 per share for the quarter compared $.52 per share in the prior quarter and a dividend of $.40. To determine how the mREIT was really doing during the quarter it helps to dig significantly deeper. Let's start with a slide that gives us most of the first information an investor should know: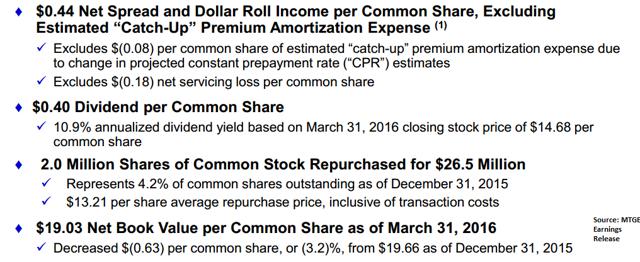 Click to enlarge
Net Spread
The $.44 in net spread and dollar roll income is excluding the "catch-up" expenses. Without excluding the expenses the value would only be $.36. However, excluding the expense makes a great deal of sense. Since MTGE attempts to forecast prepayments and adjusts their amortization expenses accordingly it can result in declaring either a benefit or an expense for each quarter due to the adjustment in their expectations. A simple rule of thumb is that they will be excluding an expense if interest rates fell during the quarter and excluding a benefit if interest rates increased during the quarter.
Exclusion of Net Servicing Loss
The exclusion of the net servicing loss per common share would be more concerning if that was the whole story. However, MTGE's management indicated after Q4 of 2015 that they were finally putting those issues to rest.
This was reinforced during the earnings release by the following statements:
"As of March 31, 2016, RCS owned a portfolio of MSR with a fair market value of $59.9 million, representing approximately 32,000 residential mortgage loans and $6.3 billion in unpaid principal balances. During the first quarter, the Company recorded $9.6 million in servicing income and $(17.9) million in servicing expense, which included $(1.9) million in realization of cash flows on MSR and approximately $(4) million transaction-related charges in connection with the sale of substantially all subservicing assets and operations to Ditech Financial ("Ditech"), a subsidiary of Walter Investment Management Corp. The transaction closed on January 28, 2016, and the majority of servicing transfers occurred during the first quarter of 2016, with the remaining transfers scheduled for the second quarter. RCS retained its owned MSR, which will be serviced by Ditech pursuant to a subservicing agreement. Following the transfer of all servicing, RCS will transition to a servicing oversight platform with the ability to acquire MSR opportunistically."
When I wrote about their transitioning out of the MSR position, I indicated that the fourth quarter would not be the last period where this position would cause some pain because some of the costs were charged to the first quarter. Those costs have rolled through the income statement and it appears investors will be free to move on now.
There may still be some adjustments to fair value of MSR assets, but the fundamental problem of terrible operating performance should be in the past.
Dividend
The dividend of $.40 appears to be easily covered. The yield based on their ending share price was 10.9% but it was only an 8.41% yield on the ending book value. In my opinion the current macroeconomic environment makes it possible for mREITs to reasonable earn yields on book value in the range of 8% to 10% depending on how aggressive they wish to be. A yield of 8.41% on book value doesn't look to bad.
With the MSR business finally fixed, it would be possible to see a dividend increase at some point during the year for MTGE. I won't go so far as to call it probable, but it is definitely a possibility. A dividend cut would be very surprising to me. Management cut the dividend from $.50 to $.40 a few quarters ago, so they may be slow to increase the dividend until they are sure it can be supported. A flattening yield curve would be a problem that could eliminate their ability to raise the dividend but it would take some fairly significant pressure for the dividend to fall any lower.
Repurchasing Shares
Repurchasing 4.2% of common shares during a quarter is exceptionally positive for an mREIT trading at a significant discount to book value. MTGE is one of the mREITs that remained at a larger discount to trailing book value. Even after adjusting for the mREIT's book value declining from $19.66 to $19.03, the discount to book value appears significantly larger. The most recent share price of $14.90 indicates a 21.7% discount to Q1 book value. This is materially larger than most of the mREITs I'm covering. The normal level right now is running about 8% to 15%.
Commentary
Management's commentary in the earnings release included the following statements:
"As we look ahead, we continue to believe that interest rates will remain 'lower for longer' as a result of the ongoing global economic headwinds. Despite these economic headwinds, we remain very comfortable with the underlying fundamentals of the U.S. conforming housing market as employment gains, low mortgage rates, increased credit availability, and favorable demographics should allow conforming mortgage credit to outperform other credit-sensitive fixed-income markets. In aggregate, we believe the current interest rate and credit landscape, coupled with increasingly attractive investment spreads on agency and non-agency MBS, will be supportive of improved economic returns for our shareholders. Consistent with this view, we chose to slightly increase our leverage level in the first quarter, primarily through the repurchase of 2.0 million shares, or 4.2%, of our common stock."
I couldn't agree more with this assessment. Lower for longer appears to be the correct strategy based on my assessment of the macroeconomic situation. The labor picture is currently strong but the inflation picture is not strong and raising short term rates would further weaken the chance for inflation to reach the Federal Reserve's target of 2%.
The best part of the statement for shareholders would clearly be that management decided the best way to increase leverage was to repurchase shares rather than to purchase other securities. Since their shares were trading at discounts materially in excess of 20% for much of the quarter it would make far more sense to pump up leverage through repurchasing shares at a huge discount rather than buying new assets. This strategy reduces compensation to the external manager but it is precisely the right strategy for the shareholders.
Conclusion
Book value losses were fairly harsh but part of the declining in book value came from the expense recognition as the MSR nightmare was put in the rearview mirror. With those problems gone MTGE should be in a solid position and their significant discount to book value makes them materially more attractive at current prices than most of the sector. I'm bearish on the sector but neutral on MTGE. In predicting outperformance by one mREIT relative to peers, I would easily pick MTGE as one of the strongest candidates to outperform the sector if measurements are based on movements in share price plus the dividend. For the purposes of comparison, I'm using the ending share prices on April 27th, 2016 as the starting point.
Disclosure: I/we have no positions in any stocks mentioned, but may initiate a long position in THE PREFERRED SHARES OF ANY MREIT over the next 72 hours.
I wrote this article myself, and it expresses my own opinions. I am not receiving compensation for it (other than from Seeking Alpha). I have no business relationship with any company whose stock is mentioned in this article.
Additional disclosure: Information in this article represents the opinion of the analyst. All statements are represented as opinions, rather than facts, and should not be construed as advice to buy or sell a security. This article is prepared solely for publication on Seeking Alpha and any reproduction of it on other sites is unauthorized. Ratings of "outperform" and "underperform" reflect the analyst's estimation of a divergence between the market value for a security and the price that would be appropriate given the potential for risks and returns relative to other securities. The analyst does not know your particular objectives for returns or constraints upon investing. All investors are encouraged to do their own research before making any investment decision. Information is regularly obtained from Yahoo Finance, Google Finance, and SEC Database. If Yahoo, Google, or the SEC database contained faulty or old information it could be incorporated into my analysis.