Orchid Island Capital (NYSE:ORC) reported their first quarter earnings after the market closed on April 27, 2016. The results shouldn't have been a surprise to anyone since Orchid Island Capital provided a portfolio update two weeks ago. While the portfolio update doesn't directly state the "net income," the income under GAAP should be taken with more than a grain of salt for assessing things like dividend sustainability.
I closed my latest piece stating:
"My view on ORC's share price remains that it is too high and not attractive for either traders or 'buy and hold investors looking to add to their position. My rating at this point would be around 'sell' to 'strong sell.' This has been my stance for some time. Because of heavy risk aversion, I may be prone to downgrade shares of an mREIT too early. I want to see a margin of safety on investments, and I don't see it here. ORC is a fine mREIT, but the current price is simply too high."
At the time of my writing that article, shares of Orchid Island Capital were trading at $10.53.
Silly Traders
Orchid Island Capital was down about .5% on the day, but fell another 1.5% after hours as traders assumed the earnings release was relevant.

Click to enlarge
Perhaps even more interesting is the way share prices got demolished after the market opened: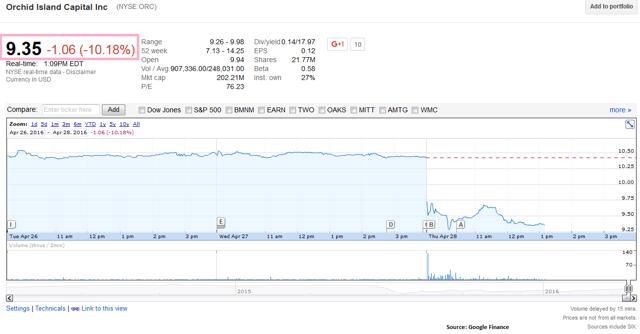 Click to enlarge
The information in the earnings release matters, but the most critical information was already public. The surprise for me in the earnings release was Orchid Island Capital's decision not to state Core EPS. While analysts can still find the Core EPS values on their own, the mREITs decision to move into LIBOR swaps for part of their hedge portfolio suggested that they might want to incorporate Core EPS as a metric for their earnings reports.
The fundamentals for Orchid Island Capital did not change drastically over the last 24 hours. The earnings release shouldn't have been a huge surprise. I covered the portfolio about two weeks prior to this filing. This is simply a case of small mREITs separating from their fundamentals. Rather than ORC separating over the last 24 hours, it is being whipped back after being separated in the prior weeks and months. The latest decline puts it on a much more similar price to book valuation with other mREITs such as American Capital Agency Corp. (NASDAQ:AGNC).
Management Commentary on Portfolio
Even though most of the portfolio information was already public knowledge, the earnings release was fairly interesting for the management commentary:
"The events of the first quarter had a significant impact on our book value per share. Our portfolio is biased towards higher coupon, fixed rate securities with various forms of prepayment protection, interest only and inverse interest only securities, and funding hedges positioned primarily on the belly of the curve and, to a lesser extent, the ten year part of the curve. As the market responded to a combination of weaker economic data, market turmoil and the Fed's reaction to these events as described above, the impact on our portfolio were not favorable. Our premium fixed rate pass-throughs experienced some price appreciation, but such price increases were muted, as they always are with premium RMBS, by fears of accelerated prepayments. Our interest only ("IO") securities were impacted quite negatively as they are simply levered positions with respect to prepayments and generally decline in value during market rallies. This was somewhat offset by the performance of our inverse interest rate securities as market expectations of Fed rate increases were reduced. "
The commentary really nailed down the challenges for Orchid Island Capital in the first quarter. Their portfolio is positioned in higher coupon agency RMBS. These positions are excellent when interest rates are rising because an expectation for lower prepayments (due to higher rates) reduces the amortization expense over time. The net result is asset yields that naturally move higher when interest rates move higher. The position in IO strips has some of the same characteristics but to a leveraged extent. The IO strip would increase in value as the prepayment expectations decline because the derivative is simply buying interest payments on the MBS. A lower prepayment rate results in materially more total interest coupons collected.
Management Commentary on Interest Rate Expectations
Management also addressed the macroeconomic picture for interest rate expectations over the rest of 2016:
"We do not share the market's confidence that the Fed will only raise rates once, at most, in 2016. While there is ample evidence in the data that the economy is weak, in the aggregate the data is clearly inconsistent and employment based measures are unanimously strong. Moreover, the employment data is much less prone to revision and generally more accurately derived as the inputs are fewer and obtained directly. Further, inflation data seems to be reversing, due in some part to baseline effects at the headline level, and should continue to trend towards the Fed's target of 2% over the balance of the year. While the global economy remains somewhat weak and both the European Central Bank and Bank of Japan continue with easing programs, we do not expect that the Fed will be able to dismiss domestic considerations if the data warrant tightening for long. While we do not expect aggressive rate hikes, we do expect the pace of tightening to follow the Fed's current expectations as evidenced by their "Dots." As a result, we intend to maintain our current positioning with the portfolio."
I found this very interesting. As an analyst, I've fallen into the camp of "lower for longer" as the correct policy approach. If ORC is correct and the Federal Reserve jacks up short-term rates, I believe it will result in international traders flowing into the USD to receive the short-term rates and funding the positions through the low short-term rates in other domestic currencies. This is known as a carry trade and it could push the value of the USD materially higher.
That would put further pressure on corporate earnings due to weak translations of foreign sales and earnings. It would also create further incentives for domestic companies to offshore jobs. While the labor numbers look fairly strong at the moment, it would be difficult for them to be maintained under stronger incentives for outsourcing. It would also make it very difficult for the 2% annual inflation goal to be achieved due to the pressure on prices from cheaper foreign goods.
If a second hike happens during the year, I would expect it no sooner than December of 2016, and I'm not convinced that we will see a second even then.
Conclusion
It was a difficult quarter for Orchid Island Capital as their portfolio was positioned to excel in a higher interest rate environment with declining levels of prepayments. The first quarter played out in the opposite direction though there has been a mild reversal so far in April. Relative to April 1st, the 10-year treasury is up 8 basis points.
My stance on Orchid Island Capital is now weakened from "strong sell" to a regular "sell." In a sense, this is an upgrade but it is still a bearish rating. My outlook for the sector as a whole is bearish, but ORC is now trading at valuations that are not drastically different from peers.
As I have frequently disclosed, I am currently hunting for preferred shares in the mREIT sector. I will not be buying common shares of either ORC or AGNC in the immediate future, but I may buy preferred shares on any mREIT despite my bearish outlook on common stock prices for the sector.
Disclosure: I/we have no positions in any stocks mentioned, but may initiate a long position in PREFERRED SHARES OF ANY MREIT over the next 72 hours.
I wrote this article myself, and it expresses my own opinions. I am not receiving compensation for it (other than from Seeking Alpha). I have no business relationship with any company whose stock is mentioned in this article.
Additional disclosure: Information in this article represents the opinion of the analyst. All statements are represented as opinions, rather than facts, and should not be construed as advice to buy or sell a security. This article is prepared solely for publication on Seeking Alpha and any reproduction of it on other sites is unauthorized. Ratings of "outperform" and "underperform" reflect the analyst's estimation of a divergence between the market value for a security and the price that would be appropriate given the potential for risks and returns relative to other securities. The analyst does not know your particular objectives for returns or constraints upon investing. All investors are encouraged to do their own research before making any investment decision. Information is regularly obtained from Yahoo Finance, Google Finance, and SEC Database. If Yahoo, Google, or the SEC database contained faulty or old information it could be incorporated into my analysis.