The dollar has weighed on many companies thus far this earnings season. Although there has been recent weakness in the dollar against other currencies, we see it impacting many companies this earnings season. DuPont (NYSE:DD) was able to outperform expectations largely because the US dollar weakened against most currencies in the first quarter of this year. Unfortunately for DuPont, the dollar was still strong enough to shave 4% off sales. Mondelez International (NASDAQ:MDLZ), the maker of Oreos and Cadbury chocolates, was another recent victim reporting EPS lower by 0.03 cents. Management forecasted currency to shave 3 points off revenue, but this is down from the 6 points previously expected.
What have we seen in tech?
Alphabet (NASDAQ:GOOG) (NASDAQ:GOOGL) seemed to be smacked pretty hard by the negative impact of currency. Management reported "a negative currency impact on our revenues YoY of $762 mn or $593mn after the benefit of our hedging program."
Let's revisit Facebook (NASDAQ:FB) and see how they fared, as well as examine some other features of their earnings report issued April 27th, 2016.
King Dollar Strikes Again
Facebook's "Rest of World" revenue growth, and the growth generally, was largely impacted by currency headwinds once again. Foreign exchange headwinds shaved 6% off Q1 ad revenue, to 57% growth instead of 63% on a constant currency basis. Q1 total revenue lost 6% as well, from 58% growth on constant currency down to 52% because of the strong dollar. In the Europe and Rest of World regions, ad revenue was "particularly impacted by foreign exchange headwinds. Setting aside currency headwinds, all regions exceeded 50% constant currency ad revenue growth."
So although FB's revenue growth was largely robust, the dollar remains a culprit. Hundreds of millions of dollars are lost to the foreign exchange phenomenon, and it does not show any sign of letting up. What else do we see impacting FB's price action?
Share Issuance
Facebook announced a proposal to create a new class of stock. CEO Mark Zuckerberg was relatively straightforward in his reasoning: "I'll be able to keep founder control of Facebook so we can continue to build for the long term." This non-voting Class C capital stock is intended to mitigate succession risk and voting dilution over the long haul while "encouraging Mark to remain involved with Facebook in a leadership role." Each Class A and B share held by stockholders will receive two new Class C shares as a one-time stock dividend. The difference of course is that Class C shares are non-voting shares, and the proposal will be subject to shareholder approval in June.
Ad Revenue: The Story Remains Mobile
Investors familiar with Facebook are no doubt aware it has overcome the challenge it previously encountered with mobile. In the most recent quarter, mobile ad revenue constituted 82% of advertising revenue. Last year's 72% high watermark was eclipsed by over 10% YoY. Mobile MAUs were 1.51bn, a 21% YoY increase, and total MAUs reached 1.65mn.
In essence, what we are seeing is a continued adoption of Facebook and Facebook properties as a robust advertising platform. Only a few weeks ago, the advent of Instant Articles and chatbots for Messenger appear to be further catalysts to attract ad dollars.
Last week, industry reports showed online ad revenue in the US alone reached $60bn in 2015, a 20% increase from 2014. We see that mobile is continuing to attract a larger share of those dollars, not only reflected in Facebook's earnings mix but also from independent observers like PWC: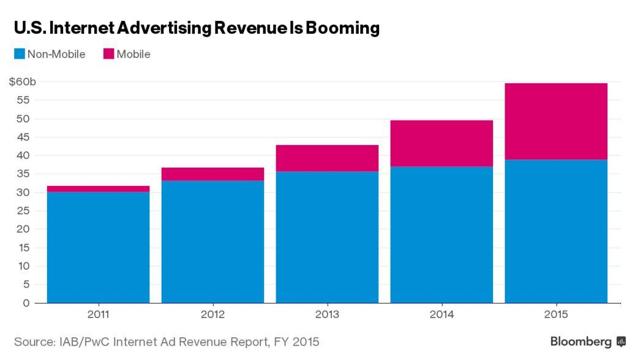 ARPU Growth Robust
The single most impressive metric we saw in Facebook's report is its Average Revenue Per User. Obviously an important statistic that demonstrates how Facebook is monetizing its over 1.6bn users, ARPU helps investors understand what a user is really worth to Facebook and how it is pulling various levers to engage the users and generate revenue.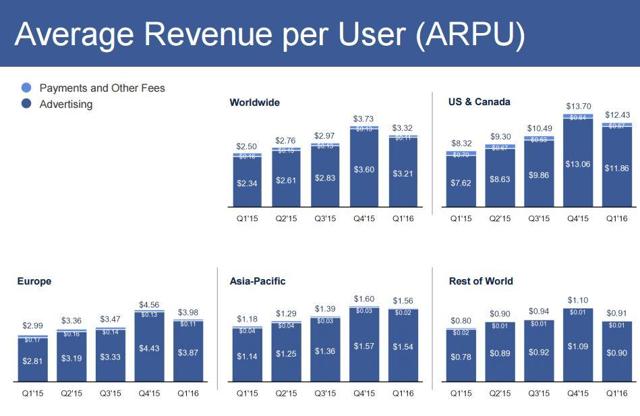 In 1Q16, we see $3.32 ARPU, a very robust increase over the year ago quarter at $2.50. A 30% increase in the amount you are generating from each user, especially while overall user numbers are continuing to grow, is very impressive.
Instant Articles
We did not receive much color on the rollout of Instant Articles to all publishers. We first covered this new feature some time ago, explaining that widespread embrace could catalyze further advertising revenue growth since publishers will be compelled to use the native experience and display ads through Facebook's ad service.
Importantly, we expect time spent on Facebook to rise as a result of Instant Articles. This feature "makes it so that any publisher around the world now can deliver a really great native experience instantly with no latency in loading it. And we're just seeing that people like to engage with that a lot more." Higher engagement should help ARPU inch higher as well.
Conclusion
We were buyers ahead of the earnings report on the recent weakness because of how Facebook is uniquely positioned as the main competitor to Google in digital advertising. Although we believe the P/E of 91 remains expensive, we believe Facebook has some interesting catalysts in the pipeline and is continuing to drive ARPU and MAUs higher.
Disclosure: I am/we are long FB.
I wrote this article myself, and it expresses my own opinions. I am not receiving compensation for it (other than from Seeking Alpha). I have no business relationship with any company whose stock is mentioned in this article.