Lululemon (NASDAQ:LULU), a Canadian athletic apparel retailer, describes itself as a yoga-inspired athletic apparel company, as well as a designer and retailer of technical athletic apparel. The company makes a number of different types of athletic wear, including performance shirts, shorts, and pants, in addition to lifestyle apparel and yoga accessories. Its primary competitors are Nike (NYSE:NKE) and Under Armour (NYSE:UA). Lululemon thrived from 2009-2012. However, amidst a 2013 product recall and perhaps increased competition, the company has struggled as of late. Lululemon is in a niche of selling athleisure, the trend of wearing athletic clothing as casual wear, which is becoming increasingly popular. The rise of fitness-conscious consumers who look at casual athletics as a lifestyle is fueling this industry trend.
This report aims to evaluate Lululemon's performance over the last five years, compare the company to an industry peer group (Nike and Under Armour), and conclude with a brief opinion of how to approach Lululemon stock.
Ratio Analysis - Profitability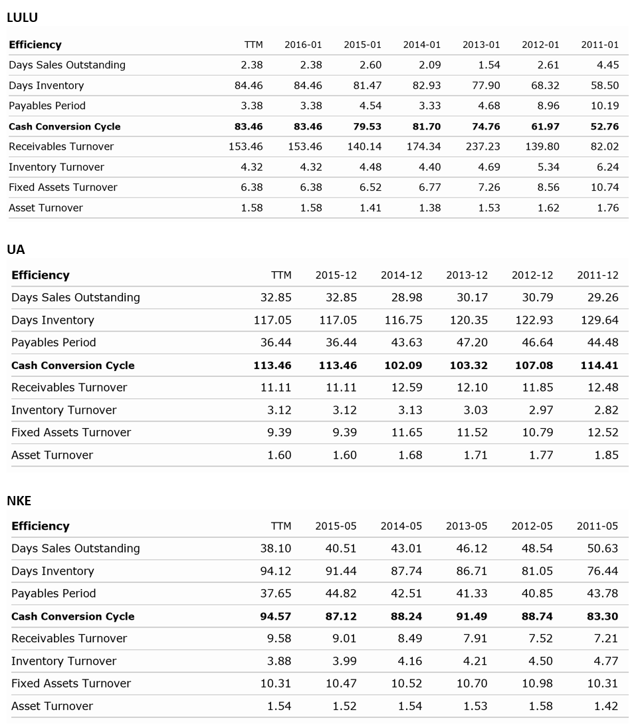 Click to enlarge
Over the past three years, Lululemon has experienced a decline in profitability. Its gross margin ratio has fallen from about 55% to about 51% over the last five years. Major factors affecting lower margins include differences in the product mix sold during the year, depreciation, staff costs, higher transportation costs, and increased costs of manufacturing. Despite this drop, sales have risen. This suggests Lululemon drove the sales increase via elevated promotions. It is expected that gross margin will continue to decrease as the company struggles to command full prices outside of its core product lines with newly developing men's and children's lines. A significant dip in profitability in 2013 can be largely attributed to a defect in the luon yoga pants line, leading to a substantial recall in 2013.
Currently around 49%, Lululemon's cost ratio is relatively high. The company asserts that overhead expenses and the cost of goods sold rose faster than revenue. Its cost ratio and gross margin are nearly even.
Despite increased costs of goods sold (COGS), selling, general, and administrative expenses (NYSEMKT:SGA) have remained stable at about 30%. New store openings and increased costs of its e-commerce operation affect this high number.
Throughout the last five years, Lululemon has seen its profit margin ratio rise and then fall. Most recently, it has dropped to a five-year low of about 13%. Again, the company's results were affected by the 2013 recall, as well as higher costs. The company experienced higher occupancy costs due to new store rollouts, opening 48 new stores during fiscal 2015. Higher discounting also negatively impacted this percentage. Profit margins deleveraged due to the impact of the stronger US dollar relative to the Canadian dollar and the Australian dollar. Last year's profitability was also affected by slower flow of inventory to stores due to the west coast standoff at multiple ports last year. Although the issue is now resolved, its impact is expected to continue in fiscal 2016 for Lululemon and other retailers, as shipments take time to unload. An adverse foreign exchange environment also impacted the company's bottom line.
Overall, Lululemon has seen a significant increase in net operating profit after tax (NOPAT) over the last five years. However, it has declined over the last two years, which is interesting because Lululemon's effective tax rate has decreased in that time. Operating costs increased due to higher investments in e-commerce and higher supply chain costs. Differences in the product mix sold during the year, higher transportation costs, and increased manufacturing costs all help explain why the company's net operating profit margins decreased.
Ratio Analysis - Efficiency
Efficiency ratios assess how effectively a firm utilizes its assets and liabilities. The above ratios depict the correlation between assets from the balance sheet and sales from the income statement.
Lululemon's asset turnover has hovered around 1.5 over the past five years. This coincides with competitors Nike and Under Armour. Accordingly, for every dollar invested in assets, Lululemon and their peers generate $1.50.
| | | | |
| --- | --- | --- | --- |
| Asset Utilization Efficiency in 2015 | LULU | *Peer Group | Assessment |
| TATO | 1.41 | 1.51 | Average |
| Fixed Asset Turnover | 6.52 | 8.74 | Bad |
| Receivables Turnover | 140.14 | 53.43 | Good |
| Inventory Turnover | 4.48 | 3.9 | Good |
*Peer group is the average of LULU, UA, NKE
Per S&P CapIQ, the industry benchmark for inventory turnover has declined since 2005. In 2015, the apparel and luxury goods industry average for inventory turnover was 2.9 times per year. Lululemon turns their inventory at a faster pace, at over 4 times per year, a strong sign.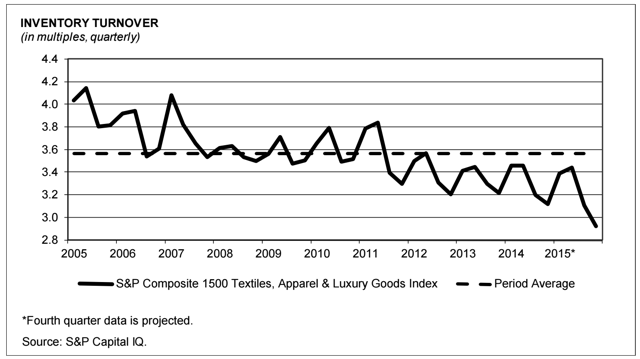 Click to enlarge

Click to enlarge
Relative to Under Armour and Nike, Lululemon excels at collecting debt. The firm's 2015 receivables turnover ratio was 140.14. There are no borrowings on Lululemon's balance sheet. This can be attributed to their rapid ability to collect payment. Lululemon is unique in that 77% of Lululemon's revenues come from corporate owned stores, 16.5% of revenues come from direct to consumer sales, and 6.2% come from other sources. Other sources include wholesale accounts - health clubs, yoga studios, warehouse sales, and franchise royalties. Lululemon's wholesale business is significantly smaller than its peers, which may partially explain how the company is able to collect receivables at a higher rate.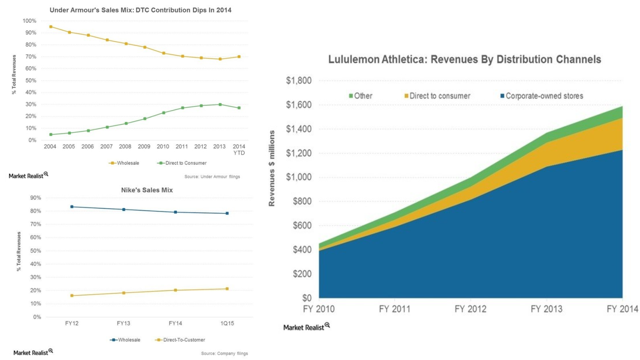 Click to enlarge
Lululemon's days sales in inventory ratio (NYSEARCA:DSI) is lower than its peers. Moreover, Lululemon's DSI has gradually increased over the last five years. This can be attributed to an increase in inventory and simultaneous flat rate of COGS. The following factors play a role in increased inventory levels:
New store growth: 48 new stores were opened in fiscal year 2015. The average store is 2,968 square feet and generates $1,541 sales per square foot. The square footage of their company-operated stores excludes space used for non-retail activities. Non-retail activities include yoga studios and office space. The on-site yoga studio at company owned stores is unique to Lululemon and perhaps explains why their fixed asset turnover rate is higher than their peers.
Quality control and negative publicity: In 2013, the luon pant was recalled due to a quality defect, resulting in a loss of $60 million and diminished brand affinity.
Global economic conditions: Trends in discretionary spending are difficult to predict and thus largely speculative.
Tastes and preferences: The ability to forecast the demand for, and successfully introduce new, innovative, and updated products that fulfill customer preference is challenging and prone to fluctuation.
| | | | |
| --- | --- | --- | --- |
| Asset Utilization Efficiency in 2015 | LULU | Peer Group | Assessment |
| Days in Inventory | 81.5 | 96.7 | Good |
*Peer group is the average of LULU, UA, NKE
Lululemon has a decisive edge in collecting credit sales, boasting a days sales outstanding ratio (DSO) of slightly over 2 days. This pattern has remained consistent over the past five years. Competitors Nike and Under Armour have an average DSO ranging between 36 and 45 days. Lululemon's capital structure notably differs from its competitors in that its wholesale business is not material. Significant collections come from invoices issued to wholesale buyer such as large department stores and specialty stores.
Lululemon's days payable outstanding ratio (DPO) has been in single digits and declining over the last five years, whereas Under Armour hovers around 12 days and Nike at over 40 days.
Lululemon's cash conversion cycle increased from 2011 to 2013, before flattening out in 2014 and 2015. Despite the increase, the following graph indicates that Lululemon's cash conversion cycle has been more efficient than Nike's and Under Armour's over the last several years.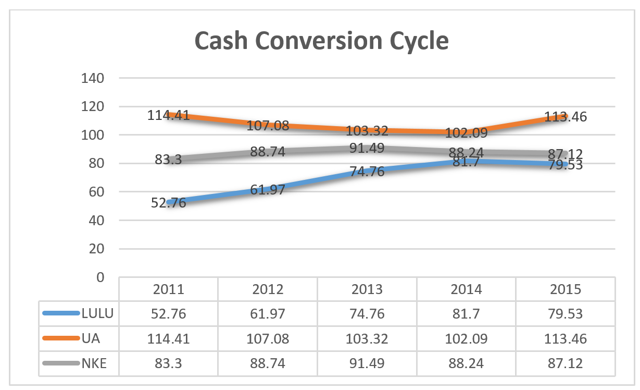 Click to enlarge
Ratio Analysis - Management Effectiveness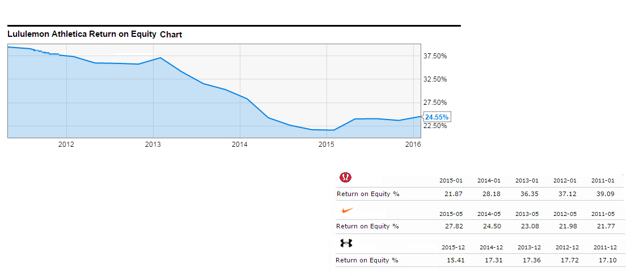 Click to enlarge
Lululemon's annualized return on assets (ROA) for the quarter that ended January 2016 was 35.64%, marking a rise from the past five years' performance. For retailers, an ROA above 5% is expected, a benchmark that Lululemon has easily surpassed over the last ten years. In that time, the company's minimum ROA was 13.42 and its maximum was 30.3. Out of the 947 companies in the global apparel stores industry, Lululemon's ROA ranks in the 96th percentile.
Through the last five years, Lululemon thrived until 2013 and then regressed in 2014 and 2015. In 2013, the effects of the luon pant snafu, as well as certain ill-advised comments from its founder and CEO, caused many of its financial targets to lose ground.
Despite these challenges, Lululemon's ROA compares favorably to peers Nike and Under Armour. Given these current results, it appears that Lululemon's high operating returns are sustainable.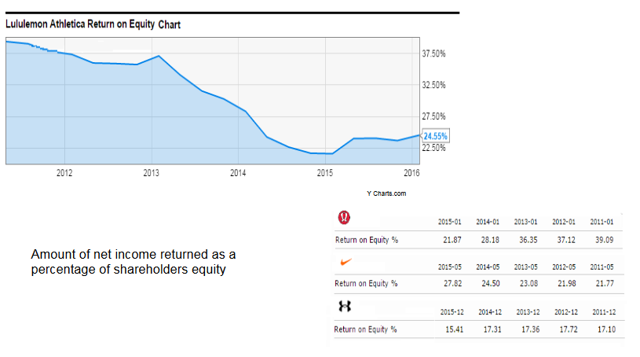 Click to enlarge
Lululemon's return on equity (ROE) tells a similar story as its ROA. It has declined steadily, with its biggest drop after 2013.
Lululemon's annualized return on equity for the quarter ending January 2016 was 45% and for the fiscal year was 25.13. Its range over the past 10 years was a minimum of 21.87 and a maximum of 41.28. The industry average is 23.80% and Lululemon ranked higher than 88% of 926 companies in the global apparel stores industry.
Another measurement of a company's management effectiveness is its market capitalization (market cap). Lululemon's market cap is 9.04B. It is considered a mid-cap company.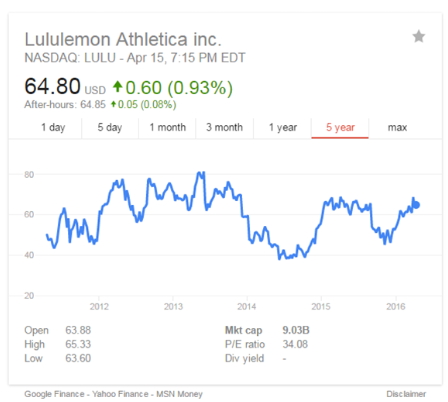 Ratio Analysis - Financial Strength
Lululemon holds a significant amount of cash (around $314,449.00 at the end of fiscal 2015) and has no debt. This is a potential red flag. Over the last five years, Lululemon's current ratio has ranged from 4.6 to 8.1. Last year it was 5.9, which indicates the company may not be efficiently using its current assets or its short-term financing instruments. This may also stem from problems in working capital management. Lululemon's current ratio is higher than 90% of the 889 companies in the global apparel stores industry, where the average is 1.56. This particularly high mark may indicate that management is not generating an appropriate return on the profits it converts to cash, or worse, that the company is not investing in future growth.
In 2015, Lululemon's quick ratio was about 4.24, down from 6.11 in 2014. This indicates that the company has good short-term financial clout. Additionally, it is likely that Lululemon is experiencing strong top-line growth, quickly converting receivables into cash, and is able to meet its financial obligation. The industry average is about .85.
Because Lululemon does not have any debt, its debt-to-capital ratio is 0.
Ratio Analysis - Valuation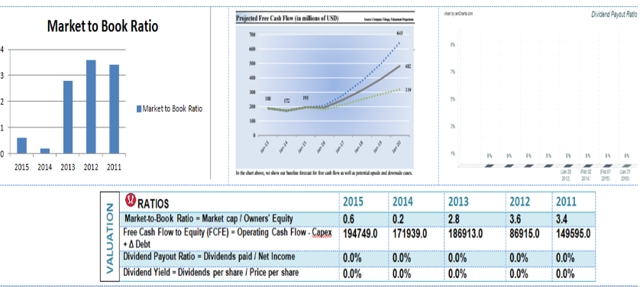 Click to enlarge
Lululemon's market to book indicates the company is beginning to overcome recent setbacks. Furthermore, it underscores the difference between the market value of the firm and the accounting value of the firm.
Lululemon's free cash flow is healthy. The high numbers demonstrate that the company has the ability to appease its investors.
Lululemon chooses not to pay dividends. Thus, the company does not allocate any of its net income to dividend distribution. Rather, Lululemon seizes growth opportunities in expanding its operations geographically. The company has recently opened new stores in Hong Kong and the Middle East. Moreover, 20 new stores are set to open in Asia and Europe by 2017.
A final valuation ratio to consider is the weighted average cost of capital (WACC). A high WACC is typically a signal of higher risk associated with a firm's operations. Lululemon has a WACC of 7.3%. This means it must pay its investors an average of $.073 in return for every $1 in extra funding.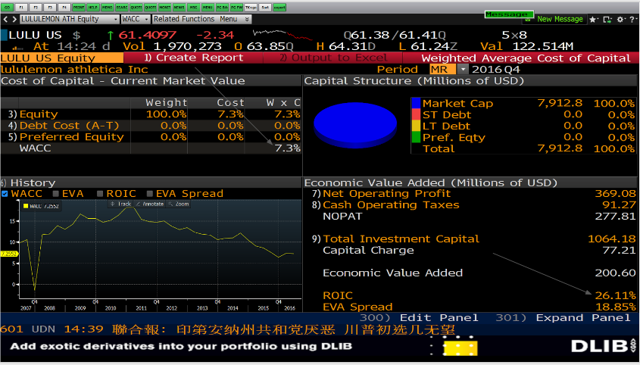 Click to enlarge
Peer Group Analysis - Nike
In comparing Lululemon to Nike, it is important to keep in mind that Nike's operations and product lines are far broader than Lululemon's. Whereas Lululemon specializes in yoga apparel, Nike rates among the leading brands in virtually all athletic domains. Moreover, Nike has substantial revenues and expenses stemming from licensing deals and sponsorships.
The following chart depicts key common size figures.

Lululemon's and Nike's gross margins are both strong. However, Nike's margins have remained stable, whereas Lululemon's margins have taken a slow but steady dive over the last five years. This suggests that Nike has kept its cost down more effectively.
With respect to profit margin, each company experienced a drop from 2011-2015, however, Nike dropped at a sharper and more consistent rate. Lululemon was able to grow its profit margin from 2011-2013, before it fell off in 2014 and 2015. Ultimately, both companies derived less profit from their sales in 2015 than in 2011.
With the exception of an outlier year for Nike in 2013, each company performed comparably and consistently in regard to asset turnover.
From 2011-2015, Lululemon consistently generated substantially stronger returns on its assets than Nike. This is partially the result of Lululemon being a smaller company with fewer capital expenditures.
Evidenced by the current ratio, both Lululemon and Nike are in a strong position to cover all of their short-term obligations. In Lululemon's case, this can certainly be attributed to not having debt, as its current ratio is exceptionally high. Overall, Nike's current ratio is more favorable, as it is well positioned between covering its obligations and allocating its assets.
Peer Group Analysis - Under Armour
In terms of market cap, Under Armour is about twice the size of Lululemon. For reference, the market caps for each company is as follows:

Like Nike, Under Armour had stable gross margins from 2011-2015. Given that Lululemon experienced a notable drop from 2013-2015, it is reasonable to infer that Lululemon's fall was more a result of internal issues, such as the luon pant recall, than industrial setbacks. However, it should be noted that despite this dip, Lululemon maintained a higher gross margin than Under Armour.
Regarding profit margin, Lululemon boasts year-to-year figures that are far stronger than Under Armour. Lululemon had more favorable profit margins than Nike as well, indicating that Lululemon has been effective in optimizing its sales.
Under Armour's asset turnover figures are stable and comparable to both Lululemon and Nike. Moreover, year-to-year figures are well above 1, meaning that each dollar value in assets is producing a greater number in sales.
With respect to ROA, Under Armour is well below that of Nike and Lululemon, the leader amongst this group. Lululemon is likely able to manage its assets more efficiently due to its narrower scope of operations. Accordingly, Lululemon is able to yield stronger returns due to more targeted investments.
Under Armour has similar current ratios to Nike, which are both well below Lululemon's and much closer to the industry standard.
Conclusion
Lululemon has performed well in recent years. According to a 2015 report published by Market Realist, Lululemon exceeded expectations in 12 out of the last 13 quarters, ranging from 2012-2015. The company has achieved high profit margins and has managed to avoid taking on debt, which allows it to easily cover liabilities and operate nimbly. However, one should be skeptical in considering whether Lululemon is missing out on favorable investment opportunities or not properly diversifying its capital structure.
Despite maintaining strong profit margins, numbers dipped over the last three years. The firm will need to address certain product issues and regain a strong grip on its cost structure to reverse this trend.
For the most part, Lululemon has operated efficiently in recent years. The company has posted strong year-over-year receivable turnover and inventory turnover ratios. However, its fixed asset turnover ratio is lagging, which may stem from the fact that the company includes space for nonretail activities (i.e. yoga studios) within their company-owned stores. Also, one should question whether the company would benefit from investing additional capital. Management has effectively produced strong returns from both assets and equity, respectively. Lululemon's market cap has eclipsed $9 billion.
The company has a strong free cash flow and has strategically opted not to distribute any dividends to date. Rather, Lululemon has allocated its capital toward expanding operations in Europe and Asia. Lululemon's WACC is 7.3%.
To assess Lululemon's performance more broadly and diversely, it was useful to compare Lululemon to two notable competitors - Nike and Under Armour. Nike is exponentially larger than Lululemon. Additionally, both Nike and Under Armour compete in many more categories. That said, common size and fundamental ratios provided that Lululemon is performing quite well. Its profit margin is particularly strong but it should look to adjust its current ratio to make better use of its capital.
Lululemon has implemented an effective strategy. The company has revolutionized a growing industry and become a premium brand. The numbers show that Lululemon has grown year-over-year, but growth seems to have cooled, suggesting that competition has intensified.
To that end, we do not recommend buying Lululemon stock. It is possible that the company has reached its peak. Accordingly, an analysis of Lululemon's 10-year stock curve highlighted exception growth from 2009-2012, but general regression and volatility since then. For those who hold Lululemon stock, we advise to hold it for the short-term, as the company looks to continue rebounding from its 2013 product recall. However, if one were strictly looking to buy or sell Lululemon stock, our recommendation is to sell. Competition has intensified and Lululemon has struggled to distinguish itself in recent years.
Disclosure: I/we have no positions in any stocks mentioned, and no plans to initiate any positions within the next 72 hours.
I wrote this article myself, and it expresses my own opinions. I am not receiving compensation for it. I have no business relationship with any company whose stock is mentioned in this article.
Additional disclosure: Fellow contributors - Tnyetta Mitchell, Brittany Vernola, and Melanie Williams