I favor investments which carry a specific investment theme -- for example, water is a theme I cover frequently on Seeking Alpha. Based on the underlying rationale such as water scarcity, population growth and more, I foresee enough reasons why water based investments can grow in the future. However, if we broaden the theme to clean energy in general (which includes solar, wind, water and so forth), the overall potential seems less straight forward and much more confusing.
More than half a year ago, I covered the PowerShares WilderHill Clean Energy Portfolio (NYSEARCA:PBW), which seemed relatively cheaply priced. As we are now more than half a year past that time, I will revisit the investment thesis in this green energy ETF.
"Is Green Energy The Future?"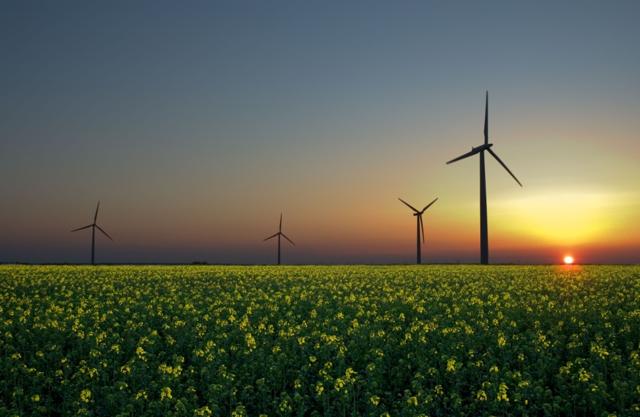 Click to enlarge
Source: Stock photo.
This article will cover a fundamental analysis of PBW. I regularly cover ETFs as, for some investors, these are the only products they can invest in.
PowerShares WilderHill Clean Energy Portfolio
This ETF, issued by Invesco, is based on the WilderHill Clean Energy Index. The fund normally invests at least 90% of its total assets in common stocks that make up the index. The index is composed of stocks of companies that are publicly traded in the U.S. and engaged in the business of advancement of cleaner energy and conservation.
The ETF has barely moved over the last six months: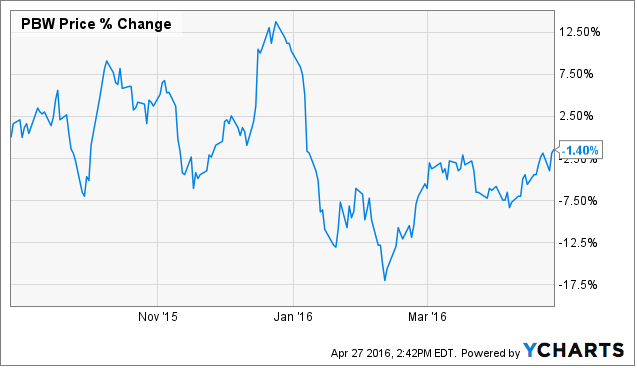 PBW: Overall Holdings Have Changed Dramatically
Even though the overall performance has barely changed, the overall allocation has changed significantly:

Click to enlarge
The percentage of small cap growth stocks has increased by nearly 30%. The overall percentage in small cap stocks grew by around 12%. Overall, in my opinion, this increases risk in general. This is also captured in the overall P/E as that is -10.
The overall percentage in specific holdings has also significantly changed, as can be seen below:

Click to enlarge
One very important difference is the percentage in SolarCity Corp. (NASDAQ:SCTY), which currently has a 5% overall holding in the fund. Seeking Alpha user EnerTuition wrote a very in depth article with regard to the potential of this firm. The overall message of that article was very negative.
SolarCity is an American provider of energy services. Among its primary services the company designs, finances, and installs solar power systems. The share price has been very volatile: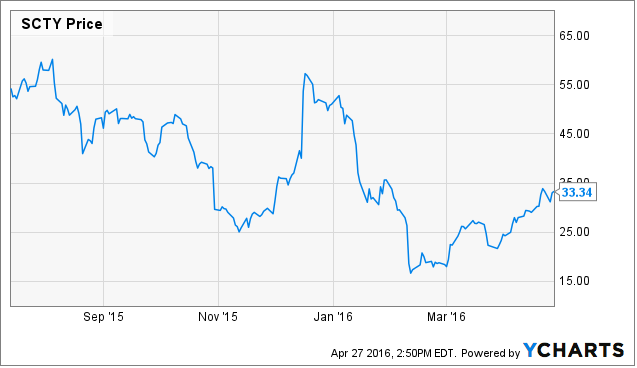 The firm has seen a roller-coaster year and is currently trying to push its own limits. As mentioned by EnerTuition, this is not without risk. SolarCity Corp's use of short-term instruments to finance long-term investments could fail catastrophically at any point in time.
See the performance of the current 10 holdings over the last month: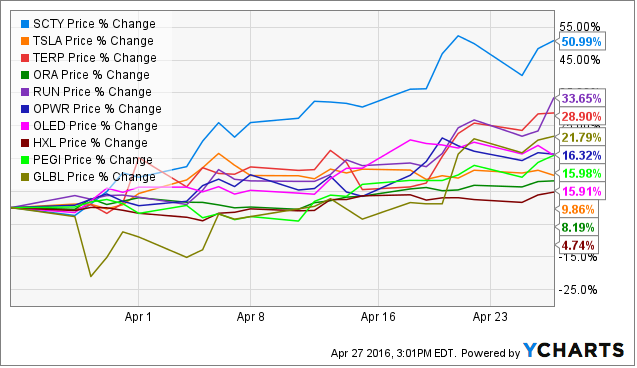 The performance over the last month has been outstanding. Yet if we look further out, the overall performance is dreadful: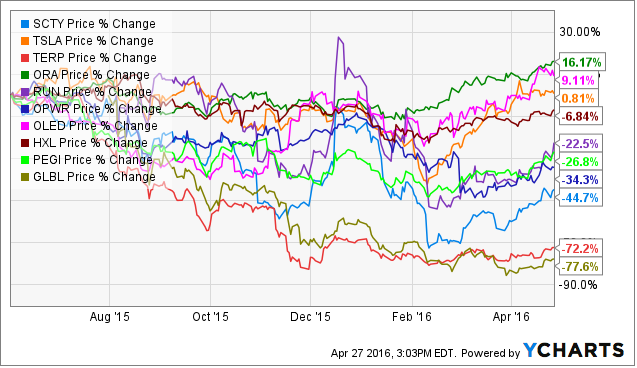 Summary
The overall holdings in the portfolio have changed significantly over time, which has increased risk. I believe that there is potential in the clean energy industry, yet when collating all sectors together the overall potential is greatly diminished -- as can be seen with this ETF.
Investors who believe in the potential of clean energy should focus their energy specifically on "themed" sectors within the clean energy industry. If you don't have that kind of time or the allowance to invest in stocks, this ETF offers a front row seat with regard to the energy sector. But it should be noted that this is a very high risk/reward investment. For example, the ETF increased by 20% over the last two months.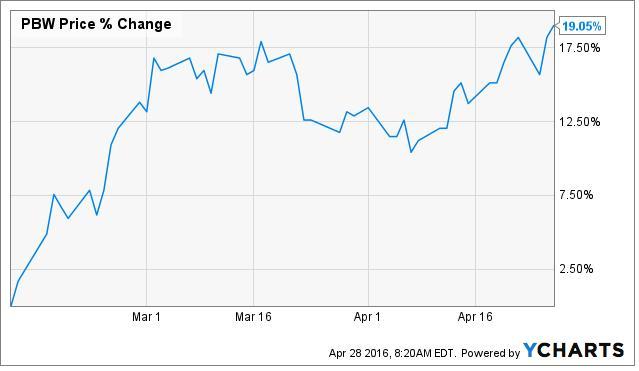 Based on the article referenced above by EnerTuition, the percentage in SolarCity Corp. could actually turn out to be a complete failure. Considering it is nearly 5% of the overall fund, this might have significant implications on the performance of the fund going forward. Even if the overall price remains stagnant, this holding increases the risk specifically, in my view. This ETF should be handled with caution and needs close monitoring at all times.
Disclaimer: This article provides opinions and information, but does not contain recommendations or personal investment advice to any specific person for any particular purpose. Do your own research or obtain suitable personal advice. You are responsible for your own investment decisions. This information is not a recommendation or solicitation to buy or sell securities, nor am I a registered investment advisor.
Disclosure: I/we have no positions in any stocks mentioned, and no plans to initiate any positions within the next 72 hours.
I wrote this article myself, and it expresses my own opinions. I am not receiving compensation for it (other than from Seeking Alpha). I have no business relationship with any company whose stock is mentioned in this article.