Our View On Fundsmith LLP
Overall Score: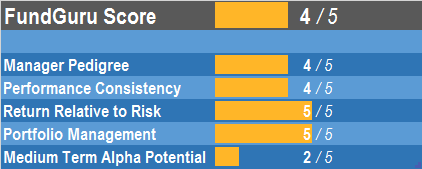 Return and Volatility Relative to Peers through 03/31/16: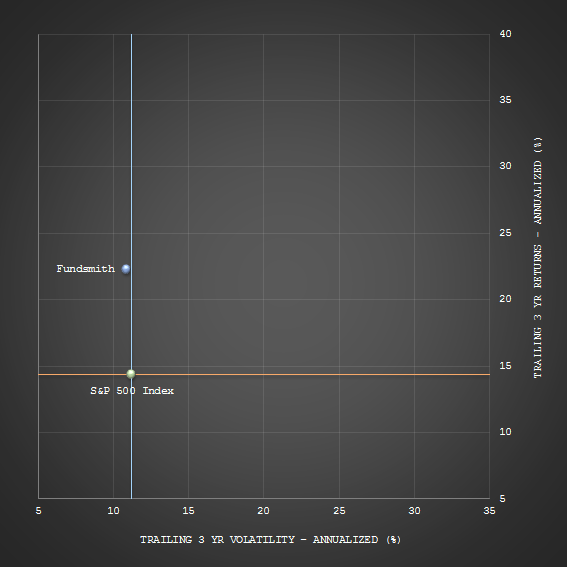 Orange data points denote manager portfolios we recommend readers to consider. For a the full list of managers we cover, please visit our Schedule of Manager Reviews.
I. Introduction
This is part of a series of quarterly reviews that analyze the performance and portfolio characteristics of interesting equity managers running public (mutual funds) or private pooled investment vehicles (hedge funds) that are not accessible by mainstream investors. Our aim is to provide readers:
An overview of the manager's background (Section II)
An analysis of the manager's historical return and risk characteristics based on its 13-F portfolio (Section III)
An analysis of the manager's portfolio characteristics and top holdings (Section IV)
An overview of the most interesting holdings (Section V)
An opinion on whether readers should follow the manager's ideas or copy its portfolio (Section VI)
All analysis is based on a clone portfolio of the manager's top 10 disclosed holdings, which allows readers to replicate the portfolio with ease if desired. It may not be an accurate reflection of the manager's actual investment performance. For more information on why we focus on the top 10, please refer to our Schedule of Manager Reviews.
II. Manager Brief
| | |
| --- | --- |
| Manager Name: | Fundsmith LLP |
| Location: | London, United Kingdom |
| Year Founded: | 2010 |
| Investment Style: | Long-only, Quality & Growth |
| Lead Portfolio Manager(s): | Terry Smith |
| Number of Employees: | 17 |
| MV of Latest 13-F Holdings: | $4.6bn vs. $4.0bn last quarter, up +15% QoQ |
Terry Smith set up Fundsmith based on Sir John Templeton's axiom "if you want to have a better performance than the crowd, you must do things differently from the crowd." The firm launched in 2010 promising investors a differentiated, high conviction portfolio of 20-30 stocks with very low turnover. It also charges a low flat fee of 1%, a significant departure from the industry norm of about 1.50% five years ago.
For more information on Fundsmith, please refer to our first article on this manager here.
III. Performance Analysis (USD Total Returns)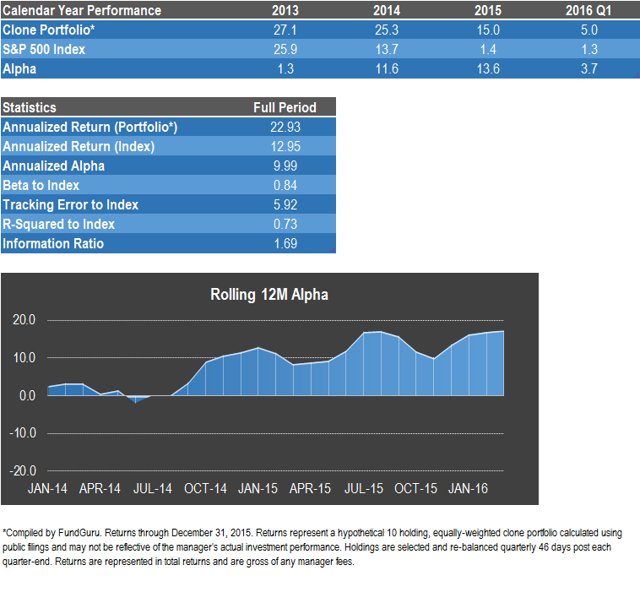 Fundsmith has continued its impressive run during the first quarter of 2016, where it was up +5.0% vs. +1.3% for the S&P 500 through March 31. It has outpaced the S&P 500 in each of the last 3 calendar years.
The manager has delivered a staggering annualized return of 23% over the past 3.25 years, almost double that of the S&P 500. This was also achieved at a lower beta (0.84) to the market.
We would note that due to its recent strong performance, its rolling 12 month alpha is fairly elevated.
IV. Holdings Analysis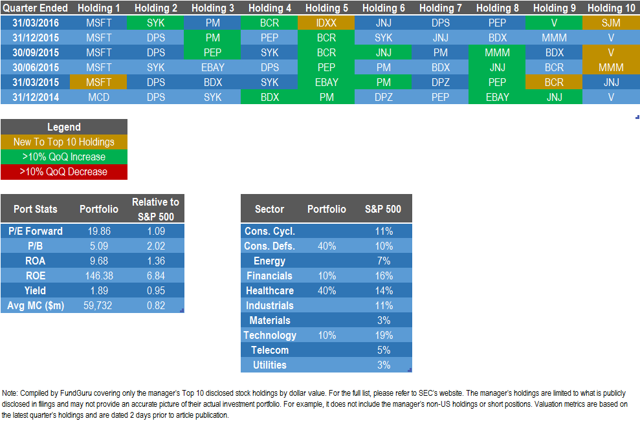 Portfolio Characteristics
This is a large cap portfolio trading at slightly higher valuation to the S&P 500. Contributing to this valuation premium is the portfolio's concentration in Consumer Staples, such as JM Smucker (NYSE:SJM), PepsiCo (NYSE:PEP) and Philip Morris (NYSE:PM). The portfolio also has a good chunk of healthcare stocks.
The detailed holdings statistics is shown below:

Individual Names
This is a relatively low turnover portfolio. The QoQ portfolio turnover, on a name basis, is 20%.
Underlying holdings have done very well. Within the top 10 holdings, the majority of names have outperformed the S&P 500 over the past year.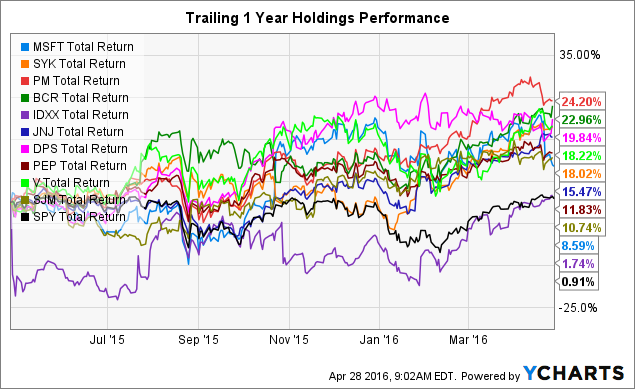 MSFT Total Return Price data by YCharts
The following is the YTD performance of the current top 10 holdings through 04/27: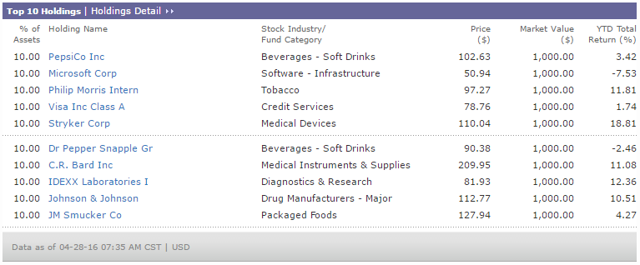 Portfolio Activity In Q1 2016
New Entries to Top 10: IDEXX Laboratories (NASDAQ:IDXX) and JM Smucker Co
V. Focus Holding: Microsoft (NASDAQ:MSFT)
Microsoft has been the top holding in Fundsmith's portfolio since Q1 2015, and is a firm favorite among many of the managers we track, including Independent Franchise Partners and Coatue. The firm is also a top holding of well-respected activist hedge fund ValueAct Capital, which we will cover later. ValueAct's President, Mason Morfit, is currently a member of Microsoft's Board.
MSFT's shares was last trading at $50.77 as of 04/28, some -10% off its 52-week high of $56.85.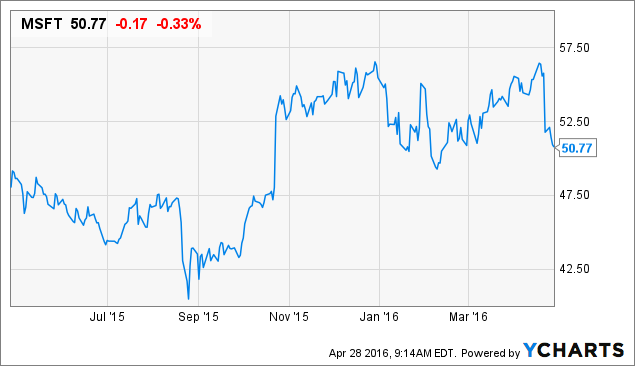 Its shares took a hit recently after the company's quarterly results, where it provided lower guidance than expected. The firm broadly meeting on revenue and EPS expectations.
After the recent decline, Microsoft is trading on a free cash flow yield of 5.8% and a P/E forward of 18.8x, undemanding for a high quality business.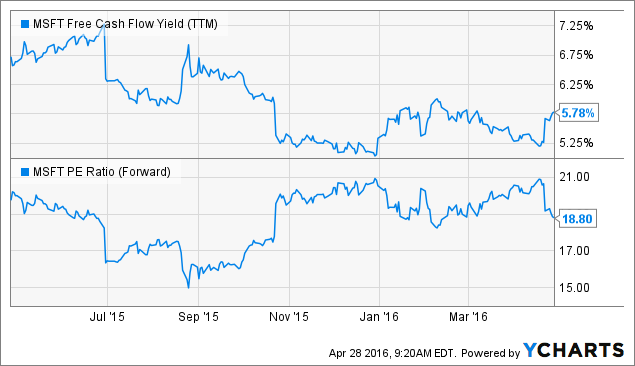 MSFT Free Cash Flow Yield (NYSE:TTM) data by YCharts
The company's balance sheet is also stashed with cash, with Cash Equivalents amounting to 27% of its current market cap.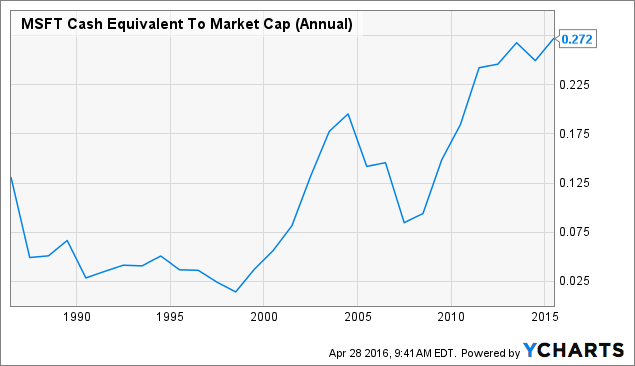 MSFT Cash Equivalent To Market Cap (Annual) data by YCharts
Microsoft has been returning some of this cash to shareholders at a steadfast rate of 6.6%, consisting of 2.6% in dividends and 4% in share buybacks.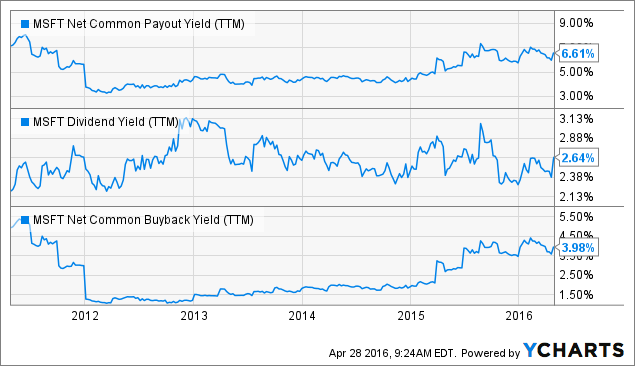 MSFT Net Common Payout Yield (TTM) data by YCharts
Microsoft is a company transitioning to a higher growth business model. We believe it is entirely reasonable to experience some bumps along the way as it executes its "Cloud First, Mobile First" strategy. Investors should use this opportunity to acquire shares in this high quality tech giant.
VI. Summary Thoughts
We Liked:
Class-leading performance
High quality portfolio, which will likely prove defensive in the event of a market drawdown
We Didn't Like:
Strong relative performance cannot last forever, with a period of weaker relative performance likely in the cards
The firm's assets have continued to rise
Bottom Line:
We are fans of Fundsmith's investment approach - concentrated, high quality, and low-turnover. This approach has worked very well over the past few years, although continued strong performance gives us some pause to recommend cloning this manager. Readers should wait for a better entry point. In the meantime, Microsoft deserves a look.
Interested in Following More Alpha?
Follow us now to get live updates as we post new reviews, and/or see our Schedule of Manager Reviews (linked above) for an up-to-date list of the managers we have assessed so far.
Disclaimer: Returns represent a hypothetical 10 holding, equally-weighted clone portfolio calculated by FundGuru using public filings made with the SEC by the investment manager. All information presented here is not endorsed by, affiliated with, sponsored by, or fully reflective of the manager or their companies. The information contained here includes the names, brief biographical information, and references the companies of certain persons whom FundGuru has identified from publicly available information as equity managers. FundGuru does not communicate with and is not supported or endorsed by or affiliated or associated with any of these managers or their companies. To the extent the managers use their names or the names of their companies as trademarks, such trademarks belong to their respective holders, and FundGuru's use of the same does not imply any affiliation with or endorsement by them. Information about the investments of the manager is limited to that which is publicly available in regulatory filings and may not provide an accurate picture of their actual investment portfolio nor investment return.
Disclosure: I am/we are long MSFT.
I wrote this article myself, and it expresses my own opinions. I am not receiving compensation for it (other than from Seeking Alpha). I have no business relationship with any company whose stock is mentioned in this article.