Please see important disclosures at the end of the article.
Summary of Our Views:
Hecla trades at many multiples to its intrinsic net asset value (at best 5.4x NAV, at worst 12.9x NAV); investors are effectively already paying for much higher metal prices while remaining exposed to significant downside if the market value converges to intrinsic value (in the end the market is a weighing machine as Ben Graham imparted).
On a relative basis, there are much cheaper peers that trade on average 1.5-2x NAV with similar or even higher upside to metal prices and stronger balance sheets.
At today's metal prices, we think Green's Creek (HL's best mine) is worth approximately $394mm. The other mines are a mixed bag and we value these at a combined $393mm. But with net debt of $365mm and corporate costs that means the equity is worth something close to ~$120mm. Today's equity value is $1.6bn! This is an enormous valuation discrepancy which other miners do not have.
The company seemingly recognizes its high premium in our view and is a seller of its stock (filing here), reserving the right to dilute current equity holders with the issuance of additional shares this year.
Institutional investors recognize the stock's mispricing with only one buy rating (see appendix) and they all rank HL as one of the most expensive stocks in their universe. 9% of the free float is sold short.
If silver is your flavor, note that silver represents only 30% of revenues for Hecla (Hecla is NOT a pure silver play!) and there are cheaper alternatives with more concentrated exposure to silver prices (AG, FSM, PAAS as examples). Better yet, opt for ETF or streaming vehicles (SLW for example) who do not have mining/operational risk. Note that zinc and lead prices (driven by China demand) are also material for Hecla (28% of sales).
Company Overview:
. Hecla has been producing precious and base metals since 1891 and is a U.S. based, U.S. listed company.
. Hecla currently has 4 operations all located in North America (Greens Creek in Alaska, Lucky Friday in Idaho, Casa Berardi in Quebec, and San Sebastian in Mexico).
. Hecla currently has a total enterprise value of nearly $2bn ($1.6bn market cap, $365m of net debt).
· The debt is primarily comprised of $500m, 6.875% unsecured bonds due in 2021.
. Despite $1.6bn of equity cushion behind the bonds, the bonds currently trade at a discount to par and traded as low as 60 cents on the dollar to yield 20% only two months ago [price sourced from Bloomberg, see appendix] when gold and silver were just 15%-20% lower than where they are today. Credit and equity analysts disagree as to the future of the company and the right valuation.
· Hecla has a $100m undrawn senior secured revolving credit facility collateralized by all of the interests in Greens Creek (Hecla's best asset). There is a 4x net leverage ratio covenant with this facility, however, the company had this amended to 5x for 2016 (see page F-23 of the 10-K), which compares to Hecla's current net leverage ratio of 3.1x over the LTM.
Asset Overview:
Greens Creek (Good mine but best days may be behind):
· This is a 100% owned underground mine on a pristine island in Alaska that produces silver (~7mm of saleable ozs/yr), gold (50k saleable ozs/yr), zinc (45k saleable tons/yr) and lead (17.5k saleable tons/yr), and has been in production since 1989.
· The current mine life remaining based on reserves is 10 years using the current annual production rate. Given strict regulations and the sensitive location, expansion programs are quite limited.
· The mine's final product is a concentrate that contains these metals that are then shipped to smelters/refiners in Asia that further process the concentrate to bring it to saleable form. Treatment costs are relatively fixed and fairly high at ~$60m/year. And note the difference between saleable tons and ounces of each metal vs. headline production figures.
· Hecla bought out Rio Tinto's 70% share in 2008 for >$700mm, which gave the asset an implied valuation at the time of ~$1bn, a very good price for Rio Tinto (NYSE:RIO) in our view. Despite relatively favorable metal prices, it has taken nearly the full 8 years for HL to recover its investment as FCF since 2008 has totaled $791m by our calculations.
. The deal was partially funded with shares and partially funded with a bridge loan that was later repaid with a dilutive share issuance given the 2009 downturn.
· This is a steady state, high-grade asset that generates strong FCF given all of the saleable product within the ore. There was, however, a period from 1993-1996 when the mine was on care and maintenance.
· The silver reserve grade is 12.3 oz/short ton and has been mining above reserve grade for the last two years at >13 oz/short ton. This cannot go on forever; we may be seeing its best days.
· The mill processes roughly 800k tons/year at a cost per ton of $170 for the last three years, which is $30/t higher than the previous three-year period. It is not cheap to operate in the U.S. as mining labor is expensive with ever escalating wage increases, and operating on an island in Alaska is a logistical challenge that adds to costs. There is also no currency benefit for U.S. producers.
· The mine has a $44mm project (half already spent) to expand the tailings facility which should be good for the next 10 years.
· We believe if zinc and lead prices remain depressed due to China rebalancing its economy towards the consumer, then Greens Creek will not benefit as it did during the China supercycle. The mine generated only $43mm in FCF last year, and roughly $7m in the 2H based on our estimates, despite mining at high grades.
Greens Creek Snapshot: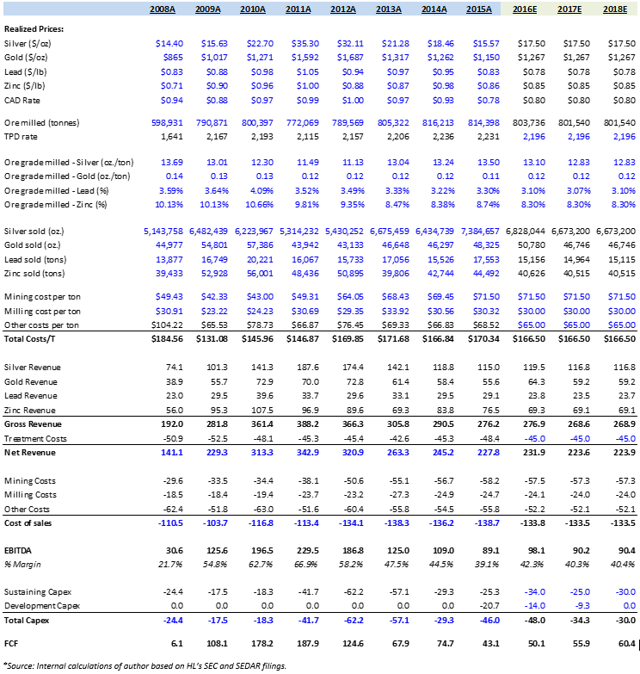 Click to enlarge
Lucky Friday (you will definitely need luck here):
· This is a 100% underground mine located in Coeur d'Alene, Idaho. Hecla has owned and operated this mine since 1958. It produces 3mm ounces of silver annually, 16k tons of saleable lead and 5k tons of saleable zinc.
· This is a fairly large, but challenged resource base with an estimated mine life of 28 years based on reserves and resources. The mine is very deep, and was shut down in 2012 after a fatality at the mine triggered regulators to review the mine's safety procedures and forced Hecla to make certain alterations that resulted in the suspension of operations.
· The company is developing a new shaft at a total cost of $165mm to access ore roughly 1.5 miles below the surface (that is not a typo, ~1.5 miles!) and in general the deeper you go, the greater costs and time involved. The operational risk also increases substantially as seismicity (the occurrence or frequency of earthquakes) is higher at those deep levels. The ore here is higher grade, so it is expected that the higher grade will more than offset any elevated costs from sourcing ore that much further below the surface.
· The reserve grade is 15.5 oz/ton, and they have been mining at around 11-12oz/t from the current shaft. The new shaft development is expected to be completed by the end of this year and should bring production up from 3mm silver ounces to 5mm. We assume in our model, Hecla successfully achieves the expansion, but the risks are high in our view.
· Lucky Friday struggled to generate meaningful cash flow even when silver prices were >$30/oz. This, in our opinion, feels more like a social project than an economic one, a tradition the company would like to keep going for its local stakeholders and its legacy. Perhaps the project will succeed and give Hecla optionality for higher metal prices, but we are skeptical it ever generates meaningful cash flow given the very high capital costs and escalating labor costs similar to Greens Creek. The labor contract expires this June and the company will have to negotiate with the union for a new one.
Lucky Friday Snapshot: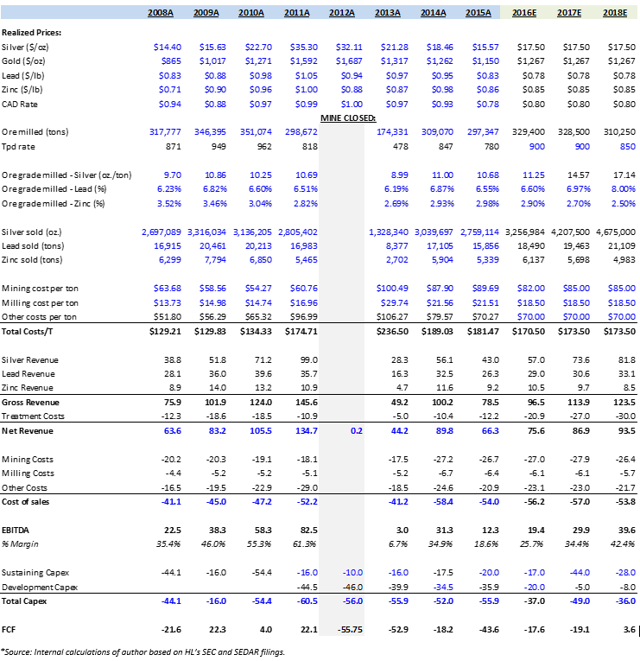 Click to enlarge
Casa Berardi ("House of Mediocrity"):
· In 2013, Hecla outbid Alamos (NYSE:AGI) for Aurizon Mines Ltd. for $715mm (~$540mm net of cash acquired) which was primarily funded with the outstanding bonds.
· Aurizon owned and operated the Casa Berardi underground gold mine in Western Quebec from 1998 to 2013. The mine has been in operation since 1988.
· The mine processes roughly 800k tons of ore annually which is 70% of capacity. The mining and milling infrastructure was designed for a 30% larger production, but the orebody has been more challenging than the original plans estimated.
· The mine has 1.3mm ounces of gold, 300-350k ounces of which would require open pit mining, which they are now going to develop.
· Lake Shore Gold (now Tahoe) has a 50% earn-in option on all exploration land around the mine.
· The mine generated negligible FCF last year and, in our view, will likely remain the case at current metal prices despite having significantly benefited from the depreciation of the CAD. We however assume in our model some decent years while the open pit contributes to total mill throughput.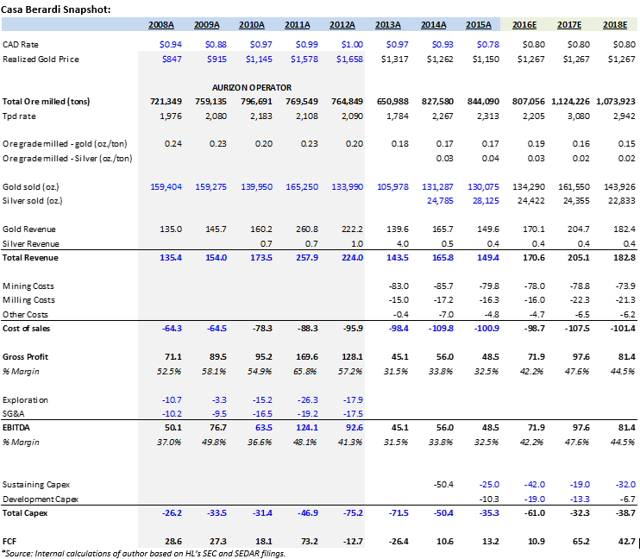 Click to enlarge
San Sebastien (if only you were bigger!):
· The San Sebastien property is located in the State of Durango, Mexico. Hecla used to produce gold and silver there from 2001-2005.
· Hecla will be mining shallow, near surface pits targeting high grade material, and will process the ore at a processing plant under a toll treatment arrangement. The mill has been reactivated after being idle and refurbished to process this ore.
· This is a very low capital and cost project resulting in a very high return on investment and provides a much-needed boost to cash flow over the next few years, but it is quite small and, in our view, unlikely sustainable on a large scale to move the needle on valuation.
Valuation:
· The value of a financial asset is the present value of future cash flows. If there are no cash flows, there is no value.
· The value of the firm = net debt + equity. Therefore, the value of equity is = value of the firm based on the present value of future cash flows less debt + excess cash.
· Many gold miner analysts default to discounting future cash flows at a rate of 5%. We challenge this practice. For one, miners are paying 7% to raise debt (10% today in Hecla's case based on its unsecured bond yield). We believe that the cost of equity and, therefore, the weighted average cost of capital will be higher. That, and the stability of cash flows is quite low with respect to mining and commodity-related businesses, and gold miners have proved to be lousy stewards of capital. Lastly, oil and gas analysts use a 10% discount rate, and base metal producers also have their cash flows discounted at a higher rate.
. Regardless of the discount rate used, we believe that Hecla still trades at a significantly higher valuation than its peers, which we will illustrate below.
· Below is a sum of the parts valuation for Hecla. We value each asset individually using spot commodity prices and currencies.
. Note that we have given Hecla the benefit of the doubt on unit costs by keeping them flat despite the historical trend of escalating unit costs, particularly at Greens Creek and Lucky Friday. And Lucky Friday will be mining much deeper than it used to, but we still model flat unit costs which are conservative. Our forward capital expenditures are based on the various reports filed by the company.
· At spot prices, using a 10% discount rate, we calculate a net asset value of $784m for Hecla's assets. Using a 5% discount rate, we calculate a net asset value of $952m.
· Now, Hecla is a corporation, with corporate and administrate costs not charged at the asset level that needs to be accounted for when deriving an equity value. Hecla's SG&A expenses were $34m in 2015 (includes $5m in stock compensation), exploration was $18m, and there was another $7.5mm in "pre-development and other" expenses. Capitalizing this $50-$60m of annual corporate level expenses at 5x results in a corporate level adjustment of ~$300m (equivalent to discounting these costs at a rate of 5%).
. Hecla illustrates how its mines generate FCF, but this gets offset by costs at the corporate level along with $25m/year in cash interest on the bonds.
· Hecla has net debt of $365m ($520m of debt ahead of the equity and $155m of excess cash).
· Therefore, the equity value for Hecla at spot prices and currencies is only $122m using an appropriate discount rate of 10% ($784m asset value, less $300m corporate expense, less $365m of net debt). That equates to $0.33/share vs. the ~$4/share it is trading at today. Using the industry standard 5%, there is $290m of equity value ($0.77/share). And this makes sense given the negligible FCF to the equity Hecla will generate at spot prices (equivalent to only a few points of its market cap).
· Given Hecla has high cost assets with significant corporate level costs and significant debt ahead of the equity, it makes sense to us that the equity should trade at much lower levels.
· This means Hecla is currently at best trading at 5.4x its NAV5%, and at worse trading at 12.9x its NAV10%.
· We think Hecla announcing with year-end results a facility reserving it the ability to issue $75m of new equity is validation that the equity trades at a significant premium, or at worst management believes it needs the additional liquidity at lower metals prices. And that is consistent with the amendment to net leverage covenant within the credit facility. And if lower metals prices prevail, things can unravel fast (bonds in the 60s was indicative of distress only two months ago).
· For what it's worth, the average target price amongst the sell-side is well below the current stock price, and the only buy rating has a target on top of the current stock price. You can also ask yourself: would industry participants pay more than the value below for each asset today?
· On a relative basis, larger, higher quality peers under this same valuation construct on average trade at 2x P/NAV10%. Assuming 2x NAV is fair value for precious metal miners, you would need much higher gold and silver prices to justify Hecla's current valuation, specifically $25/oz silver if you keep gold at $1240/oz, or $1800/oz gold if you keep silver at $17/oz.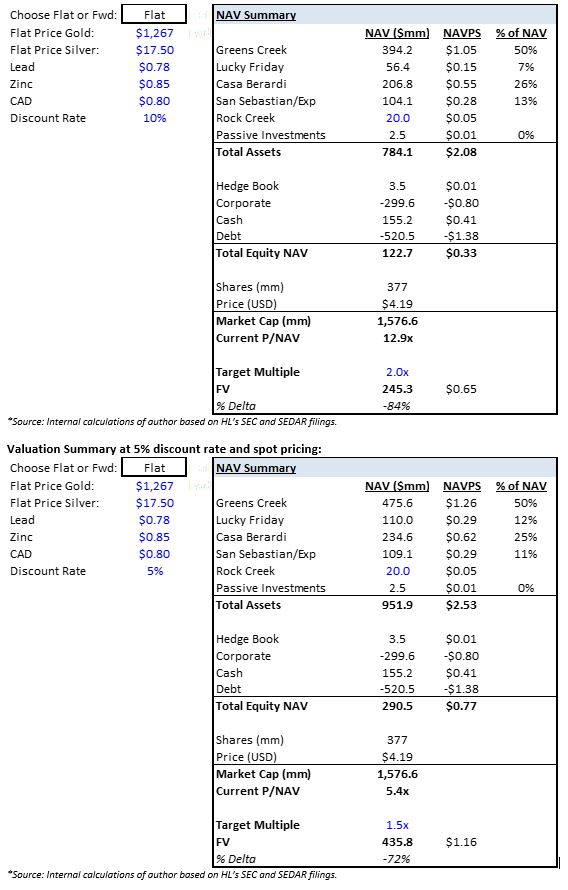 NAV Comps (larger competitors as well as CDE which is a close comp to HL):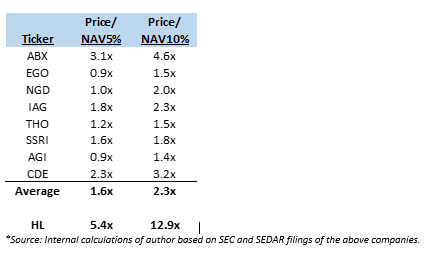 Conclusion:
· Hecla is trading well above its intrinsic value of less than $1/share in our view and well above peers on a relative basis. You are effectively already paying for much higher metal prices while remaining exposed to significant downside if the market value converges to intrinsic value (in the end the market is a weighing machine as Ben Graham imparted).
· If you want exposure to silver prices, there are many other options with purer exposure to silver, including First Majestic (NYSE:AG) and Pan American Silver (NASDAQ:PAAS), which are also much cheaper vehicles. Or better yet, you can invest in a streaming structure like Silver Wheaton or levered ETFs which spare you the operational risk that comes with mining (e.g., a Lucky Friday mine closure event).
· Why pay up when you can find similar return optionality elsewhere and with less idiosyncratic risk?
Appendix:
Analyst Ratings (only one buy rating, a rarity in this field of work):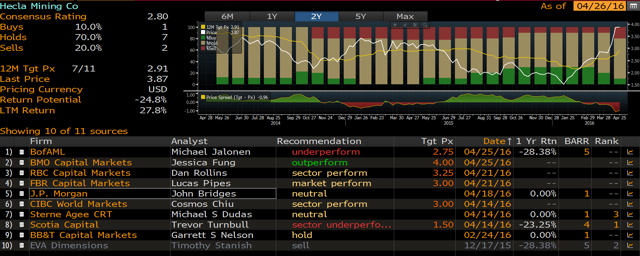 Click to enlarge
*Source: Bloomberg
Financials at Spot pricing: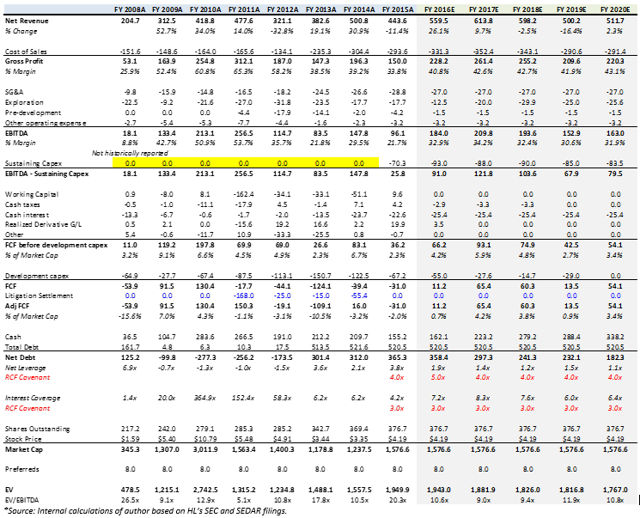 Click to enlarge
Silver is only 31% of revenues for Hecla; zinc and lead are 28%: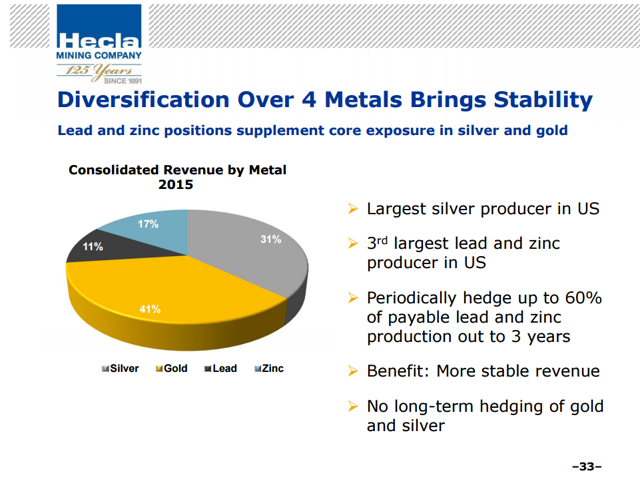 Click to enlarge
*Source: Hecla Mining's corporate presentation dated March 2016
There are several other miners with greater exposure to silver: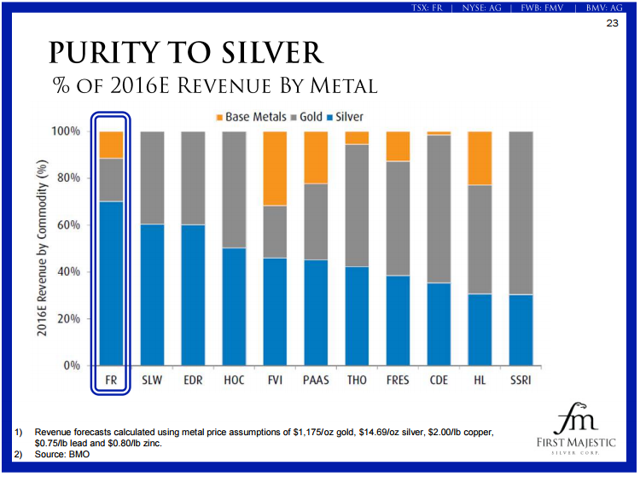 Click to enlarge
*Source: First Majestic Silver's corporate presentation dated April 2016
Bond Price Chart (bonds were in the 60s not long ago):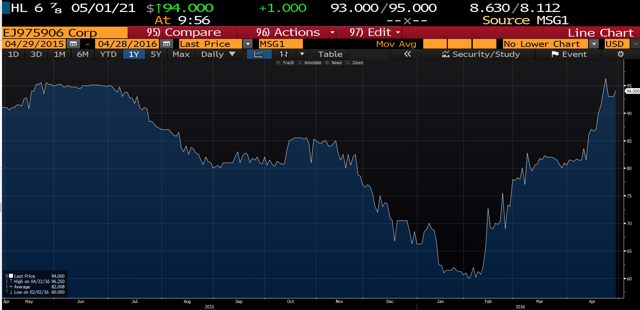 Click to enlarge
*Source: Bloomberg.
Hecla's Debt and LTM leverage: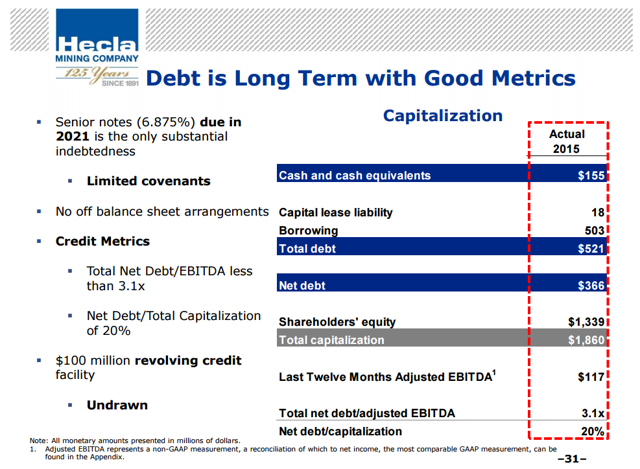 Click to enlarge
*Source: Hecla Mining's corporate presentation dated March 2016
The author of this article is an SEC-registered investment adviser. At the time of publication, funds and accounts managed by the adviser were short Hecla Mining (NYSE:HL). Both before and after the publication of this article, without making any public or other disclosure except as may be required by applicable law, such funds and accounts may, at any time, buy and sell securities and instruments of HL (and other companies mentioned in this article), including, without limitation, by covering short positions in HL and/or changing to long positions in HL, based upon such factors as the adviser may, in its discretion, deem relevant. The information set forth in this article does not constitute a recommendation to buy or sell any security. This article represents the opinion of the adviser as of the date of this article. This article contains certain "forward-looking statements," which may be identified by the use of such words as "believe," "expect," "anticipate," "should," "planned," "estimated," "potential," "outlook," "forecast," "plan" and other similar terms. All are subject to various factors, any or all of which could cause actual events to differ materially from projected events. This article is based upon information reasonably available to the adviser and obtained from sources the adviser believes to be reliable; however, such information and sources cannot be guaranteed as to their accuracy or completeness. The adviser makes no representation or warranty, express or implied, as to the accuracy or completeness of the information set forth in this article and undertakes no duty to update its contents. Data included herein is derived from HL's SEC and SEDAR filings, unless otherwise noted.
Disclosure: I am/we are short HL.
I wrote this article myself, and it expresses my own opinions. I am not receiving compensation for it. I have no business relationship with any company whose stock is mentioned in this article.