SA Dividends, Income & Retirement Editor Robyn Conti here, subbing in for Gil, who's observing Passover this week. I'll do my best to fill his very talented and knowledgeable shoes and continue to keep you up to date daily on the latest FA analysis and news here on Seeking Alpha.
We'll go with an economic theme today, as the speculation seems to be flying fast and furious following yesterday's FOMC meeting. As we all know by now, the Fed chose to leave rates unchanged again.
However, Kevin Mahn, who introduces the word "hovish" (a combination of hawkish and dovish that describes the Fed's current ambivalent posturing) to our lexicon in his latest piece "Fed Maintains 'Hovish' Stance But More Rate Hikes Expected In 2016", says he anticipates 2, possibly 3, 25 basis point hikes for the remainder of 2016.
...This would result in a Fed Funds Target rate in the range of 0.75%-1.00% by the end of 2016.

Our forecast is slightly below that of the weighted 2016 target rate forecast of the Fed based on the last released forecasts of the FOMC participants stemming from their December 2015 meeting (see table below) but consistent with what many in the market now believe will be the likely path for this year. We will look to post more recent data in this regard once available.
| | | | |
| --- | --- | --- | --- |
| 2016 Target Rate | Number of Fed Participants | % of Voting Fed Participants | Weighted 2016 Target Rate |
| 0.875% | 4 | 23.53% | 0.21% |
| 1.125% | 3 | 17.65% | 0.20% |
| 1.375% | 7 | 41.18% | 0.57% |
| 1.625% | 2 | 11.76% | 0.19% |
| 1.875% | 0 | 0.00% | 0.00% |
| 2.125% | 1 | 5.88% | 0.13% |
| 2.375% | 0 | 0.00% | 0.00% |
| 2.500% | 0 | 0.00% | 0.00% |
| 2.625% | 0 | 0.00% | 0.00% |
| Totals | 17 | 100% | 1.29% |
Source: Board of Governors of the Federal Reserve System, Fed's Projection of the Midpoint Target Range or Target Level, December 2015.
The possibility of rates hikes later in the year remains ambiguous as ever, though. In an effort to try to sort out the situation, James Picerno looks to the Treasury markets for clarity in "Waiting For June... Or Godot?", only to find more questions than answers:
"Meanwhile, the Treasury market is sending mixed signals. On the one hand, yields ticked lower, perhaps in anticipation of a weak first-quarter GDP report that's due later today. But then there's the sight of the Treasury market's inflation expectations rising to the highest levels since last summer. It all adds up to a strange brew of market signals.

Note that the 2-year yield (considered the most sensitive for rate expectations) dipped yesterday (April 27), as did the benchmark 10-year yield, based on daily data via Treasury.gov. Both rates seem to be stuck in a holding pattern of middling yields relative to recent history. In short, not a lot going on here.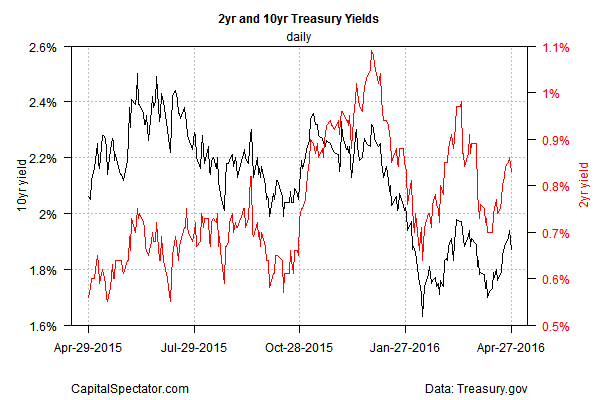 Picerno then takes a look at inflation, noting that the markets seem to dig a firmer outlook for now:
In a world that's still struggling to overcome deflation risk and slow growth, the possibility that pricing pressures are ticking higher in the US offers a degree of encouragement. Note the tight correlation over the past year between the implied inflation outlook via the 10-year maturities and the S&P 500 in the chart below. By this standard, the recent revival in the market's expectation for inflation is a factor that's boosting equity prices.
Whether or not equity markets and the economic outlook will "hang in there" is anyone's guess. Picerno says to watch out for the April employment report for a clue... or not. We also await tomorrow's GDP report for additional insight.
Perhaps the most interesting development is not the Fed's languishing stance, but how the slowing global economy is impacting behemoths like Apple (NASDAQ:AAPL). In a fascinating post-earnings review, Jeffrey Snider explains how economic weakness both domestically and abroad has created troubles for the tech titan. It basically illustrates that we can live in denial all we want, but economic contraction isn't just an "elsewhere" problem anymore -- it's crept into our own backyard. Apple's latest results are the proof in the pudding, so to speak.
What are your thoughts? Is trouble brewing on the horizon for the U.S. economy? Should the Fed act sooner than later? Please weigh in with your comments below.
Here are some other U.S. economy-themed articles for your reading pleasure:
Adam Whitehead comments on the closing window for Fed rate hikes and their impact on markets.
Gene Balas pontificates on the stifling impact of low rates on economic growth, and on income growth for savers.
Lawrence Fuller lays to rest rumors of revival in manufacturing.
And from elsewhere in the world...
Markit reviews the Bank of Japan's surprising lack of stimulus despite disappointing economic data.
The International Monetary Fund's Otaviano Canuto and team dig into Brazil's economic, political and social crises.