Defense giant Raytheon (NYSE:RTN) just reported an impressive quarter on the surface by beating analyst estimates on both EPS and revenues. My initial reaction was positive but there are things investors should be keeping an eye on. The company remains on very stable footing and is a solid long-term investment.
Growth
Digging through the 10-Q we can see all five segments posted impressive increases in net sales YoY. The largest boost came from Missile Systems thanks to a few large contracts from the US Navy and US and German governments. Missile Systems is where the company seems to be growing the most and also is the segment with the second best margins behind Space and Airborne Systems.
The growth in international sales is the most encouraging, especially as defense spending in the US comes under increased scrutiny amidst budget fights and of course the circus side-show of an election year. Total international sales independent of the Foreign Military Sales program rose from $1.48 billion to $1.7 billion YoY. Those sales accounted for 30% of total net sales for the quarter, up from 28%. With instability still in large parts of the globe international sales should keep rising QoQ as nations invest in weaponry to deter aggression. I suspect the increase in this segment is coming from the growing sophistication of militant groups who are able to acquire advanced weaponry from rogue nations such as North Korea and Iran.
The growing backlog also is a bright spot for the company. Total backlog increased from $34.6 billion at the end of 2015 to $34.7 billion at April 3. The funded backlog, however, increased substantially - $25 billion to $26.1 billion. Where investors may be slightly concerned is the decrease in total backlog in their IDS, IIS and MS segments. Space and Airborne on the other hand increased their total backlog by $838 million to offset the other segment decreases. The backlog shows a company whose products are in high demand around the world and keeps me optimistic.
Shrinking Margins
Unfortunately all that growth seems to have come at a greater cost as margins suffered to the tune of 530 bps.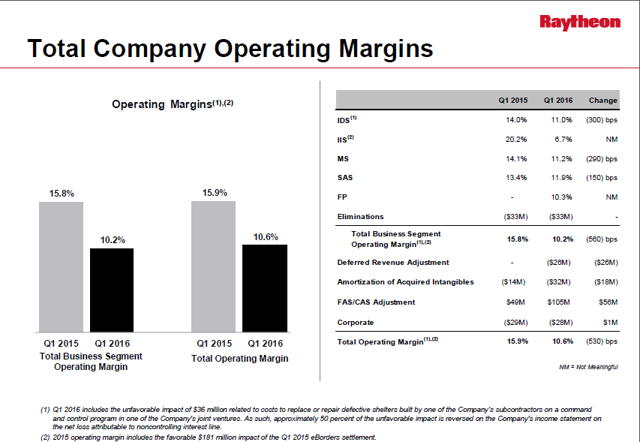 Click to enlarge
(Source: Q1 Company Presentation)
Despite net sales of over $4.7 billion for the quarter the company only generated $612 million in operating income. This time last year the company reported $4.3 billion in sales but produced $840 in operating income. Even if we take out the $181 million favorable impact from the UK eBorders settlement last year the operating income is still lower.
Out of their five segments, margins shrank in three. Forcepoint has no benchmark to go off of because this time last year it was not operating. Their IIS segment cannot be compared to last year either due to the above mentioned eBorders settlement. Margins would have still contracted however thanks to higher labor expenses that were not offset by the growth in sales. IIS also is their lowest margin segment at just 6.7%.
| | | | |
| --- | --- | --- | --- |
| SEGMENT | Q1 16 MARGIN | Q1 15 MARGIN | LABOR CHANGE |
| IDS | 11% | 14% | +$55 M |
| IIS | 6.7% | 20.2% (eBorders) | +$47 M |
| MS | 11.2% | 14.% | +$46 M |
| SAS | 11.9% | 13.4% | -$7 M |
| FP | 10.3% | N/A | N/A |
What appears to be impacting margins the most is increasing labor expenses. With the exception of Forcepoint, labor costs rose by $141 million across the other four segment. The only bright spot in this area was a SAS where labor was reduced by $7 million.
Takeaways
The company is still steady and their wide variety of products and services makes Raytheon a very compelling investment in the defense industry. I find the growth in foreign sales to be the most encouraging and I expect that to continue as nations realize they must become more responsible for their defense. The increasingly sophisticated arsenal of groups like ISIS and the aggression shown by Russia has already given birth to nations pursuing stronger stand-off weaponry such as Patriot systems. Their continued pursuit of both large and small contracts makes Raytheon my favorite defense company investment.
As far as the margins go I have a strong feeling this is partially the result of increasing their labor force to meet the actual and expected rising demand for their products. If margins shrink in the second quarter we should really start to be concerned because that could mean the company is sacrificing profit for sales volume, something they don't need to do given their market leader position and exclusive products. The shrinking margins also could be the result of a more competitive atmosphere for the Patriot system as the Lockheed Martin (NYSE:LMT) MEADS system is pushed as a replacement to the Patriot.
Conclusion
Taking a long-term view of the company I would consider this a good quarter. They are growing in the right direction as far as sales go. They continue to obtain lucrative contracts such as the $1 billion deal to provide 15 new EA-18G Jammers which will show up on the second quarter report. The company also remains committed to their dividend and recently issued a 9.3% raise giving investors a 2.3% yield at a price of $127. As far as valuation goes it does appear the company is a bit overvalued when looking at the P/E. If shares were to hit around $120 I would likely add to my position with $115 being a great bargain for this company.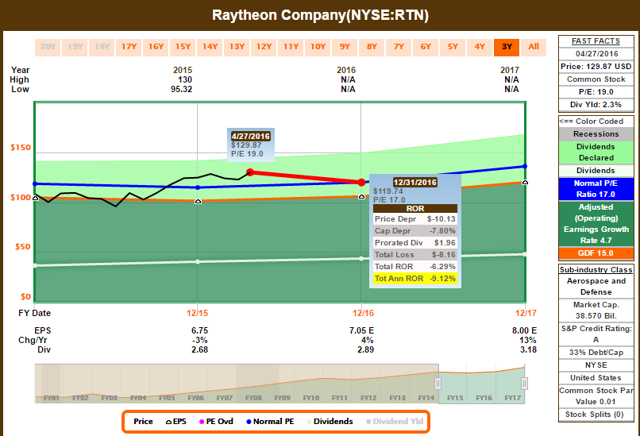 Click to enlarge
Disclosure: I am/we are long RTN.
I wrote this article myself, and it expresses my own opinions. I am not receiving compensation for it (other than from Seeking Alpha). I have no business relationship with any company whose stock is mentioned in this article.