On Dec. 11, 2015, DuPont (NYSE:DD) and The Dow Chemical Company (NYSE:DOW) announced their plans to merge, forming a brand new, $130B entity known as the DowDuPont Company. It was also announced that this newly formed company would later split into three independent, publicly-traded companies. These three spin-offs will focus on the following industries: (1) Agriculture, (2) Material Sciences, and (3) Specialty Products. The merger is expected to result in $3B worth of cost synergies as well as tax relief for the three spin-offs. In addition to the merged cost synergies, each stand-alone company is undergoing restructuring efforts that will also trickle down to the spin-offs. This massive restructuring has created a fluid situation with lots of moving parts, which we step through in the following way:
The effect of each company's ongoing restructuring efforts.
The proposed synergies from the Dow DuPont merger.
The three new companies that will exist once the merger and restructuring is complete and their proposed margin structure.
A comparison of the margin structure for each new company vs. its peer group to highlight how aggressive the cost-cutting proposals are.
By applying these cost restructuring efforts and cost synergies to the spin-offs, we will analyze the sustainable free cash flow that investors can expect from DowDuPont.
After discussing these points, we go on to analyze the prospects for stockholders should management accomplish its stated objectives.
Bloated Corporate Structures Attract Activists
Dow's and DuPont's bloated and unresponsive cost structure attracted activist investors, Dan Loeb (Third Point Fund in the case of Dow) and Nelson Peltz (Trian fund in the case of DuPont). Both Peltz and Loeb argued that if each business is run efficiently, substantial operational improvements are possible. Pressure by Messer's Peltz and Loeb set in motion a significant transformation of each business, which culminated in the merger of these once great competitors.
In order to assess the impact of this transformation, the ongoing cost-cutting efforts at each company must be evaluated individually. DuPont is in the process of reducing costs by $700M while Dow will trim $300M in 2016.
Table 1: Dow and DuPont's Standalone Cost Reductions

Click to enlarge
Source: DowDuPont Merger of Equals Presentation
Dow will also trim its debt level by $3BN following the close of the PMT transaction with Olin.
Merger Savings
This $1BN worth of standalone cost reductions will combine with another $3BN worth of merger-based cost synergies. An overview of the synergies and cost reductions are presented below in Table 2.
Table 2: DowDuPont Merger Synergies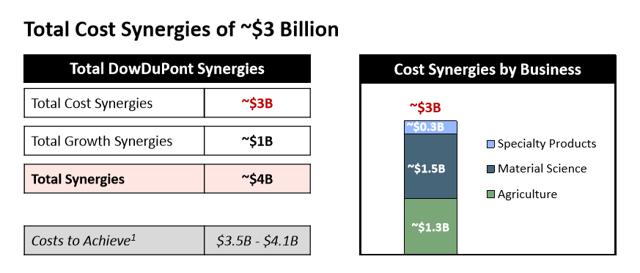 Click to enlarge
Source: DowDuPont Merger of Equals Presentation
Table 3: DowDuPont Profile w/out Cost Synergies or Standalone Cost Reductions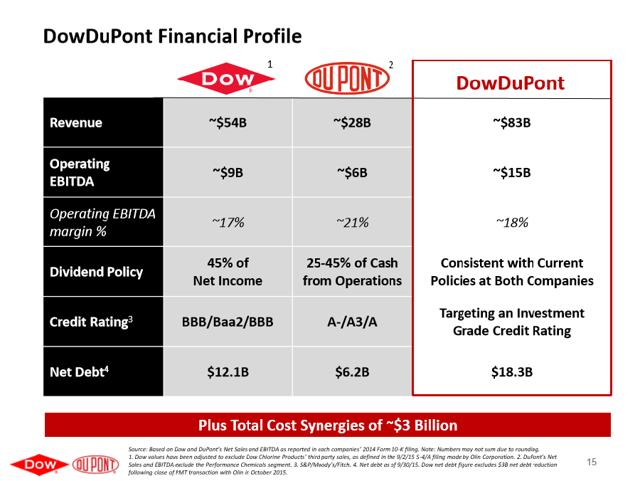 Click to enlarge
Source: DowDuPont Merger of Equals Presentation
By the end of 2016, we estimate that ~$3.3BN out of the possible $4B of total cost savings will be realized. If management can execute this plan, DowDuPont is projected to achieve an overall 2016 EBITDA margin of ~25%. By 2017, when all synergies and standalone reductions are realized, DowDuPont is projected to reach an EBITDA margin of ~26%. This is a significant improvement relative to the history of both companies as shown in Chart 1:
Chart 1: EBITDA Margin - Dow vs. DuPont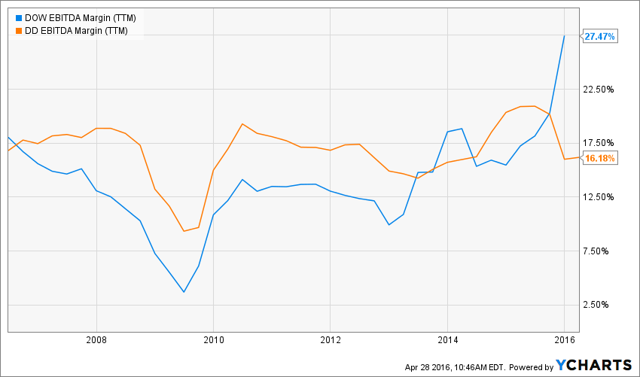 Click to enlarge
Are Promised Cost Cuts Doable?
In this section, we will look at the potential margin improvements for each of the spin-offs. For each pending spin-off, we will initially present a historic baseline overview. Then, we will apply the synergies and stand-alone cost reductions. It must be noted that we are applying the synergies and cost reductions in a single time period. We acknowledge this is not reflective of the actual merger timeline, where the synergies and cost reductions will be realized over time between 2015 and 2017. Finally, we will compare the optimized spin-offs against their respective peers to obtain a sense of scale and whether or not management expectations are within reason.
Company #1 - Ag Business, 20% of the new entity revenues
In 2014, DuPont's agriculture segment was responsible for approximately $11B of the company's $28B of net revenue. This $11B places DuPont as a mid-level agriculture company, respectively behind Monsanto (NYSE:MON), Syngenta (NYSE:SYT) and Bayer (OTCPK:BAYRY). Conversely, Dow's agriculture segment generated $7B of the company's $54B and is near the bottom end of the agriculture industry. The DowDuPont Agriculture business, as the name implies, will be the combining of Dow and DuPont's agriculture segments. Andrew Liveris, CEO of Dow, specifically referred to this agriculture business as the "new DuPont."
New DuPont = DuPont Agriculture segment + Dow's Agriculture segment
Looking at 2014 SEC filings, if this new DuPont existed in 2014, it would have generated $19B of revenue and $4B in EBITDA (~20% margin). Table 4 is our baseline profile that does NOT include the $1.3B merger synergy or DuPont's $700M standalone cost reduction. This baseline is provided as a means to determine the impact of standalone cost reductions and merger synergies.
Table 4: Baseline Agriculture Financial Profiles

Click to enlarge
If the $1.3B merger synergy and $700M standalone reduction are applied to this "new DuPont" for 2014 and 2015, we are presented with the following:
Table 5: Synergized New DuPont

This level of improvement puts the new DuPont at the top of the agriculture industry.
Table 6: Agriculture Industry Comparison

Click to enlarge
Company #2 Material Science - New Dow, 63 % of the new entity revenues
The second spin-off will be a Material Science company that is mostly comprised of Dow segments.
New Dow = Dow Performance Plastics + Dow Performance Materials & Chemicals + Dow Infrastructure Solutions + Dow Consumer Care + Dow Automotive Systems + DuPont Performance Materials
According to SEC filings, if this Material Science company existed in 2014, it would have generated ~$55B of revenue and $9.8B in EBITDA (18% margin). These figures do not account for the $1.5B Material Science merger synergy and Dow's standalone cost reduction of $300M. The baseline profile for the new Dow is presented in Table 7.
Table 7: Baseline Material Science Financial Profiles

Click to enlarge
If the $1.5B merger synergy and $300M cost reductions are implemented, this new Material Science spin-off should resemble Table 8.
Table 8: Synergized New Dow

Next is a comparison of the new Dow against Material Science industry peers.
Table 9: Material Science Industry Comparison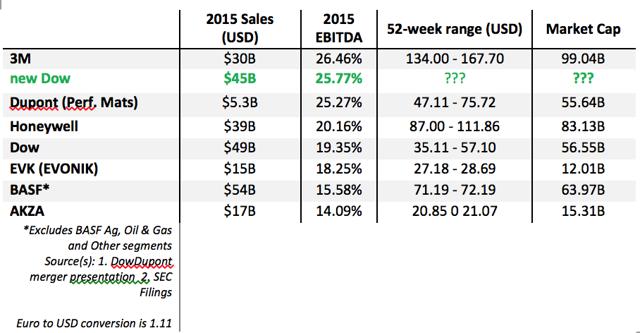 Click to enlarge
If the Material Science space existed in 2015 with this synergized cost structure, the new Dow EBITDA margin would increase by 500bp to ~26%. If this spin-off existed in 2015, it would be third in sales and second in EBITDA amongst Material Science peers. Based on this comparison, it appears that management's goals for the new Dow are at the high end of the competition, but roughly in line with DuPont's prior margin. As a result, while this goal is aggressive, it is probably doable.
Company #3 - Specialty Products, 17% of the new entity revenues
The final spin-off resulting from this merger of equals will be a Specialty Products company. The Specialty Products company will be made up of the following segments:
Specialty Products = DuPont Electronics & Communications + DuPont Nutrition & Health + DuPont Industrial Biosciences + DuPont Safety & Protection + Dow Electronic Materials
SEC filings indicate that this Specialty Products spin-off would have created $13B in 2014 revenue and $2.8B of EBITDA (~21% margin).
Table 10: Baseline Specialty Products Financial Profiles

Click to enlarge
In terms of cost synergies and reductions, this Specialty Products spin-off is expected to receive $300M of merger synergies. Assuming this Specialty Products receives a negligible amount of standalone cost reductions, the Specialty Products spin-off would improve their margins as presented in Table 11:
Table 11: Synergized Specialty Products Spin-off

This analysis implies that the $300M of merger synergies will yield 2-3% of margin improvement for the Specialty Products spin-off. Dow and DuPont did not provide the direct competitors to the Specialty Products spin-off. This level of cost savings is in line with the historical variance of the margins for that unit.
Overall, the weighted average margin picture looks like this:
Table 12: Synergized DowDuPont Weighted Margins

Management
This "new DuPont" will be managed by current DuPont CEO, Edward Breen. Mr. Breen is well regarded as a CEO, especially for his ability to successfully split companies. During his tenure as CEO of Tyco International Plc, Breen split the company twice. The split of Tyco resulted in three public companies - ADT (NYSE:ADT), Covidien, and Tyco International (NYSE:TYC). Prior to Mr. Breen, Tyco International was mired by a scandal where then-CEO Dennis Kozlowski, was convicted of looting millions of dollars from Tyco. Breen was appointed to DuPont's board in Spring 2015 and became CEO following Ellen Kullman's unexpected retirement. In addition to his experience splitting companies, Breen is also known for his ability to create value for investors. As CEO of General Instrument, Breen shut down old businesses, tripled revenues and boosted share prices. Breen eventually sold General Instrument to Motorola for $17BN in 2000. With this track record, it's no surprise that Trian Partners increased its DuPont stake after the merger was announced.
The leadership for the new Dow is yet to be determined. Current Dow CEO, Andrew Liveris, recently announced that he would be stepping down as Dow CEO by June 2017. In regards to Mr. Liveris, his tenure as CEO has been mixed. Dan Loeb, chief executive of Third Point Management, has criticized Mr. Liveris' spending habits and actually stated "it would be an insult to Dow shareholders" if Mr. Liveris was appointed CEO of the spin-off. While the investment case for the new Dow is not quite as robust as the new DuPont, there is tremendous free cash flow that can be had from a properly led company with $45B in 2015 revenues and 26% EBTIDA margins.
The leadership for the Specialty Products spin-off is also yet to be determined. Among the three spin-offs, the Specialty Products is the one with the most uncertainty because of this leadership variable and incomplete analysis with respect to competition.
Analytical Approach
Our analytical approach is designed to calculate the different levels of "sustainable cash flow" a business is likely to produce. From a statistical point of view, one cannot evaluate a point estimate without knowing the distribution from which it is derived. As a result, we focus on calculating a distribution of the sustainable levels of free cash flows per share.
To start this process, we manually rebuild a company's balance sheet and income statement with data from the past five to ten years. The statements are then modified and normalized in terms of revenue. These data are used to develop a set of operational metrics (value drivers), and to calculate the historical variance of the metrics.
The value drivers (historical averages unless otherwise specified) and their respective standard deviations are then put into a Monte Carlo simulation, in order to generate a distribution of potential sustainable levels of free cash flow per share. The final step is to compare this distribution to a point estimate, which in our case is today's stock price.
This methodology allows us to identify situations in which the market's subjective expectations diverge significantly from historical norms and provides guidance as to the likely direction of the stock price.
Model Inputs
The "new Dow" and "new DuPont," will benefit from significant cost synergies. By being within range of the respective competitors, it gives support to management claims that these cost reduction efforts are attainable. Management expects them to be fully realized by 2017 translating to an overall EBITDA margin of 26%.
The combined entity of DowDuPont historically was able to generate on average $1.50 in sales for each dollar of long-term assets.
Chart 4: Fixed Asset (Long-term) Turnover - Dow, DuPont and DowDuPont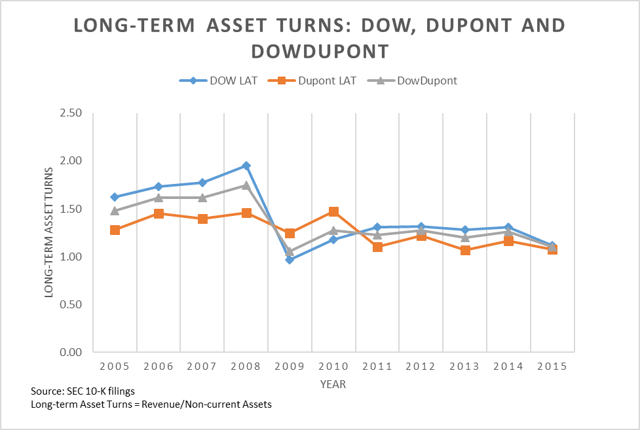 Click to enlarge
This history combined with management goals leads to the following assumptions:
Average revenue growth of 4.72% year over year with a standard deviation of $1.4BN.
EBITDA margins of ~26% with a standard deviation of 11.6%.
Capital expenditure at 5.40% of revenue with a standard deviation 8.8%.
Using these inputs and their variances generated the following distribution of sustainable free cash flow per share. It is important to keep in mind that owners of DuPont will receive 1.28 shares of the combined entity.
Chart 3: Monte Carlo Simulation - DowDuPont's Sustainable Free Cash Flow Distribution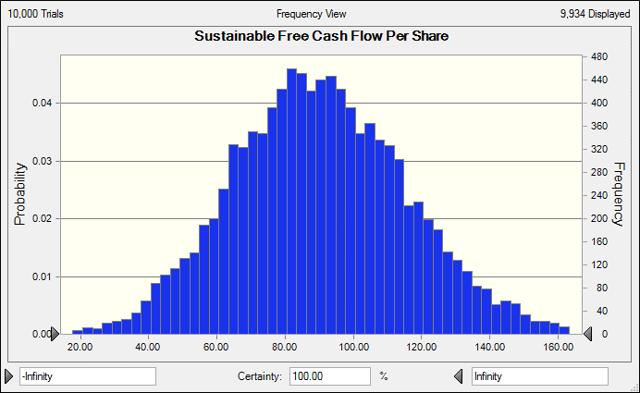 Click to enlarge
Adjusting for the share split post-merger yields the following:
Table 4: Monte-Carlo Simulation - Sustainable Free Cash Flow per Share post-merger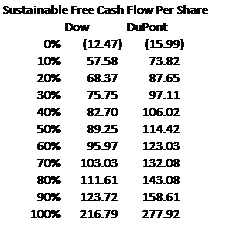 Conclusion
This analysis indicates that neither company is getting much credit for their independent cost-cutting effort, or the merger synergies. Given how poorly both companies have been managed, it is certainly understandable if investors approach management's lofty cost-cutting goals with a degree of caution. However, there a number of reasons to be optimistic. The installation of new management with a track record of executing these points should provide reassurance that at least a large portion of the goals will be met. Second, it is no secret each business had a bloated cost structure. As a result, it is reasonable to believe that a determined management team could extract a significant amount of saving from each one, let alone the merged entity. Lastly, new management gains nothing by over-promising and under-delivering. This would only serve to encourage further efforts on the part of Trian and Third Point to bring about the necessary change. As a result, the stock at these levels offers a significant opportunity.
Disclosure: I am/we are long DD.
I wrote this article myself, and it expresses my own opinions. I am not receiving compensation for it (other than from Seeking Alpha). I have no business relationship with any company whose stock is mentioned in this article.
Additional disclosure: This article is not a specific recommendation to buy or sell. Any potential investor should consult a qualified Financial Advisor before making any investment. This article was written by Ryan Guttridge, CFA, James Shin. Ryan is a Professor of Finance at the RHSmith School of Business at the University of Maryland. James is a Pathology Assistant and Research Specialist Johns Hopkins University in Baltimore.