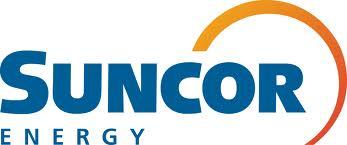 Suncor Energy's (NYSE:SU) Q1 EPS report was accompanied by an announcement the company bought Murphy Oil's (NYSE:MUR) 5% stake in the Canadian oil sands Syncrude Joint Venture for $937 million. The acquisition will increase Suncor's working interest in Syncrude to 53.74%.
In a previous article, Canadian Oil Sands: Will Imperial Oil (i.e. Exxon) Emerge As A White Knight, I explained why I was doubtful the most logical competitor to Suncor's deal to takeover Canadian Oil Sands Limited, Imperial Oil (NYSEMKT:IMO), would not make a competing bid and that Suncor would be successful in purchasing COS lock, stock, and 128,500 barrels (per day of Syncrude capacity). Indeed, that is exactly what happened.
In that deal, COS shares were acquired for 0.28 of a Suncor share as well as the assumption of $2.6 billion in long-term debt. The total value of the transaction was $6.9 billion at the time of the acquisition. If we look at the purchase price Suncor announced it paid for Murphy's 5% stake ($937 million), the price is on par with what Suncor paid for COS.
Suncor's share of Syncrude production increased to an average of 112,800 bbls/d in the first quarter of 2016, compared to quarterly production of 35,200 bbls/d for the 12% stake it held in Q1 of 2015. The increase, of course, was predominantly due to the COS acquisition. However, note that quarter-over-quarter production at Syncrude also increased due to higher reliability in the first quarter of 2016, with upgrader utilization increasing to 91%, from 84%.
The market appears to like the deal and the net earnings of $0.17.share: Suncor shares are currently up over a buck on the NYSE: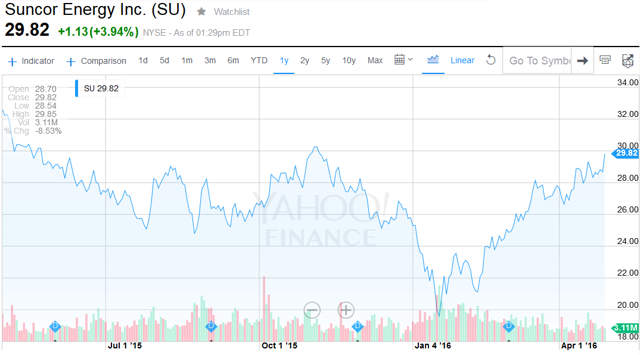 Click to enlarge
It is important to note that Syncrude operating costs for 2016 are estimated by the company to be $35-$38/bbl. Note also that Suncor's Q1 supplemental data (available here) showed that while realized prices for Syncrude sweet SCO fell 21% yoy, Yet the $44.07/bbl price was ~20% higher than the midepoint of annual operating cost estimates:

Click to enlarge
Cash operating costs per barrel in the Oil Sands segment averaged $24.25 as compared to the realized crude basket of all oil sands operations of $29.87/bbl. As a result, Suncor should see an increase in overall oil sands margins going forward as a result of its more that 4x ownership stake in the Syncrude joint venture as compared to 2015.
While it is hard to pound the table on any oil producer in the current low-price commodity environment, SU recently confirmed its dividend (3.2%) and announced on the conference call it was considering $1 to $1.5 billion in asset sales. That would be a positive development if proceeds were used to pay down its long-term debt - currently at $16.3 billion, or ~2.5x annual cash-flow.
Moody's downgraded Suncor's long-term debt to Baa1 during the quarter, with a stable outlook. The Dominion Bond Rating Service affirmed Suncor's A-low rating, but updated its trend to negative. While Suncor is obviously taking advantage of the current commodity downcycle by doubling down on the higher margin Syncrude joint venture, a substantial price recovery is still needed to propel the stock higher. For now, it offers little more than the 3.2% dividend yield.
Disclosure: I am/we are long SU.
I wrote this article myself, and it expresses my own opinions. I am not receiving compensation for it (other than from Seeking Alpha). I have no business relationship with any company whose stock is mentioned in this article.
Additional disclosure: I am an engineer, not a CFA. The information and data presented in this article were obtained from company documents and/or sources believed to be reliable, but have not been independently verified. Therefore, the author cannot guarantee their accuracy. Please do your own research and contact a qualified investment advisor. I am not responsible for investment decisions you make. Thanks for reading and good luck!