Stella-Jones TSX:SJ or (OTC:STLJF) continues its record earnings streak this quarter. Not long ago I was writing about their stellar year end and Q4. The Q1 report is no different.
Stella-Jones' deals primarily with treated wood products. Unlike many of the other companies I look at, this is a pretty straight-forward business to understand even though it is somewhat seasonal. Their five primary business segments are railway ties, utility poles, industrial products, log and lumber, and the newest and highest growth area - residential lumber. Here is a more introductory look at the company.

Stella-Jones is a growth-by-acquisition company that can achieve stunning synergies, particularly because of the huge logistics cost savings in transporting such large, heavy products. Unlike other acquisition stories, they also have significant organic growth and are able to leverage their acquisitions to benefit the entire company.
Highlights from this quarter over the same quarter last year are:
Sales up from $340.7M to $421.0M up 23.6%.
Operating income up from $47.6M to $54.6M up 14.7%.
Net income up from 30.1M to 35.0M up 16.3%.
EPS up from $0.43 to $0.51 18.6%

Several things had an effect on the earnings this quarter, which came in as analysts expected. The October 2, 2015 acquisition of Ram Forest Group contributed $9.3M. The Canadian dollar is still low, though climbing, and this added $35.9M to sales. Organic growth represented 35.14M or 10.3%. There is solid demand for their core products. The energy downturn did reduced demand for special projects, but that has been made up in other areas.
Looking at each of the divisions: Railway tie sales rose 8.1% excluding currency. This is somewhat seasonal and is expected to be flat for the year. Utility poles sales were stable. Residential lumber is where the Ram acquisition increased sales by $9.3M, moving the company from treated products only to being a full service supplier for retailers. On the conference call it was stated that we can expect residential lumber to become a larger component of earnings. Industrial products increased 34% due to increased demands in marine timber in Eastern Canada. Logs and Lumber increased substantially - 216% - due to the timing of harvesting and procurement efforts to support the move into supplying residential demand.
Brian McManus, President and CEO announced,

"As we enter peak season for most of our products, we expect demand to remain healthy for the remainder of 2016. Supporting this confidence, Stella-Jones is moving forward with the construction of a new wood treating facility in Cameron, Wisconsin, which will primarily be used to service the utility pole market. We expect the facility to be ready for production in the first quarter of 2017."
This facility will cost between $27-$30M USD and be used to service the regional utility pole demand. They have tried a regional distribution facility in the area but have not been able to meet demand with just a distribution facility.
The two recent acquisitions announced Lufkin Creosoting Co., Inc. and 440 Investments, LLC. are expect to close before the end of the next quarter.
Mr. McManus concluded the call by saying that they are concentrating now on integration of acquisitions to create efficiencies. Though they will look at various opportunities as they become available, they do not have other acquisition plans at this point.
"Our strategy remains committed on enhancing network efficiencies and methodically expanding through acquisitions. This focus has contributed in building lasting value for our shareholders,"
Stella-Jones has a solid financial position. The debt shown on the FAST Graph below is 38%. The management has proven they are good at acquiring companies, but also excellent and creating the company synergies needed to make them valuable. They are very comfortable with this debt level and have no plans to change it.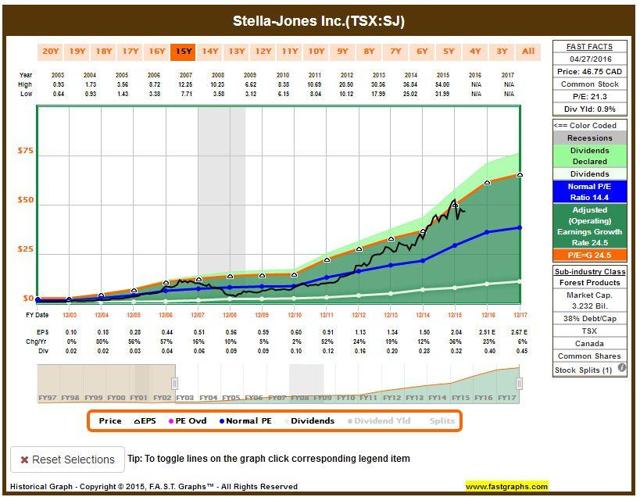 Click to enlarge
changing the time frame changes the look of the graph: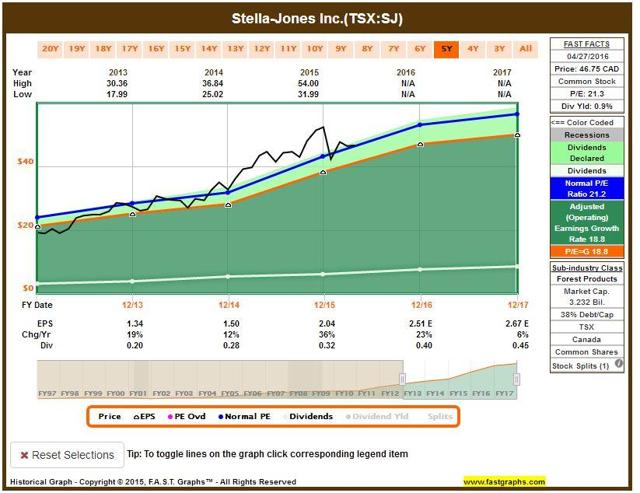 Click to enlarge
Though this company trades at its normal P/E, it has a few other things going for it, such as an ROE of 17.61%. Though it has only come to my attention more recently, anyone who has been invested in Stella-Jones for a longer period of time has been a happy investor.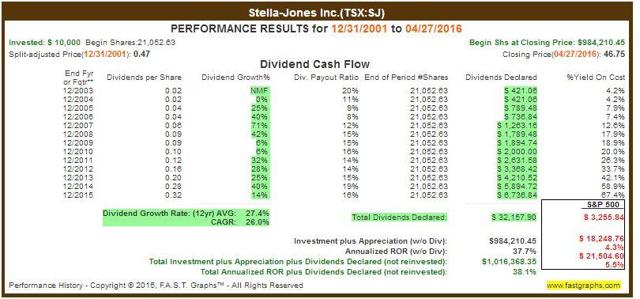 Click to enlarge
The quarterly dividend is very small, but has shown significant growth over the years. The dividend payment was raised last quarter. It has been held steady at $0.10/per share paid quarterly with the next ex-dividend being June 3, 2016.
The market seems happy with report and the stock quickly ran up with the pre-market announcement, settling at a gain of 4.5% before the conference call.

A put that I wrote on Stella-Jones was assigned to me last month. This makes a completely full holding. For now, I am happy to hold those shares, even though this makes it my 5th largest holding. This is not where the ideal holding would be, so I may trim depending on share price action. This week I wrote another put on SJ which reduces the ACB of my shares to $43.93.
The conference call had a positive tone, and interesting questions which included congratulations on the quarter. The management team was somewhat cautious looking ahead with seasonal and economic issues being challenging to predict, but guidance was reaffirmed, and positive acquisitions and projects are underway.
Disclosure: I am/we are long STLJF.
I wrote this article myself, and it expresses my own opinions. I am not receiving compensation for it (other than from Seeking Alpha). I have no business relationship with any company whose stock is mentioned in this article.
Editor's Note: This article discusses one or more securities that do not trade on a major U.S. exchange. Please be aware of the risks associated with these stocks.