In February 2016, U.S. Energy (NASDAQ:USEG) struck a deal with Freeport-McMoRan (NYSE:FCX) to acquire all of the assets and liabilities of its mining claims in Crested Butte, Colo. This freed U.S. Energy of its obligation to maintain a water treatment plant that cost $2 million per year. It also freed the company from spending $1 million a year on activities related to getting final approval to open the mine. Combined, the company has shed $3 million in annual mining related costs.
The mine was not operational and was not generating any revenue. Although it has one of the highest pure concentrations of molybdenum in the world, the depressed price of molybdenum rendered the mine uneconomic in the current environment. The deal with Freeport was a coup for U.S. Energy's new President and leader David Veltri, who has over 30 years of experience in the oil and gas business. Much more information on the details of the deal can be found in this article by Long Player. The company is now a pure play oil and gas driller.
U.S. Energy was recommended as one of five low-debt oil stocks to swap into, after swapping out of five high-debt oil stocks, in an article I wrote in January 2015. In fact, it had the lowest debt-to-asset ratio of the five recommended stocks. It still does. One of the stocks I recommended to swap out of has gone bankrupt, and two more are on the brink. One of the stocks I recommended to swap into, Callon Petroleum (NYSE:CPE), has doubled since the January 2015 recommendation. Unfortunately for U.S. Energy, its stock price has fallen under $1 after this Seeking Alpha article questioned if it was a bankruptcy candidate.
The company has completely restructured itself by divesting of its mining division and has dramatically reduced staff and overhead. In fact, in addition to the $3 million in annual savings from the mining division, the company has also cut $4 million in annual costs from its overhead. Furthermore, its recently released 10-K clearly details why it is not a near-term bankruptcy candidate.
The 10-K shows the book value of the company's assets are $1.21 per share. The actual market value for the assets should be quite a bit higher than the book value. The 10-K shows the company used only $43 per barrel for oil in writing down the value of its oil and gas assets. Many companies, like EXCO Resources (NYSE:XCO), used $50 per barrel in determining the book value of their oil assets. With the forward NYMEX strip for West Texas Intermediate oil now above $46, the company's assets should be worth more than $1.21 per share. The net debt after cash and receivables is only 38 cents per share.
Here is why U.S. Energy is not a near-term bankruptcy candidate. U.S. Energy is in violation of its loan covenants on its first lien revolving line of credit with Wells Fargo, due in June 2017. The company is carrying the $6 million loan as a current liability because of the violation of the loan covenants. According to the 10-K, "In December 2015, Wells Fargo made a further reduction in the borrowing base to $6,000. As of Dec. 31, 2015, U.S. Energy was not in compliance with any of the financial covenants and on April 14, 2016, Wells Fargo provided a limited waiver for U.S. Energy's noncompliance." This information is found on page 68 of the company's 10-K and has not appeared in any press releases.
With a first lien on the oil assets it is highly unlikely, but cannot be assured, that Wells Fargo will call the loan. Even if they do, U.S. Energy can find lenders for $6 million quite easily because they can offer a first lien on their oil assets in replacing Wells Fargo. The reason the company is not rushing to replace the Wells Fargo loan is the interest rate on the debt was an average of 2.95% in 2015. The company will not be able to find such a low interest rate in the current environment. Since the company has $2 million in cash, and is currently not drilling, there is no rush to find a new lender only to pay a higher interest rate.
Here is a look at U.S. Energy's current assets and current liabilities:

Click to enlarge

Click to enlarge
Most investors are taking a quick look at the company's balance sheet and see a $9.8 million working capital deficit. This gives the appearance of a company in trouble. The investors see the sub-$1 stock price, and then simply assume the Seeking Alpha article highlighted above claiming U.S. Energy may declare bankruptcy as possibly being true.
But $6 million of the working capital deficit is on first lien debt the company can replace with long-term debt, although at substantially higher interest rates. That debt will be refinanced before June 2017, and the company will then reclassify this item as a long-term liability. Furthermore, should oil prices keep rising, the company's EBITDAX might be high enough so that the company is no longer in violation of its loan covenants. Either way, this is a solvable problem and it should get resolved.
The second item of interest found in the 10-K is the $4.1 million liability to a major operator. This liability is the result of Statoil not fully understanding the agreement they assumed from their acquisition of Brigham Exploration. Once a group of wells reached payout, a portion of U.S. Energy's working interests were then reduced and Statoil's were increased. Statoil didn't understand this initially and overpaid U.S. Energy nearly $5 million. But the 10-K revealed on page 46 the following:
During 2015 and 2014, we received significant overpayments due to an operator's failure to timely recognize the payout implications of our joint operating agreements. During the second quarter of 2015, the operator corrected its records and has elected to begin withholding the net revenues from all of our wells that it operates to recover these overpayments. As of Dec. 31, 2015, the balance of the overpayment was approximately $4.2 million and based on the oil and gas prices and costs used in our reserve report as of Dec. 31, 2015, this liability is expected to be settled in full by the first quarter of 2019, but under higher pricing scenarios this liability could be repaid earlier.
What this means is U.S. Energy has a permanent source of financing for this $4.2 million current liability, and part of it probably should be reclassified as a long-term liability. By refinancing the Wells Fargo debt, and moving a portion of the payable to a major operator to long-term liabilities, U.S. Energy would see its working capital deficit erased.
Another item of interest is the company is carrying the full amount of $3.8 million in contingent liabilities, none of which are currently resolved and some of which may or may not be resolved in 2016. None of this is due now. The company is a non-operator and has working interests with multiple companies. U.S. Energy states the following, found in the 10-K (also on page 46):
We believe certain operators have failed to allocate our share of non-consent ownership interests which results in contingent liabilities to the extent we have not been billed for our proportionate share of such interests, and contingent assets to the extent that we have not received our share of the net revenues. We record net contingent liabilities for the obligations that we believe are probable which amounted to $3.2 million as of Dec. 31, 2015. The ultimate resolution of these uncertainties about our working interests and net revenue interests can extend over a long period of time and we cannot provide any assurance that these matters will be resolved within the next year.
U.S. Energy is very conservative with their accounting. So conservative that they recognize the $3.2 million of potential liabilities from increases in working interest positions, but do not recognize the corresponding $1.6 million in revenues that they would receive from these wells so far if they are actually allocated all of the increased working interests. They should at least recognize they also have a $1.6 million contingent receivable on their balance sheet, which would reduce their working capital deficit to $8.2 million.
In fact, the grand total of bills due on demand is only $3.2 million from payables and accrued employee benefits relating to severance. The 10-K reveals that the company paid the $1.3 million in employee costs in January reducing its cash position from $3.3 million to $2 million. So right now the only immediate demand on U.S. Energy for cash is the $1.8 million in other accounts payable. The company has $2 million in cash and $1.1 million in receivables from the same companies they owe the payables to meet this obligation. More cash than current obligations means a company is not a near-term bankruptcy candidate, barring an unforeseen force majeure type event, of course.
The next thing the 10-K revealed is U.S. Energy has moved from its headquarters in Riverton, Wyo., to Denver, Colo. The company has reduced overhead by $4 million annually. Considering it was running at a quarterly overhead burn rate of $1.3 million, then it is possible U.S. Energy's overhead is down to a range of $300,000 per quarter. Based on their current oil production, the company could be cash flow positive with oil prices above the mid-$30 range.
Also, the 10-K showed the company has significant real estate holdings in Riverton, Wyo., that are up for sale:
We own a 14-acre tract in Riverton, Wyo., with a two-story 30,400 square foot office building. The first floor is rented to non-affiliates and government agencies; the second floor was formerly occupied by the company. We are currently attempting to secure tenants for the vacant portion of this building but we are also considering an outright sale of the property. In addition, we own three city lots covering 13.84 acres adjacent to our corporate office building in Fremont County, Wyo. We intend to sell these properties without development. However, there can be no assurance that sales of any of these properties will be completed on the terms, or in the time frame, we expect or at all.
The real estate may be sold for $3 million to $5 million substantially boosting U.S. Energy's cash position. Office buildings with long-term leases from governmental agencies currently have significant demand in our zero based interest world. The company also has potential revenues and royalties from past uranium assets that were sold years ago. U.S. Energy received stock last year from penny stock company Anfield in relation to the uranium assets. More stock may be on the way based on Anfield's success. The uranium assets are a wildcard that may never materialize, but down the road, if things go right, they could be worth several million dollars to U.S. Energy.
U.S. Energy has producing oil assets in the Bakken and the Eagle Ford. Most of their acreage is held by long-lived production. Their most valuable acreage is their Eagle Ford acreage with Contango (NYSEMKT:MCF) near EXCO Resources' acreage. Here is a look at the Eagle Ford position: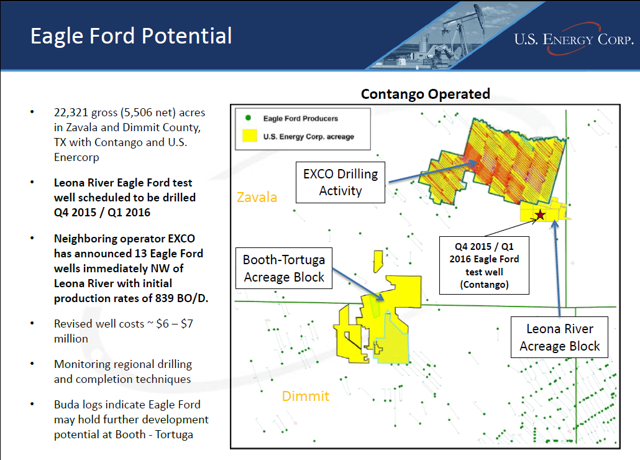 Click to enlarge
All of the wells in the Northeastern corner of Zavala are operated by EXCO Resources. They have put a lot of money into engineering the wells in this area since they purchased the leases a couple of years ago from Chesapeake (CHK). EXCO has cracked the completion code. The recent 13 wells they drilled started production on very restricted chokes with an average 24 hour initial production rate of 839 barrels of oil, plus natural gas and natural gas liquids. EXCO is claiming 40% plus rates of return on these wells with NYMEX oil prices above $50 per barrel. The wells have EUR's of over 500,000 BOE.
Contango has a 50% working interest in the K.M. Ranch lease just southeast of EXCO's 13 most recent wells. U.S. Energy has a 30% working interest in the lease, and a private company has the other 20%. The lease has 4,300 gross acres and is held by production. Based on 100 acre spacing Contango has over 40 additional drilling locations. Many operators in the Eagle Ford are using closer spacing than 100 acres. More detailed information on this acreage can be found here.
Finally, the 10-K revealed why U.S. Energy may be a takeover candidate. The company has lost over $150 million in the last few years and is sitting on Federal tax assets. According to the 10-K:
The company has net operating loss carryovers as of Dec. 31, 2015, of approximately $57,000 for federal income tax purposes. The net operating loss carryovers may be carried back two years and forward twenty years from the year the net operating loss was generated. The net operating losses may be used to offset future taxable income and expire in varying amounts through 2035. In addition, the company has alternative minimum tax credit carry-forwards of approximately $700 which are available to offset future federal income taxes over an indefinite period.
Management does not anticipate that they will be able to use the tax assets based on earnings at current oil prices. Therefore, all of the tax assets are being held off-balance sheet. The tax assets are roughly $2 per share, and if carried on the balance sheet, would increase the company's assets per share to $3.21, with only 38 cents in net debt. While U.S. Energy may not benefit from the tax assets in the future, a profitable company can merge with U.S. Energy and use the $57 million federal tax assets. Because U.S. Energy is a non-operator, an acquiring company would basically be assuming a financial portfolio of oil working interests.
This article is not a buy or sell recommendation. It is an attempt to set the record straight about the Seeking Alpha article titled "Is U.S. Energy Going To Zero? Low Debt Is Not Enough To Survive," which is linked to above. After that article was published, the stock fell below $1 and stayed below $1. Currently, U.S. Energy is a tiny, micro-cap stock with a market value worth a little more than $10 million. It should be considered highly speculative. But it is presently not a bankruptcy candidate.
Disclosure: I am/we are long USEG.
I wrote this article myself, and it expresses my own opinions. I am not receiving compensation for it (other than from Seeking Alpha). I have no business relationship with any company whose stock is mentioned in this article.
Editor's Note: This article covers one or more stocks trading at less than $1 per share and/or with less than a $100 million market cap. Please be aware of the risks associated with these stocks.