Boeing (NYSE:BA) has reported first quarter results on Wednesday, missing earnings estimates but showing a strong performance in its defense segment. I believe the earnings miss is not a huge problem, Boeing continues to look attractive at the current valuation. The company's strong cash flows and shareholder returns make this company compelling, especially for dividend-focused investors.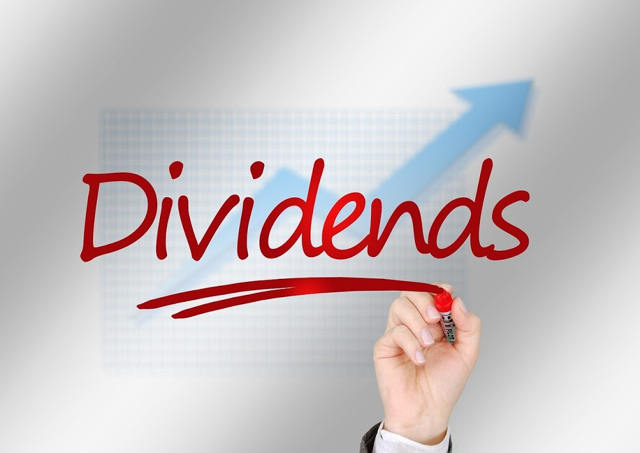 Click to enlarge
Boeing grossed revenues of $23 billion, up 2% year on year. Operating earnings, however, dropped 21%, (non-GAAP) earnings per share dropped 12% to $1.74. This looks like a mixed bag of results - the revenue growth is a positive, but on the other hand, the drop in earnings is nothing that looks encouraging for investors.
Boeing's commercial segment reported revenues of $14.4 billion (down 6% year on year), based on a lower number of deliveries in comparison to the prior year's quarter (down 4% to 176). The operating margin for Boeing's commercial segment dropped 330 base points, which, in addition to the small revenue decline, made earnings drop 36% to $1 billion. The margin drop and lower earnings are due to higher R&D expenses (I see this as a positive, since Boeing's future revenues depend on bringing attractive products to the market) as well as due to charges for the KC-46 refueling tanker ($156 million) and charges for Boeing's 747 program ($70 million). The good thing about these charges is that they are non-cash expenses, thus the company's operating and free cash flows are not hurt by that.
Boeing's defense segment did pretty well, on the other hand, showing a revenue increase of 19% year on year to $8.0 billion. Operating earnings for the defense segment improved 12% to $820 million.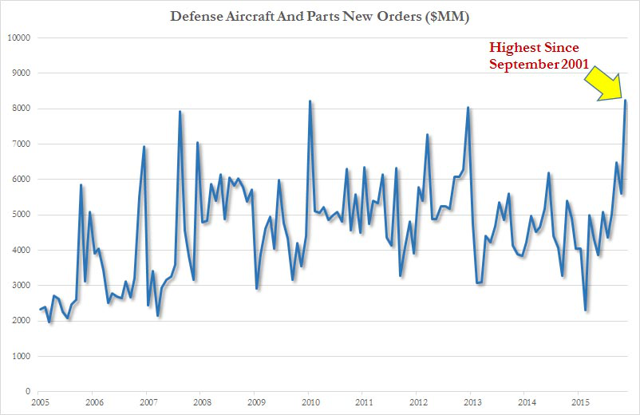 Click to enlarge
Orders for defense aircraft and parts stood at a 15-year high at the end of 2015, which is a positive for Boeing's defense segment in the future as well, since these high orders will translate to higher revenues once the aircraft (and parts for these aircraft) are delivered. It thus looks like Boeing's defense segment will be able to keep the company's top line growing whilst Boeing's commercial segment is taking a breather.
The very compelling part of Boeing's earnings report were neither the revenue number, nor the EPS number, but the company's cash generation and cash utilization numbers: In the first quarter, Boeing has produced operating cash flows of $1.2 billion, up by more than $1 billion from last year's $90 million. Free cash flows improved significantly as well, the company's free cash flow for the first quarter totaled $500 million (versus a cash burn of $500 million in the previous year's quarter). These are good numbers for the traditionally weak first quarter (at least when it comes to cash flows), and the fact that Boeing reiterated its goal to produce $10 billion in operating cash flows this year is very encouraging. With quarterly capital expenditures of about $700 million, this means roughly $7 billion in free cash flows for the current year. Boeing also has $8.4 billion in cash on hand, which means the company could theoretically return about $15 billion to its owners over the remainder of the year (the actual number will be smaller since Boeing will want to hold onto some cash).
The shareholder returns were very strong in the first quarter, with Boeing paying $700 million in dividends and repurchasing shares for $3.5 billion (which leaves $10.5 billion available for future share repurchases under the current program). The 29 million shares Boeing has repurchased (for an average price of roughly $120) represent a 4.5% decline in the company's share count - a very impressive number for sure, when we account for the fact that this was achieved in just one quarter. If Boeing was willing to spend the remaining $10.5 billion in the next three quarters (which would mean the current buyback pace remained flat), Boeing could repurchase 77 million more shares, for another 12% drop in the company's share count (using the current share price of $137). This not only increases each share's portion of the company's earnings significantly (thus making each share more valuable), it also means Boeing saves money when it comes to the dividend: The 29 million shares Boeing has repurchased in the first quarter will not get any dividend payments, Boeing thus saves more than $125 million each year, not including any future dividend increases yet. Boeing can thus easily increase the per share dividends at a compelling pace, even if the company plans to keep the total dividend payout stable at a little less than $3.0 billion a year.
We can thus say that Boeing's share repurchases are beneficial for those investors looking for capital appreciation (since the buybacks increase each share's EPS and thus worth) as well as for those looking for dividend growth, since a declining share count is a great basis to grow per share dividends.
For those looking for income from their investments, Boeing looks attractive right now, with a dividend yielding 3.2% (which is about 50% higher than the broad market's average dividend yield of 2.1%) and compelling dividend growth rates (Boeing has increased its dividend in each of the last years, the last dividend increase was a 20% hike) these investors can count on substantially growing income from their Boeing shares.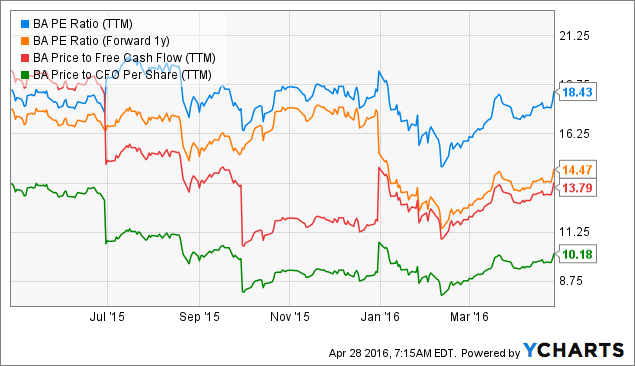 Boeing's valuation is not as low as it was earlier this year, but the company's valuation still looks attractive: At 18.4 times trailing earnings and 14.5 times forward earnings, Boeing is cheap relative to the broad market, and when we look at the company's cash flows, we get the impression that Boeing looks undervalued right now, as the company is trading at just 13.8 times free cash flow and 10.2 times operating cash flow right now.
With Boeing's guidance for $10 billion in operating cash flows for the current year, Boeing's forward cash flow multiple is even lower at just 8.9, which means investors buying at today's price get a cash flow yield of more than 11%. For a company with strong shareholder payouts, an attractive dividend, an immense backlog, a wide moat, and a protected business due to being active in a duopoly, this looks like a very compelling valuation, I believe.
Takeaway
Boeing's first quarter has seen a steep profit drop, but this was mainly due to one-time, non-cash expenses. The company's revenue numbers and especially the cash flows look pretty good.
With huge shareholder returns, a rather low valuation, an attractive dividend, and the company's moat and huge backlog, I believe Boeing still looks compelling for dividend growth investors (as well as those looking for capital appreciation with a long-term horizon), although the company's shares have rallied substantially over the last weeks, it is now trading 35% above the February lows.
Disclosure: I/we have no positions in any stocks mentioned, but may initiate a long position in BA over the next 72 hours.
I wrote this article myself, and it expresses my own opinions. I am not receiving compensation for it (other than from Seeking Alpha). I have no business relationship with any company whose stock is mentioned in this article.