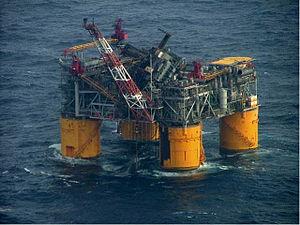 Oil States International (NYSE:OIS) reported Q1 revenue of $169.7 million and loss per share of $0.26. The company is reeling from declining oil prices and declining E&P. I had the following takeaways on the quarter.
The Offshore Sector Finally Capitulated
Total revenue was off 28% sequentially and 50% Y/Y. The diminution in Well Site Services (down 32%) has been well documented. Halliburton (NYSE:HAL), and Baker Hughes (NYSE:BHI) experienced double-digit declines, so it is no surprise that Well Site Services also got punished. The U.S. rig count is off 78% from their 2014 peak. Oil States' clients are fighting for their survival and have cut capex to preserve their own balance sheets. Until the rig count rises, North American E&P will likely remain in the doldrums. Secondly, the company doesn't have the liquidity to meet price concessions provided by bigger players.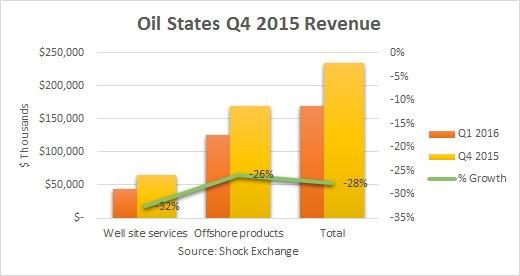 Offshore Products has provided an anchor for the company. Last quarter, revenue from this segment fell only 3% sequentially. In Q1, the decline was 26% as its backlog has fallen steadily since 2014. Offshore E&P has buoyed firms like Cameron International (NYSE:CAM) and FMC Technologies (NYSE:FTI), but a dearth of new orders took their toll on the sector this quarter. Offshore Products had a 23% EBITDA margin - much higher than the 6% achieved overall. However, continued revenue declines do not bode well for the company.
Liquidity
Oil States' EBITDA declined 75% from $40 million in Q4 to $10 million this quarter. The margin declined to 6% from 17%. For a company this small, one has to question if it has the liquidity to survive the downturn in the oil patch. The company has accounts receivable of $272 million that it can monetize to help fund operations. Its low debt level ($90 million) is a major plus.
Cash flow from operations was $57 million. The company cut capex to $10 million from $38 million in the year-earlier period. Management has done a yeoman's job of cutting costs and preserving cash. The cash balance was $43 million and that's after making a $37 million debt payment. Including $365 million debt capacity, total liquidity is $408 million.
OIS trades at over 17x run-rate EBITDA (Q1 and Q2 EBITDA annualized). However, bulls are focused on the balance sheet and the expectations of realizing the upside when oil prices turn. OIS is overvalued on a fundamental basis, but the market says otherwise. There is more pain ahead, but a solid balance sheet provides a cushion for a few more quarters.
Disclosure: I am/we are short OIS.
I wrote this article myself, and it expresses my own opinions. I am not receiving compensation for it. I have no business relationship with any company whose stock is mentioned in this article.