By Tabinda Hussain

The impeachment of Brazilian President Dilma Rousseff has thrown the country's equity market into a frenzy. The Brazilian stock market has been very correlated to its political disturbances. The South American economy is also highly dependent on commodity prices, which are not doing great these days. In a report, UBS analysts caution investors not to chase the rally in Brazil as fundamentals are still weak. The report says that the market is currently more exposed to risks, whereas probability of an upcycle is lower.
Equity earnings will be affected by weak credit in Brazil
Credit growth in Brazil is expected to be lackluster in the current year. As credit is highly correlated to the revenue flow of the equity market, there is considerable downside. While consensus sales and earnings growth expectations are high in Brazil, the credit growth will still be hampered at a 3-4% growth rate. Therefore, UBS sees more downside ahead for the equity market.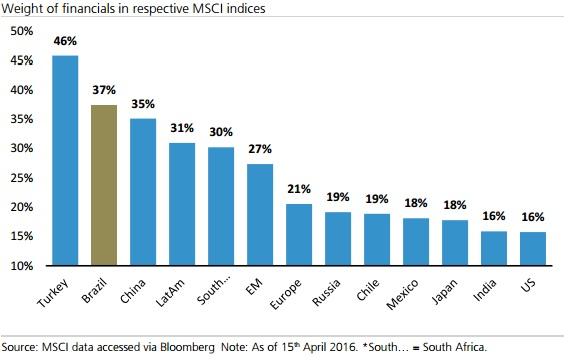 Bovespa, Brazil's stock exchange, carries one of the highest weights from the country's financial sector. UBS notes that the financial/banking sector represents 37% of the stock market, which is second only to Turkey. The report also says that the stock market looks attractive when looking at price/book value in isolation; however, the return on equity is at 6%, which is the decade's lowest return. The P/BV metric is a better evaluator for the banking sector, and since Bovespa has a very large concentration here, the same rule does not apply across the board.
The weight of the financial sector on the stock exchange progressively increased from 12% in 2007 to approximately 37% now.
Brazil's dependence on commodities
There is also a high correlation between the Brazilian real and commodity prices. The commodities also correlate with stock market earnings.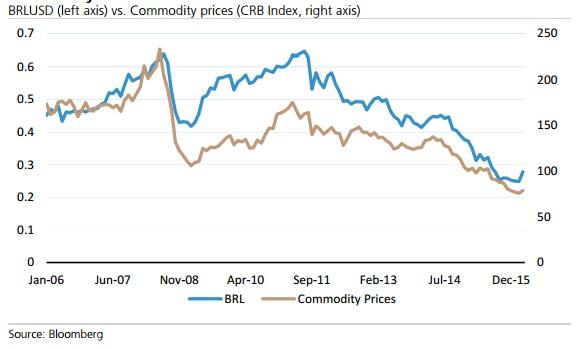 The Brazilian real has strengthened 12% so far this year on the back of increased investment in fixed income. The Brazilian central bank's decision to leave interest rates unchanged, coupled with dovish comments from the U.S. Federal Reserve, increased the attraction of fixed income investments in the Latin American country.
Despite all the troubling signs, investors seem very interested in Brazil and called it their favorite destination in a recent survey conducted by Bloomberg. Hedge funds which invested in Brazil gained 16% in March, which was one of the highest regional returns recorded last month.
UBS analysts said their bearish analysis of the Brazilian economy could be proven wrong if the Materials and Energy sectors get a boost from a rally in the commodities market. If the BRL strengthens further and authorities enact structural reforms and privatization at a faster pace, fundamentals in the equity market will improve.
Disclosure: None.