Taser International (NASDAQ:TASR)
The name Taser is synonymous with it's namesake product, the conductive electrical weapon [CEW], used by law enforcement agencies to subdue non compliant individuals. Over the last 4 years the weapons segment sales have risen by 49% while profitability has risen 81%.
Taser Weapons Segment Only*

| Year | Sales (000's) | Income (000's) |
| --- | --- | --- |
| 2012 | $109,055 | $32,230 |
| 2013 | $127,474 | $37,514 |
| 2014 | $145,613 | $51,072 |
| 2015 | $162,375 | $61,444 |
*Source: Taser International Annual Reports
With 53.7 million shares outstanding the profits from the weapons segment alone was equivalent to $1.14 per share. Using a trailing PE of 18 would yield a PEG of 0.87 and a share price of $20.52. This would be viewed as a very attractive opportunity by most investors.
Weapons Segment Growth
There are several factors to suggest that the growth experienced in the weapons segment over the last 4 years is sustainable, at least for the foreseeable future.
Taser International enjoys a virtual monopoly and has no noteworthy competition in the CEW space.
Taser International continues to improve it's CEW devices to include capabilities such as dual laser sighting, multiple shots, warning arcs and improved electronics to reduce the risk of permanent injury or death. This is driving a substantial upgrade cycle from early versions.
Integration with Axon cameras to automatically record video when a Taser CEW is deployed creates a strong product synergy.
Taser International has been pursuing an aggressive international expansion of its sales footprint, especially in Europe.
Increased public pressure for non-lethal weapons after the release of video showing the unnecessary shooting of Laquan McDonald by the Chicago PD in October 2014.
International Expansion
Taser International estimates that 67% of U.S. officers carry a Taser CEW while in Europe that number is about 2%. In 2014 Taser International opened it's European HQ in Amsterdam. Since then it has acquired its largest UK distributor and opened a sales office in Paris. Perhaps most telling is that CEO Rick Smith relocated to Paris for a good portion of 2015 to oversee the expansion into the European market. He intends to repeat this process in 2016 to ramp up the asian market.
Will all this effort in Europe bear fruit? This is what Rick Smith had to say in the Q4 conference call.
"Internationally we are continuing to set the business up for long term success and have also seen near term success with a record $12.1 million in international revenues for the fourth quarter."
It should be noted that this statement is made in reference to both the Weapons and Axon segments. Sales in Q4 2014 were $9.9 million by comparison.
With a population more than twice that of the US, but similar levels of affluence, Europe represents a huge expansion opportunity. Increases in terrorism and migrant flows from the middle east and north Africa are resulting in increased levels of funding for law enforcement and a greater interest in non-lethal options.
Axon\Evidence
The Axon segment was formed in 2008 and has yet to be profitable. On the surface it is easy to view this division simply as a maker of Body Wearable Cameras [BWC], yet another hardware component in the Taser International arsenal. This simplistic view recognizes neither the full value of the investment to date, or its strong recurring revenue stream.
The table below shows the transition in Axon segment revenues as it shifts from hardware to services (Evidence.com) from 2012 - 2015.
Axon Unit Revenues ($000's)

| Year | Hardware | Services | Ratio |
| --- | --- | --- | --- |
| 2012 | $1,606 | $230 | 7:1 |
| 2013 | $8,649 | $1,708 | 5:1 |
| 2014 | $14,700 | $4,212 | 3.5:1 |
| 2015 | $22,855 | $12,662 | 1.8:1 |
Over the last four years the hardware\services ratio has moved from 7:1 to less than 2:1 and continues to shift in favor of software. Breaking down a typical deal reveals why this is the case.
A Typical Deal
In March of 2016 the City of Baltimore signed a $12.5M contract with Taser International to provide 1,455 Axon Flex cameras along with Evidence.com for storage and management of videos. While we do not know the specifics of this deal, Taser International typically includes a refresh of the BWC hardware at the 2.5 & 5 year marks. Thus the 1,455 officers will use a total of 4,365 cameras during the contracted period. The ASP across all cameras and all customers for 2015 was $404 (including docking stations and accessories).
I'm sure the City of Baltimore got a good discount but as we are analyzing hardware vs services, using a high ASP gives a worst case scenario. For the purposes of this analysis I will use $400 as the average camera price in the Baltimore deal.
Taking 4,365 cameras @ $400 we get $1.75M in hardware cost included in the contract, the remaining $10.75M is services. This generates a hardware to services ratio of 0.16:1 (compare to above table). With 80+% of revenue coming from Evidence.com usage fees it is clear that the nearest comparable business model is that of a SaaS provider.
Note: In the 5 year deal signed with LAPD the reported camera price was just $99. The cameras are the razors, Evidence.com is the razor blades.
A Quick SaaS Primer
Skip to the next section if you are already familiar with SaaS, otherwise read on. The historical approach to large scale software projects was to implement an on-premise or private datacenter solution which typically required the following:
Increased IT staffing (salaries and benefits)
Consultants: Design, Setup, Supplement and Audit
Servers, lots of servers
Storage area networks
Networking upgrades (switches, load balancers, firewalls)
Backup Devices
Software: Operating Systems, Virtualization, LOB, Databases, AntiVirus
PC upgrades to minimum required standards
Lots of time and usually that is not enough
With the advent of Cloud Computing and cheap bandwidth it has become possible to place all of the above complexity in the cloud and offer it as a subscription service. The primary advantages of SaaS are:
Immediate availability (no design\build phases)
Pricing is simple, linear and predictable
Requires just a browser and internet access
Software upgrades are automatic and seamless
Scales to any size of user count
Highly secure and redundant
Expert staffing and 7x24 support
Offers a world class solution regardless of customer size
Building a robust SaaS environment requires a lot of up-front capital expenditure as well as expensive IT resources to manage and enhance the offering. This level of investment demands a large number of users paying a monthly fee in order to become profitable.
The Axon\Evidence.com SaaS Business
After being in existence for five years the active user count on Evidence.com by the end of 2013 was 8,172*. Since then the Axon segment has experienced impressive growth, both in terms of active user count and future contracted revenue as shown below.
Axon\Evidence.com growth

| | 12/31/13 | 12/31/14 | 12/31/15 |
| --- | --- | --- | --- |
| Active User Count | 8,172* | 18,346* | 45,900** |
| Future Contracted Revenue | $10.8M | $53.6M | $159M |
* Derived from service revenue divided by ARPU as specified in respective Q4 press releases. ** 52,000 licenses sold minus the 13,100 licenses not implemented as of 12/31/15 (2015 Q4 press release).
Despite impressive growth, expenses for the Axon unit have continued to outstrip revenue by a large and growing margin. See annual reports.
Axon\Evidence.com Revenue vs Expenses

| | Revenue (000's) | Expenses (000's) | Loss (000's) |
| --- | --- | --- | --- |
| 2012 | $1,836 | $3,602 | ($1,766) |
| 2013 | $10,357 | $19,923 | ($9,566) |
| 2014 | $18,912 | $37,479 | ($18,567) |
| 2015 | $35,517 | $61,626 | ($26,109) |
This widening loss is not surprising when a company is early within the SaaS adoption curve and growth is very high. Investors love growth but only if they believe in its ultimate profitability. The chart below shows the adoption curve for the Evidence.com platform between 2013 and 2015.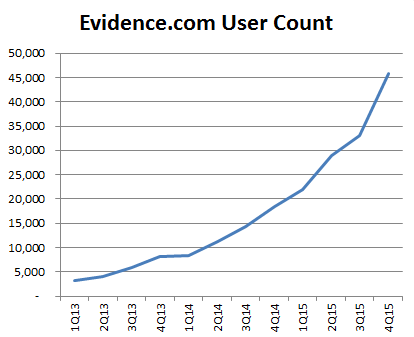 Source: User counts 2Q13 - 4Q14 are derived from Total Revenue/ARPU. User counts 1Q15 - 4Q15 are specifically listed in quarterly press releases.
Are We There Yet?
As the above graph shows the Axon segment continues to increase the rate at which new users are deployed on Q/Q basis. The steeper the slope of the curve the higher the rate of expenses associated with onboarding new customers. Most of this expense is in the form of increased resources related to growth, for example:
The number of staff required to implement new customers is at a high level. Axon averaged 4,300 new users per month in Q4 of 2015, which is an impressive number. Implementation requires project coordinators, training staff, implementation engineers and technicians. When Axon adoption comes out of the S curve the size and cost of this group will diminish significantly.
The number of sales staff at this point in the adoption curve is high because the market is relatively untapped and Taser International is aggressively pursuing marketshare. Sales commissions are typically high when selling into a new customer (vs a renewal) and most commission plans are front loaded. Travel and sales expenses are also at high levels when wooing new customers.
Increase in backend engineering staff to configure new customer environments.
A newly implemented customer is at their highest level of support need and will result in increased helpdesk staff to ease the support burden.
Build out of additional office space and fixed assets.
Increased expenses in recruiting and screening of new employees and likelihood of hiring contract staff to fill short term needs.
Sub optimal performance of new employees due to limited Axon\Evidence.com experience leads to a higher ratio of employees to paid users.
This high level of expense is the price of the rapid user growth for the Axon platform, there is no way around it. Taser International has been very clear and deliberate in prioritizing market share over profitability in the short term. This is Rick Smith [CEO], from the 2015 Q2 Earnings Transcript
I'd like to reiterate our commitment to the long term and set the expectation this is a consistent message you'll be hearing from me and the rest of our leadership team. We believe that by investing to obtain, extend and solidify our market leadership position will create a public safety platform that we can leverage to create a powerful economic model. We're planning to win a much larger market over the long run and look forward to generating long term shareholder value as a result.
Getting the Axon segment into profitability will not occur until two things happen.
The Evidence.com user count increases by at least 2 times present levels and approaches something close to operational scale.
The rate of new implementations slow to a more modest pace and the significant impact of the growth penalty is reduced.
Based on current growth and sales wins, neither of these statements are likely to become true before the end of 2016. Standalone profitability for the Axon segment is therefore unlikely before FY2017.
A few statements made in the 2015 Q4 conference call support this expectation of continued delayed profitability in the Axon unit.
As Rick said earlier in the call, it is important to note that we expect bookings growth to exceed operation and expense growth in 2016. The way we calibrate the spend in our Axon business to get a sense of the financial help in Axon segment is to compare our spend to our bookings each quarter. This gives us confidence that as our investments in the period are appropriate to the current levels of bookings. (Dan Behrendt, CFO)
This implies that as long as bookings are rising (which they are) the investor should not be surprised by widening or sustained losses in the Axon unit.
Further if we can grow bookings at a rate similar or greater than the operating expenses the Axon business will be very profitable at scale. (Dan Behrendt, CFO)
The term "at scale" is ambiguous but it has an implication of near steady state or finality to it. This supports the above view of needing to emerge from the steepest part of the implementation curve in order to move into profitability.
So What is Axon Worth?
This brings me back to my original thesis that pricing Taser International by its two component parts is a more accurate method of estimating the true value of the stock. Salesforce (NYSE:CRM) is undoubtedly the standard bearer for the SaaS business, so I will use it for comparison.
SalesForce went public in June of 2004 and 12 years later is still not profitable on a GaaP basis, experiencing a loss of $0.42 per share in FY2015. Salesforce has a market cap of $52 billion on sales of $5.4 billion (up 30% from 2014) which yields a price to sales valuation of 9.6:1. This proves two important points.
That a non-profitable SaaS company still has significant intrinsic value as long as it shows considerable growth.
That Wall St can play the long game when valuing a company on the presumption of future profits.
Axon segment future contracted revenue grew from $53.6M at the end of 2014 to $159M at the end of 2015, an increase of $103.4M (Source: Q4 2015 Investor Presentation). Of course this $103M in sales is only recognized as revenue when the services are actually delivered over the duration of the contract. Because Axon\Evidence.com contracts are typically 5 years the disconnect between sales and revenue is very pronounced and a difficult metric to use for valuation purposes.
For Evidence.com the annual recurring revenue reached $16M at the end of 2015. At the implementation rate of 4,300 new users a month achieved in Q4, the annual recurring revenue should be around $33M by the end of 2016. Continued hiring, improved efficiency, higher ARPU and unimplemented contract wins (London, LA, Baltimore, Omaha, DC, Manchester) should push this number to $40M by the end of 2016. We will get a better idea of the rate at new user implementation rates and ARPU in the upcoming 2016 Q1 report.
For Axon hardware the revenue is only recognized when the camera is delivered and each time it is replaced. This adds some lumpiness as hardware revenue is recognized at years 0, 2.5 and 5 for a 5 year contract. However, there is some smoothing out across long deployments and multiple customers. In Q3 of 2015 Axon recognized 7.7M in camera hardware revenue. Axon camera revenue was down in Q4 2015 due to deferred shipping of the Axon 2 BWC for quality reasons. The most important aspect is that camera hardware generates recurring revenue but with 3 payments over a 5 year contract vs 60 for Evidence.com users. Taser International is very flexible on hardware pricing so it is difficult to estimate future hardware revenue but I will use $7M per quarter as we know this is an attainable number.
By the end of 2016 I conservatively estimate annual recurring revenue for Axon services to be $40M and for Axon hardware to be $28M for a combined total of $68M.
Industry leaders like Salesforce always command a steep premium despite underlying causes for concern. Salesforce has a debt to equity ratio of 1.55 and has not been GaaP profitable after 12 years as a public company. In addition Y/Y growth is now down to 30% and likely to diminish further as the law of large numbers take effect.
By contrast Taser International has zero debt and an annual growth rate for the Axon segment in excess of 100%. Axon contracts are longer term and will guarantee low churn rates, at least for the next 4-5 years. For these reasons I believe a relative valuation of 4 times sales is relatively conservative. This would place a value of $272M on the Axon unit by the end of 2016. With 53.7 million shares of Taser International outstanding, this equates to $5.07 per share.
Conclusion
At the start of this article I established a value for the Weapons segment at $20.52 / share. Adding the $5.07 valuation for the Axon unit yields a combined value of $25.57 / share by the end of 2016.
Those considering a new long position in Taser International are advised to plan for a time horizon of 12-24 months in order for this growth story to be fully appreciated by Wall St.
Other Bullish Factors
There are several other factors related to the Axon segment that contribute to my long position which are worthy of mention:
Evidence.com contracts are long term with a reliable client base.
Taser International has multiple new products coming to market in 2016 including a consumer version of its CEW and its Axon Fleet aimed at disrupting the in car video market.
It is clear that Taser International is positioning Evidence.com to be a repository for any evidence that can be stored digitally, not just video evidence.
Taser International is adding new capabilities to its Evidence platform which should drive ARPU higher. (Such as automatic redaction.)
Taser International is the dominant player in the market and has established a commanding lead in terms of adoption in major cities.
Evidence.com scales across all sizes of police department and does not leave niches for competitors to thrive in.
Taser International authorized a stock buyback on Feb 29, 2016 for the repurchase of shares up to $50M, subject to corporate considerations.
Taser International director, Hadi Partovi, has purchased 120,000 shares of TASR on the open market in the last 12 months. Both purchases were above the current market value.
Bearish Factors
No balanced article is complete without some assessment of risks.
Taser International is being sued by Digital Ally for patent infringement over its Axon signaling technology. If Digital Ally's claim is upheld it would have a significant and material effect on the stock. An injunction on the shipment of products containing Axon signaling technology would be disastrous, effectively pressing the pause button on Axon segment growth for an unknown period of time. The Digital Ally suit also makes claims against Taser International for unfair business practices.
The management of Taser International is playing the long game, siphoning profits from the weapons segment to prop up its fast growing but unprofitable Axon unit. Should Taser International management not show signs of moderating the losses within the Axon unit, it may find that it has over estimated the patience of Wall Street and TASR will be downgraded until such time as the Axon unit deficit shows signs of narrowing.
With a current PE of 52, any downward market pressure will have an amplified effect on the value of Taser International shares.
Disclosure: I am/we are long TASR.
I wrote this article myself, and it expresses my own opinions. I am not receiving compensation for it (other than from Seeking Alpha). I have no business relationship with any company whose stock is mentioned in this article.