A hot topic as of late is excessive hikes in the price of life saving prescription drugs (common throughout the pharmaceutical industry) and the subsequent impact to patients, providers, health insurers and the government alike. As most of you are likely aware, on April 27 outgoing CEO Mike Pearson, interim CEO Howard Schiller and hedge fund billionaire Bill Ackman all testified before the senate. Senators questioned whether Valeant's (NYSE:VRX) business model relies on large price increases, among other topics.
During the hearing, the prospect of holding a hearing regarding Herbalife (NYSE:HLF) was also mentioned. If a Senate hearing was held regarding Herbalife, it would be appropriate to ask whether Herbalife's business model relies on the intake of millions of dollars from individuals attempting to become entrepreneurs and failing after exaggerated promises of success and wealth. Considering the massive churn rate distributors each year, are they simply chasing a dream promised to them via the notorious business opportunity pitch, only to shortly thereafter encounter reality? See Herbalife's 2015 statement of average earnings, which in and of itself isn't clear, and until recently was incorrectly calculated by the company (Herbalife has silently corrected their document in response to the article).
I've come across no fewer than a thousand instances of irresponsible claims made by Herbalife distributors, whether related to curing diabetes or other illnesses, burning fat without a reduction in overall caloric intake or most famously, setting unrealistic income expectations for their new recruits. Short seller or not, Pershing Square's Herbalife Pyramid Scheme website contains a vast library of the Herbalife's wrongdoing all the way up to board member John Tartol and CEO Michael Johnson themselves. Top distributors are individually profiled, highlighting the questionable methods they utilize to recruit as many individuals as possible into the company. In all likelihood the website contains only a small sample of the misdeeds committed by Herbalife, given the quantities I'm able to easily discover on a daily basis via social media. Oddly enough, it doesn't appear these instances have lessened since the beginning of the FTC inquiry into the company over two years ago. To prove my point, I intend to highlight a recently recorded business opportunity meeting I spotted on Facebook just days ago (business opportunity pitches take place in multiple forms, via events called STS's, HOM's and Extravaganzas, or person to person). The common theme at all meetings is that generally, the top earning distributors are paraded on stage, telling everyone in the room how much money they've made. What they don't disclose is just how this money is made (recruiting an army beneath you and encouraging them to obtain the supervisor level within the organization (which allows them to fully benefit from THEIR new recruits) by purchasing thousands of dollars of product, regardless of whether it is eventually sold to an outside customer. I couldn't count how many of these I've seen, but here are a few examples of what's littered all over social media (these are all very recent):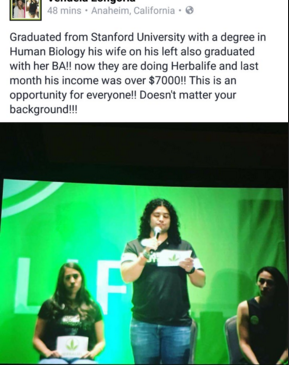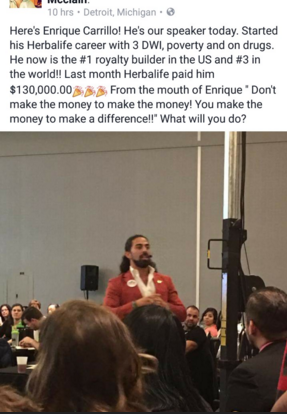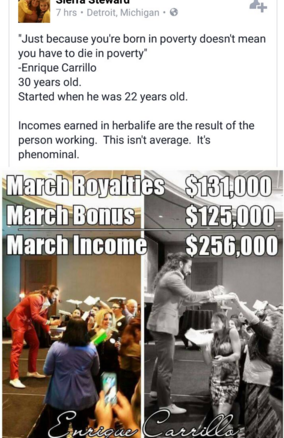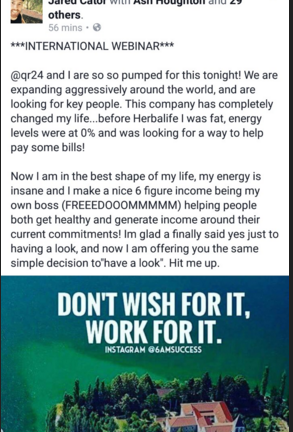 That last one says "We are expanding aggressively around the world." I think I would agree! Income claims like that, with or without a disclaimer are quite aggressive indeed. Is the FTC watching?
Months ago, I wrote an article titled "Herbalife is Moving Underground With Their Business Opportunity Pitch," which highlighted a business opportunity pitch via online video clip. I obtained this from a Herbalife Presidents Team Member (top distributor) and it was shared via private message and was password protected. Shortly following release of my article, the video was edited to drastically slow down the initially lightning fast disclaimer at the beginning and end of the video. The video contained testimonial from Herbalife distributors claiming to make anywhere from $2,000 to $13,750 per month (or $165,000 per year), and the original, unedited video can be viewed here. By comparison, the current salary for House and Senate is $174,000 per year. At this point, it appears Senators are following the more lucrative career path, until you view the recent business opportunity meeting I spotted on Facebook. According to the video, prospective recruits are going to hear from an individual who makes $24,000 per month ($288,000 per year)! If Senators and other government officials aren't interested in exploring whether Herbalife is operating a pyramid scheme, perhaps they would like to explore the business opportunity they offer for themselves?
You can see the meeting recording here, which was posted publicly by the owner (attendees were given no income disclaimers as to average distributor earnings during the duration of this recorded meeting) and see below for the minute marks where income claims which far exceed average earnings are made:
16:50 - $4,415/month
20:00 - $10,000/month
21:20 - $24,000 (and about to be $40,000) per month from someone presenting at their upcoming "quick-start" training
I'll let you review the meeting recording in its entirety so you can decide for yourselves. Are meetings such as this one fueled by deceptive income claims? Do they commit more consumer harm than good? Not only are we seeing quite unrealistic income claims, but those who represent Herbalife as a distributor are not required to have a health or nutrition related degree, yet lead fitness classes and are recognized as "health coaches" to lower ranking members and nonmembers. Can you see the dangers created considering the underlying motive of these so called "business owners?" If you'd like a visual, perhaps you'd like to view Pershing Square's "Lessons on Mass Consumption" compilation of Herbalife meetings. Is it safe to take so many pills? What drives Herbalife's business model? Many say it's the recruiting, which results in Herbalife being classified as a pyramid scheme. We've heard from proponents and we've heard from critics, and we've heard from Herbalife themselves. Herbalife, however, doesn't appear to have done much to verify their legitimacy as most of their time is spent attempting to discredit critics rather than provide figures which would show the world whether they operate a massive pyramid scheme. Perhaps Carl Icahn, Herbalife's largest shareholder could answer some of these questions at a Senate hearing?
While there's still much uncertainty as to the timing and outcome of the FTC, SEC and other regulatory inquiries, I believe Herbalife's inflicting of consumer harm is too great to go ignored much longer. The Senate would be doing the people they serve a great service to look into the matter, as they have with price hikes within Valeant and the pharmaceutical industry. Herbalife investors could face a disaster at any moment. I remain short.
Disclosure: I am/we are short HLF.
I wrote this article myself, and it expresses my own opinions. I am not receiving compensation for it (other than from Seeking Alpha). I have no business relationship with any company whose stock is mentioned in this article.
Additional disclosure: No position in VRX