At Orangutan Capital, we used to joke that Tronox (NYSE: TROX) was a company that (1) paid a $0.25 dividend per quarter, (2) had a penchant for making acquisitions that dramatically increased leverage and reduced financial flexibility, and (3) produced and sold some chemicals on the side.
Now that (1) the company has dramatically scaled down its dividend (from $0.25/share per quarter to $0.045), and that (2) for the time being cannot make acquisitions given that it's more than 9.0x levered, all that is left of Tronox is (3) a company that produces and sells titanium dioxide(TiO2) and alkali chemicals.
So how much is a TiO2 and alkali chemicals company worth in an industry (TiO2) plagued by massive overcapacity? A lot more than if it were to file for bankruptcy, it seems. After the company announced the adjustment of its dividend policy on February 24th, its bond price has rallied, and its share price has more than doubled. The rally is perfectly rational given that with the old dividend policy the company was slowly, but surely, driving itself towards bankruptcy. Now that the company has come to its senses and toned down the dividend, it has bought itself plenty of time to adjust operations and wait for the business cycle and/or industry dynamics to improve.
So, at $7.45/share (as of 04/26/2016), after a 133% rally in two months, is Tronox cheap, expensive or fairly valued?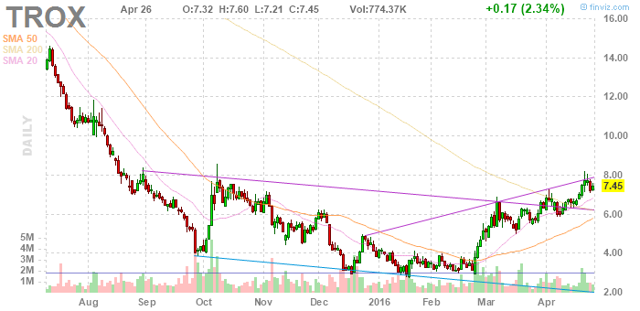 Source: Finviz.com
First, a look at liquidity and financial covenants
Does the company have enough cash to try to stage a turnaround or is it doomed from the start.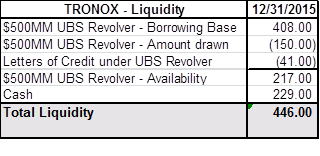 Before we begin, we note that in throughout this article we use Adjusted EBITDA as reported by the company. Adjusted EBITDA includes a substantial amount of addbacks, some of which may recurring. We suggest the more sophisticated reader(s) to take a look at the financials and decide which EBITDA number to use.
Before the dividend change, for FY2015, Tronox generated FCF (EBITDA - Interest - Capex) of -$54MM (negative) on EBITDA of $313MM (pro forma for the alkali acquisition). Subtract $117MM of dividends ($0.25 per share per quarter) and you have a cash burn of $171MM before any other claims on cash. With cash on the balance sheet of $229MM, the company would have run out of cash and availability under the revolver in two years.
Now that the company has reduced its dividend, its cash outflow for this purpose goes from $28.9MM per quarter to only $5.2MM (1Q16 will still show $28.9MM). For 2016, dividend payments will be $44.5MM instead of $115.7MM. And for 2017, dividend payments will be only $20.8MM.
With the alkali segment showing signs of strength, we see the company as essentially FCF neutral or slightly negative for 2016. With reduced dividends and with liquidity of $446MM, the company has now time to attempt a turnaround or wait for pricing in the TiO2 segment to improve (which may or may not happen given overcapacity in the industry).
Since the company has more than 9.0x net leverage, we took a careful look at the credit agreements and bond indentures to see if there were any financial covenants and restrictions to the company to access availability under the revolver.
As management has pointed out during investor presentations, we can confirm there are no financial covenants. As for the revolver, the only restriction in place is that, in practice, the company would have to stop about $50MM short of maxing out the revolver (otherwise fixed charge coverage ratio covenants would be activated and the company would be in default).
To summarize, for the liquidity section, instead of driving itself into bankruptcy due to dividend payments, the company has bought itself plenty of time to improve results. Financial results for the 1Q16 will be released on May 4th after market close. We suggest the reader to look at the final cash balance, the amount outstanding under the revolver, and the EBITDA numbers.
As we now have confidence the company is not immediately heading into bankruptcy, we can look at some valuation metrics.
Valuation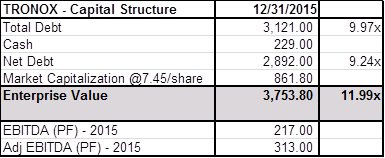 TRONOX is currently trading at 12.00x EV/EBITDA (trailing - PF for alkali business), which is fairly rich for a company whose main business (TiO2) is in a state of decline. So from that perspective, it looks overvalued at current levels.
We take a look at some of the comps.

The company most closely related to Tronox is Chemours (NYSE: CC), which also has a substantial TiO2 business but is a better company than Tronox, notwithstanding pending environmental and legal issues. Chemours is currently trading at 9.07x EV/EBITDA which is 3.0x turns less than Tronox. It is also less levered. We see Chemours valuation as the ceiling for Tronox.
Next is Huntsman (NYSE: HUN), which also has a substantial TiO2 business, but also has other segments that deserve lower multiples since they are very cyclical and highly commoditized. Huntsman, which also has lower leverage, is trading at 6.70x EV/EBITDA. We see Huntsman as the floor for Tronox since Tronox business is more specialized.
Finally, Omnova (NYSE: OMN) which is in a completely different line of business than Tronox but operates in an industry with similar challenges. OMN trades as 8.21x EV/EBITDA. We think Tronox multiple should be at around this level.
From a pure multiple perspective, Tronox looks overvalued. For reference purposes, some of the paint companies, which are the darlings of the chemicals world are trading at a 12.0x multiple, comparable to that of Tronox. We believe a more reasonable multiple for Tronox is around 8.5x.
To grow into its valuation Tronox would need to generate EBITDA of about $425-450MM per year and maintain capex at the $150MM level.

On a DCF basis, if the company could keep EBITDA at $400MM per year and reduce capex to $150-160MM (as guided by management during its 4Q16 conference call), it would be priced to perfection under current central bank policy (low interest rates). Any EBITDA level lower than $400M, and Tronox would look overvalued. We maintain our own financial models for Tronox and we don't see $400MM EBITDA as an impossible feat, but we don't take it for granted either.
We suggest readers to pay very close attention to any deterioration of the TiO2 business and/or improvement in the alkali segment once 1Q16 results are released.
Conclusion
At Orangutan Capital, we got tears in our eyes when management announced the revision of its dividend policy. These were tears of sadness, since if the company had kept its dividend policy intact, at $116MM per year, it would almost certainly driven itself into bankruptcy, thus making for an easy trade (we are also credit investors).
Now that the dividend is gone, the company has some time to try to stage a turnaround. Although leverage is very high, for the moment there seems to be sufficient liquidity unless conditions in the TiO2 business deteriorate further.
From a valuation perspective, we cannot say the company is undervalued. Under most metrics, the company looks a bit overvalued but if it can grow EBITDA to the $400-450MM level then the stock price should have room to go up in price again. We leave to the reader the assignment to construct its own EBITDA estimates.
Once the company releases first quarter results next week, we suggest careful inspection of the following metrics: EBITDA and EBITDA guidance (if provided), final cash balance and availability under the revolver.
Disclosure: I/we have no positions in any stocks mentioned, and no plans to initiate any positions within the next 72 hours.
I wrote this article myself, and it expresses my own opinions. I am not receiving compensation for it (other than from Seeking Alpha). I have no business relationship with any company whose stock is mentioned in this article.