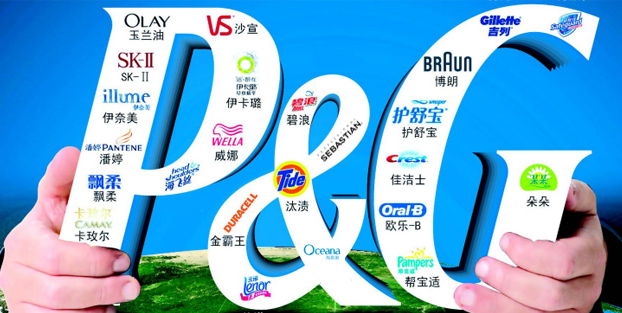 Procter & Gamble (NYSE:PG) is one example of a dividend king that I believe has been bid up to unsustainable levels of late. The dividend bubble has been inflating for some time as income investors have money to put to work but very few places to choose from. That has led to A+ quality dividend stocks like PG to be bid up endlessly regardless of valuation. That, and some fundamental weakness for PG have led me be very bearish, including back in January when I said it was prudent to consider shorting PG. Shares haven't budged since then but we now have Q3 earnings to help us figure out the direction of the stock going forward.
As a note, I'll be using charts from Simply Wall St. throughout.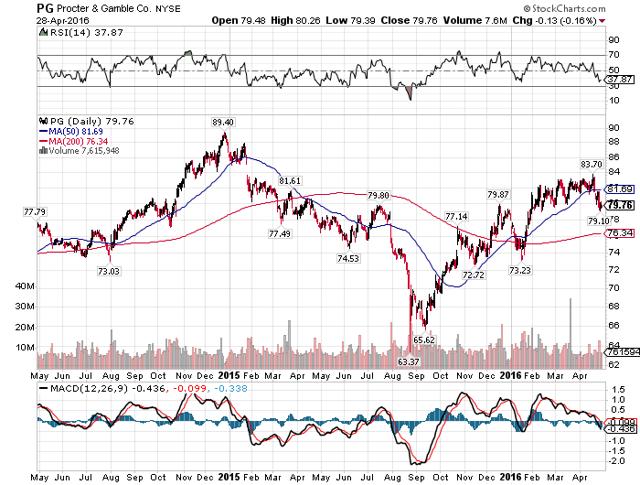 Click to enlarge
PG's Q3 was very weak - as all quarters in recent memory have been - in terms of producing revenue growth. This has been at the forefront of my bearish position because a company that trades for an enormous growth multiple should - at a minimum - produce some sort of meaningful revenue growth. PG has proven unable to do this for some time and Q3 was simply a continuation of that.
Total sales plummeted 7% as PG produced organic growth of 1% but volume fell 2% and forex whacked another 5% from the top line. Volume is the key as prices can be raised but only so much; real long term growth comes from volume gains and PG has struggled mightily in that space for some time now. That is why I'm bearish on the company's revenue prospects and to boot, PG is beholden to the dollar considering the vast array of places it sells its products. The 5% loss in revenue from currency swings is pretty normal for PG and considering the enormous weakness the company is showing fundamentally in terms of generating volume, that is a hurdle PG will never be able to grow out of. The only hope PG has for hitting positive revenue growth is for the dollar to massively weaken and given that the Fed is the only major central bank in the world that is even considering tightening, that seems a low probability outcome.
To its credit, PG produced a huge operating margin gain on a currency-neutral basis as that number came in at +300bps in Q3. The gain was due to cost savings that produced a 340bps gain in gross margins and while I love that, this is also temporary. Indeed, analysts have wondered aloud just how much PG can cut costs so while I applaud the effort and the results, I question how much runway this avenue of profit growth may have. I'm not denigrating the effort or the result but the reality is that PG isn't that bloated in the first place.
The thing is that despite the fact that PG's fundamental weakness continues - including an EPS drop for this year - analysts continue to think a turnaround in revenue and earnings is just around the corner. Here's a look at what analysts think PG's revenue will do in the coming years.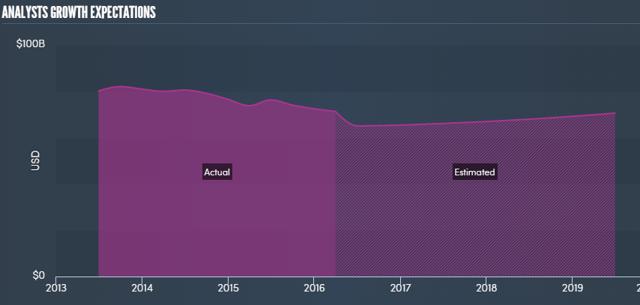 Click to enlarge
We can see that analysts think PG will produce moderate revenue growth beginning almost immediately despite the fact that the dollar is still strong and ostensibly getting stronger, and volume continues to be an enormous issue. In addition, PG is experiencing broad-based weakness in its product segments; it isn't as though there is one problem child. The whole lot is weak and that means a turnaround will be much more difficult to produce. PG has to turn the whole ship around and that will take a lot of time to do.
The profit picture is a little more baffling as PG is expected to stage an epic turnaround in earnings, although for the life of me, I can't figure out why.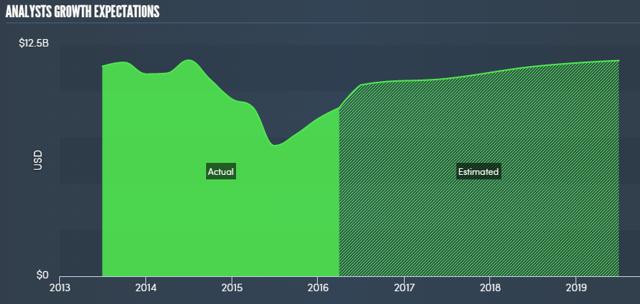 Click to enlarge
Granted, PG has produced some very nice operating margin gains and certainly, those should not be ignored. The work PG has done to boost margins has been terrific and is the only thing saving the company's profit levels at this point. But as I said, those gains cannot be replicated over time the way gross margin gains could through higher volumes and pricing. PG, I believe, is at or near the top of its operating margin gains because the methods it is employing to achieve them are necessarily temporary.
A look at EPS growth shows that analysts are very, very bullish on PG's prospects despite no evidence that should be the prevailing position.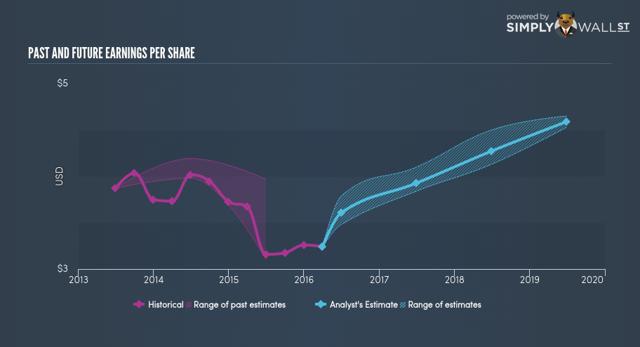 Click to enlarge
We see the recent dip in EPS that is carrying on this year but starting next year, PG is supposed to see earnings skyrocket to the tune of 9%+. How? What makes analysts think PG can grow that quickly next year? There is an enormous amount of evidence that suggests that isn't going to happen but even if I'm wrong, PG is still expensive.
If we assume PG has some magic levers it can pull to grow EPS, it is still trading at 20 times 2017's EPS estimate. I think the real number is much higher - in the 21 or 22 range - because I simply don't believe $4 in EPS is possible next year. PG has way too many problems for that to be realistic.
In addition, PG's yield really doesn't move around much as it hovers in a very tight range in the low 3% area. That's not going to be a draw for income investors but it won't be a detractor either in the way that some other dividend stocks have seen. PG has fallen enough that its yield is still in line with its historical average so the yield is neither a positive nor a negative at this point. But since most investors buy PG for the yield, I suppose the fact that it is within its historical range means huge downside isn't likely; we are talking about incremental downside.
I still think that at a minimum, PG should be sold. For our more enterprising friends, the recent move down off of earnings is an indication that a short term top has been made and that I think PG is going materially lower. Barring a massive market wide sell-off, we won't see PG in the $60s again but certainly the low $70s are in play. PG has too many problems to hit estimates for next year and as analysts wake up and realize that, the stock will drift down.
Disclosure: I am/we are short PG.
I wrote this article myself, and it expresses my own opinions. I am not receiving compensation for it (other than from Seeking Alpha). I have no business relationship with any company whose stock is mentioned in this article.