Many investors are familiar with the concept that it is ultimately better to sell picks and shovels to miners chasing gold than to chase gold oneself. Taking this concept a step further, how about selling the tools needed to make the picks & shovels?
This analogy is a simple way to explain the soon-to-be combined businesses of KLA-Tencor (NASDAQ:KLAC) and Lam Research (NASDAQ:LRCX) (assuming regulatory approval). While semiconductor companies, such as Micron (NASDAQ:MU) and Intel (NASDAQ:INTC), provide the "picks and shovels" (integrated circuits or "chips") to the "miners" - the likes of Apple (NASDAQ:AAPL), Microsoft (NASDAQ:MSFT) and others - KLA-Tencor and Lam Research supply the equipment to make the picks and shovels.
I want to take a few paragraphs to provide a bit of background on the semiconductor manufacturing process. Hopefully, this will be helpful to readers who are not familiar with the industry and where KLA-Tencor and Lam Research fit in. Understanding what companies actually do is critical to sound investing and essential to formulating a view on the longer-term growth potential of a business and its related industry. Several years ago I started following KLA-Tencor and I can still recall the first webcast I listened to. I was saying to myself something like, "What are these guys talking about?" They were throwing around terms like DRAM and logic and I was lost. I have since spent time reading about and studying the industry to the end that I now have a good grip on how everything functions.
Semiconductor Equipment Background
Most readers are likely aware that the chips (integrated circuits) designed and built by semiconductor companies are used in a variety of electronics, but most frequently associated with computing devices, networking equipment and storage devices. At a high level, there are two types of chips that are commonly produced by semiconductor companies - memory and logic. Let's take a look at each of these.
Memory chips are used to store data electronically in the form of bits (8 bits = 1 byte). The most common types of memory chips made by the industry today are Dynamic Random Access Memory ("DRAM") and NAND flash. DRAM is volatile memory, which means it temporarily stores each bit of data in a separate capacitor while the associated device is powered on. DRAM is commonly used by data servers and mobile devices. NAND (short for NAND flash) is non-volatile memory ("NVM"), which means it stores data even if the power is switched off. It is called NAND because it is a type of memory that resembles the NAND (not-and) logic. NAND is commonly used in memory cards and solid state drives ("SSD"). The major trend in memory today is the switch to three-dimensional (3D) memory where memory cells are built vertically, instead of horizontally (planar), which increases memory bit density.
The DRAM sector is now dominated by three suppliers, which hold about a 90% share of the market, as shown on the following chart:
Click to enlarge
Including joint ventures, the NAND sector is also dominated by three suppliers, which hold about a 92% share of the market, as shown on the following chart: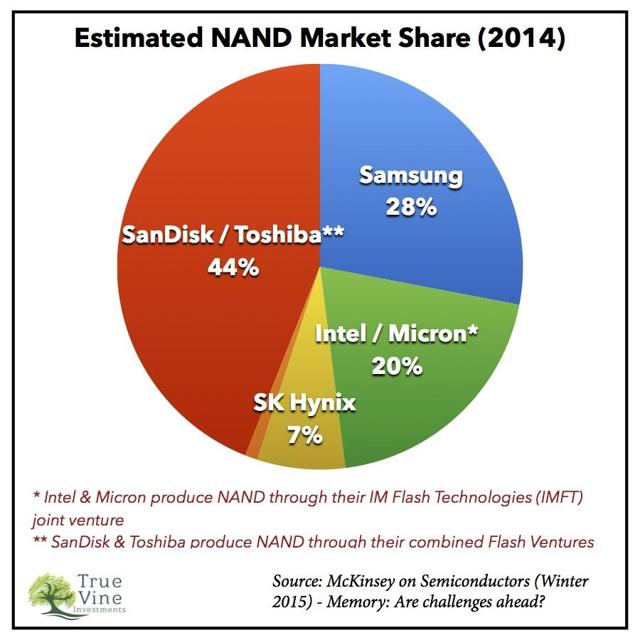 Click to enlarge
DRAM and NAND have now become commoditized and the memory industry has been consolidating. At present, these memory players are now focused on the transition to 3D NAND. Further out, next generation NVM technologies will start to come into focus. Industry observers believe they may start to take market share from traditional DRAM and NAND memory chips near the end of this decade.
Logic chips are the fundamental building blocks for digital electronics. Logic chips are constructed from connecting individual digital logic gates that perform logical operations of AND, OR and NOT on binary numbers. (This is where the NAND or not-and comes from). Logic chips perform calculations that drive computer processing.
KLA-Tencor and Lam Research are part of the Semiconductor Capital Equipment industry, a sub-industry of the broader semiconductor industry. These companies do not manufacturer chips. They specialize in providing the machines needed to build, measure/inspect, assemble and test chips. The main players in the industry besides KLA-Tencor and Lam Research are Applied Materials (NASDAQ:AMAT), ASML Holdings N.V. (NASDAQ:ASML), Tokyo Electron (OTCPK:TOELY), and SCREEN Holdings. Other players include Advantest Corporation (NYSE:ATE), ASM International, Hitachi High-Technologies, Nikon and Teradyne (NYSE:TER).
Chips are constructed from wafers of silicon in the clean rooms of fabrication facilities ("fabs"). These wafer fabs are sometimes referred to as the "front end" of the production process. This wafer fab equipment is where I want to focus, as most semiconductor equipment capital expenditure ("capex") is directed here. A recent ASM International investor presentation shows that about 82% of semiconductor equipment spending is on wafer fab equipment. The breakdown is as follows:
Wafer Fabrication (front-end) - $32 billion:
Deposition - $8.3 billion
Lithography - $8.5 billion
Etch & Clean - $8.6 billion
Process Diagnostics - $4.2 billion
Other Wafer Processes - $2.5 billion
Test - $3.7 billion
Assembly - $3.4 billion
Likewise, Lam Research recently estimated that the total wafer fab equipment market was about $33 billion in 2015 (give or take $1 to $2 billion), with about $15 billion of this in memory and $18 billion in logic and foundries. (Foundries are independently run facilities that manufacture chips for multiple companies.)
There are three primary aspects to manufacturing chips at the front end. These are deposition, lithography, and etch and clean. At a very high level, this is how it works:
Layers of insulating or conducting materials (chemicals) are sprayed or deposited onto a silicon wafer during deposition. The most commonly used deposition solutions used are (1) atomic layer deposition ("ALD"), (2) expitaxy, and (3) variations of vapor deposition.
Inside a Step-and-Scan system (or stepper), special lights (similar to lasers or x-rays) are shined through a photomask to transfer designs developed by engineers unto the wafer during lithography.
Some of the material on the wafer is etched away to create desired patterns during the etching and the unwanted materials are removed during the clean process.
These processes are repeated to create the chips on the wafers before elements are finally added to form transistors. Throughout these processes, control equipment is used to remove defects and increase yields (i.e., increase the number of usable chips).
The wafer fab equipment market is now primarily concentrated into the hands of just a few companies: Applied Materials, Lam Research/KLA-Tencor, ASML and Tokyo Electron.
In deposition, Applied Materials has the leading share (50%), followed by Lam Research and Tokyo Electron.
In lithography, ASML focuses on the high end and has a dominant share (75%+), followed by Nikon and Canon. These three companies control almost the entire lithography market.
In etch, Lam Research has the leading share (about 57%), followed by Tokyo Electron and Applied Materials.
In process control, KLA-Tencor is the dominant player (about 60% share).
The combined Lam Research/KLA-Tencor will primarily compete against Applied Materials in the deposition and etch equipment segments. They are not a player in lithography and KLA-Tencor already dominates process control. Lam Research could develop an advantage over Applied Materials by integrating their advanced process control equipment with their existing deposition and etch equipment. Keep the potential benefits of this synergy in mind as we examine the industry's growth opportunities.
Growth Opportunities
The future growth opportunities for wafer fab equipment suppliers will depend upon what types of chips are in demand and the corresponding types of equipment being installed to produce these chips. Technological advances have the potential to create new winners and losers.
There was an interesting cover story in Barron's last October (2015) that contemplated the future of the semiconductor industry. Author Tiernan Ray discussed the breakdown of Moore's Law and the obsolescence of the von Neumann Machine computing model. The article essentially surmised that the future of computing is going to be more focused on memory than logic or at least more of an integration of the two, such as what Micron and Intel are attempting with 3D XPoint. Industry observers don't all agree on the future potential of XPoint, but they all would probably agree that memory will play a more important role in the future as computing systems need to "think" more as they conduct searches, analyze data, perform visual recognition and so on.
This article and others I have come across also speculate that large technology companies that design and develop operating systems and/or manage large scale data platforms, like Apple, Alphabet (NASDAQ:GOOG) (NASDAQ:GOOGL), Amazon (NASDAQ:AMZN), Microsoft and Facebook (NASDAQ:FB), may also develop their own next generation NAND chips to integrate with their own systems. This is because the next frontier of non-volatile memory ("NVM"), such as XPoint, may require substantial changes to applications and operating systems. This competition is a reason why I think Lam presents an interesting strategic investment. Although, they may ultimately develop a level of integration with a particular chip manufacturer (e.g. Intel) where they could suffer if they suffer, they should ultimately be successful regardless of particular NAND outcomes due to their general dominance in the memory equipment market. The memory "war" will make the sophistication of their "guns" and "tanks" just that much more valuable.
This bright future for memory is important to the longer term outlook for Lam. In the most recent quarter, 70% of Lam's shipments were memory related. In a recent report, McKinsey estimated that the current transition to 3D NAND will require the memory industry to invest $35 to $45 billion over the next 3 to 5 years to build and retool manufacturing facilities. This seems to correlate with Lam's estimate of $9 billion of memory spending in 2016. By 2018, Lam expects 3D NAND to comprise over 2/3s of installed wafer capacity. This transition from planar NAND to 3D NAND is one where Lam expects to increase their serviceable available market ("SAM") of the overall wafer fab equipment market and also increase their market share within their SAM. This has been the trend over the last three years. Lam increased their SAM from 26.5% in 2013 to greater than 30% in 2015. Also, they increased their market share from 40% in 2013 to the mid-to-high 40% range in 2015.
Lam appears well positioned to continue to capitalize on this ongoing 3D NAND investment. 3D NAND is said to be more etch and deposition intensive which plays well into Lam's hands. Lam is the number one provider of advanced deposition and etch technologies, such as its VECTOR Strata (deposition) and Flex series (etch) products.
Estimating Revenue Growth
In order to ultimately get to a valuation for Lam I need to derive a reasonable estimate of what their revenue growth might look like over the next few years (later we will add in KLA-Tencor). In the following table I incorporate Lam's management's expectations for WFE, SAM and market share growth, with WFE tempered a little lower based on Gartner's estimates. (I like to rely on management's view, because they are close to the trenches. If I didn't trust them, I wouldn't be considering the company in the first place.)
| | 2016 | 2017 | 2018 |
| --- | --- | --- | --- |
| Wafer Fab Equipment Market (billions) | $33 | $34.5 | $36 |
| Lam's SAM | 30% | 31% | 32% |
| Total SAM Opportunity (billions) | $9.9 | $10.7 | $11.5 |
| Lam's Market Share of SAM | 58% | 61% | 64% |
| Potential Revenue From SAM Opportunity (billions) | $5.7 | $6.5 | $7.4 |
| Implied Revenue Growth | | 14% | 13.5% |
The underlying opportunity here for Lam to grow their revenues comes from the increased adoption of their deposition, etch, and clean equipment related to new technology inflections. In other words, Lam expects to capture a greater share of the new equipment pie over the next few years.
Incorporating KLA-Tencor Acquisition Into Estimates
Building upon these estimates of Lam's revenue over the next few years, we can then add in the impact of the KLA-Tencor acquisition that is expected to close this summer. I came up with the following estimates for Lam's next 3 fiscal years ("FY") (note: Lam's 2017 fiscal year begins in July 2016):
| | FY 2017 | FY 2018 | FY 2019 | Notes |
| --- | --- | --- | --- | --- |
| Revenue (billions) | $9.05 | $10 | $10.55 | projected conservative 3% - 3.5% annual growth from KLAC business |
| Operating Income (billions) | $2.23 | $2.7 | $2.925 | |
| Operating Margin | 24.6% | 27% | 27.7% | My estimate matched Lam management's 2017/18 target of 27%; I expect ongoing expansion as KLA-Tencor is good for 30%+ |
| Net Income (billions) | $1.605 | $2.065 | $2.31 | |
| Shares Outstanding (millions) | 255 | 255 | 255 | |
| Earnings Per Share ("EPS") | $6.29 | $8.10 | $9.06 | |
| Dividends Per Share | $1.26 | $1.62 | $1.81 | assume 20% payout ratio |
Putting together these estimates led to some further revelations regarding the opportunity that Lam's shares now afford investors.
During the 7-year cycle that ran from 2008 to 2014, Lam's average annual earnings per share were $2.17. I am projecting that they will be able to almost quadruple this average number during the 2015 to 2021 cycle. Using my 7-year cyclical approach to calculate a "smoothed" average annual earnings growth rate for the 2008 to 2014 period (which incorporates results back to 2001) leads to a rate of 7%. In other words, I would previously evaluate Lam as a company that could grow earnings or free cash flow by 7% per year. I am projecting this average annual earnings growth rate to climb to 18% once we reach the end of 2021. When evaluating the present earnings growth potential of Lam, I am meeting in the middle so I consider Lam to be the sort of company that can grow earnings at an average annual rate of 15%.
What this means is that, assuming the completion of the financial path I have outlined, Lam is likely headed for a rerating by the market. Investors will become increasingly willing to pay a higher multiple for the stock. This is a reflection of a successful management team that has had the right long-term vision for the company. From FY 2001 to FY 2016, Lam generated about $6.8 billion in free cash flow. Among other things, this allowed for the acquisitions of Novellus and KLA-Tencor that now have Lam positioned to really stand out in the semicap market. Lam is now increasing its SAM and taking more and more market share each year. The company is now poised to generate higher, sustainable operating margins going forward.
Outperforming Applied Materials
Based on share price performance, the market seems to be beginning to pick up on this. The following chart reveals that Lam has begun to separate itself from key-competitor, Applied Materials, over the last two years: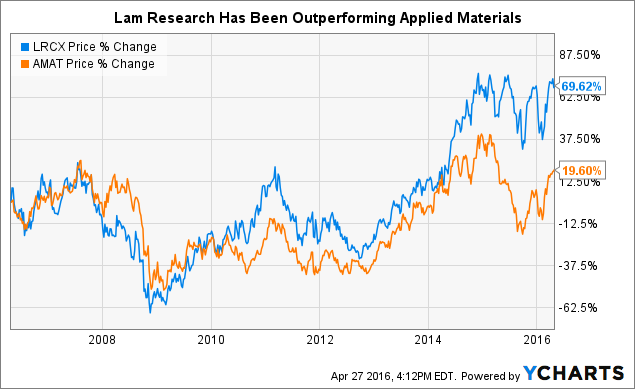 LRCX data by YCharts
Yet, on a forward looking basis, Lam is still trading at a 20%+ valuation discount to Applied Materials, as shown here: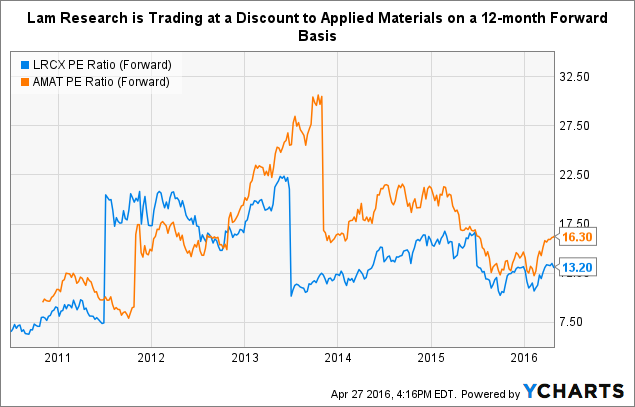 LRCX PE Ratio (Forward) data by YCharts
Based on its earnings multiple, it seems as if the market has yet to give Lam a full rerating higher.
Valuation and Strategic Positioning
It is my view that we are in about the 8th inning of the current stock market cycle that has an effect on the market price of Lam. I am anticipating one more decent move higher (e.g., 10%), followed by a slight downturn for about two years. Because of this I am using a moderately bearish view on Lam in the True Vine Investments proprietary evaluation model. This means I am only willing to hold the stock at a relatively reduced multiple. With a 15% earnings growth rating, my 12-month forward target priced is about $81. Thus, I would describe Lam as currently fairly valued and a "hold" that I give equal weight to in portfolios. If in the next month or two the stock begins to approach $90, I would start to scale back positions. Beyond $105, I would likely be out entirely.
Conclusion
Lam is very well positioned within the semiconductor capital equipment industry for the transition to 3D chips. I expect it to continue to take market share as its leading edge deposition and etch technologies are required for 3D chip manufacturing processes. Furthermore, Lam is ready to begin garnering substantially higher operating margins after the likely integration of KLA-Tencor this summer. At present, I think shares of Lam are a great way to gain exposure to the semiconductor industry from a risk/reward perspective.
Promoting Quality Discussion
In order to promote quality discussion about the topics I address in my Seeking Alpha articles, I have decided to give away a free copy of my book, The Truth On Investing: From The Darkness Of The Crowd To The Light, to the individual who provides what I think is the most thoughtful comment on the article. This can also be a quality view that is opposed to my thesis. I will pick this person about a month after the article is published to allow time for comments. If there are no exceptional comments, then no book will be given out. Thanks for reading and hopefully contributing to the discussion.
Important Regulatory Disclosure
I am a Registered Investment Advisor in the State of Pennsylvania (U.S.A.). I screen electronic communications from prospective clients in other states to ensure that I do not communicate directly with any prospect in another state where I have not met the registration requirements or do not have an applicable exemption.
Any investment advice or recommendations involving securities referenced in this article is general in nature and geared towards a readership of sophisticated investors. This article does not involve an attempt to effect transactions in a specific security nor constitute specific investment advice to any particular individual. It does not take into the account the specific financial situation, investment objectives, or particular needs of any specific person who may read this article. Individual investors are encouraged to independently evaluate specific investments and consult a licensed professional before making any investment decisions.
Positive comments made regarding this article should not be construed by readers to be an endorsement of my abilities to act as an investment advisor.
Disclosure: I/we have no positions in any stocks mentioned, and no plans to initiate any positions within the next 72 hours.
I wrote this article myself, and it expresses my own opinions. I am not receiving compensation for it (other than from Seeking Alpha). I have no business relationship with any company whose stock is mentioned in this article.
Additional disclosure: KLA-Tencor is a holding in most client portfolios that I manage. Thus, a portion of my salary is derived from the performance of KLA-Tencor and Lam Research.
Editor's Note: This article discusses one or more securities that do not trade on a major U.S. exchange. Please be aware of the risks associated with these stocks.