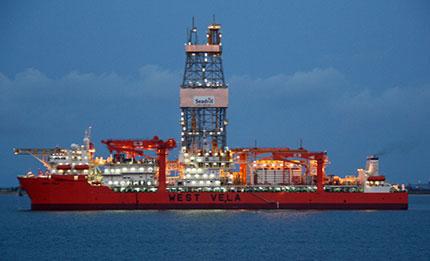 Image: The West Vela drillship.
Seadrill Ltd. (NYSE:SDRL)
This article is following my preceding article on April 28, 2016, about the sale of SDRL stake in SapuraKencana.
Today, Seadrill Ltd., announced the following:
It has reached agreement with its banking group to extend its three nearest maturing borrowing facilities and amend certain covenants across its secured credit facilities, as the first phase of a broader plan to refinance and recapitalize the business.

The facility extensions relate to:

The US$450 million credit facility originally maturing in June 2016 is now extended until December 2016
The US$400 million credit facility originally maturing in December 2016 extended until May 2017
The US$2.0 billion NADL credit facility originally maturing in April 2017 extended until June 2017

The covenant amendments extend to 30 June 2017 and relate to the following:

A reset of the leverage covenant.
A revised definition of the Equity Ratio to exclude the impact of any change to the market value of our rigs.
A suspension of the provision that allows lenders to receive a prepayment under their secured credit facilities if rig values decline below a minimum value relative to the loan balance outstanding.

The Company has agreed a set of milestones which provide a timetable for advancing discussions around a longer term solution. The Company has agreed not to draw any of the US$467 million available to it under its revolving credit facilities and to an increase in the minimum liquidity covenant contained in its secured credit facilities from US$150 million to US$250 million during the negotiating period. For additional detail on the terms of the agreement, please refer to our Annual Report on Form 20-F filed with the U.S SEC on April 28th 2016.

The Company aims to conclude negotiations with its stakeholders by the year end.
For the ones who want to read the 2015 20-F filing, click here.
The news is important for Seadrill Partners LLC (NYSE:SDLP) and North Atlantic Drilling (NYSE:NADL) as well.
M. Mark Morris, Chief Financial Officer said:
This is an important first step in our funding plan. By deferring our imminent borrowing maturities, resetting a number of covenants and removing the risk of facility prepayments related to declining rig values we have established a more stable platform to pursue and conclude negotiations with our stakeholders. We are pleased with the support shown by our banking group and continue to make good progress on negotiating a broader package of measures intended to significantly improve liquidity and bridge us to a recovery in the sector.
Reading the 20-F page 29, the company also indicates that:
In addition, we expect to take additional steps to further delay newbuild deliveries until the dayrates justify taking delivery. We do not expect to take delivery of any units in 2016 and currently have $4.0 billion of newbuild yard installments due in 2017, 2018 and 2019 that we will be working with shipyards to defer.
Which is an important step in the current market.
For a complete look at the long-term debt, please go to the 20-F filing starting page F-52 related to Note 23 - Long-term debt.
| | |
| --- | --- |
| As of 12/31/15 | Value in $ billion |
| Total credit facilities | 7,373 |
| Total Ship Finance Loan | 0,831 |
| Total unsecured bonds | 2,381 |
| other | 0,076 |
| Total debt Principal | 10,661 |
| Current portion long-term | 1,526 |
| Long-term Portion | 9,135 |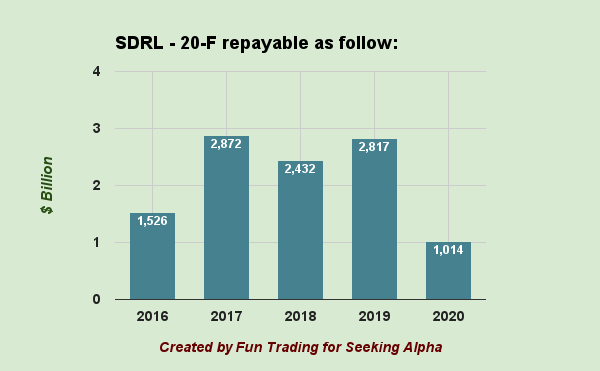 Commentary:
This "first phase" is a strong, encouraging development for SDRL shareholders, because it addresses the company's immediate financial concerns by delaying the imminent borrowing maturities and above all eliminating the risks of a breach of covenants that could have forced the company into bankruptcy. Furthermore, we see that the lenders are willing to negotiate with the company, which is a good sign of confidence (no surprise when we know that "big John" is involved behind the scene).
The market should greet this news as a positive development, and already the stock was responding well in Oslo. A wave of optimism has come ashore, due to the new positive oil momentum.
The news on Wednesday, regarding the sale of SDRL 8.2 % stake in the Malaysian SapuraKencana, for approximately $195 million cash, makes much more sense.
Clearly, times are tough for Seadrill Ltd. and the entire offshore drilling sector, with no near-term turnaround on the horizon, that I see.
Even if oil prices are firming up, the offshore drilling industry will not see the benefits of this situation before the end of 2Q'17, in my opinion.
Many CEOs such as M. Carl Trowell, Ensco (NYSE:ESV), have warned that 2016 is pretty well "baked in", and recovery will probably starts in mid-2017. The main issue is a rig oversupply -- depressed day rates -- and lack of a normal tendering activity.
SDRL is being pre-emptive in cutting costs, wherever it is possible, and aggressively proactive in addressing its large debt. I expect further important steps in 2016 regarding the debt, and announcement regarding the issue of a cumbersome rig fleet "under-construction".
Time will tell.
Note: Do not forget to be one of my followers on SDRL and get updated on the most recent SDRL news (contracts, sales and earnings results).
Disclosure: I am/we are long SDRL.
I wrote this article myself, and it expresses my own opinions. I am not receiving compensation for it (other than from Seeking Alpha). I have no business relationship with any company whose stock is mentioned in this article.
Additional disclosure: I trade also SDRL frequently
Editor's Note: This article covers one or more stocks trading at less than $1 per share and/or with less than a $100 million market cap. Please be aware of the risks associated with these stocks.