Fellow contributor Dallas Salazar released an article today noting that Ultra Petroleum (UPL) is likely to file for bankruptcy any day now. Dallas clearly describes why, with the grace period for UPL's $26mil senior note payment ending on April 30th, the company is running out of options to avoid bankruptcy.
Later in his piece, Dallas also speculated that UPL is planned to attempt to renegotiate their agreement with CorEnergy Infrastructure Trust (NYSE:CORR). While I am by no means a bankruptcy expert, I believe that these speculations are incorrect, and will explain why below.
CORR is a REIT that owns critical energy infrastructure assets across the energy value chain. Just a couple weeks ago, Energy XXI (EXXI), the parent company of CORR's largest tenant, filed for Chapter 11 bankruptcy protection. EXXI currently pays CORR about $33mil/year to lease-back the GIGS gathering system, which they sold to CORR for $241mil last summer. The direct tenant, Energy XXI GIGS Services, was not included in the bankruptcy. Thus, CORR believes that their current lease with EXXI is not at risk.
A bankruptcy filing by UPL would mean that another material portion of CorEnergy's revenue may be at risk. CORR owns the Pinedale LGS (Liquids Gathering System), which UPL leases for $20.6mil annually.
Bankruptcy proceedings always bring up concerns that current obligations, such as leases, may be renegotiated or even dropped. In such situations, it's important to compare the cost of a lease to its importance to the debtor's ability to remain a going concern. Both Pinedale LGS and GIGS are essential gathering systems for large portions of EXXI and UPL's production; production which is vitality important for each company to maintain if they are to maximize the value to their stakeholders.
At the same time, the current costs associated with each lease are a small portion of overall costs of production. As shown on the slide below, the Pinedale LGS lease costs UPL about $.07/Mcfe, about 5% of total field level cash expenses. The soon to be $8.5mil quarterly payments for GIGS also only make up about 6-7% of EXXI's cash costs per barrel.
(Page 10 of recent CORR Presentation)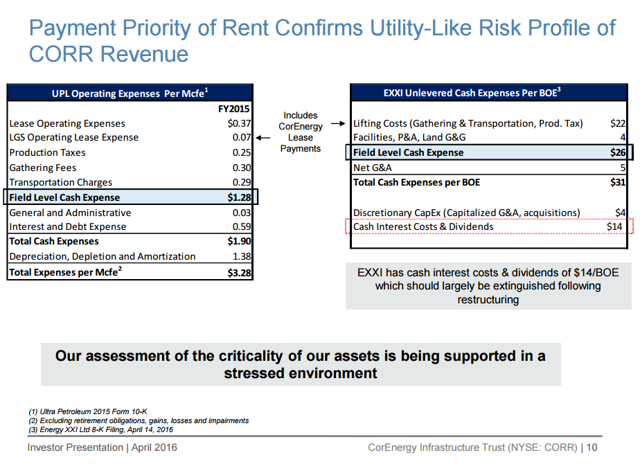 Click to enlarge
On the other hand, both EXXI and UPL have excessive amounts of outstanding debt in comparison to their assets and revenues. Both companies are currently in a position where they are able to generate operating cash flows, but interest expenses are eating up the entire cashflow and then some. Bankruptcy will allow them both to turn their debt loads into equity positions, eliminating the interest expenses that are preventing cash generation.
Takeaway
While anything can happen in during bankruptcy proceedings, it is unlikely that either EXXI or UPL will look to renegotiate their leases with CORR. However, a UPL bankruptcy declaration would likely result in a material short term move down for CORR's stock, as happened when EXXI filed in mid-April.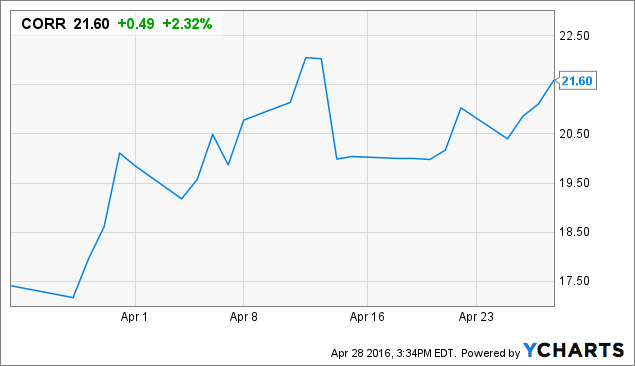 CORR data by YCharts
Thus, I've chosen to sell my position in CORR, in the hopes that I can buy back in at 10-15% lower price after UPL files for bankruptcy. In the longer term, I expect CORR to be able to maintain its current dividend and hopefully continue growing it with additional acquisitions.
Disclosure: I/we have no positions in any stocks mentioned, but may initiate a long position in CORR over the next 72 hours.
I wrote this article myself, and it expresses my own opinions. I am not receiving compensation for it (other than from Seeking Alpha). I have no business relationship with any company whose stock is mentioned in this article.
Additional disclosure: I also have a small, now almost certainly worthless, position in EXIXF.