Goldcorp (NYSE: GG) has built a strong growth pipeline through the smart acquisition of what could be better than average quality mining assets.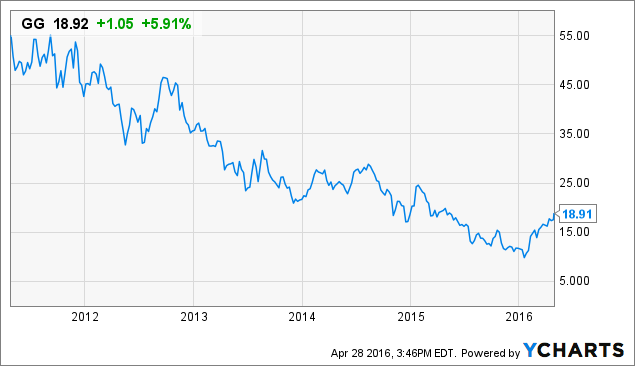 The latest addition was purchase of Andean Resources. This new purchase brought the Cerro Negro project, which has added to Goldcorp's growth potential and cash flow profile.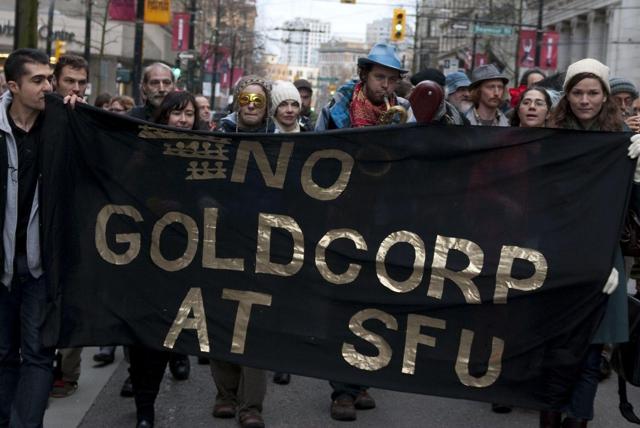 Click to enlarge
A drought at the Peñasquito mine in Mexico has forced a re-planning of water supplies there.
According to RBC Capital Markets Research, capital spending is probably peaking now, freeing up progressively more cash flows to return to shareholders. We can see that Goldcorp stepped back from the competition to own Canadian miner Osisko (OSKF) and avoided significant equity dilution if it had overpaid.
GG reported a strong Q4 with gold sales of 918 thousand ounces, and consequently its AISC of $867/ounce after adjusting for inventory write-downs.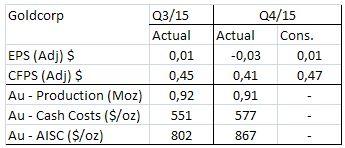 2015 operational results: Full-year production was 3.46 Mln ounces at AISC of $852/ounce. Q4 production weakened slightly q/q to 909 in thousand ounces, with improved production at Eleonore (105 in thousand ounces, +21% q/q) and Cerro Negro (148 in thousand ounces, +9%) offset by an expected decline in gold grades at Penasquito (170 in thousand ounces, -28%).
GG incurred after-tax impairments and inventory writedowns of $4.0B in Q4. Reserves declined 18% from 49.6 Mln ounces to 40.7 Mln ounces and 2015 depletion of 4.5 Mln ounces was not replaced using $1,100 gold (prev. $1,300). Los Filos reserves declined to 1.5 Mln ounces (was 6.8 Mln ounces) due to ounces being uneconomic at $1,100 gold, shortening the mine life significantly.
Strong balance sheet helped by further dividend cut
GG cut the dividend from $0.24/share to $0.08/share (~$66M) annually. Q4 cash was $326M with debt of $2.7B, an undrawn $3.0B credit facility, debt to total cap of 17%.
With a renewed focus on profitable ounces over production growth, Goldcorp under the new CEO is only including fully engineered and economically proved ounces in its production outlook, with several internal opportunities representing upside. The company is targeting a stable 3 Mln ounces production profile for the next three years at $850-925/ounce.
GG lowers its production profile to focus on higher margin ounces
Goldcorp provided a three-year gold production outlook of 2.8 -3.1 Mln ounces pa at $850-925/ounce. This is a step down from its previous five-year outlook, which targeted as much as 3.5 Mln ounces in 2017. This is largely driven by the conservative move to exclude Cochenour and lower ounces from Los Filos based a revised mine plan.
Its 2016 outlook was also affected by a slower ramp-up at Éléonore following the geological issues it faced in 2015.
GG's current three-year outlook doesn't include several growth projects it is currently advancing, which could potentially add growth ounces. On a midpoint basis, GG expects to produce 38.5 Mln ounces of silver, 67.5mlb of copper, 387.5mlb of zinc, and 150mlb of lead this year.
GG has younger and longer life assets than most peers, It has about 14 years of reserve life, which compares favorably with most of its peers. Especially since much of Goldcorp's reserve is in underground mines with better than average replacement potential.
Reserves fall 18% to 41 Mln ounces using a $200/ounce lower gold price of $1100/ounce.
The focus on higher margin ounces is reflected in its sharply lower gold price assumption. Encouragingly, was able to replace reserves at its key mines, and the biggest fall came from reclassification of 5.3 Mln ounces at Los Filos into resources. In addition, the business combination with Teck for the new Project Corridor removed 1.8 Mln of El Morro gold ounces but added 3.5bn lb of copper reserves.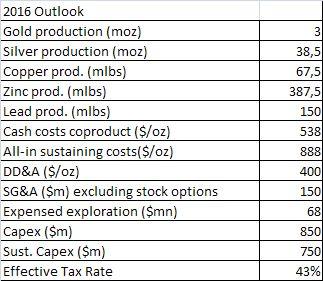 Source: Company reports
Risks
Downside risks include: further financial difficulties in Argentina, significant operating or capital cost increases, and a sharp fall in silver and base metal prices that affects the economics of Peñasquito.
Due to fundamentals of the company, macro situation, lowering in production profile and aggressive management policy I expect the decline in Goldorp stock value.
Disclosure: I/we have no positions in any stocks mentioned, and no plans to initiate any positions within the next 72 hours.
I wrote this article myself, and it expresses my own opinions. I am not receiving compensation for it (other than from Seeking Alpha). I have no business relationship with any company whose stock is mentioned in this article.