Our LatAm Sample
We focus on Latin American corporates with ADRs, available long-term foreign currency credit rating, and a higher debt-to-equity ratio. We use Standard & Poor's rating scale, and when not available, we use equivalent ratings from Moody's or Fitch Ratings.
Investment Grade: Not much activity, boring is good. Within our sample of relatively strong issuers with investment grade, few rating changes have occurred, the latest happening in 2015 with the downgrade to A- of Ambev (NYSE:ABEV) and an upgrade of BRF-Brasil Foods (NYSE:BRFS) to BBB. Both America Movil (NYSE:AMX) and Ambev hold the second greatest credit rating of our total sample, i.e., A-.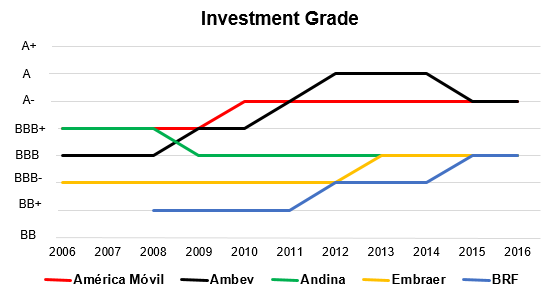 Barely Investment Grade: A notch away from junk bond. Among our lower-quality investment grade sample, all companies have a BBB- rating, and most importantly, all of them have a negative outlook, except for Fibria Celulose (NYSE:FBR), which has a stable outlook. Vale S.A. (NYSE:VALE) stands out with a downtrend of credit rating revisions in the recent years. In the case of Gerdau (NYSE:GGB), although rated BBB- by S&P, the company has lost its investment grade, as it is rated Ba3 by Moody's.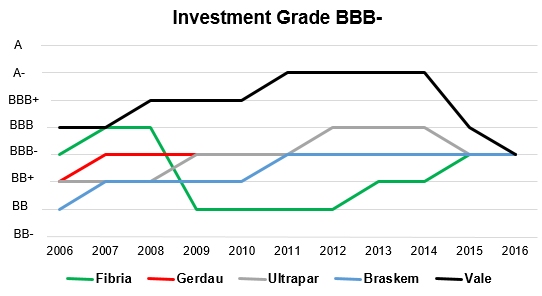 Junk Bonds: Where the fun comes from. In this subgroup, we observed the first default within our sample coming from Empresas ICA (NYSE:ICA) in 2015. We also find GOL Linhas Areas Inteligentes (NYSE:GOL), a non-in-default firm among the worst rated in our sample, with a B- rating and negative outlook. Additionally, we see shaky corporates such as Oi S.A. (NYSE:OIBR), Companhia Siderurgica Nacional (NYSE:SID), LATAM Airlines Group (NYSE:LFL), Avianca Holdings (NYSE:AVH) and Companhia Energtica de Minas Gerais (NYSE:CIG) with BB to B+ credit ratings. It is worth mentioning that despite low credit ratings for Cemex (NYSE:CX) with a B+ rating and Transportadora de Gas del Sur (NYSE:TGS) with a B- rating outlook, both show an uptrend with a positive and stable outlook, respectively.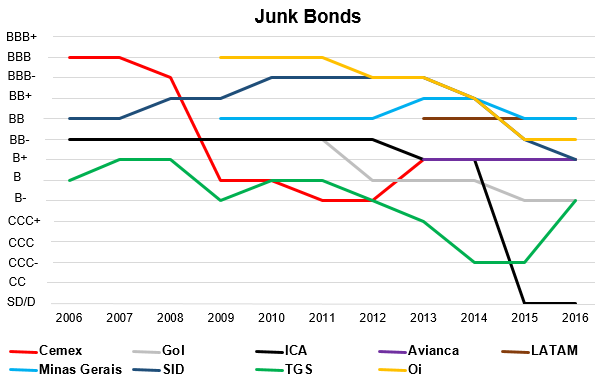 Oil Companies: One in default, three to go. Here, we see the second default within our sample: Pacific Exploration & Production (OTC:PEGFF, PRE.TO) in 2016. We observed a downtrend for Petrobras (NYSE:PBR) and YPF Sociedad Anonima (NYSE:YPF), both in junk territory with a credit rating of BB and B-, respectively. Finally, we surprisingly found Ecopetrol S.A. (NYSE:EC) as the only investment grade among our oil companies sample with a BBB credit rating, although its outlook is negative.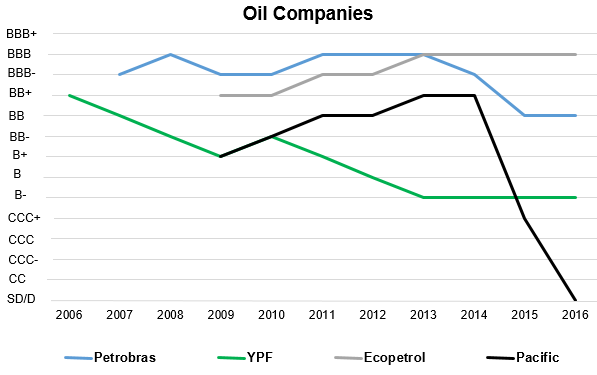 Banks: Brazil in junk territory. We observe a clear difference in credit rating between Banco de Chile (NYSE:BCH), which holds the greatest credit rating of our total sample (A+), and its Colombian and Brazilian peers. Although with a stable outlook, Bancolombia (NYSE:CIB) is a notch away from junk territory with its BBB- credit rating. Both Banco Santander (NYSE:BSBR) and Itaú Unibanco (NYSE:ITUB) lost their investment grade in 2015 and hold a BB+ credit rating with a negative outlook.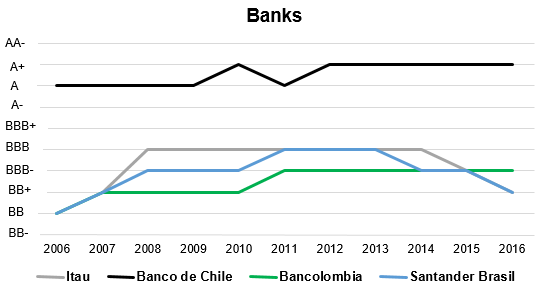 LATAM PM's Take
We believe further corporate credit defaults loom in Latin America and expect an additional deterioration of credit ratings in the region's corporates going forward, with many companies with negative outlook currently under review by credit agencies. We see special weakness in the materials and oil sector due to weak global demand. We anticipate that corporate default will impact banks' credit portfolio and will weight into loan criteria, which will limit loan portfolio expansion, reducing financial liquidity.
Source: LATAM PM with S&P, Moody's and Fitch Ratings data.
Disclosure: I am/we are long CX, EDZ.
I wrote this article myself, and it expresses my own opinions. I am not receiving compensation for it (other than from Seeking Alpha). I have no business relationship with any company whose stock is mentioned in this article.
Editor's Note: This article covers one or more stocks trading at less than $1 per share and/or with less than a $100 million market cap. Please be aware of the risks associated with these stocks.