Brazilian banks started the year rallying but with disappointing earnings. Is this a short-opportunity? Since March, the banking industry has faced a strong rally driven by increasing odds of an impeachment of President Dilma Rousseff. ITAU (NYSE:ITUB) and BRADESCO (NYSE:BBD) ADRs have given 50% year-to-date return as of today, outperforming SANTANDER BRASIL (NYSE:BSBR) and the IBOVESPA by about 20pps. In the aggregate, banks' valuations seem stretched given both macro and the sector's fundamentals, which have not yet shown signs of touching rock bottom. As BCB's credit figures for February (here) reflect a struggling industry in both the Individuals and Corporates segments.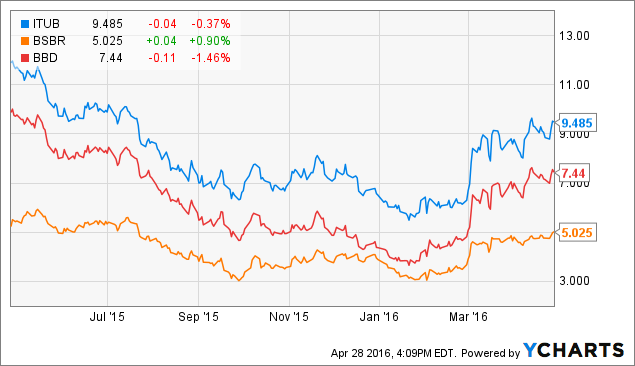 Weak figures in Brazilian banks' earnings suggest that challenges go well beyond politics, and that the recent rally could show some correction soon. While the improvement in the country's current political landscape gives confidence and is ultimately positive, the industry's aggregate performance demands caution.
The Brazilian banking system has been mainly troubled by credit growth when it comes to lending activity. Sluggish GDP growth is hampering credit demand from corporates. Individuals have been affected by low confidence levels, rising unemployment, inflation and increasing interest rates. According to Brazil's credit bureau, the number of individuals late on utility bills increased to 60 million in the first quarter, setting the figure (as percentage of total 200+ million population) in an all-time high.
Delinquency shows no turning point ahead. Although the system is close to completing two years of de-risking strategies-with different timing among peers-the frail credit expansion and the deterioration of the macro scenario keep pressuring delinquency. That said, although banks continue to focus on safer modalities, the 'mix effect' on the portfolio should not be enough to offset the asset quality deterioration, driving NPLs to increase even further.
Low competition helping spreads, but headwinds remain. Banks have been able to partially offset higher provisioning expenses with higher spread rates. But as pressures to start an easing cycle increase and political pressure to use of state-controlled banks to boost credit growth rises, the balance of risks for spreads seems tilted downwardly.
Is a short justified? While we should remain vigilant on the political front and the chances of a rally if Dilma Rousseff is indeed impeached, macro fundamentals and stretch sector valuations suggest that shorting the industry once the political rally is over could pay handsomely. However, a pair trade between could be a more prudent choice. Short BRADESCO and long SANTANDER seems the most attractive bet based on YTD rallies (BBD +54% vs. BSBR +37%), delinquency ratios (4.1% vs. 3.3%, respectively), and P/BV ratios (1.7x vs. 1.2x, respectively).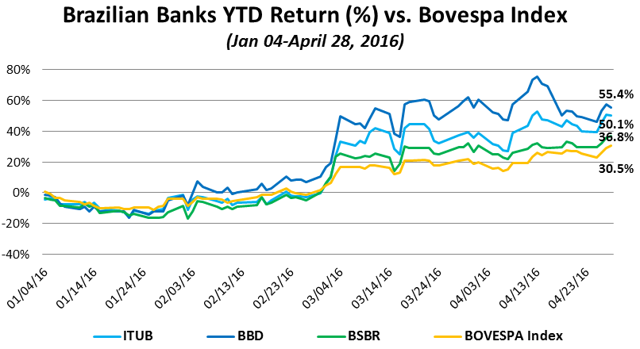 SANTANDER BRASIL 1Q16 Highlights:
(R$ Millions): NII 6,948 (-2.7%); Provisions 2,424 (14.8%); Non-Int Expenses 4,410 (7.5%); Net Profit 1,660 (1.7%); Loans Portfolio 248,271 (-3.8% ); NPL 3.3%. TTM P/E 7.0x
· Delinquency: main concern. Despite growth efforts centered in safer modalities and the seasonally lower pressures on delinquency 1Q16, NPLs increased by 10 basis points to 3.3%, mostly driven by the sharp contraction in the Large Corporates portfolio, which was partially offset by an improvement in 15-90 days NPLs.
· Credit portfolio contracted 4.9% QoQ. Although credit contraction was anticipated, it came above consensus. A 10.0% contraction in the Large Corporates portfolio affected by FX appreciation and sluggish demand was the driving force behind the overall decline. The rest of the remaining portfolio was flat. Santander's overall credit fell 3.8% year-on-year and 5.4% excluding FX.
· Credit spread prevented a quarterly disaster. Although focusing on modalities with lower spreads, the bank continues to benefit from the lower competition from state-controlled banks, reporting a flattish average credit spread of 8.4%.
Disclosure: I am/we are short BBD, ITUB.
I wrote this article myself, and it expresses my own opinions. I am not receiving compensation for it (other than from Seeking Alpha). I have no business relationship with any company whose stock is mentioned in this article.