Procter & Gamble (NYSE:PG) reported its Q3 earnings a few days ago, and it looks like the market was unhappy with what they heard and saw. Though the stock wasn't hammered by the results, the weak performance of the company resulted in shares edging below the critical $80 mark, a level PG has been bouncing around since 2013.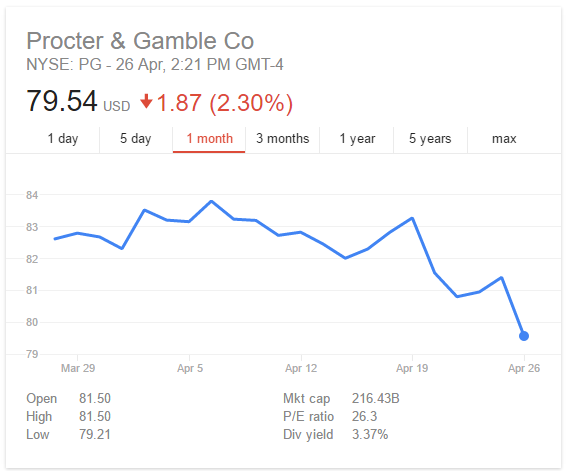 In my previous articles on the company, I spoke extensively about the dividend ledge they were on, and how they needed to make key acquisitions in order to support their internal organic growth. In this article, I delve into how bad the problem really is, and what investors can do about it in the short to medium term.
Note: All referenced data is taken from PG financial press releases for 2014, 2015, Q1 2016, Q2 2016 and Q3 2016.
The Pricing Issue and the Vicious Cycle
As you will see from the charts and table below, PG has increased price steadily since 2014, a process which they have continued right up to the most recent quarter. Granted, things are better now on the economic front, but a continual increase over a long period of time is going to ask for its pound of flesh at some point - more so if your competitors are either cutting back on their prices or increasing them at a slower rate.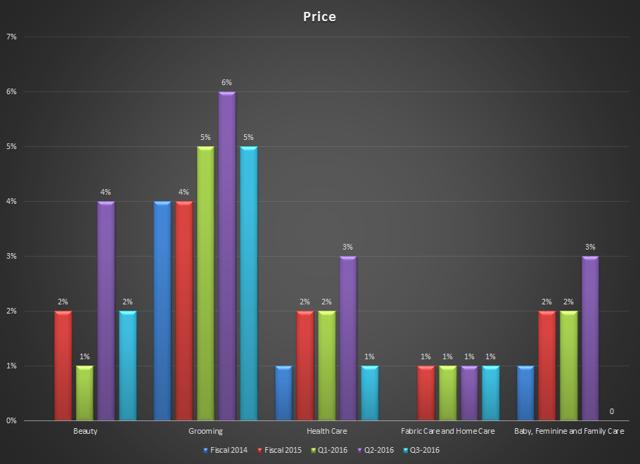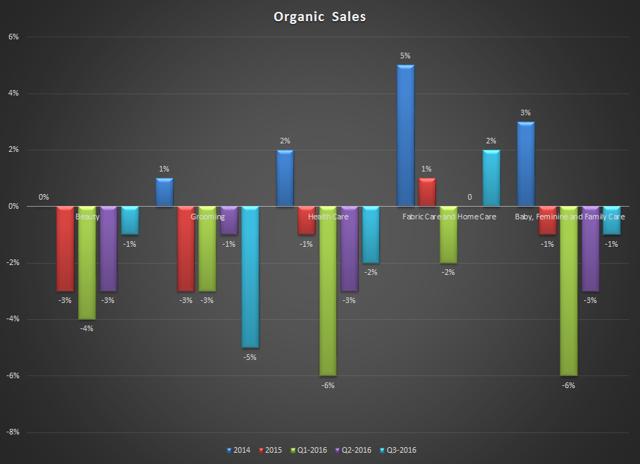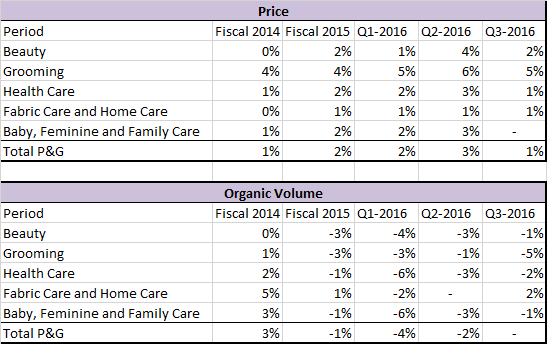 The net effect of that is what we are seeing on the volume front. Despite consistent price hikes, P&G has not been able to break the downtrend of organic sales volumes. The heightened pressure on P&G to keep its top line intact, and the pressure from margins, are pushing the company to keep prices on the steady upslope. Not an ideal place to be at all.
A lot of commenters on my previous articles have pointed out that P&G is actually divesting brands to make itself more profitable, but as you can see, that's not happening. See in the chart below how their margins have been taking a hit from as far back as 2013.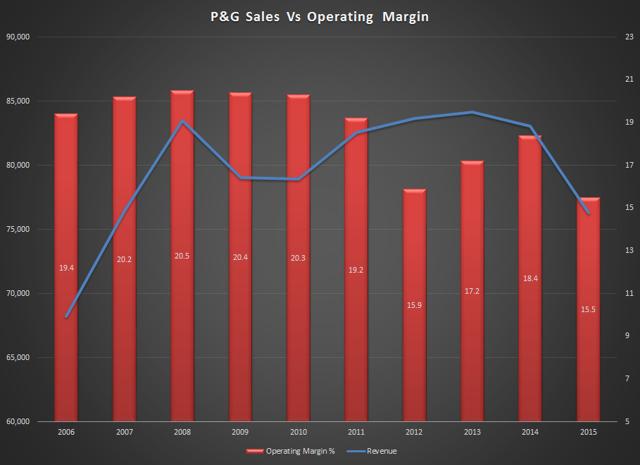 Despite the company increasing its prices steadily since that time, and divesting low-performing units, they don't seem to have solved the problem.
In fact, they've now put themselves in a weird catch-22 situation - a vicious cycle, if you will. Essentially, they are pushing prices up so the bottom line doesn't get hit, but this pushes customers to their competition, which affects the top line. The more they push prices up, the more their top line will be affected. Ultimately, they'll end up creating a larger problem in the course of solving a smaller one.
Investor-Speak: Breaking the Cycle
How P&G manages to break that cycle is left to management. I suggested acquiring smaller, but high-performance brands; one SA author even threw out a few potentials. Another option may be to diversify into a related business like buying a chain of drugstores and optimizing their OTC sales that way. Yet another option is to diversify into a completely new business that has a wide moat around it. The options are practically unlimited, but nothing has been done about it - and that's the biggest problem.
From an investment perspective, PG's dividends are still safe as their payout ratio is still below 70% and they generate considerable amount of cash flow. Even though they've been forced to drop dividends to 1% as of the last earnings call, I think they still have the steam to continue that - at the very least.
Furthermore, with capex accounting for only around 5% of their total sales, the cash generated is going to provide sufficient room to keep the dividends intact until the company is able to break that vicious cycle.
The biggest sigh of relief for any PG investor is the company's balance sheet. At the end of March 31, 2016 the company had $19.13 billion in long term debt, with $7.9 billion cash on hand and another $5.9 billion as available for sale securities.
I don't buy into the doomsday scenarios that keep popping up every now and then, but there is a downside to this in the form of issues that need to be fixed with their top line growth.
In the last four months that I've been writing on Seeking Alpha, I've never advised a short on any of the companies I've written about. For PG, I would recommend a HOLD until things are clearer about how the company intends to boost its top line.
Until then, I will keep a close eye on their volume growth versus price growth. If those two metrics can "swap positions" or at least both stay positive and close to each other, then I will change that to a BUY. There's no denying that there are tough times ahead for the company. For now, let's hope they come up with a solution before the problem becomes too big to manage.
Disclosure: I/we have no positions in any stocks mentioned, and no plans to initiate any positions within the next 72 hours.
I wrote this article myself, and it expresses my own opinions. I am not receiving compensation for it (other than from Seeking Alpha). I have no business relationship with any company whose stock is mentioned in this article.