First quarter GDP growth was miserably weak, as expected. The economy grew at a 0.5% annualized pace, which means an expansion of only $22 billion in the past three months—equivalent to a rounding error. In the past six years, we've seen miserably slow growth in the first quarter four times now, which suggests that a statistical problem may be the culprit. Whatever the case, the economy grew 2.0% in the past year, which is only slightly less than the 2.1% annualized growth rate that has been sustained since the recovery got underway in mid-2009. So it's not unreasonable to think that nothing much has changed and that we will see stronger growth numbers for the remainder of this year.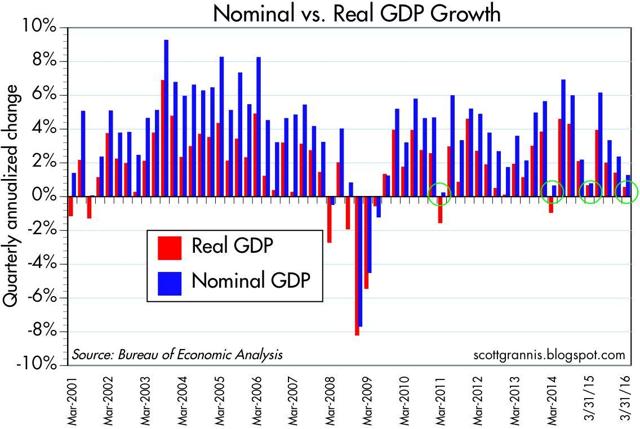 Click to enlarge
The chart above shows the real and nominal annualized growth rates of the U.S. economy by quarter. Note the green circles which highlight unusually weak growth rates in the first quarter. When four of the past six first quarters show a similar pattern it suggests there is something wacky going on with the seasonal adjustment factors.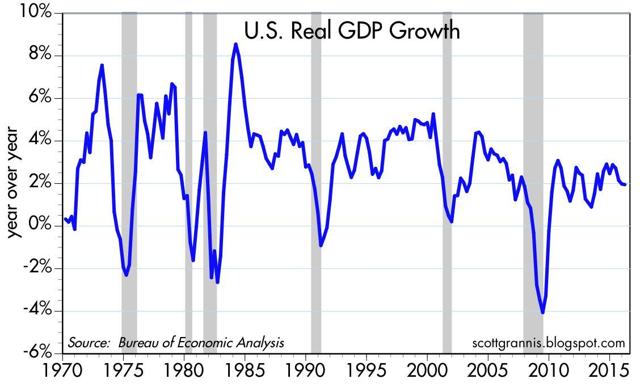 Click to enlarge
The chart above shows the year over year growth rate of the U.S. economy. By this measure the past year was very much in line with previous years. Since the recovery began in mid-2009 the economy has growth at an annualized pace of 2.1%.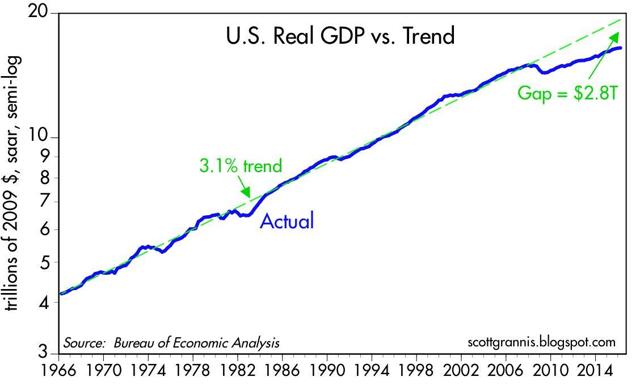 Click to enlarge
The chart above plots real GDP on a semi-log scale in order to better appreciate how the economy has underperformed relative to its long-term trend growth rate. By failing to bounce back to its trend growth path, and by growing only 2.1% a year instead of 3.1%, the economy is now almost $3 trillion smaller than it might have been had this been a typical recovery. We've never seen such miserably slow growth following a recovery, and the problem has persisted for almost seven years now.
What explains the persistence of slow growth? The two charts suggest that the economy suffers from a failure to thrive because of a lack of investment. Risk aversion has held back entrepreneurship and risk-taking in general. For years I've explained that this has been a risk-averse recovery.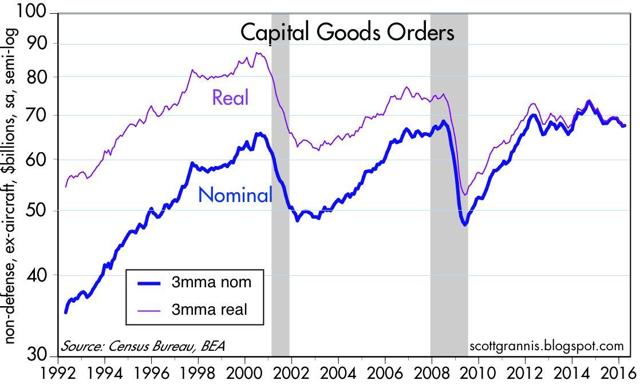 Click to enlarge
Capital goods orders, shown in the chart above, are a good proxy for business investment. In nominal terms, capital goods orders are no stronger today than they were prior to the last two recessions. In real terms, capital goods orders today are the same as they were in 1995. But of course the economy has grown by over 60% since then. Simply put, there has been a huge shortfall of business investment, especially if you consider that corporate profits today are about 9% of GDP, which is substantially higher than the 6.5% average of the past 57 years.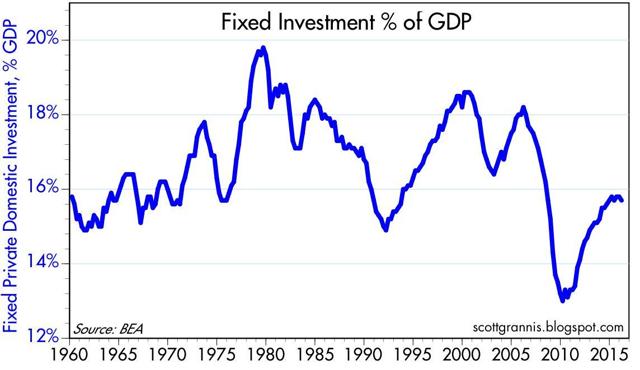 Click to enlarge
The chart above, which shows fixed private domestic investment as a percent of GDP, tells the same story: investment has been unusually weak.
Strong profits, weak investment: its a conundrum that is difficult to explain with confidence. But it's probably not a coincidence that for the duration of this unusually weak recovery we've seen a huge accumulation of public debt, a huge increase in regulatory burdens (e.g., Obamacare, Dodd-Frank), generally high and rising marginal tax rates, and a punitively high corporate tax rate. The rewards to risk-taking, and the burdens of running a business and complying with increased regulatory mandates have depressed the economy's animal spirits. The government is slowly smothering the private sector.