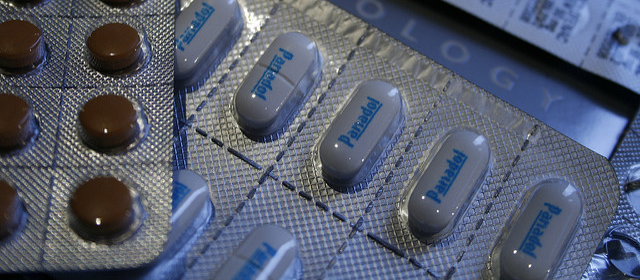 Could the tide have turned for 5%+ yielding pharma giant GlaxoSmithKline (NYSE:GSK)? Q1 2016 results suggest that investors may be justified in this hope. I have personally been invested in GlaxoSmithKline for some years. Indeed, "GSK" is both my longest and largest outstanding holding in my portfolio.
GlaxoSmithKline has been struggling for growth like many of its peers as blockbuster drugs lost patent protection. Consequently, as investors watched growth disappear and dividends increasingly looking endangered, its share price has been struggling: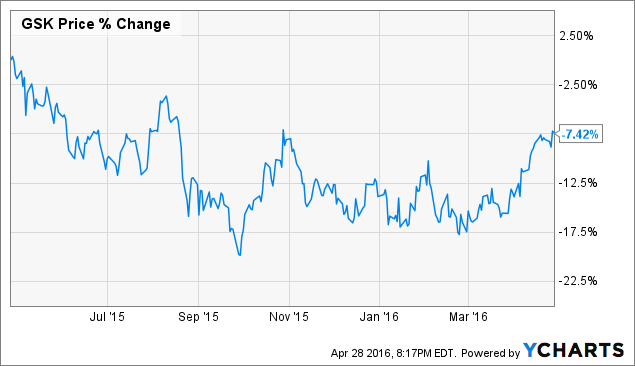 GSK data by YCharts
At the same time, GlaxoSmithKline has seen a great range of changes as it attempts to reinvigorate its portfolio and set itself into a more stable growth profile in the future. The Novartis (NYSE:NVS) deal saw their pharmaceutical side shrink as they swapped their oncology portfolio in return for the Swiss pharma's vaccines and consumer healthcare segments joining the "GSK" stable (admittedly, the latter into a joint venture). Consequently, we have to deal with fairly extensive differences in reported and pro-forma results at Q1 2016 time.
Yet what is great to see is that it looks as though (finally) GlaxoSmithKline is seeing some positive momentum, which should see its future looking more positive than its recent past has made it appear.
Let's take a quick look at what I mean.
The Novartis Effect
First off, the effect of the Novartis deal is a tangible shift towards vaccines and consumer healthcare. The deal only closed in early March 2015. The result? Consumer healthcare has leapt to contributing over 28% of revenue from just 20% in 2014. Vaccines, in turn, have jumped to 14% from 11%: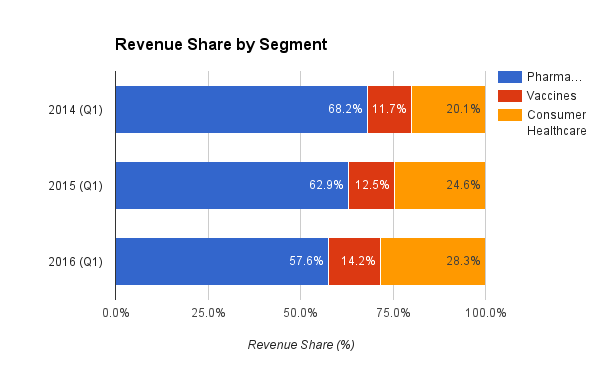 Needless to say, a similar shift has been experienced with regards to operating income: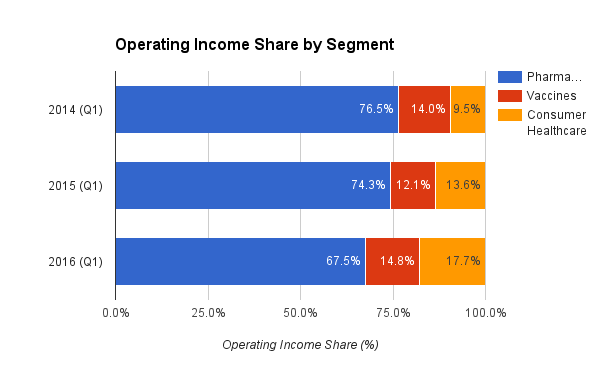 This should indeed result in less revenue and earnings volatility in the future. Nonetheless, what is clear is that GlaxoSmithKline remains a chiefly pharma-focused business. Sure, vaccines and consumer healthcare have grown in importance, yet they are still a serious pharma player even with patent expirations and corporate reshuffling.
GlaxoSmithKline's evolution into a more consumer and vaccine-heavy business has, therefore, certainly continued its momentum at Q1 time. Yet this is not enough to get an investor excited. Fortunately, there is much more.
Growth Across the Board (At Last)
The big news? Put simply, growth. Indeed, growth across all segments. Reported figures suggested a drop in pharma revenue. Yet this was due to the Novartis swap, looked at on a pro-forma (and thus comparable) basis, growth in Q1 2016 was to be found in pharmaceuticals, vaccines and consumer healthcare: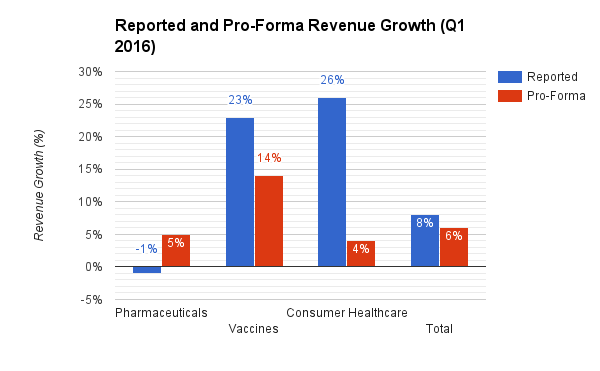 The attractiveness of this may not be so immediately apparent. Yet when compared to reported and pro-forma results from Q1 2015, the transformation is extremely prominent: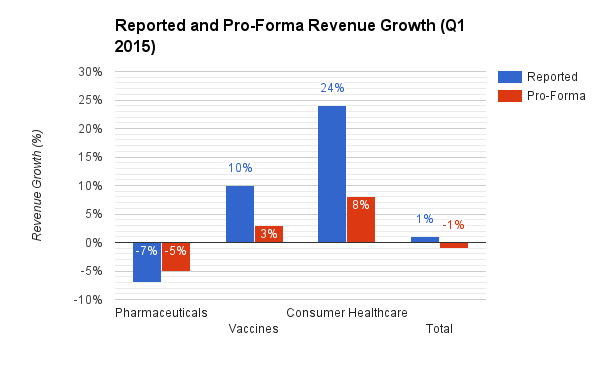 GlaxoSmithKline is (finally) growing revenue, and growing well. The same is true of operating income. On a pro-forma basis, GlaxoSmithKline has managed to swing into strong operating profit growth across segments compared to Q1 2015: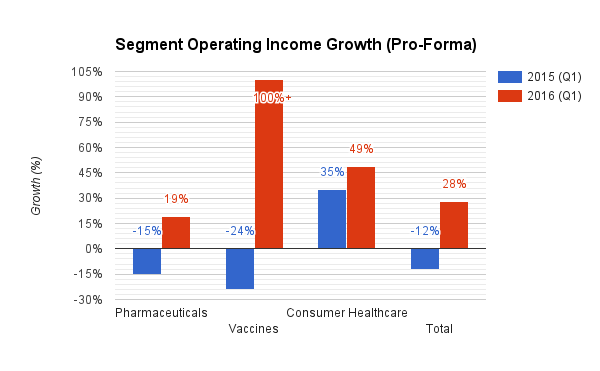 Nor was this geographically lumpy growth. Again, on a pro-forma basis, GlaxoSmithKline saw robust growth across its main geographies in sharp contrast to Q1 2015: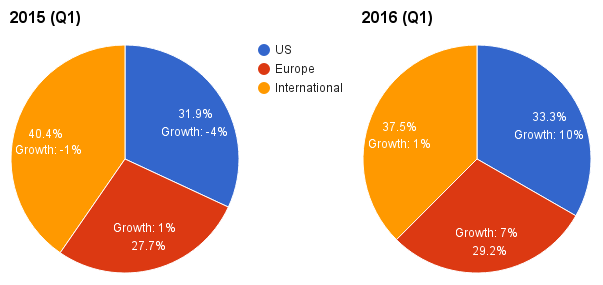 GlaxoSmithKline does not, however, provide us with constant currency data here. Consequently, judged by the stronger USD and broadly weaker international currencies compared to the GBP (which GlaxoSmithKline declares its results in), I suspect growth figures are a little more balanced across regions with foreign currency effects factored out.
Nonetheless, what is clear is that the business is seeing healthy, comparatively even top and bottom line growth. Just what investors have been waiting for.
Vaccines and Consumer Healthcare
The increasingly sizeable vaccines and consumer healthcare businesses are also clearly doing exactly what are required of them - providing stable, consistent revenue.
Consumer healthcare with its strong stable of brands including Panadol, Sensodyne, Aquafresh (my everyday toothpaste) helped shove GlaxoSmithKline to a solid growth record across the globe: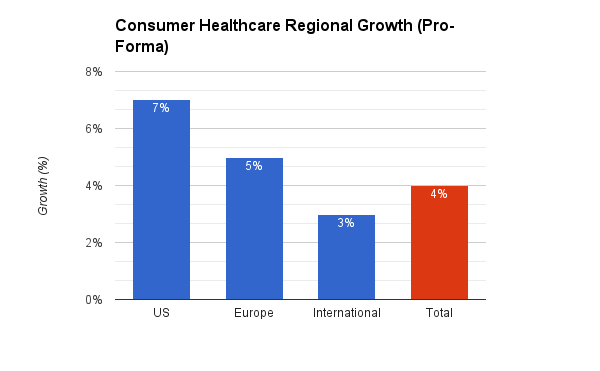 Vaccines provided an equally solid growth performance. Yet in this case, it was given extra pace courtesy of Europe with GlaxoSmithKline's meningitis vaccines heavily purchased privately and by the British NHS during the quarter: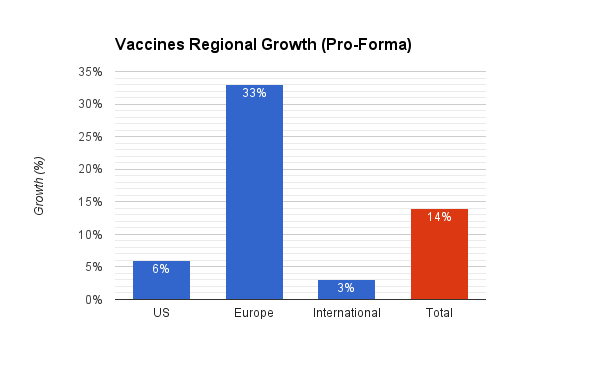 Whether or not this level of meningitis vaccine purchase will be replicated in future quarters or not is unclear. Yet it does indicate the potential of their bolstered vaccine portfolio.
There were, inevitably, some underperforming parts tied up in there. The consumer healthcare segment did see two of its four sub-segments shrink rather than grow:

Click to enlarge
Fortunately, these shrinking segments compose just 18% of the revenue from the consumer healthcare segment. The far larger wellness and oral health segments saw strong growth during the quarter, which was in line with the growth experienced in Q1 2015.
Again, it is hard to argue against the fact that GlaxoSmithKline has clearly built up some momentum here. Some drags remain, yet as the company highlights the skin health and nutrition segments were particularly hit by the effective cessation of trading in Venezuela by the business.
Pipeline Powers Up
Yet, of course, pharma at over 57% of all revenue remains the central part of the GSK growth platform. It has also recently been the weakest part. Yet GlaxoSmithKline's growth in the pharma segment is very much welcomed.
Nonetheless, it remains clear that it is still being carried by its HIV segment as in previous quarters (both tables below from Q1 results release):

Click to enlarge
Infuriating as this may be to some investors who'd like to see a broader growth profile, dig a bit deeper and it is clear (once more) that GlaxoSmithKline is picking up pace. Growth is coming from fresh additions to the pipeline especially in the all-important respiratory segment: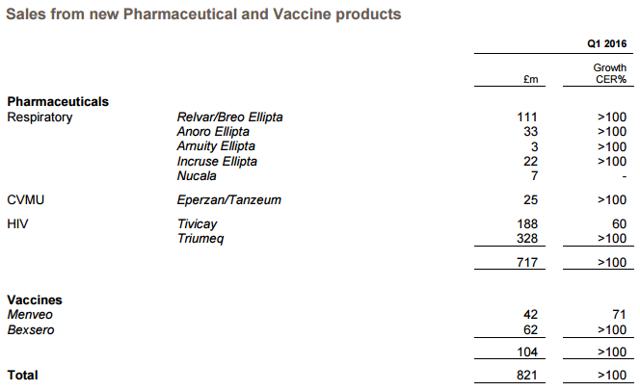 Click to enlarge
What is encouraging to see is the growth in Relvar/Breo Ellipta, which has helped to modestly offset a further 16% decline in revenues from their blockbuster Advair drug: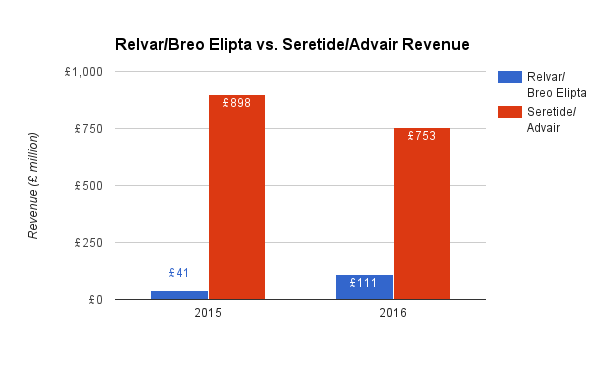 Clearly, this is not a dollar for dollar (or rather pound for pound) replacement. Yet it is having an important effect. All told, this has meant that respiratory revenue shrinkage has continued its move closer to upwards growth at last: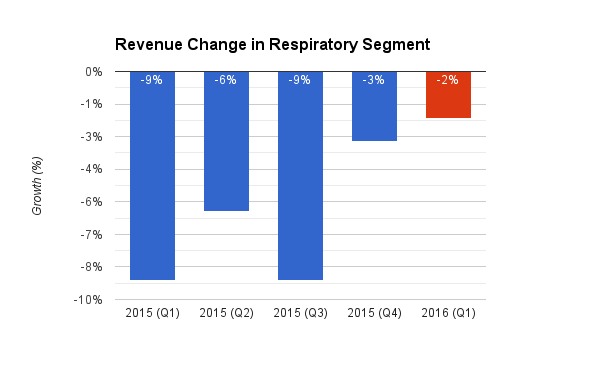 This is great news indeed. More encouragingly still, it appears this performance has come faster and stronger than even GlaxoSmithKline's management had anticipated. They added that:
In 2015, GSK identified a series of New Pharmaceutical and Vaccine products that were expected to deliver at least £6 billion of revenues per annum on a CER basis by 2020.… Sales of the New Pharmaceutical Vaccine products are now expected to reach £6 billion of revenues per annum on a CER basis up to two years earlier (2018).
For patient investors who have been sitting with GlaxoSmithKline for years waiting for the pipeline to "come good" this is a very positive statement. To potentially see this revenue boost from new additions within just two years would be very much welcomed indeed.
Certainly, the evidence in Q1 2016 was good. New vaccines and pharmaceuticals revenue lifted heftily year on year: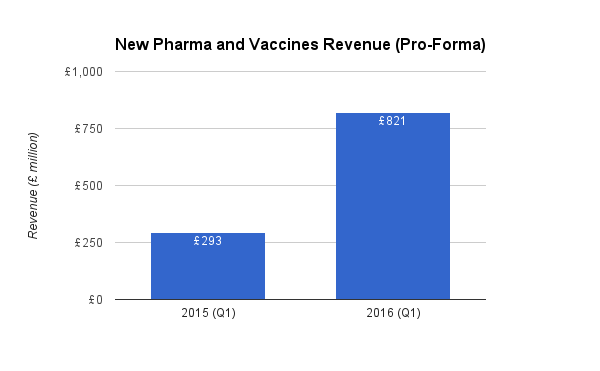 Momentum, again, appears to be with GlaxoSmithKline right now as the pipeline starts to (finally) bear fruit.
Conclusion
GlaxoSmithKline has been, it must be said, an easy hold for me over the years. A high-yielding, low volatility healthcare business with a robust pipeline carries a wide range of appeals. Nonetheless, patiently waiting for growth, which seems perpetually elusive can often strain your relationship with any investment. Nonetheless, GlaxoSmithKline has been slowly but surely gaining a little traction in its results. In these Q1 results, it really does look as though they are beginning to generate the momentum needed to actually deliver on its long-term potential for investors.
As long as this revenue growth proves to be sticky enough to remain and accelerate in coming quarters, the massive yield GlaxoSmithKline carries look safe. Management again confirmed they planned to retain the £0.80 per share dividend for this year and next. Here I think we are finally seeing the shoots, which will help feed dividend growth in the future. I, for one, am encouraged. Now we just have to go back to being patient for a while longer.
Notes
Unless otherwise stated, all graphs and the calculations contained within them were created by the author. Creative Commons image reproduced from Flickr user jepoirrier.
Disclosure: I am/we are long GSK.
I wrote this article myself, and it expresses my own opinions. I am not receiving compensation for it (other than from Seeking Alpha). I have no business relationship with any company whose stock is mentioned in this article.