Thursday may end up being a key turning point for the stock market in 2016. The day featured a pitched battle for control of the direction of trade.
Bears came into the day with a strong advantage, as Japanese stocks (NYSEARCA:EWJ) plunged overnight following a central bank decision that disappointed the market. The S&P 500 (NYSEARCA:SPY) opened lower, but rallied early in the day to move into the green. But it wouldn't stay there: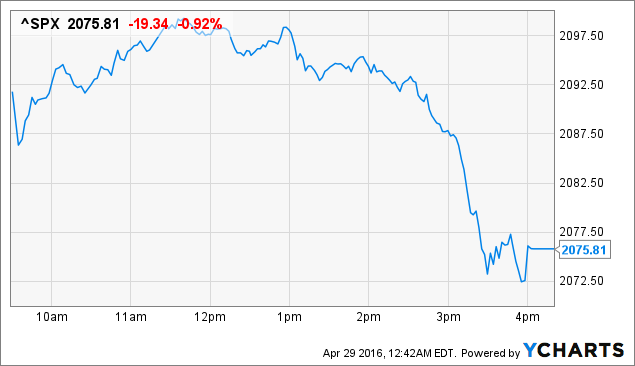 After the lunch hour, selling began again, and it accelerated past two o'clock. It appears Carl Icahn was to blame - we'll get to that in a second. As trading drew to a close, the market hit an air pocket and dove 15 points lower in minutes.
We now appear to be forming a major top. The odds of a significant correction are building: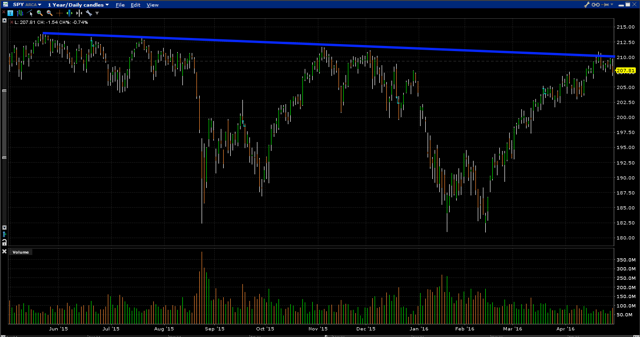 Click to enlarge
For a full year, the market has topped out around this area, which each subsequent attempt failing at a slightly lower level. Just about every failed push up against the blue line thus far has triggered a 100 point or more correction. If bulls don't get it together soon, we're probably heading for a sizable dip here.
Icahn Bails On Apple
In a bit of auspicious timing, yesterday's Briefing warned of the dangers of holding Apple (NASDAQ:AAPL) stock as the company is now seemingly past its peak.
Thursday added fuel to the Apple concerns, as Carl Icahn disclosed that he had disposed of hit Apple position. Apple shares turned sharply lower following the disclosure, breaking to new post-earnings report lows.
The market also started to tank following the revelation. For a tech sector that's had plenty of trouble this earnings season, it was another catalyst for a selloff. On the plus side, Facebook (NASDAQ:FB) and Amazon (NASDAQ:AMZN) both delivered excellent results, stemming the negative tide at least a bit.
Icahn attributed his loss of confidence in Apple to the company's issues in China.
It was a stunning turn in opinion. Icahn had previously claimed that Apple was worth $200/share, far above most street targets, and that owning the stock was a "no brainer". Some more cynical folks are suggesting Icahn engaged in pump and dump like activity by hyping the stock with his bold target and then selling for a seemingly unimportant reason.
Regardless, it's a reminder of the dangers of following activist investors. They have all the cards in terms of placing trades and moving markets ahead of you. By the time the general public knows what they're doing, they're long out of the trade. If you trust a superstar investor to have your back, be prepared for disappointment.
As for the broader market, an Apple stock that continues knifing lower will cause strain. Apple is now a Dow Jones (NYSEARCA:DIA) component, and a rather important one by weight at that. It's also the largest component of both the S&P 500 and Nasdaq 100 (NASDAQ:QQQ).
Speaking of important companies, the #2 weighted firm in both the S&P 500 and Nasdaq - Microsoft (NASDAQ:MSFT) - continues its post-earnings swan-dive as well: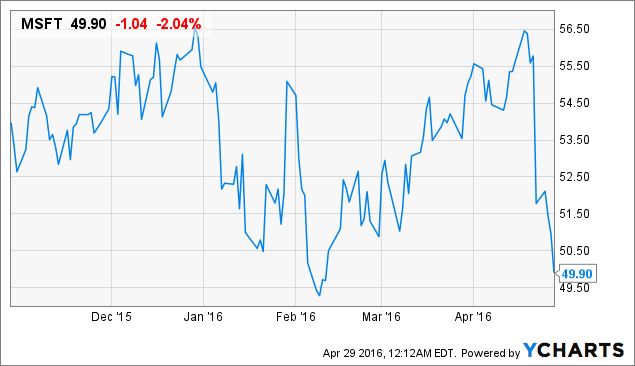 I don't ascribe much value to Carl Icahn's public statements, but his ability to move the market must be respected. And he helped push already floundering tech stocks down further. The negative forces on the market are growing.
Avoid Biotech: Gilead Edition
When I warned investors: "Don't Buy Biotech Now" earlier this week, I wasn't kidding. I take these Briefings seriously.
While there were many comments disagreeing with my thesis, the strongest point of contention was with my claim that biotech earnings aren't that strong. This quarter's results are starting to come in, so we can start judging the question.

In the case of Gilead (NASDAQ:GILD), the verdict appears to be negative. The stock dropped during the regular session and then got whacked again in the after hours, ending the day down more than 9% in total.
I'll not rehash my whole bearish take on Gilead here. However here's a bit of it from my prize-winning sell thesis on Gilead published at $120/share last summer:
Sorry guys, but this isn't nearly as good a deal as some of you seem to think it is. The flood of retail money into Gilead reeks of performance-chasing. Gilead seemingly offers the ability to buy a stock up 500% in recent years that is still bargain priced and pays a dividend. It'd be the best of all worlds if it were true. Have your cake and eat it too.

While I'm no believer in the efficient market hypothesis, I'd hold that the market generally prices most companies, particularly mega-caps, reasonably well most of the time. From that, one must logically ask, if the market is pricing the rest of biotech at speculative frenzy levels, why is it letting Gilead go at a mere 13 P/E. To some, this looks like a classic bargain. And maybe the market has wildly mispriced Gilead. However, it's more likely a value trap - I'll argue there's no free lunch here.
Sure enough, since then, the earnings growth has stopped and reversed, the PE ratio has fallen further still, and shareholders have lost a sizable amount of money. Among the most dangerous stocks in the market are former growth companies that quit growing.
It takes a long time for a shareholder base to rotate from momentum-orientated growth investors to deep value guys. And deep value doesn't tend to get interested when a stock is at a 13 PE ratio and earnings growth is about to go negative.
If you were enticed by the Gilead story, there's some really good lessons to take away from it for your future stock picks.
However, let's get to what many of you are asking: Is the stock a buy now? The short answer is that, no, it is not. And no, it's not a short either; just stay away.
I've long held that fair value is around $90, at this level, the company's strong free cash flow generation and various shortcomings balance each other out nicely. For those convinced the stock is still cheap, here are some questions to consider.
The company's sales momentum in HCV is already gone. What happens when its market share - currently about 90% in developed markets - starts to decline?
What's going on with all the rebates? Is the pricing pressure seen in markets such as Japan going to intensify?
How confident are you that the patent issues with Merck (NYSE:MRK), those which already caused a big charge this quarter, won't keep deepening?
And how are you feeling about the company's oncology pipeline after Zydelig's massive setback? I could go on, but you get the point.
The company's sales were up just slightly and net income fell 8%. We ran into the same situation as Apple yesterday. Yes, you can claim that Gilead is "cheap" based on its PE ratio, but earnings are falling. So the PE ratio will naturally head back toward a more normal level unless the stock price drops with it.
Wall Street pays for growth. It doesn't mind a value stock that is really priced as such, but it isn't about to award normal PE ratios (15+) to shrinking companies with large downside risks.
Going forward, HCV pricing is heading lower. Gilead's market share in the space is heading lower. And the total addressable (reimbursable) market will continue to shrink as well.
If you're long, what exactly are you hoping for? Earnings aren't going up anytime soon, there's nothing big in the near-term pipeline, and hopes of a game-changing acquisition remain just that, hopes, for the moment.
Like with Apple, there's ways to win, particularly if they get an acquisition right. But the stock is being priced appropriately by the market here. It's trading at a low PE because there are sizable downside risks and not much upside to earnings.
The story has lost sizzle and the stock is, more than anything, likely to languish. And the dividend isn't high enough to reward you much if the stock just marks time between 75 and 100 for the next few years.
Disclosure: I/we have no positions in any stocks mentioned, and no plans to initiate any positions within the next 72 hours.
I wrote this article myself, and it expresses my own opinions. I am not receiving compensation for it (other than from Seeking Alpha). I have no business relationship with any company whose stock is mentioned in this article.