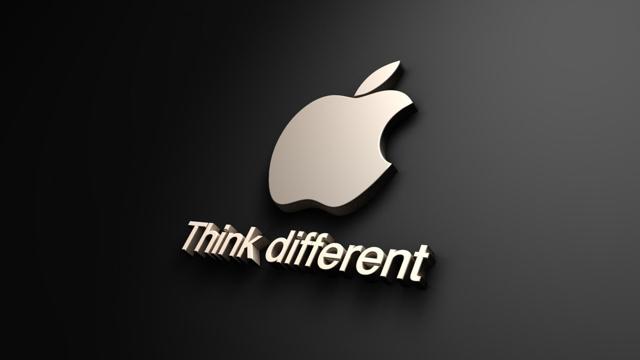 Apple's (NASDAQ:AAPL) earnings numbers were weak as expected, but the tentative guidance probably induced the sell off. How to grow a company that has already established a dominant position in the market for high-end smartphones on a global scale?
Tim Cook knows the answer is services as opposed to broadening the product portfolio, but the gap between profits through the services segment and devices is still very, very large (see graph below). Even if Cook and his team successfully accelerate services growth it will take a while before it even catches up to devices, let alone drive growth rates.
Broadening the product portfolio isn't the right strategic answer for the company long term, but it may still be the best tactic for now to maximize its chances of developing a dominating services business:
It's important to conquer body slots (pocket, hand, wrist, eyes, who knows where else) through which the company can connect with customers and hook them into the greater Apple ecosystem.
More products can also mitigate the pain (from a cash flow perspective) in the transitory period from devices to services.
This recent expansion of the product portfolio mirrors Apple's past past mistakes, but there is a big difference. Today, Apple products all tap into the ecosystem widening the firm's competitive advantage. I clearly see the potential (I understand you bulls). It's the uncertainty around Apple's transition toward services that prevents me from getting behind the long case. What market share will Apple hold by the time services make up a substantial part of revenue?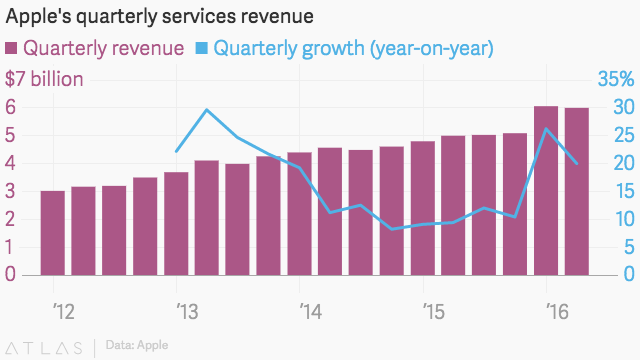 Whether moving downmarket, like with the iPhone SE, is wise remains to be seen. Comments by management indicate the launch of the device has been pretty successful and importantly those sales aren't represented in this quarter (quote from the earnings call, emphasis mine):
But so far this quarter we're seeing terrific customer response. IPhone SE is the most powerful four-inch phone ever, and it's a great option for customers all over the world who want a compact phone with advanced features and a great price without compromising performance. Demand has been very strong and exceeds supply at this point, but we're working hard to get the iPhone SE into the hands of every customer who wants one as quickly as possible. The addition of the iPhone SE in the iPhone lineup places us in a better strategic position to attract even more customers into our ecosystem.
In the short term it looks like the cheaper iPhone iteration is going to help Apple re-accelerate growth. It also helps to draw a larger crowd into the Apple services system, which mitigates any concerns about device margin deterioration. I can't easily put aside worries that going downmarket may take something away from the Apple brand. How much is its competitive advantage affected if Apple products lose their status as aspirational products?
In summary you could call me bearish on devices, bullish on the Apple service business. I'm not taking a position, long or short except in the event of a further big price drop. There are many uncertainties regarding the company's tremendous, even if vulnerable cash flows (see my previous article), but there is always the greed inducing $232.9 billion stash. Even with 90% of the stash held hostage outside the U.S. that's one hell of a buffer. There is a point where Apple becomes a no-brainer even to a skeptic like me. Right now we aren't there yet.
Disclosure: I/we have no positions in any stocks mentioned, and no plans to initiate any positions within the next 72 hours.
I wrote this article myself, and it expresses my own opinions. I am not receiving compensation for it (other than from Seeking Alpha). I have no business relationship with any company whose stock is mentioned in this article.