Twitter (NYSE: TWTR) reported second quarter 2016 earnings recently and the news was not good. I'm not even sure where to begin with this one, so I'll just start with the numbers.
Revenue was below expectations and earnings were negative. Analysts were looking for sales of $608 million. TWTR reported $595 million. Now, while earnings did beat consensus estimates of a loss of $0.10 a share (coming in at negative $0.07), that's still not good news for the reasons explored below.
The following table presents the calculation of basic and diluted net loss per share for the periods presented (in thousands, except per share data). As you can see, TWTR has never been profitable in all the time it has been a public company.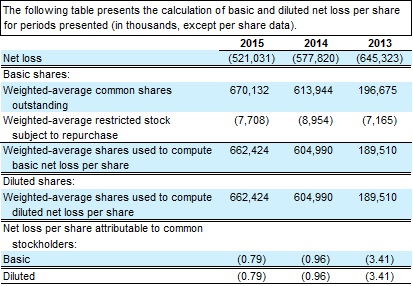 (Source: Company filings)
Here's the rub. After nearly 10 years in business you would think the company would have figured out how to make money. And that just isn't happening. So, I have a hard time assigning any value to a company that has lost money for so long. Twitter is essentially a bank account with negative interest, with "positive" cash flows coming from financing activities and compensation to employees at the expense of the shareholder. Make no mistake, stock-based compensation expense is as its name implies - an expense. Cash may not flow out the door initially, but the shareholder is hurt nonetheless and hurt increasingly more as the stock price falls and the practice continues.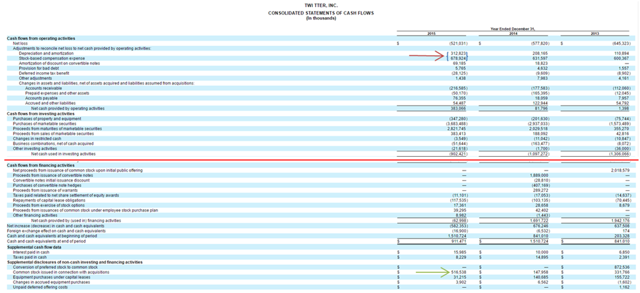 Click to enlarge
A better look at the right side in case viewing isn't optimal in the previous image: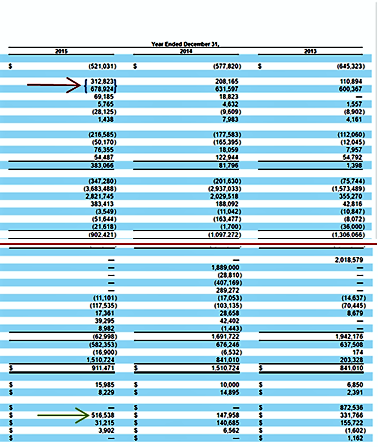 (Source: Company filings)
Twitter shows positive cash flow from operations (CFO) on the back of shareholders in the form of stock compensation expense and less so from depreciation and amortization. (The red arrow indicates these as major drivers of CFO.) If Twitter really believed in itself and thought its stock was undervalued, it would start compensating its employees with its cash pile in order to avoid giving away the house and continue the punishment of its shareholders. Cash constitutes 43% of the company's enterprise value. Apple (NASDAQ:AAPL), on the other hand, which constantly gets attention for its massive cash pile, has cash on hand that makes up "only" 7% of its enterprise value. (Cash in these instances constitutes cash and cash equivalents - calculations use Yahoo Finance numbers.)
To add insult to injury, the green arrow at the bottom of the cash flow statement shows Twitter purchasing businesses with its stock - crushing current shareholders in the process. Is Twitter's stock undervalued? Does Twitter's management think so? If yes, then the company should stop using its stock as currency to the detriment of current shareholders. It's time for Twitter to start using its cash pile and cease diluting shareholders. Moreover, losses per share are decreasing but due in large part to the number of shares growing due to dilution. This begs the question: even if Twitter was making money - how much would accrue to a shareholder who keeps getting diluted further and further?
The real problem is TWTR's business model, which neither consumers nor, more importantly, advertisers are enamored with unlike the company's executives. And, that's why the stock has behaved so poorly in the last year (down some 65%) and why I would continue to stay away from it. Oh, it's also important to note, that after a spectacular IPO, the stock has never seen the price level at which it debuted: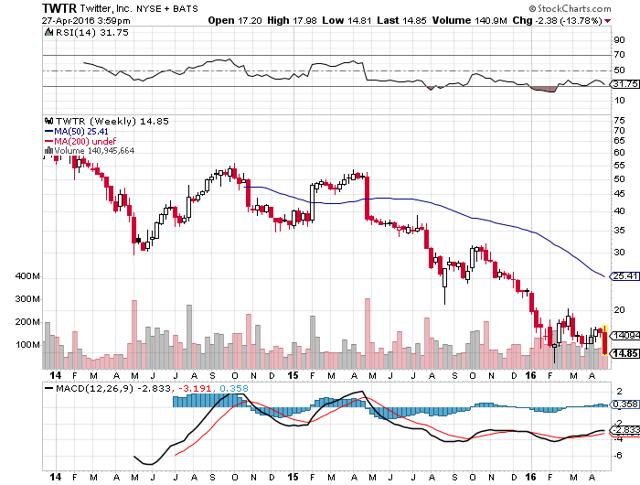 Click to enlarge
Chart courtesy of StockCharts.com
It also is very problematic for TWTR that the growth of regular users continues to slow down. This is very troubling. Year over year growth of monthly active users (MAU), the company's core fans, has been declining every year since 2011 when they were racing ahead at better than a 120% clip. For more than a year now MAU growth has remained just under 10%. TWTR is losing the fight for new users to the more popular Snapchat and Facebook (NASDAQ: FB). And, in my opinion, that's also why it's losing the battle to attract brand-name advertisers that just aren't ponying up as fast as expected - or needed. In this regard Twitter's performance lags its peers.
Also lagging (actually lacking) are the types of fundamental valuation measures that make a stock worth owning. When you compare TWTR to its peers, things don't look too out of line. But, when compared to the overall market, TWTR doesn't make the valuation grade. Now, bear in mind that the numbers below represent the metrics before TWTR got slammed after its earnings announcement, but even now, the stock is not cheap on a fundamental basis:

(Source: Company filings/Zacks Investment Research)
Then comes the whole problem with direction. Co-founder Jack Dorsey has been back at the helm for about six months now and has said that "talent acquisition" was a key part of TWTR's strategy. In that same time frame TWTR has lost several top executives and not much else has changed at the company. And they're having trouble integrating recent acquisitions.
Last year TWTR bought a company (TellApart) that was expected to help advertisers reach their users. It doesn't appear that they've been able to monetize that acquisition yet since advertisers aren't spending what TWTR thought they would. This isn't the only integration problem TWTR has. They've bought one or more privately-held companies every year since going public. And none of them have been able to help TWTR avoid the continual decline they've been in since their IPO.
The strange part for me regarding all these purchases is that TWTR's CFO boasts about the $3.5 billion they have in cash and how they're constantly on the lookout for other companies to buy. That hasn't worked out so well for them so far. In my opinion, TWTR should hold onto that cash and look for a suitor. I think that's the only way current investors are likely to see any black ink on their investment. And it's why I'd be a seller if I owned the stock.
Conclusion
There is no good reason to own TWTR and every reason to sell it. And waiting to sell on some future strength could have you sitting on dead money for a very long time. The longshot of TWTR being acquired doesn't seem to be in the cards anytime soon either. Even if fortunes were to turn around significantly, how much upside would there be with all the dilution? Twitter shareholders certainly have a rough road ahead. TWTR is a sell.
Disclosure: I/we have no positions in any stocks mentioned, but may initiate a short position in TWTR over the next 72 hours.
I wrote this article myself, and it expresses my own opinions. I am not receiving compensation for it (other than from Seeking Alpha). I have no business relationship with any company whose stock is mentioned in this article.