My last article remained neutral on ConocoPhillips (NYSE:COP) from a prior bearish stance throughout 2015, as the independent oil exploration firm has cut cash outlays to the point that a future cash crunch wasn't likely. Since the original neutral call in early February, oil prices and hence the stock have rallied, providing big returns for those willing to take the risk.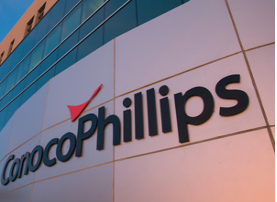 The key, though, is that investors are taking on increasing risk by chasing the stock higher. At close to $50, ConocoPhillips has rallied over $10 in April alone. The problem though is that reaching positive free cash flows remain a challenge, especially if oil is peaking.
Q1 results were a substantial $1.2 billion loss or $0.95 per share. The market was happy that ConocoPhillips beat estimates, but a huge loss is still a loss.
The cash flow situation did better. The E&P firm only had a $1.1 billion gap between cash generated from operations and that spent on capital expenditures. Of course, the $300 million spent on dividends remains a problem in this environment.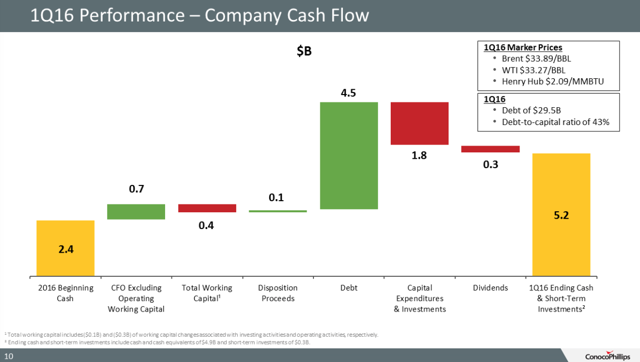 Click to enlarge
The negative free cash flow amount was on substantially lower oil prices than the current prices in the mid-$40s. Also, the capital expenditure cut gets ConocoPhillips closer to cash flow breakeven. The company only plans to average $1.3 billion in capex per quarter for the rest of the year.
The industry though isn't making the necessary cuts to encourage higher prices. What happens if oil collapses from this level?
In this regard, the earnings call was highly disappointing for an investor wanting be remain neutral on the stock after the rally. The discussions turned too quickly about how to allocate capital when prices rally with limited details on how to handle a further collapse in oil prices. The worst-case scenario was addressing how to keep production flat with the updated capital spending level of $5.7 billion.
In fact, the CEO practically opened the call with this statement:
I think it's important for investors to know how we're thinking about the current environment, but also how we have positioned the company for strong performance when prices recover.
After reporting a large loss and adding $4.5 billion in debt, the discussion should focus more on how to survive if prices don't recover or even collapse again.
The CEO briefly mentioned working toward becoming cash flow neutral at $45 oil, but the CFO agreed that the company requires $60 oil to become a taxpayer again. The avoidance of taxes helps greatly with cash flows in the short term.
The problem though is that a lot of capex cuts are due to deflation in service costs that will quickly ramp back up if oil rises. Such moves that aren't focused on actually reducing drilling support a peak in oil prices and not a scenario for higher prices.
The key investor takeaway is that ConocoPhillips is getting closer to cash flow neutral with oil prices around $45/bbl. The company like the industry isn't doing anything to actually reduce production that would support a real recovery in prices.
Due to the recent rally in the stock, my view is back to a bearish stance. Reaching cash flow neutral isn't a reason to become bullish on the stock with $29 billion in debt. ConocoPhillips needs a credible plan to lower production if the company is still struggling to generate a profit before the stock becomes interesting after the rally.
Disclosure: I/we have no positions in any stocks mentioned, and no plans to initiate any positions within the next 72 hours.
I wrote this article myself, and it expresses my own opinions. I am not receiving compensation for it (other than from Seeking Alpha). I have no business relationship with any company whose stock is mentioned in this article.
Additional disclosure: The information contained herein is for informational purposes only. Nothing in this article should be taken as a solicitation to purchase or sell securities. Before buying or selling any stock you should do your own research and reach your own conclusion or consult a financial advisor. Investing includes risks, including loss of principal.