Valeant Pharmaceuticals (NYSE:VRX), a specialty drugs company based in Canada has been in deep trouble since 2015. Its business model of making rapid acquisitions of smaller rival drug companies and boosting revenue is showing signs of strain. Once a darling stock among hedge funds, the company's stock price started to plunge from an all-time high of $257 at the end of July 2015 to an all-time low of $27 in mid-March 2016. The share price has recovered somewhat since mid-March 2016. Currently, it is trading around $36 per share, which is not reflective of its deteriorating business fundamentals.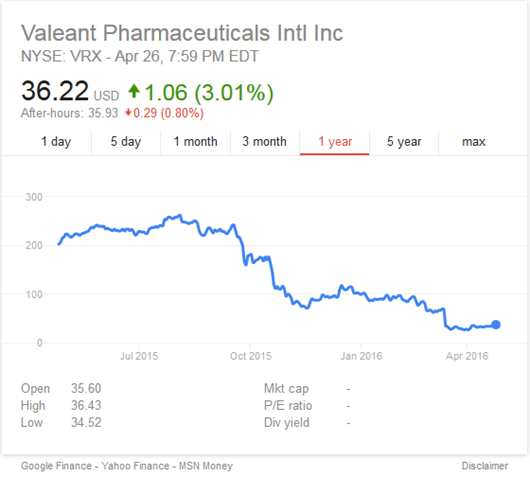 Valeant appears to be an undervalued stock with a TTM P/E of 20 compared to an industry average P/E of 57. However, management has provided guidance in its earnings call that 2016 full year GAAP EPS will be lower compared to 2015. Valeant's revenue growth will be stagnant in the coming quarters and earnings could fall further. In fact, a surprise loss of $1.12 per share was announced for its audited Q4 earnings on 29 April 2016. Management has indicated that estimated revenue for 2016 will be significantly lower by about 10% from $12.5 billion to $11 billion.
The main sell consideration for Valeant is the company's massive debt levels. It is reported that GAAP EBIT for Q4 came in at $167 million, but interest expense amounting to $432 million resulted in Valeant reporting a net loss of $267 million before income taxes. It has a total debt load of $32 billion, significantly higher than its current market cap of $12 billion. The annual interest cost of approximately $1.6 billion or $4.69 per share will wipe out Valeant's equity position in a few years or sooner if the debt is not able to be repaid, rolled over, or the interest payments eclipse EBIT.
Valeant missed its 30th March 2016 deadline for its 10-K filing for audited annual earnings results, which resulted in a breach of credit agreement with lenders. Valeant had until 29 April 2016 to file its 10-K results or else an event of default will be declared by lenders. Valeant's bond indentures for financial reporting had been violated as well due to the non-filing of 10-K by 30th March 2016. Luckily, the company made the filing allowing it to fight another day, but Valeant was at tremendous risk of filing for bankruptcy with serious negotiations with various creditors materializing to extend the filing deadline. There is approximately $4 billion in debt due in 2016, 2017, and 2018, and Valeant's cash position is running low at a mere $1.2 billion. A deteriorating business may disallow Valeant from rolling over its debt let alone repaying it. Valeant managed to file its audited annual financials on 29 April 2016, but that has little impact on the deteriorating debt profile for Valeant and the clock is ticking on the company.
A strong case for selling Valeant right now is the credit rating downgrade for Valeant's corporate rating and its senior unsecured notes. The company's overall high financial leverage of around 7x Debt/EBITDA puts Valeant in a dangerous position as annual earnings may not sustain future repayment of its debt and interest. Its interest cover ratio is at a low of 1.5x as compared to its peers. The table below summarizes the high financial leverage for Valeant compared to industry peers:
| | | |
| --- | --- | --- |
| Industry Peer | Interest Cover | Financial Leverage Ratio |
| Allergan (NYSE:AGN) | (2.70) | 1.90 |
| Amgen, Inc (NASDAQ:AMGN) | 8.29 | 2.55 |
| Valeant | 1.50 | 7.64 |
| Biogen Inc (NASDAQ:BIIB) | 33.81 | 2.00 |
| Bristol-Myers Squibb Co (NYSE:BMY) | 13.98 | 2.22 |
| Celgene Corporation (NASDAQ: CELG) | 7.51 | 4.57 |
| Danaher Corporation (NYSE:DHR) | 19.65 | 1.97 |
(Source: Morningstar, Company annual report)
Another angle that points towards a bearish case for Valeant is the risk of an interest rate hike by the Federal Reserve. Valeant has about $6.6 billion in variable rate debt and a 100 basis point hike in interest rate will increase the interest cost by $43.8 million. New debt issuance will have to be financed at a higher interest cost and this represents a real threat to the solvency of Valeant. Increased leverage is not something the company needs right now.
Its massive debt position will restrict Valeant's acquisition power. Its business model of buying rival drug companies cannot be sustained as lenders will be unwilling to lend to Valeant. It is announced that Valeant will not be making any new acquisitions in 2016. Creditors have threatened to declare default and without massive cash backing, there will be no avenues for future growth. There will also be insufficient cash for R&D. Its sales for its existing leading drug Xifaxan, which is its top revenue contributor, came in well below expectations with sales for Q4 coming in at only $210 million versus an estimated $390 million. The sales projection made by Valeant is too aggressive and is definitely not sustainable. It is reported that Allergan will be applying to the U.S. Food and Drug Administration (FDA) seeking approval for a competing drug, Rifaximin. All this points towards increased competition and negative sales growth for Valeant.
Let's take a look at Valeant's crown jewel, Bausch & Lomb, and its dermatology products sales revenue contribution. The table below summarizes Valeant's revenue for dermatology products since Q1 2015 right up to Q4 2015:
| | | |
| --- | --- | --- |
| Dermatology | Revenue (in $ million) | Q on Q growth |
| Q1 2015 | 419.3 | - |
| Q2 2015 | 461.8 | 10.0% |
| Q3 2015 | 465.5 | 0.7% |
| Q4 2015 | 322.5 | -30.0% |
(Source: Quarterly report filing)
Another table below summarizes Valeant's revenue for Neuro & Other/Generics segment since Q1 2015 right up to Q4 2015:
| | | |
| --- | --- | --- |
| Neuro & Other/Generics | Revenue (in $ million) | Q on Q growth |
| Q1 2015 | 539.1 | - |
| Q2 2015 | 526.2 | -2.4% |
| Q3 2015 | 546.5 | 3.8% |
| Q4 2015 | 541.2 | -1.0% |
(Source: Quarterly report filing)
From the above we can see that growth in its dermatology segment fell drastically with sales dropping 30% in Q4 compared to Q3 2015. As for the neuro segment, there is practically zero growth with sales dropping 1% from Q3 to Q4 2015.
Valeant is making way for the departure of longtime CEO Michael Pearson with the appointment of new CEO Joseph Papa. The market has reacted positively to the news by bidding up the share price of Valeant. However, this short term rally is unsustainable due to the ongoing federal investigation into Valeant's conspicuous drug pricing practices. It will take a complete overhaul of Valeant's business operations to get the company back on track. Valeant is currently running out of cash to fund its operations given the expected lower revenue forecast and the clock is ticking on the company's future.
Conclusion
In short, time is running out for Valeant due to massive debt load, pressure from servicing interest cost for its bonds and loans, and uncertainty resulting from the departure of longtime CEO Michael Pearson. Moreover, business fundamentals for Valeant are deteriorating with lower expected sales for its existing drug portfolio in the coming quarters.
It is highly likely that Valeant has to sell some its core assets and forgo valuable drug patents to raise funds to pay off its massive debt. No firm deal has been reached at the moment and Valeant will be facing a very tough year trying to resolve its debt issue. The recent rally provides a good chance for investors to sell on strength and avoid what looks like a dire situation for a former hedge fund darling.
Disclosure: I/we have no positions in any stocks mentioned, but may initiate a short position in VRX over the next 72 hours.
I wrote this article myself, and it expresses my own opinions. I am not receiving compensation for it (other than from Seeking Alpha). I have no business relationship with any company whose stock is mentioned in this article.