Units of Memorial Production Partners (NASDAQ:MEMP) have rallied nearly 20% over the past few days. This move seems rather odd given that the company had just recently lowered its quarterly distribution. Though, there is a very good reason for this rally as oil prices are finally showing signs of life.

Dividend cut news
First, a few words on MEMP's distribution. On Tuesday the company cut the quarterly distribution by 70%, from $0.10 to $0.03 per unit. This comes after another cut a few month backs from $0.30 to $0.10 per unit which followed yet another cut from $0.55 to $0.30 per unit late last year. In total, MEMP's distribution has been reduced by 94% since oil prices started their steep decline in late 2014.
Regarding the most recent distribution cut, we knew a cut was happening. Though, the size of the cut is somewhat surprising. After its April borrowing base redetermination, MEMP was allowed to distribute no more than $4.15 million in cash per quarter. With 82.9 million common units currently outstanding, this comes out to around $0.05 per unit every quarter, or $0.20 per unit annually.
As a result, I was expecting MEMP to pay $0.05 per quarter, not cut all the way down to $0.03. It is hard to say why MEMP cut the distribution as deeply as it did. Though, it will save ~$7 million per year versus paying the maximum $0.05.
At current prices, MEMP distribution yield is very low at under 5%. This was a stock that was yielding over 20% just a few weeks ago, so the income component as more or less vanished. Still, MEMP is doing better than most of its peers who have largely suspended distributions [(LINE), (BBEP), (NYSE:VNR), (NASDAQ:EVEP)].
Oil prices and outlook
As for why MEMP has rallied, look no further than oil prices. Oil is now trading in the $46 per bbl range, a 50% rally since getting under $30 per bbl a few weeks back, a huge boon for the energy sector.
Keep in mind that MEMP has the best hedge book in the upstream MLP sector. A full 93% of production is hedged in 2016 at very strong pre-crash prices, so higher oil prices will not improved cash flows all that much. Still, the market is recognizing MEMP improved situation.
MEMP was already fairly cash flow rich, generating distributable cash flow "DCF" of $34.9 million in Q4 and $125.2 million last year. While the company has not provided guidance for 2016, given production trends, MEMP should generate ~$85-100 million in excess cash flow after distributions this year.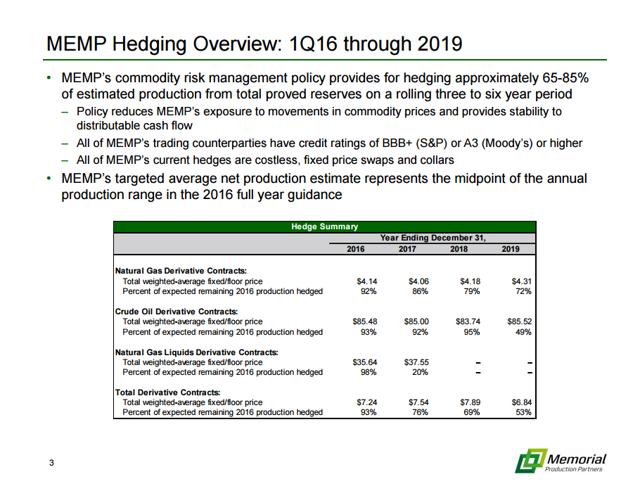 Click to enlarge
Where higher oil prices will help is with liquidity and debt. As oil prices rise, especially the longer dated contracts, MEMP's lenders will not need to lower the credit facility borrowing base as much. The base was lowered by 21% in April leaving $131 million of spare capacity, or ~14% of the $925 million base. For October, assuming current oil price hold, a much smaller cut is in order.
Given the retained cash flow from the reduced distributions, MEMP could have as much $200 million in liquidity by the end of the year. Not a lot of the upstream peers can say the same thing.
Conclusion
While yet another distribution cut is painful, the outlook has improved. MEMP is a strong position to be one of the survivors of the oil crash. I believe the recent rally is just the start. MEMP is slated to generate over $1.25 per unit in cash flow in 2016. Applying a modest 4x multiple gives us a $5.00 price target, nearly double its current price. I would not be surprised to see MEMP trade at that level if oil keeps heading higher.
Disclaimer: The opinions in this article are for informational purposes only and should not be construed as a recommendation to buy or sell the stocks mentioned. Please do your own due diligence before making any investment decision.
Disclosure: I am/we are long MEMP, VNR, BBEP.
I wrote this article myself, and it expresses my own opinions. I am not receiving compensation for it (other than from Seeking Alpha). I have no business relationship with any company whose stock is mentioned in this article.